Roasted Corn Chowder (Vegan and Gluten Free). A hearty, super tasty soup for a dreary, rainy day! (Or any day.)
Roasted Corn Chowder, Vegan and Gluten Free, And Super Good
Hi. It's Lois in the kitchen, telling you about a scrumptious Roasted Corn Chowder. Lately, it's been rainy and cold here in Virginia. I'm not really complaining, though, because Virginia's summers are generally way too hot for this Northern girl (I'm originally from Wisconsin). Anyhoo, when it gets cold and rainy, I like to have soup and this is an easy, filling supper.
This recipe is inspired by the chef J.M. Hirsch, who publishes a column in our local newspaper. His recipe included butter and chicken stock, so I modified it to be vegan. (It's also gluten-free.)
The recipe is interesting, not only because it includes an unusual ingredient (sunflower seeds), but also because it is like a cross between Onion Soup and Corn Chowder. I absolutely love it. The only thing that would make it better is bacon! 😉
I love my hand blender for pulsing at the end to combine all the ingredients and smoosh up some of the corn.
Check out the recipe.
Roasted Corn Chowder (Vegan and Gluten Free) Recipe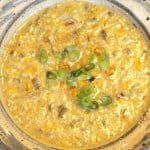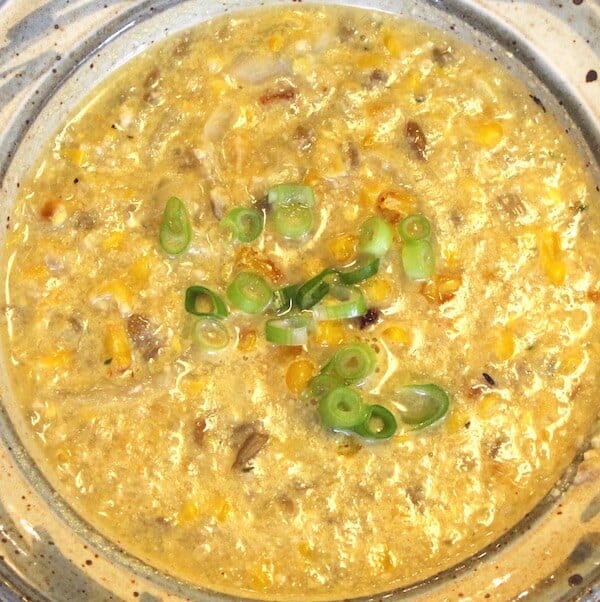 Roasted Corn Chowder (Vegan)
A hearty, tasty Roasted Corn Chowder soup that is vegan and gluten free. Super scrumptious!
Ingredients
16

oz

frozen corn kernels

4

tablespoons

olive oil

save a few calories by using cooking spray to roast the corn

1

cup

raw sunflower seeds

1

large yellow onion

sliced thin

1-2

tablespoons

fresh thyme

1

quart

vegetarian broth

sea salt and fresh-ground pepper

to taste

1

green onion

green tops only, to garnish
Instructions
Heat oven to 425F degrees.

Spread parchment paper over a large baking sheet.

Spread the corn evenly in one layer over the parchment paper.

Drizzle with half the olive oil.

Sprinkle with sea salt.

Roast in the oven for 20-30 minutes, stirring once during this time, until the kernels are just starting to brown.

In the meantime, heat the rest of the oil in a Dutch oven (or large saucepan) over medium heat.

Sauté the onions until they are transparent.

Add the sunflower seeds and continue cooking until they start to brown.

Transfer 1/2 the onion and sunflower mix to a blender.

Reserve 1/4 cup of the roasted corn kernels and then add the remaining roasted corn to the blender.

Pour this mixture back in the Dutch oven.

Taste. Adjust the flavorings (more thyme?).

Add the vegetable broth, and using your hand blender, pulse to combine.

Add salt and pepper as desired.

Heat a few minutes until hot.

Top with a few corn kernels and a few green onion tops slices.
Note: Many of the links included throughout Recipe Idea Shop are affiliate links, which means if you follow them and you buy something, we will get a small commission. It doesn't cost you a penny more, and you can still use your Amazon Prime (Shop Amazon – Give the Gift of Amazon Prime)account to buy. This posting includes affiliate links. 
Roasted Corn Chowder (Vegan and Gluten Free) Nutrition Information
Want More Recipes Like This?
If you want more delicious recipes, please sign up for our free cookbook.
Pin & Share!
Please Pin and share our recipes. And tell us what you think in the comments.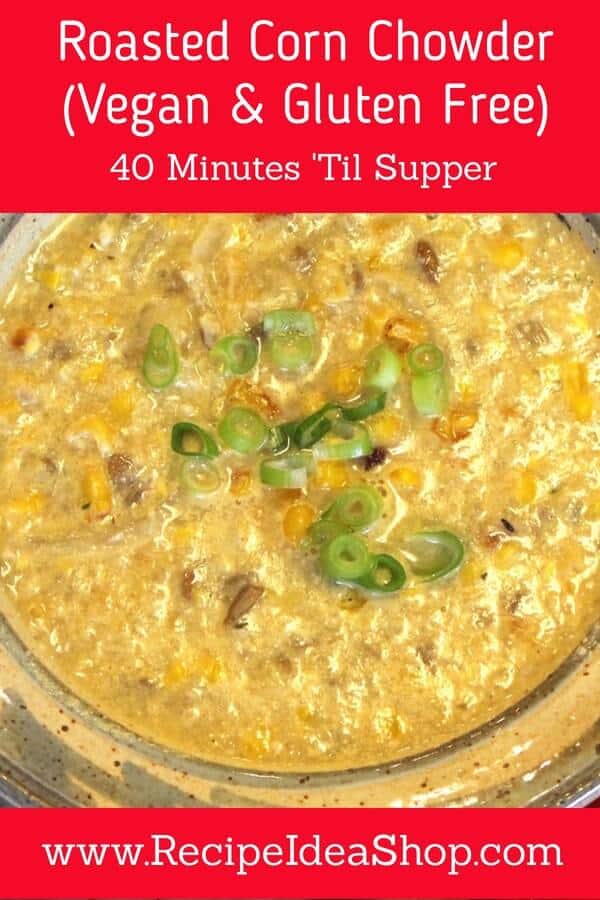 You May Also Like These Recipes From Recipe Idea Shop
BEFORE YOU GO, DID YOU GRAB YOUR FREE COOKBOOK?