Vegetable Dill Stew, made in your slow cooker, is a robust, vegan dish you'll want to eat again and again. With lots of mushrooms, potatoes, onions, fennel, and dill, it's a hearty, satisfying recipe your family will want every week!
This slow cooker vegetable stew is one of the best due to the wide range of vegetables and the tangy dill flavor. It just needs a little side salad or a hunk of Gluten-Free, Dairy-Free White Bread for a perfect meal on those cool nights!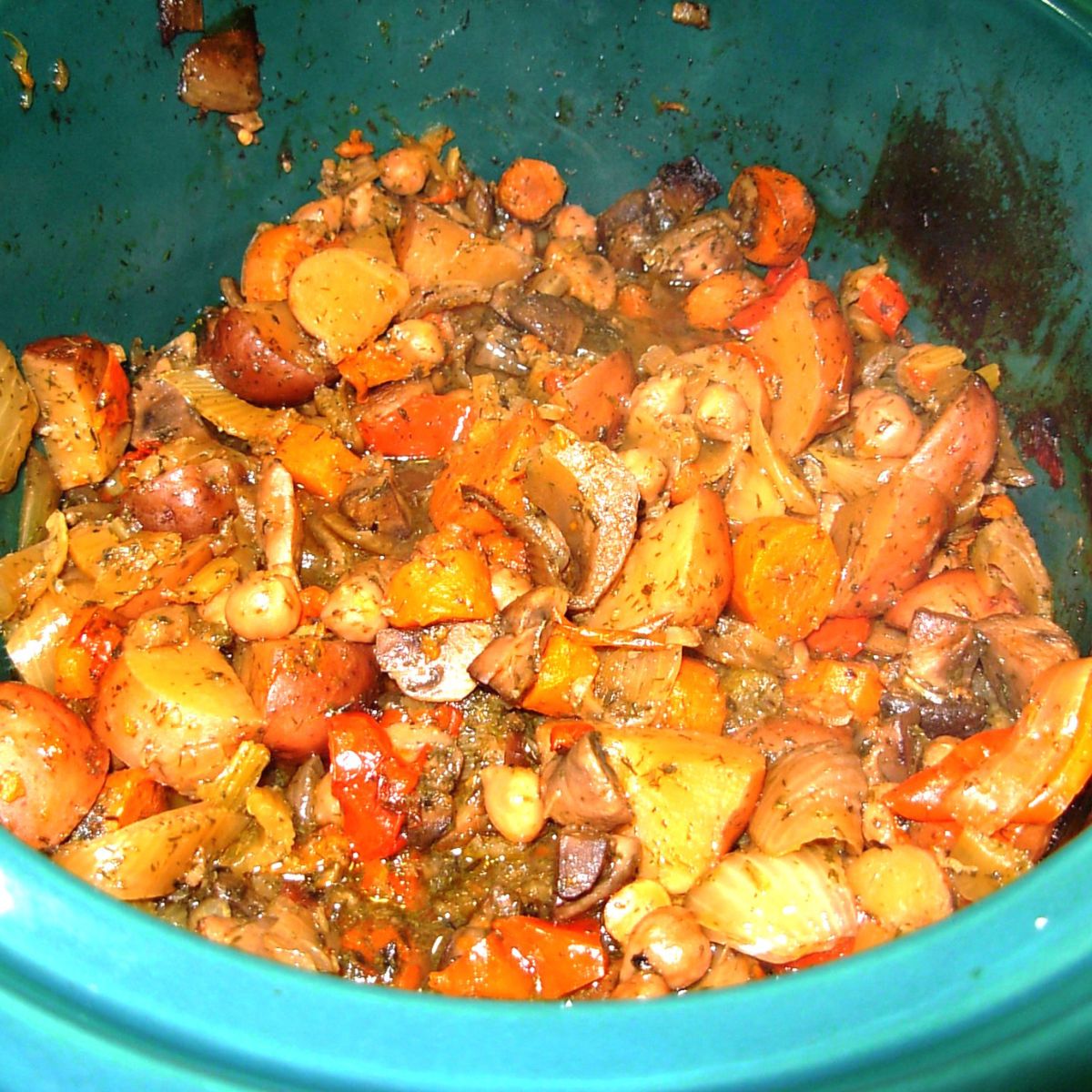 Why You'll Love This Vegetable Dill Stew
So many veggies - This vegetable dill stew isn't skimping on the veggies! There are onions, garlic, peppers, fennel, carrots, celery, mushrooms, and potatoes. Each one adds layers of flavor and makes this stew so filling.
Tangy herby flavor - Thanks to a little dried dill and apple cider vinegar, this stew has a slightly tangy, herby flavor that is lovely and different.
Easy to make - To make this soup, gradually saute each vegetable, then add everything to the slow cooker. Let it all simmer for 6-8 hours, then come back for a bowl full of dinner. So simple!
Ingredients
Olive oil - Start with olive oil to saute the veggies.
Onion - Use a yellow or white onion for a bit of sweetness.
Garlic - Freshly mince your garlic or use store-bought minced garlic.
Red bell pepper - Remove the stem, veins, and seeds, then cut the pepper into small pieces.
Fennel - Fennel adds a lovely aromatic layer that pairs well with the dill and thyme.
Carrots - Cut your carrots into hearty rounds.
Celery - Rinse and dice your celery into small pieces.
Mushrooms - Choose regular button mushrooms or baby portabellas. Clean and quarter the mushrooms first.
Red potatoes - Small red potatoes can hold up to much cooking without falling apart, so they're ideal for this dill stew.
Vegetable broth - Either store-bought or homemade stock is fine. You can also use chicken stock if you prefer.
Chickpeas - Stick with canned chickpeas. You can also substitute cannellini or great northern beans.
Herbs - Dried dill and thyme give this soup a bright, herby flavor that is refreshing.
Apple cider vinegar - As the vinegar cooks down, it will add a mellow tanginess that is satisfying and fun to eat.
Variations
Add chicken - For meat eaters, this soup is also wonderful with leftover roasted chicken and chicken stock.
Change the beans - You don't have to add beans, but they add a nice texture and flavor. You can also use your favorite white beans, like cannellini or butter beans.
Make it spicy - Add up to 1 teaspoon of red pepper flakes or a dash or two of cayenne pepper for a little kick.
How to Make Vegetable Dill Stew
The original recipe is based on "Three Sisters Stew" from one of my favorite cookbooks, Moosewood Restaurant Low-Fat Favorites cookbook.
Heat the oil in a skillet and sauté the vegetables until slightly browned. I did each vegetable (except the potatoes) one after the other in the skillet, then poured them into the slow cooker.
Add the potatoes, chickpeas, broth, spices and vinegar. Stir to combine.
Cook on low for 6-8 hours.
Expert Tips
Use shortcuts - Since there are so many veggies, it might help to use a few shortcuts. Grab frozen onions or minced garlic when possible, and use your food processor's slicer attachment to chop the carrots and celery quickly.
Season as you go - Check the soup's flavor several times. If you can't taste the salt, add more, stir, cook, and try again later.
Be careful not to overcook - Whether cooking this soup in the slow cooker or on the stove, it's tempting to forget about it. If you do, the vegetables may become overcooked and have an unappealing soggy texture.
Recipe FAQs
Is dill good in soups?
Dill weed has a bright, herby flavor that can either go well in a dish or stick out like a sore thumb. Depending on the ingredients in your soup, dill can be a great choice. It struggles against intense flavors like tomatoes, so use it in a broth-based soup. It also pairs well with acid, like lemon juice or vinegar. Either keep the soup vegetarian or use a more neutral-tasting meat like chicken.
Can you make vegetable dill stew on the stove?
Instead of slow-cooking this vegetable dill stew all day, you can easily make it in a soup pot on the stove. Follow the instructions like normal, but skip adding the sauteed vegetables to the slow cooker. Cover the pot with a lid and let it simmer for 30 minutes until the veggies are cooked. Be sure to stir occasionally to keep it from burning.
What sides go well with vegetable stew?
Depending on the flavors in your stew, you may want to serve a few different types of sides. Many stews taste great with a bowl of rice to sop up those juices. Another great option is to serve bread, either French bread, crusty French rolls, cornbread, flat breads, or even tortilla chips. They're also great with simple sandwiches, like grilled cheese or quesadillas.
Related Recipes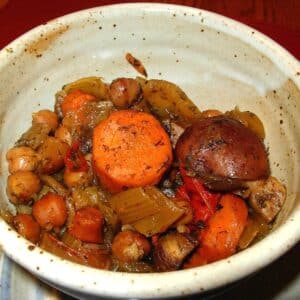 Vegetable Dill Stew Recipe
A delicious vegan vegetable stew with dill, made in the slow cooker.
Ingredients
4

tablespoons

olive oil

2

medium

onions

cut in chunks

3

cloves

garlic

minced

1

red bell pepper

cut in chunks

1

fennel bulb

cut in slices

3

carrots

peeled and cut in rounds

3

stalks

celery

diced

1

pound

button mushrooms

cleaned and quartered

8-10

small

red potatoes

quartered

2

cups

vegetable broth

1

can

chickpeas

rinsed

1

tablespoon

dried dill weed fronds

1

teaspoon

dried thyme

2

tablespoons

cider vinegar
Instructions
Heat the oil in a skillet and sauté the vegetables until slightly browned. I did each vegetable (except the potatoes) one after the other in the skillet, then poured them into the slow cooker.

Add the potatoes, chickpeas, spices and vinegar. Stir to combine.

Cook on low for 6-8 hours.
Nutrition
Calories:
473
kcal
Carbohydrates:
77
g
Protein:
13
g
Fat:
15
g
Saturated Fat:
2
g
Polyunsaturated Fat:
2
g
Monounsaturated Fat:
10
g
Sodium:
159
mg
Potassium:
2559
mg
Fiber:
13
g
Sugar:
16
g
Vitamin A:
8866
IU
Vitamin C:
86
mg
Calcium:
131
mg
Iron:
5
mg