Steam juicers are great if you want to extract juice from fruits and vegetables for later use. For example, you can use fresh juice to make jams, jellies, or sauces. You can get clear pulp-free juice to drink or use in recipes. But with so many steam juicers on the market, choosing the right one can be challenging. So, what are the best steam juicers available?
The best steam juicers currently on the market are the Cook N Home steam juicer (this is the one I bought for our family), the Norpro stainless steamer, the Mehu-Liisa stainless steel steam juicer, and the Vineyard VKP1150 Deluxe Steam Juicer.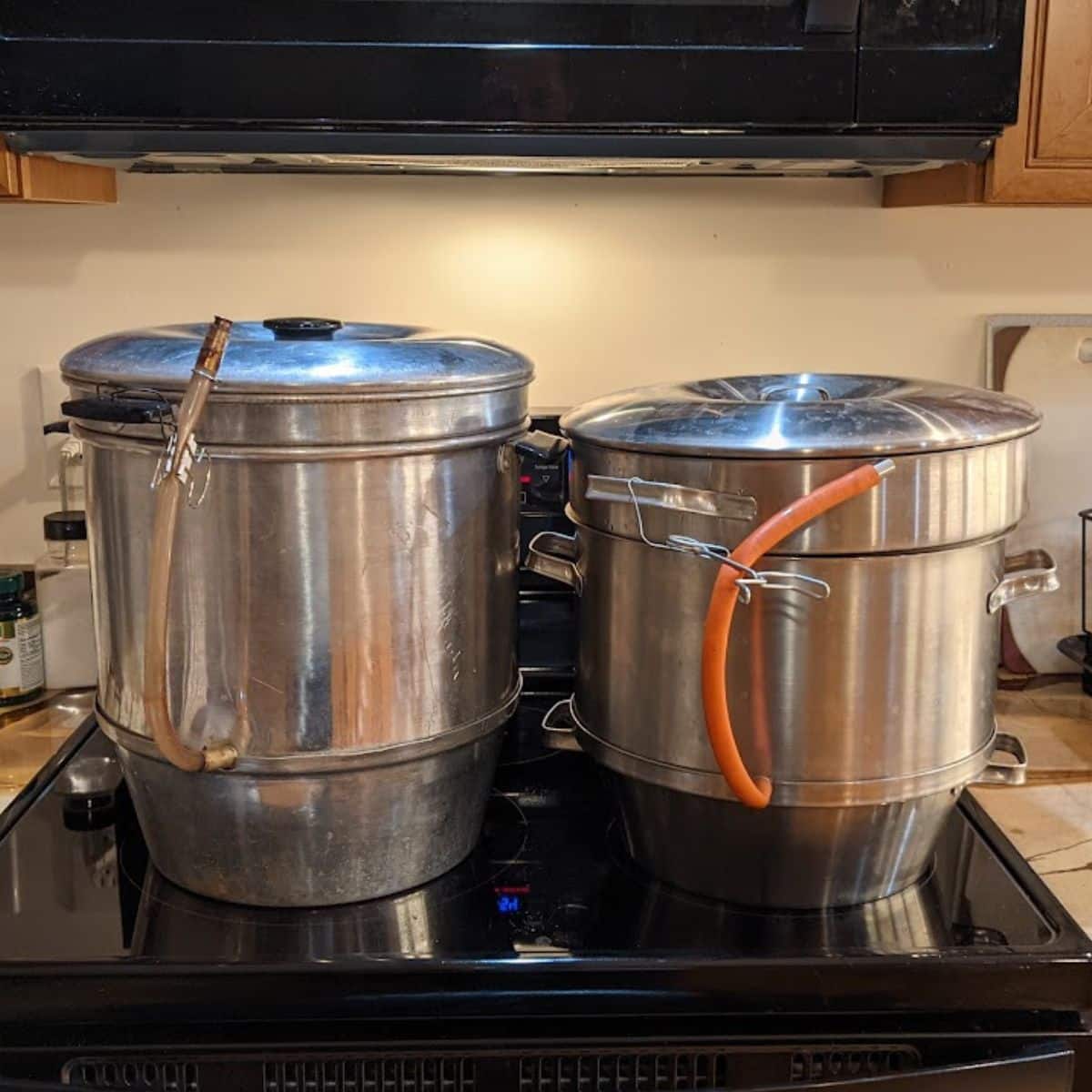 Deciding which steam juicer to purchase can become difficult if you don't know what you are looking for.
What is the best steam juicer?
How much do steam juicers cost?
Are there different types of steam juicers?
You probably have a lot of questions, and that's normal. We now have more options than ever before on the market, which is good. But it also means it can be a challenge to know which juice extractor is the right one for your needs. To help you make the best decision, let's look at the current best steam juicers on the market.
What is a Steam Juicer?
A steam fruit or vegetable juicer is a special set of pots stacked on top of each other, that is used to extract the juice from fruits and vegetables. The bottom part is filled with hot water (this is where the steam comes from), then on top of that, there are 2 pots that fit together: the middle pot sits on top of the water container, and the top pot, which has holes, keeps your fruit to be steamed and fits into the sits in the middle section.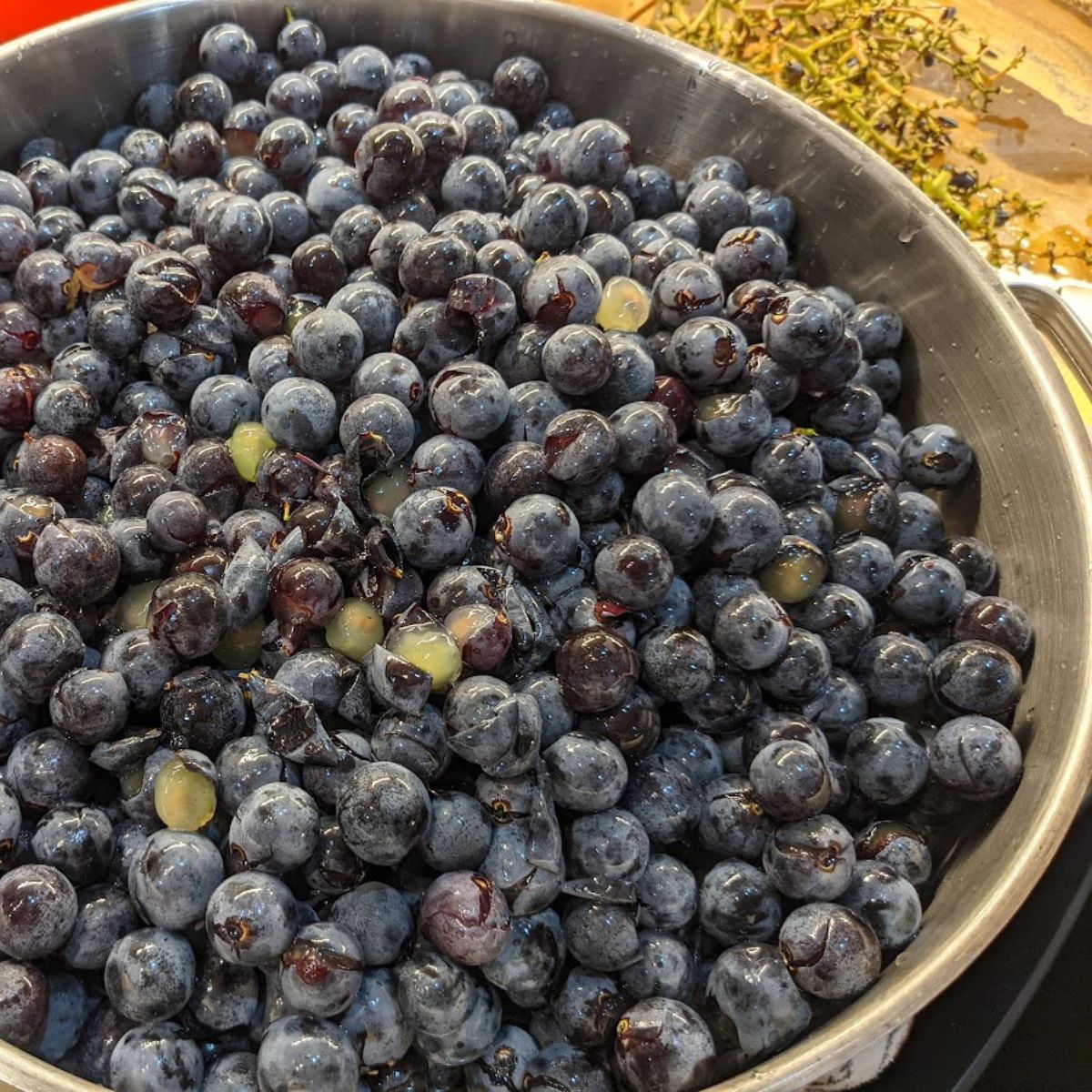 As the water boils in the bottom container, the fruit releases the juice, which gathers in the holding pan until you release it.
Then, of course, there's a top to keep the heat in.
The video below shows grape juice released from my steam juicer through the silicon tube: so satisfying!
A steam juicer is a game changer if you plan on making hassle-free delicious fruit juice that has no artificial sweeteners in any significant quantity.
We make juice from about 150 pounds of grapes every year (about half and half Niagara and Concord grapes), and before buying one of these steamers, it was a 2-day affair, and the juice wasn't pure: it had some pulp, which would crystalize as time passed.
Now, we make the same amount of juice in one afternoon, and everything is so much cleaner. No dishes to wash, and no mess in the kitchen. And the juice has no pulp that will crystalize.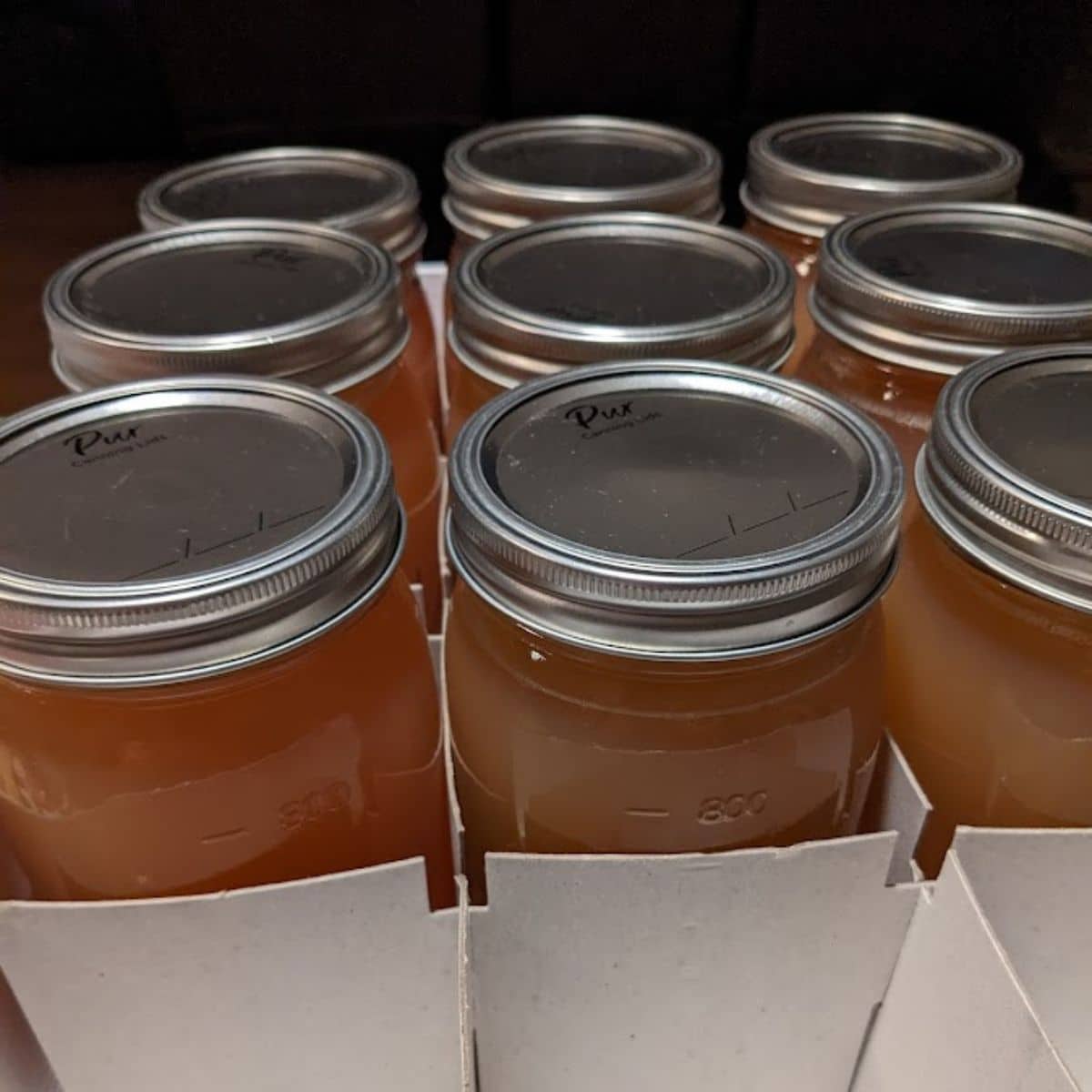 Steam juicers have a stainless steel body that is very easy to use and clean, making them a convenient option for busy families. If you are looking for a healthy and delicious way to make tasty juice from your favorite fruits, a steam juicer is a great choice. But how do you choose the right one for you?
Is a steam juicer the same as a vegetable steamer?
No, it's not. A steam juicer can steam-extract juice from both fruits and vegetables, however, when people say "vegetable steamer", they are usually referring to a device that cooks the veggies with steam, not a juicer.
What to Look for When Choosing a Steam Juicer
Most stainless steel juicers come in the 11-quart size, but there are some (see the Vineyard examples below) that are 8 quarts. If you have room, I suggest the large capacity 11 quarts size, just because you can make larger quantities of juice. But if you have a small kitchen, or live in a small apartment and don't have a lot of space, the smaller one should work just as well.
There are aluminum and stainless steel steam juicers.
While stainless steel steam juicers are shinier and more appealing, aluminum steam juicers are lightweight and easier to transport. All the steam juicers on our list are stainless steel, as they tend to allow for better heat distribution.
Most stainless-steel juicers have a long rubber spout. While these spouts make transferring the juice into bottles easier, they often leak and cause a mess. The other option is a steam juicer with a metal spigot. Although these spigots are cleaner, you cannot place a large bottle on a flat top because it won't fit under the spigot.
The final consideration when buying a steam juicer is the price. Steam juicers vary significantly, and the most expensive ones aren't necessarily the best. You can find an affordable steam juicer that works just as well as a top-end one.
What Is The Best Steam Juicer Available?
My favorite, and one I personally own, is the one pictured below, the Cook N Home Steamer Juicer.
1. Cook N Home Steamer Juicer

The Cook N Home juicer is an excellent option with over 1700 5-star reviews. With its 11-quart capacity, this juicer is perfect for juicing large amounts of fruit at a time. The Cook N Home steamer juicer is made from stainless steel and has a rubber hose for easy decanting.
When using the Cook N Home steam juicer, ensure that the pans are aligned and sealed to ensure the steams stay inside the steamer, or the steamer can burn and warp.
2. Norpro Stainless Steel Steam Juicer

The Norpro stainless-steel steamer/juicer is one of the best. The Norpro steam juicer has a glass lid that lets you see how your juicing process is progressing.
One drawback of the Norpro stainless steamer is that the draining hole sits about an inch above the bottom of the pan. This means you must tilt the pan to drain the last bit of juice. However, the Norpro receives plenty of good reviews and is a sturdy and easy-to-use juicer.
3. Mehu-Liisa Stainless-Steel Steam Juicer

The Mehu-Liisa stainless-steel steam juicer has a capacity of 10.5 quarts. This stainless-steel steam juicer is excellent for those wanting to make large amounts of fruit juice at a time. A bonus of the Mehu-Liisa steam juicer is that it isn't made in China, which is something users seem to appreciate.
It has some drawbacks: the rubber tube is prone to leaking when you decant the juice. In addition, the Mehu-Liisa steamer has a solid, stainless-steel lid that doesn't allow you to see the progress. The stainless-steel lid also gets really hot and can burn you if you touch it after the steaming process.
4. Vineyard VKP1150 Deluxe Steam Juicer

The final steam juicer on our list is the Vineyard VKP1150 deluxe steam juicer. This steam juicer has an 8-quart capacity, making it perfect for those looking for a slightly smaller steam juicer. The Vineyard steam juicer also has a tempered glass lid, allowing you to monitor the progress as the fruits steam.
This steam juicer has a rubber hose, making it easy to decant the juicer when the steaming is done. However, this rubber hose is prone to leaking when you decant the juice.
Best Steam Juicers FAQ
What are other names for steam juicers?
You may also hear them called juice kettles, juice extractors, juicer extractors, centrifugal juicers, or juice containers.
Are steam juicers good?
Yes, they are very good for making juices from fruits and vegetables, especially when making juice in large quantities.
Does steam juicing destroy nutrients?
The steam generated by the juicer breaks down the cell walls of the produce, releasing the juice. But does this process also destroy nutrients?

The jury is still out on this one. Some studies have shown that steam juicing can cause the loss of some vitamins and minerals, while other studies have found no significant difference in nutrient levels between steam-juiced and traditionally juiced products. So if you're concerned about getting the most nutrients from your juice, you may want to stick to traditional methods.
How do steam juicers work?
The steam juicer consists of a juice container, a steam chamber, and a steam basket. The fruit or vegetable is placed in the steam basket, and the steam chamber is filled with water. The steam juicer is placed on the stovetop over high heat. The water in the steam chamber boils and produces steam, which rises and passes through the ripe fruits or vegetables in the steam basket. The heat from the steam causes the juice to be extracted from the fruit or vegetable, which then drips into the juice container.
What are the best fruits for steam juicing?
While you can steam juice many fruits, you'll have the best results by juicing high liquid fruits such as grapes, blueberries, strawberries, raspberries, peaches, pears, nectarines, plums, etc. You can try steam juicing harder fruits like apples, but you'll get a smaller amount of apple juice per pound than you do from the juicier fruits.
How To Use Fruit Juices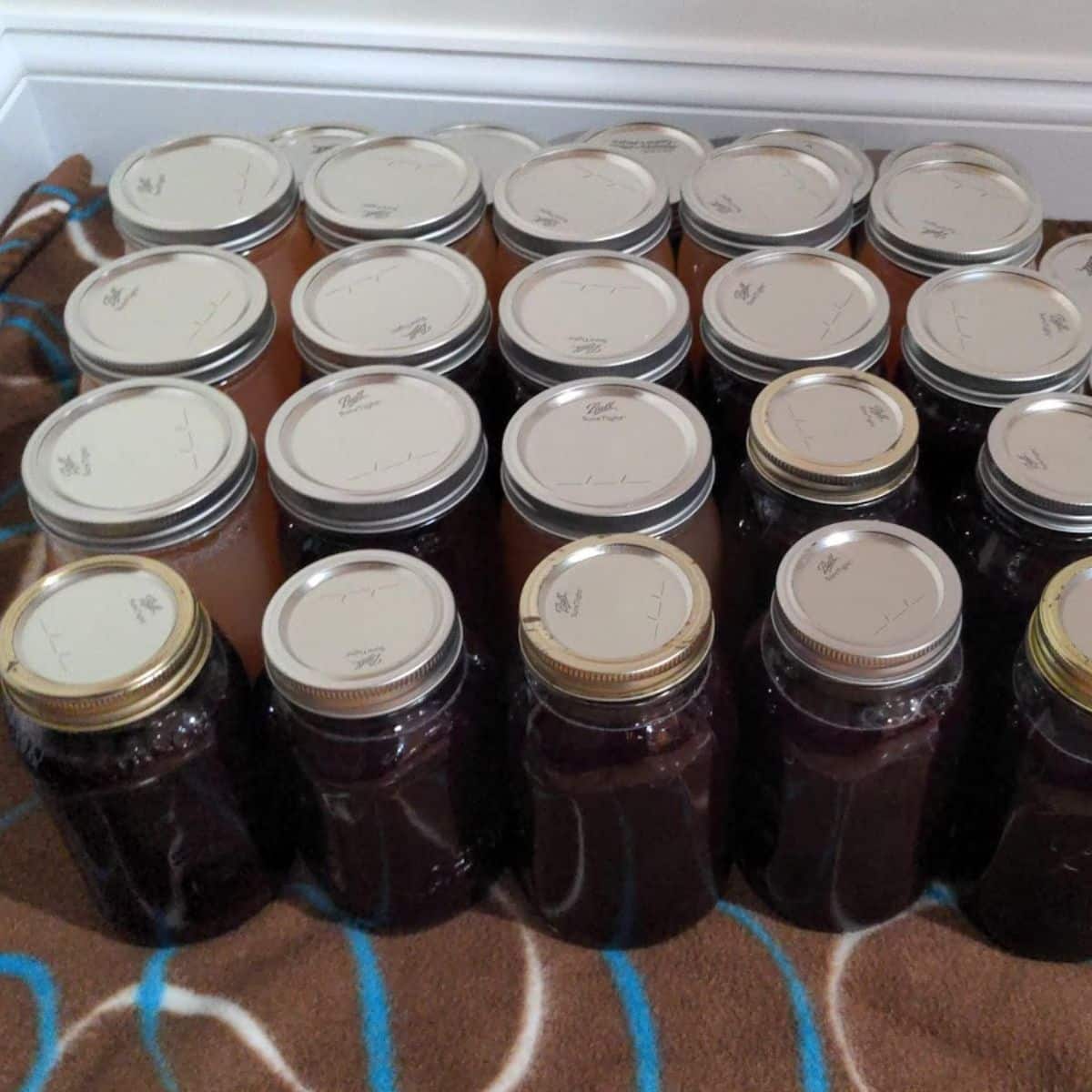 With so many steam juicers on the market, choosing the right one can feel somewhat challenging, but the best stainless steel steam juicers I shared above should make it easier to decide which one. I love mine and encourage you to take a look at it if you want the best results.