When cooking, you may find you need fines herbes recipe to help you get that perfect flavor combination in your meals. Herbs play a very important role in cooking, especially in French cuisine, where they have a unique and delicious cooking style. Herb blends have long been a staple of French cooking and that's what this post is all about.
You may come across the term "fines herbes" and be wondering what this means. In short, it's just a blend of herbs. However, there are specific herbs that can be used for the fines herbes. And that's what we're going to discuss here.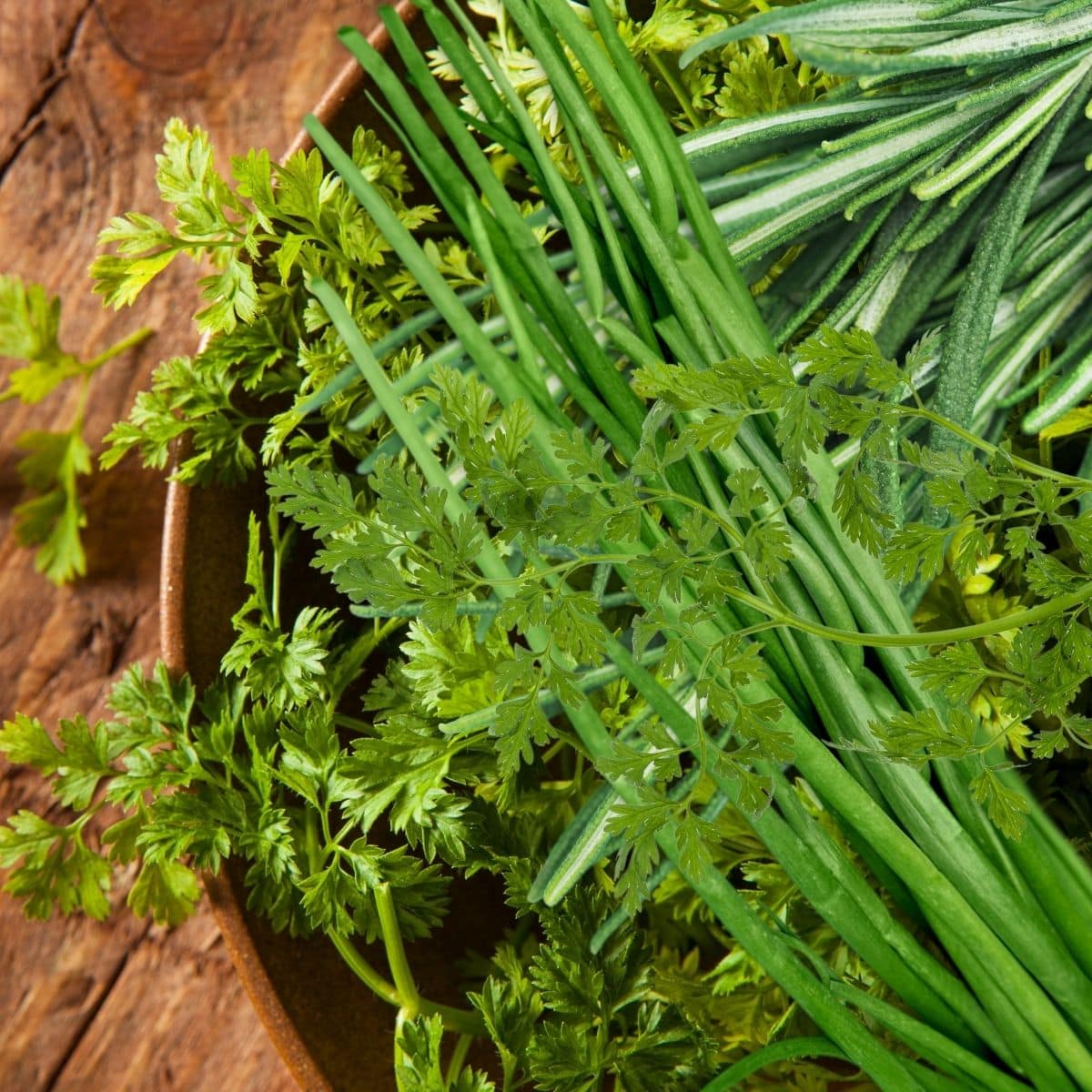 What is Fines Herbes?
First, let's define what this is. It is a blend of aromatic herbs chopped and mixed in various proportions. Use parsley, chervil, tarragon, and chives to suit your palate. Add fennel, basil, rosemary, thyme, or bay leaf to create uniquely flavored dishes.
Let's give a fine herbes pronunciation so that you know you're saying it correctly. If you are pronouncing it correctly, it sounds like "feenz urbz".
While reading old French recipes, you may come across the terms "aux fines herbes", "herbes de Provence", or "bouquet garni". Don't be confused. Each of them is simply a mixture of herbs. The bouquet garni is tied with a bit of string for easy removal from recipes. Aux Fines Herbes is usually chopped and added to recipes. We'll talk a bit more about those below.
This fines herbes definition is a very basic overview of this herbal blend. Let's look at some other ways it is commonly used in French cooking.
Bouquet de Garni
The Bouquet de Garni is comprised of various herbs, usually oregano, thyme, basil, and chives or lavender, rosemary, parsley, and thyme, tied with a bit of string for easy removal before serving your food. Bouquet de Garni is similar to Aux Fines Herbes or Herbes de Provence, both of which are chopped and added to the dish as you cook. You can use any blend of herbs you prefer.
I just buy a bottle of Herbes de Provence. It's an amazing blend of herbs that is perfect for potatoes or other vegetables. I strongly urge you to get some and give it a try.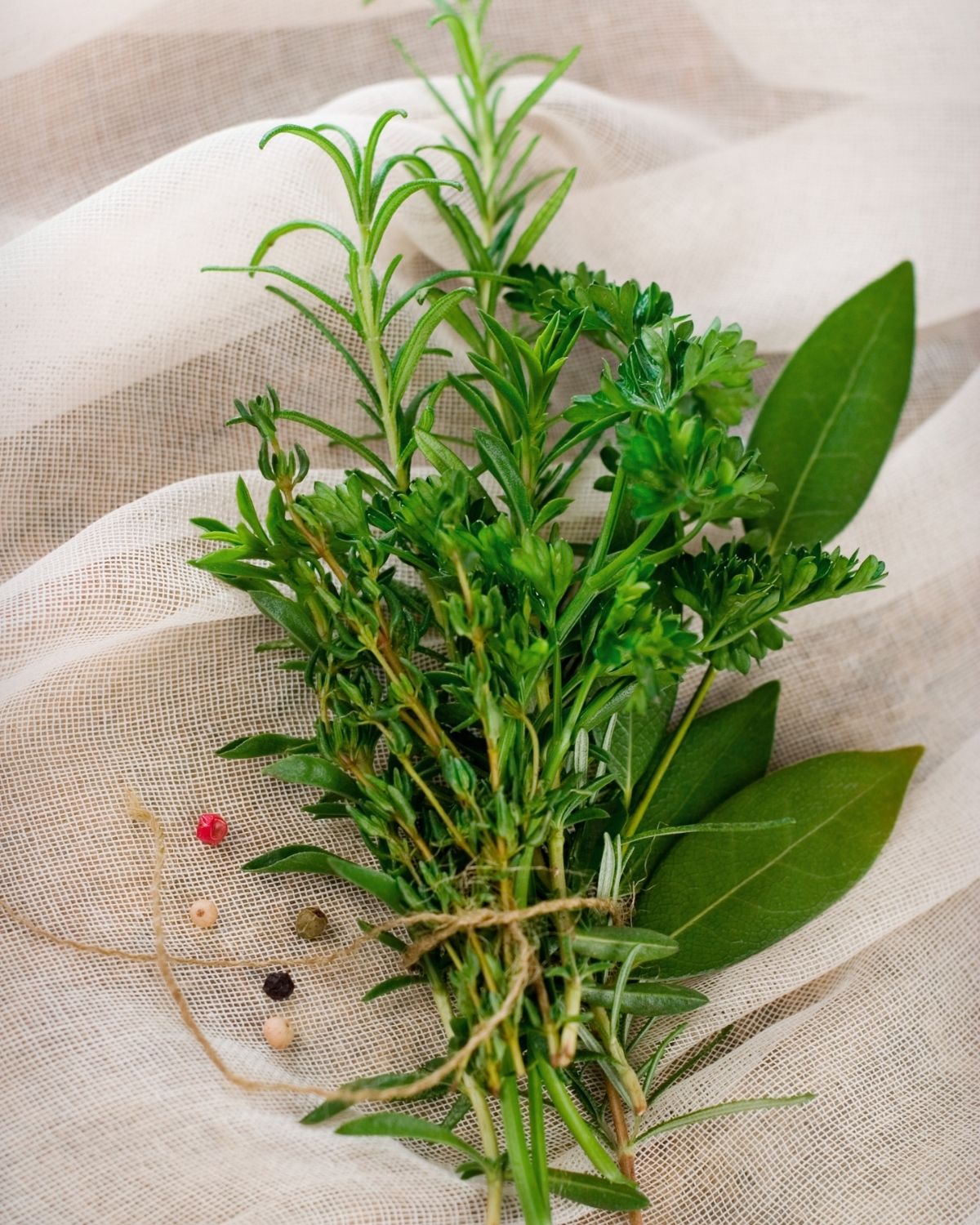 Aux Fines Herbes
Aux Fines Herbes are used to flavor sauces, meats, omelets, sautéed vegetables, etc. Some people choose to add a pinch of Kosher salt or some other herbs to their blend. Again, this is a personal preference. You can always start with a traditional recipe and then add to it according to your tastes or what spices you have on hand.
What if you want to make it yourself?
How to Make Fines Herbes Recipe
If you want to make your own fines herbes, there are some basic things you will need for your fine herbs mix. You can use anything you have on hand, but there are specific herbs that are more often found in this herbal blend. Personally, I like the idea of starting with a traditional recipe and then experimenting with your own blends in time.
If you're not able to make your own with this recipe, you can purchase Spice Islands Fines Herbes, which is my favorite brand that's pre-made. It has a nice, smooth flavor that is as close as I have found to making it myself.
Making a Fines Herbes Blend
If you're going to use fine herbs in your recipes, then you will want to know how to make your own. You can make them from fresh herbs or from dried herbs. Which you choose is a matter of personal preference, as well as what is available to you. If you grow your own herbs at home, you can work more easily from fresh than someone else might be able to do.
How do you make your own fine herbs blend? First, let's look at the ingredients.
Fines herbs ingredients
Here are the herbs you need for this blend:
Chervil
Chives
Parsley
Tarragon
When using fresh, finely chop one full tablespoon of each herb and then mix them together in a small bowl. If you want to keep it fresh, don't make more than you can use in a couple of weeks max.
If you're using dried herbs, you can mix equal portions together (1 teaspoon of each) and place them in a glass jar or spice container. Dried herb mixes will last longer than fresh herbs. If you store it in a cool, dry place, it could last up to four months.
If you don't have the ingredients needed for this, you could also consider a fines herbes substitute.
While you can use fresh or dried herbs, dried herbs are more concentrated so if you're looking for a full flavor, that might be your choice. It's also important to note that how much you use will vary, depending on if you use dry or fresh herbs.
You will use one tablespoon of fresh for one teaspoon of dried herbs of the same type. If you are using fresh herbs, it's important to mince them very, very fine. Whichever you use, be sure to store them properly so you get the most out of them.
Stocking Your Kitchen
Herbs are just one part of a completely stocked kitchen. When you have all the right things in your workspace, it's more fun and easier to follow all the great recipes you find and want to explore. For a well-outfitted kitchen, you absolutely need a great set of knives, a cutting board, and superior pans. My affiliate links will take you to Amazon.
Omelette aux fines herbes (
omelet with fine herbs)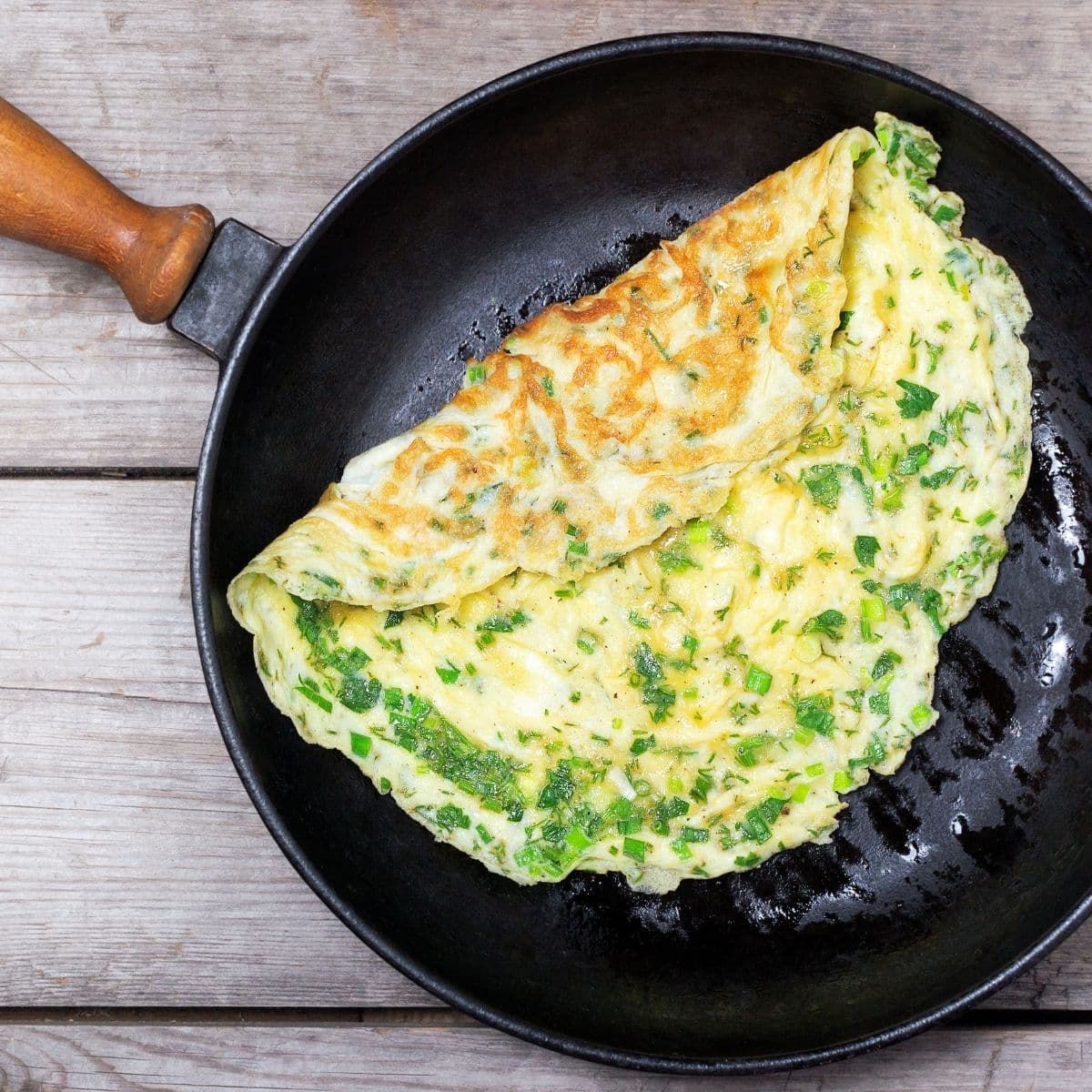 When you make an omelet with the fines herbes, it's called aux fines herbes omelette in France. It usually has very finely chopped parsley and chives, and sometimes tarragon and chervil. Whatever you put in your herbs blend as described above can be added to your eggs for an omelet "fines herbes".
Basil, mint, and dill can also work in your spice blend. For breakfast, it's just important to use sweet herbs, rather than bitter or sharp ones. You can do an omelet aux fines herbes and some black pepper and some fresh parsley on the top of the finished dish can really bring it all together.
For a perfectly customized omelet, you can use whatever you typically put in your egg mixture, and then use your herb mixture to spice it up.
Chicken with fines herbes
This herbal blend works really well with any type of chicken dish. You can use it on baked chicken, crispy chicken, and just about any other chicken meal. You can use it as a dry rub, sprinkled herbs on top, or you can make a fines herbes sauce from it. Do you have a favorite chicken dish that you enjoy with this herbal blend?
Is this herbal blend healthy for you?
You might also like these other recipes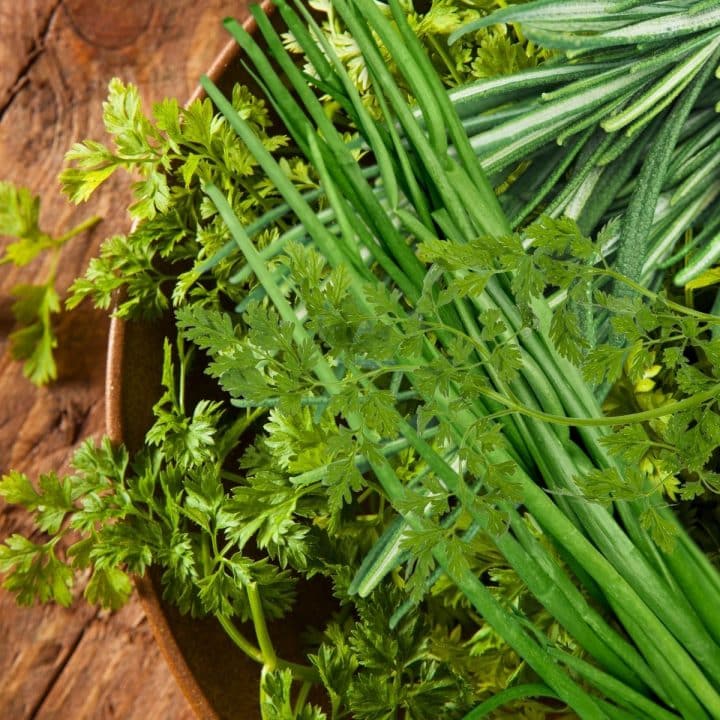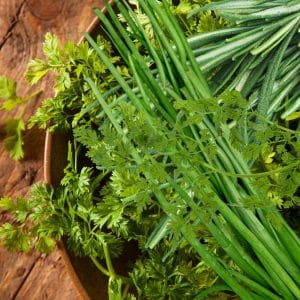 Fines Herbes Recipe
Aux fines herbes is a blend of aromatic herbs chopped and mixed in various proportions and used to flavor sauces, meats, omelets, sauteed vegetables, etc.
Equipment
1 sharp knife

(I love the Mezzaluna Rocking Vegetable Chopper and Mincing Knife)
Ingredients
1

tablespoon

fresh parsley

1

tablespoon

fresh chives

1

tablespoon

fresh chervil

1

tablespoon

fresh tarragon
Instructions
Mix all herbs together, and store them in an airtight container.
Notes
If using fresh herbs, store your fines herbes in a tightly closed container in the fridge for up to 2 weeks.
Don't fret if you don't have fresh herbs: you can make this mixture out of dried herbs. In this case, place your mixture in a tightly sealed glass container and store it in a cool, dry place.
If using the dry mixture, use 1 teaspoon dry for every 1 tablespoon of fresh herbs.
Nutrition
Calories:
6
kcal
Carbohydrates:
1
g
Protein:
1
g
Fat:
1
g
Saturated Fat:
1
g
Polyunsaturated Fat:
1
g
Monounsaturated Fat:
1
g
Sodium:
2
mg
Potassium:
61
mg
Fiber:
1
g
Sugar:
1
g
Vitamin A:
190
IU
Vitamin C:
3
mg
Calcium:
22
mg
Iron:
1
mg
This recipe is GF, DF, NF, SF, EF, CF, V, VG*
Surprisingly, herbs do not add any calories, salt, or fat to your foods. All they add is FLAVOR. Stay healthy by reducing your salt intake and adding more herbs. Since the herbs can be dried or used fresh, you can experiment. You'll be happy you did.