A good cooking measurement conversion chart is an important tool in any kitchen. No matter what recipe you are following - an old family favorite or a new one from the internet - you are going to be faced with some measurements. And sometimes you will need to make conversions to ensure you have the right measurements for your ingredients when making a recipe. For both dry ingredients and liquid ingredients, we sometimes need to know the equivalents of certain measurements in order to measure them properly. Making these conversions in your head is challenging for a lot of people.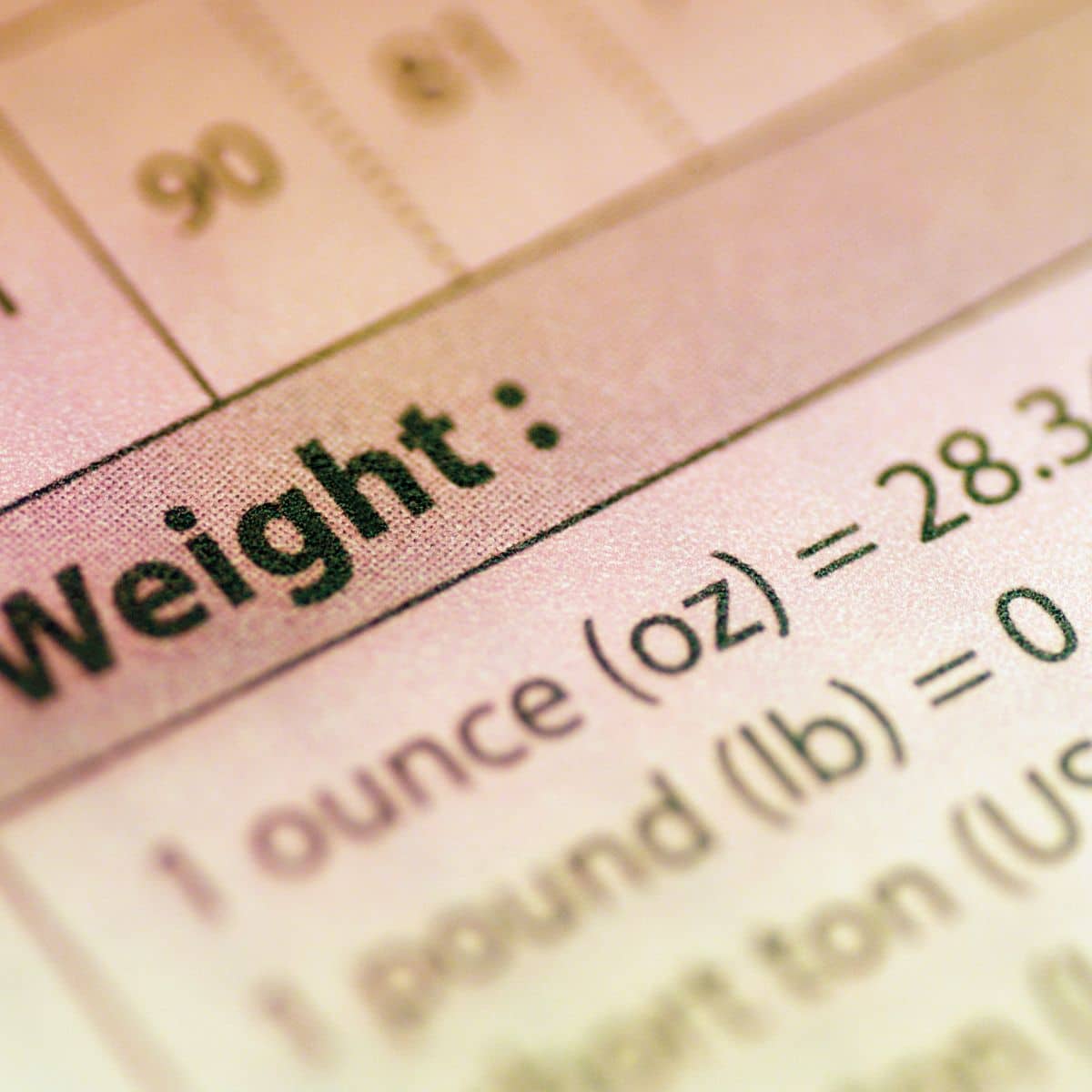 Do you know measurement equivalents? How many teaspoons are in a tablespoon? And how many tablespoons are in ¼ cup? Most people don't have these memorized. Or, you might have the ones you use often remembered, but what about a new one that stumps you? This post gives you an easy chart that you can reference any time you need.
Math in the Kitchen
Before you start cooking yourself, you probably never realize how much math actually goes into it. But there are a lot of numbers and measurements that happen in the kitchen. In fact, professional chefs have to take math classes as beginner courses in their culinary schools.
Sometimes you will need to adapt your recipes or your ingredients. You may need to work with different pan sizes or larger batches of the recipe. Or maybe you need to use a different measuring tool and you don't want to mess up the formula.
You can memorize a few simple conversions to make things much easier in the kitchen, but if you're not good at memorizing, or just want to be sure you get it right, you can use charts and display them somewhere in your kitchen space where you won't forget about them. Sometimes you may also need to scale up a recipe to make more portions of it, or maybe even scale down to make less. When you understand the conversions, it makes it easy to tweak it to your needs and not mess it up.
Measuring liquid vs. dry ingredients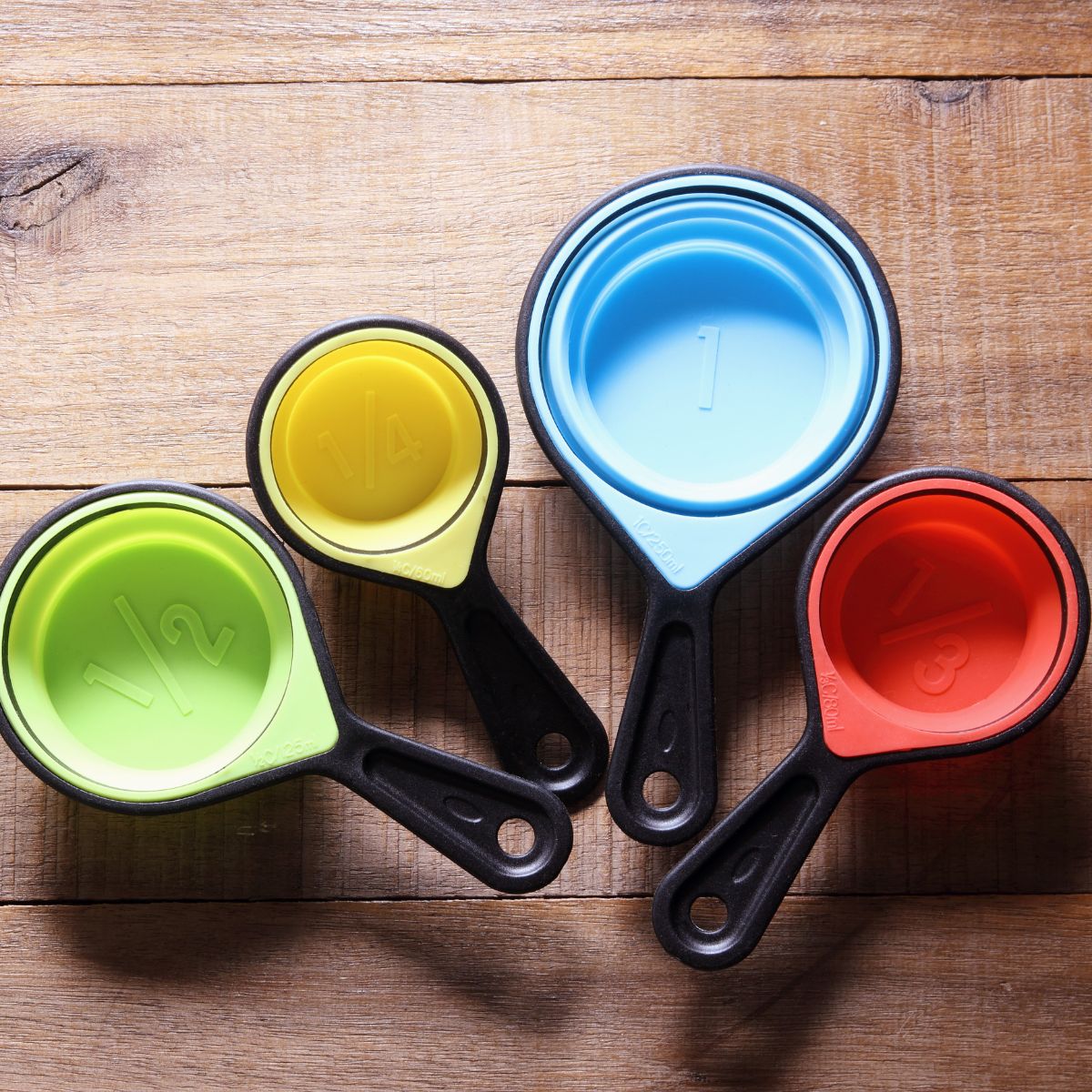 One thing you will do a lot in the kitchen is measure ingredients. There will be many different types of ingredients to measure, and it's recommended you have two sets of measuring tools: one for liquid ingredients and one for dry. There's a difference in these tools because of the purpose they serve.
Liquid measuring tools are usually cups or glass containers and will often have a spout to make pouring out the liquid easier and less messy. They may also have the measurements written on the side of the glass. They are great for items like milk, creamer, oils, honey, molasses, and water.
Dry measuring tools are often spoons or plastic cups. They can be used for things that mound up or come in a powder-like form, such as sugar and flour, as well as chocolate chips, sour cream, brown sugar, or shortening.
For measuring smaller quantities, you will usually use spoons and for larger amounts, you use cups. Most measuring spoons are designed very similar to measuring cups, with a straight, even rim, like on a measuring cup. Measuring spoons can be used for smaller amounts of liquids or dry ingredients.
A Handy Chart for Measuring Equivalents
Knowing how many teaspoons there are in a tablespoon can be helpful, for example. But there are many other times you will need to know conversions. When we are cooking and need to know what the measurement equivalents are, we use our Measurement Conversion Refrigerator Magnet (affiliate link) all the time. It's so easy.
You wouldn't believe how many times we use this little measurement equivalents chart, especially during the holidays when we are making a double or triple recipe because friends and family will join us for a holiday dinner. The recipe calls for 2 tablespoons and you are doubling it. So that's 4 tablespoons. Wouldn't it be easier to simply measure once using a ¼ cup measure?
But here's a little measurement conversion table for you to use or memorize...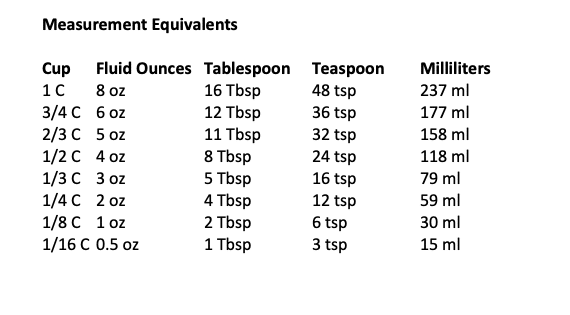 Printable Cooking Measurement Conversion Chart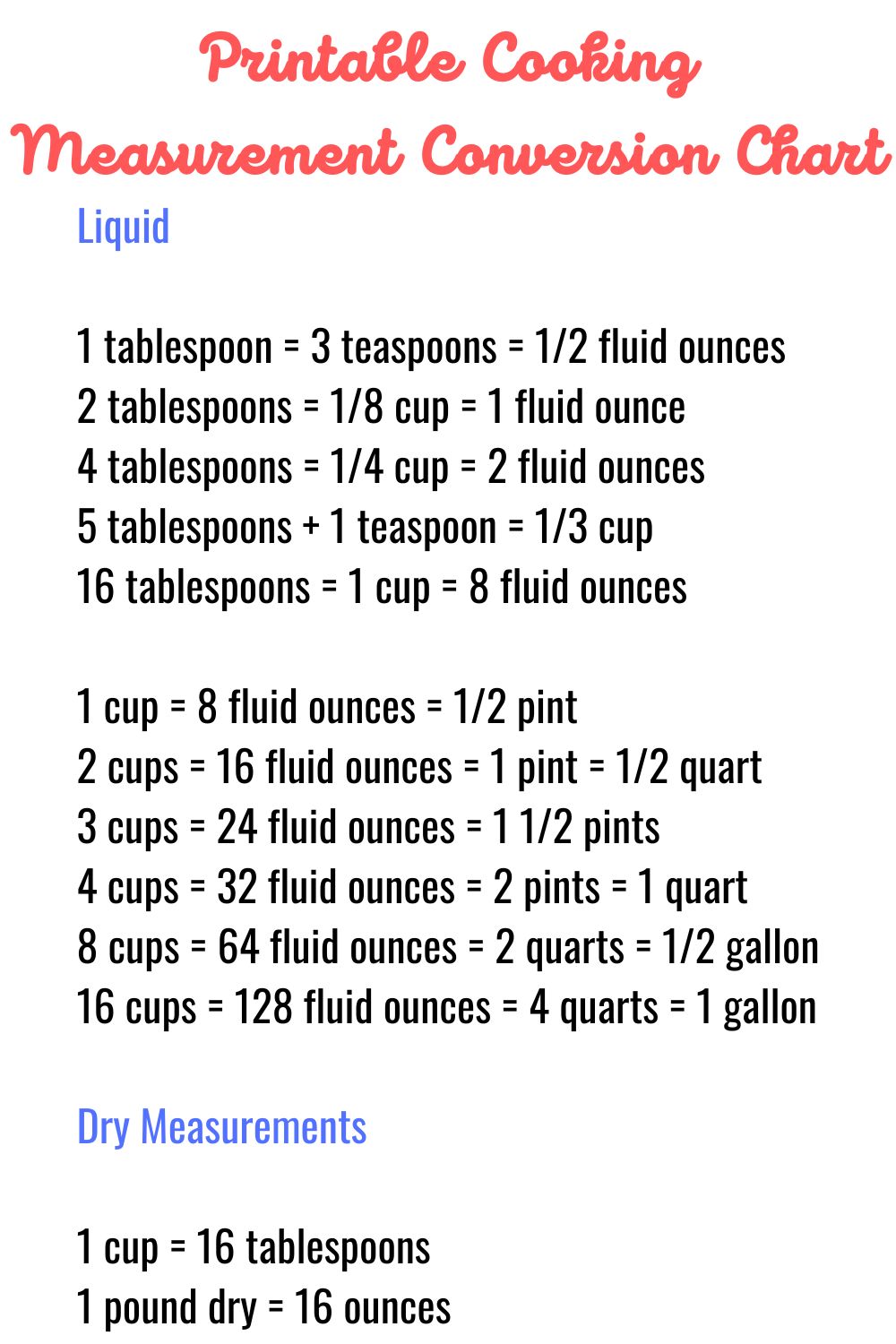 When you want something quick and easy that you can refer to often, check out this printable cooking measurement conversion chart.
Measuring abbreviations
Here are some common abbreviations used in measuring:
t = teaspoon
teaspoon = teaspoon
T = tablespoon
tablespoon = tablespoon
c = cup
oz = ounce
pt = pint
qt = quart
gal = gallon
lb = pound
# = pound
Common measurements
And here are some common measurements and their equivalents for you:
Small Volume (Liquid)
1 tablespoon = 3 teaspoons = ½ fluid ounces
2 tablespoons = ⅛ cup = 1 fluid ounce
4 tablespoons = ¼ cup = 2 fluid ounces
5 tablespoons + 1 teaspoon = ⅓ cup
16 tablespoons = 1 cup = 8 fluid ounces
Large Volume (Liquid)
1 cup = 8 fluid ounces = ½ pint
2 cups = 16 fluid ounces = 1 pint = ½ quart
3 cups = 24 fluid ounces = 1 ½ pints
4 cups = 32 fluid ounces = 2 pints = 1 quart
8 cups = 64 fluid ounces = 2 quarts = ½ gallon
16 cups = 128 fluid ounces = 4 quarts = 1 gallon
Dry Measurements
1 cup = 16 tablespoons
1 pound dry = 16 ounces
What about when you're baking with different types of pans? How can you know how much to make per the size and type of pan you have? Here are some guidelines.
2 ½-by-1 ½-inch muffin-pan cup = ½ cup
8-by-1 ½-inch round cake pan = 5 cups
9-by-1 ½-inch round cake pan = 6 cups
9-by-1-inch pie plate = 4 cups
11-by-7-by-1 ½-inch rectangular pan = 7 cups
13-by-9-by-2-inch rectangular pan = 14 cups
8 ½-by-4 ½-by 2 ½ inch loaf pan = 6 cups
9-by-5-by-3-inch loaf pan = 8 cups
8-by-8-by-2-inch square pan = 7 cups
9-by-9-by-1 ½-inch square pan = 8 cups
9-by-9-by-2-inch square pan = 10 cups
If you're not sure about the size of your pan, it is often imprinted on the bottom. If you don't have it, or it has worn off over time, you can measure it to see. Use a ruler to measure the length and width of the pan across its top from the inside edge to the opposite inside edge.
Cooking conversions and measurements don't have to throw you off in the kitchen. With a handy conversions chart, you can be sure you always know exactly how much to use for the perfect recipe results!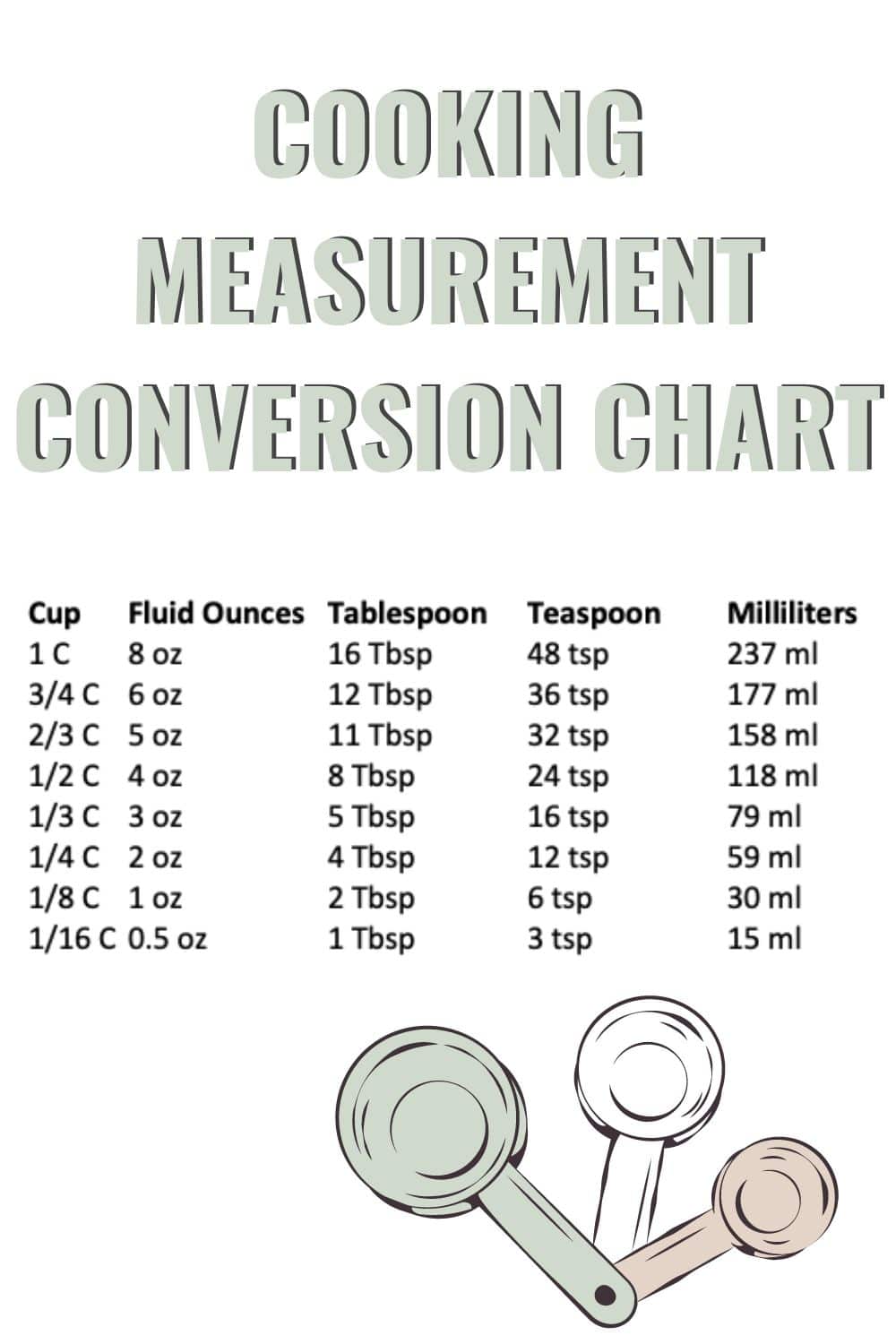 Other Useful Resources