Every busy man and woman could benefit from a quick, yet healthy and delicious breakfast. Today I'm bringing you my collection of healthy fruit smoothies you can use for breakfast, dessert, or as an afternoon snack when you need more energy.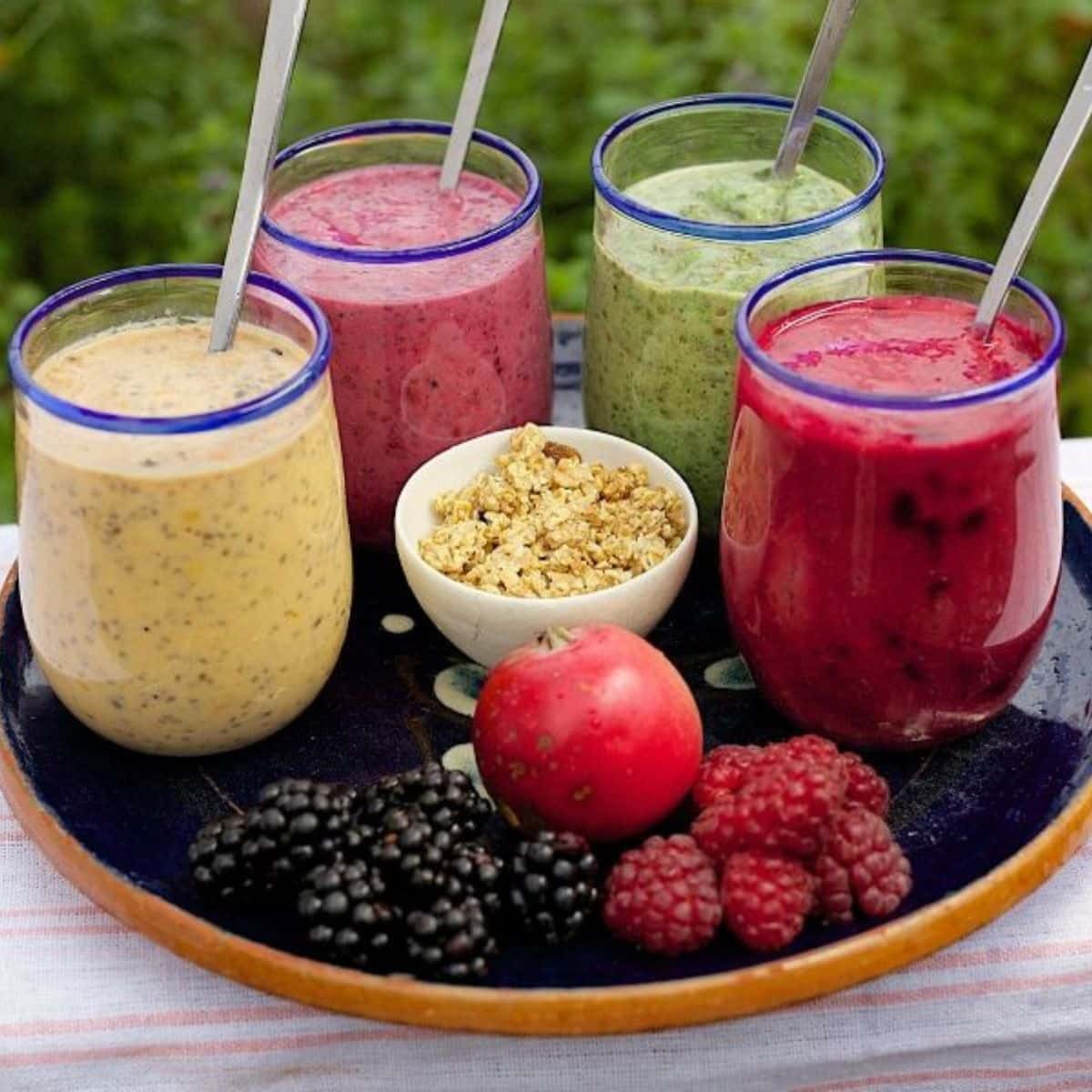 Smoothies Are Perfect For Breakfast
While many people skip breakfast (or just have a coffee and doughnuts), it's important to start your day right with a proper breakfast. Of course, not everyone has time to sit down for a nice breakfast. If you have kids to take to school or a job you need to go to early in the morning (here's some help with your morning routine), a fruit smoothie is the perfect meal.
And who doesn't love a good smoothie? They're deliciously cold and refreshing and could be the magic key to your weight loss journey. Even if you don't need to lose weight, a healthy breakfast smoothie will jump-start your metabolism and give you the energy you need at the beginning of a new day.
Healthy Fruit Smoothies You'll LOVE!
Smoothies are so easy to make! Basically, all you need to do is wash your fruit, add it to your blender, and blend for 30 to 45 seconds, depending on the fruit you use (try some fo these delicious Asian fruits)
Of course, you can add more than just fruit to your smoothies. Here are just a few ideas:
add seeds for protein and fiber: chia, flax, and sunflower seeds are some of my favorites
a tablespoon of nut butter will make it creamier and give you a bit more consistency
if you like really creamy smoothies, add half of an avocado: YUM!
use yogurt to add some probiotics to your breakfast
1. Banana mango smoothie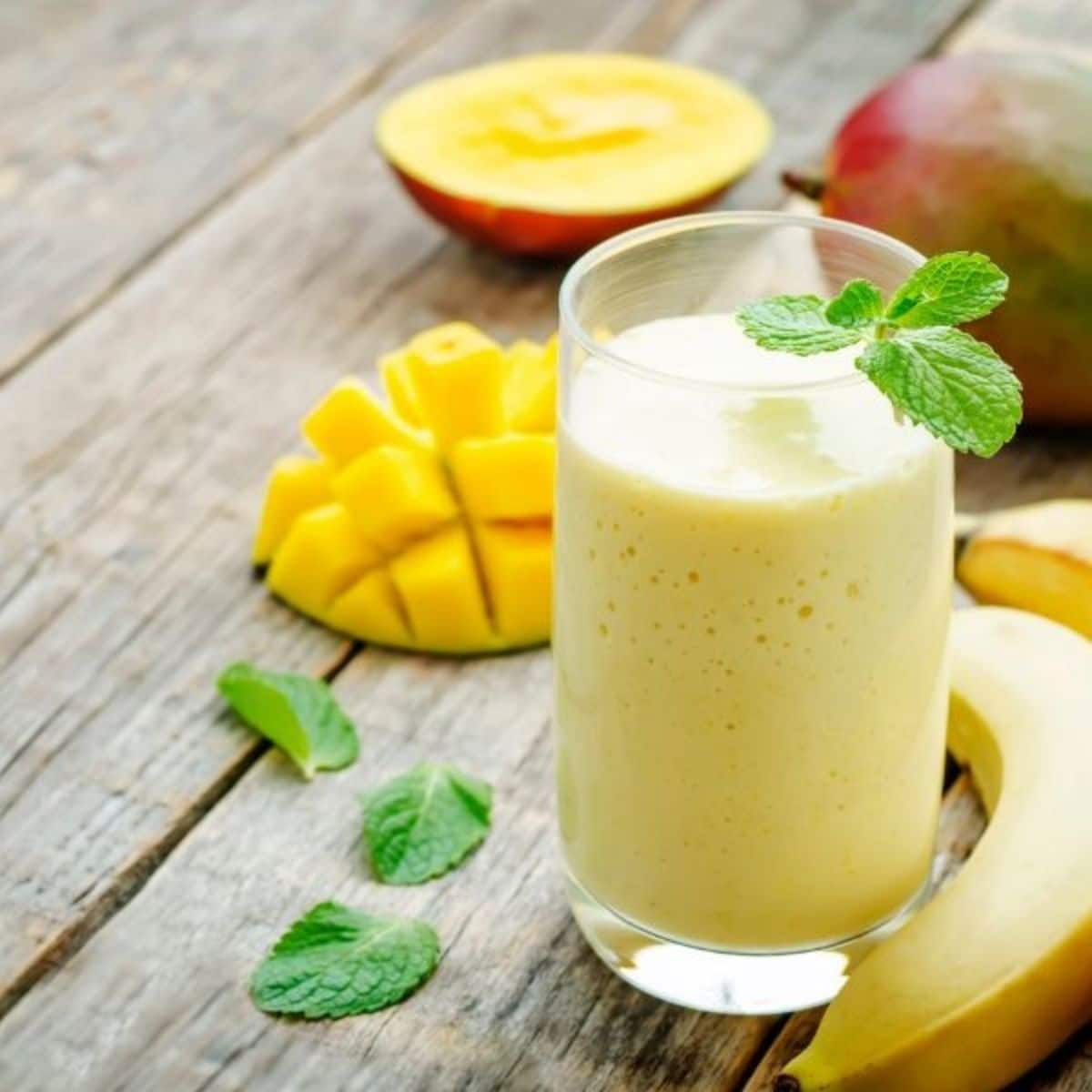 This banana and mango combination is delicious! Perfect for when you really need a sweet treat!
All you need for this is:
1 cup of nut milk (or any other milk)
1 ripe banana
1 mango
2. Tart kiwi smoothie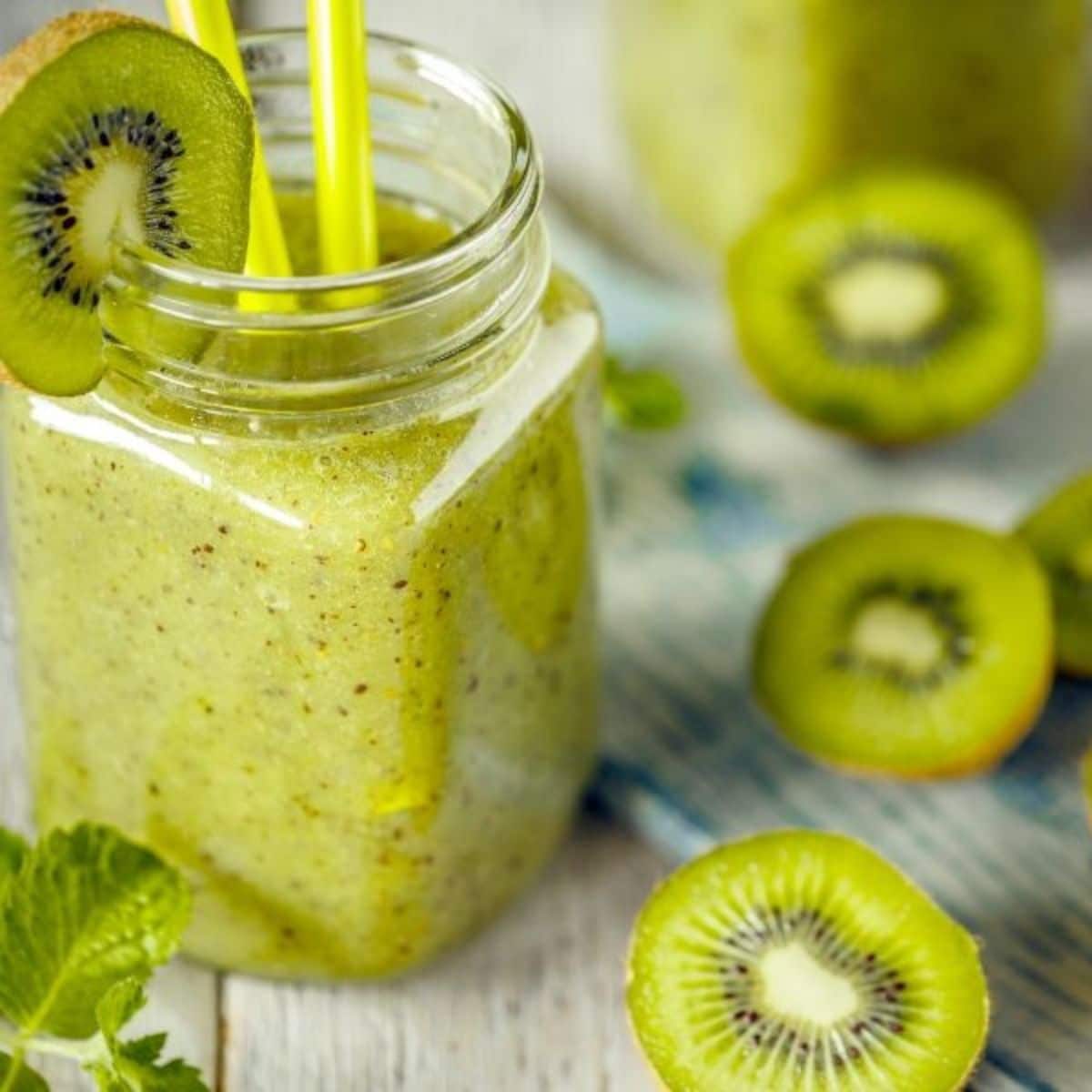 While not for everyone, this tart kiwi smoothie is full of vitamin C and perfect for those days when germs abound at school or at work.
To make it, use 3 to 4 kiwi fruits and a cup of ice.
3. Blueberry mint smoothie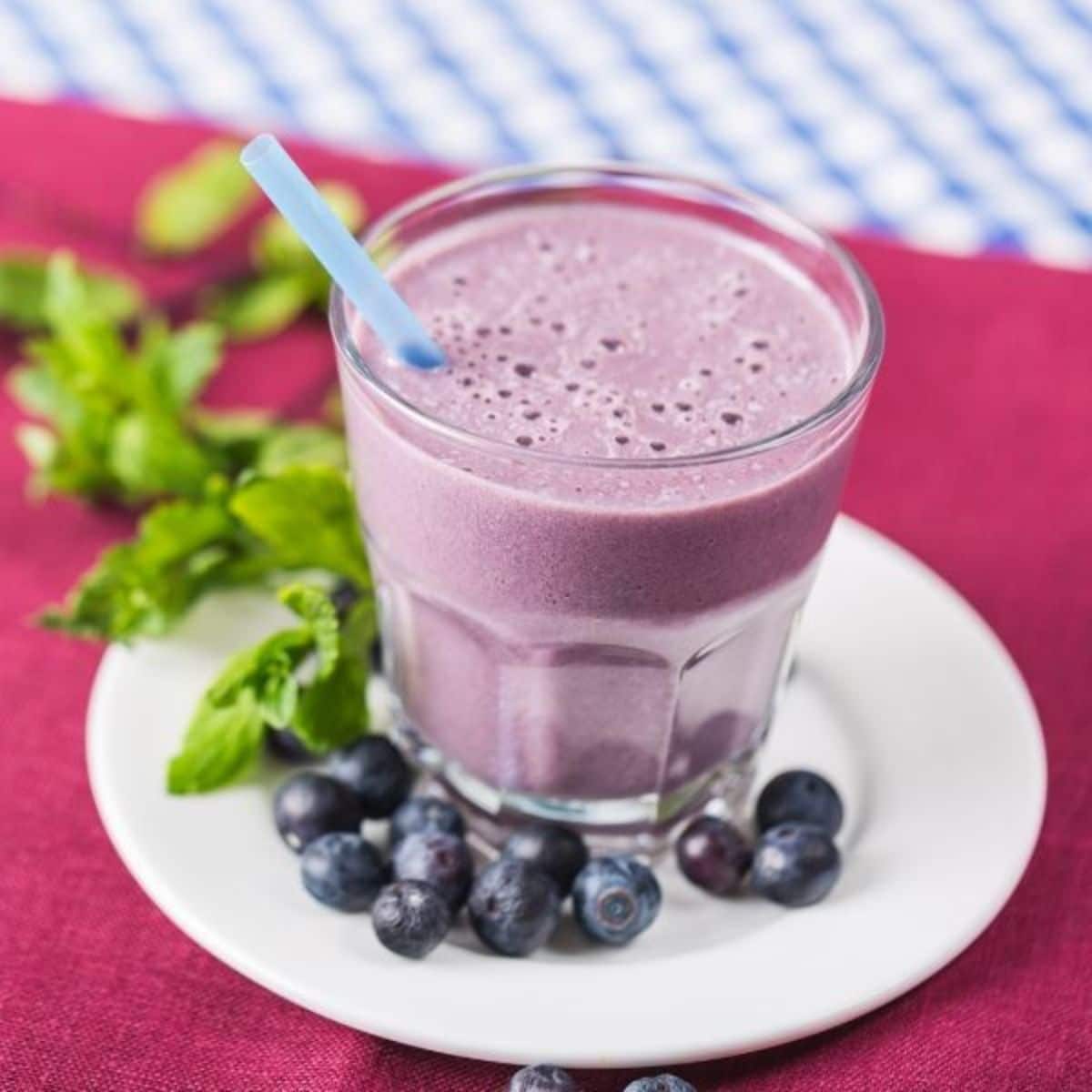 What a beautiful meal!
1 cup frozen blueberries (or fresh if you make it during the blueberry season)
1 cup plain Greek yogurt
10 fresh mint leaves
4. Mango, ginger, and turmeric smoothie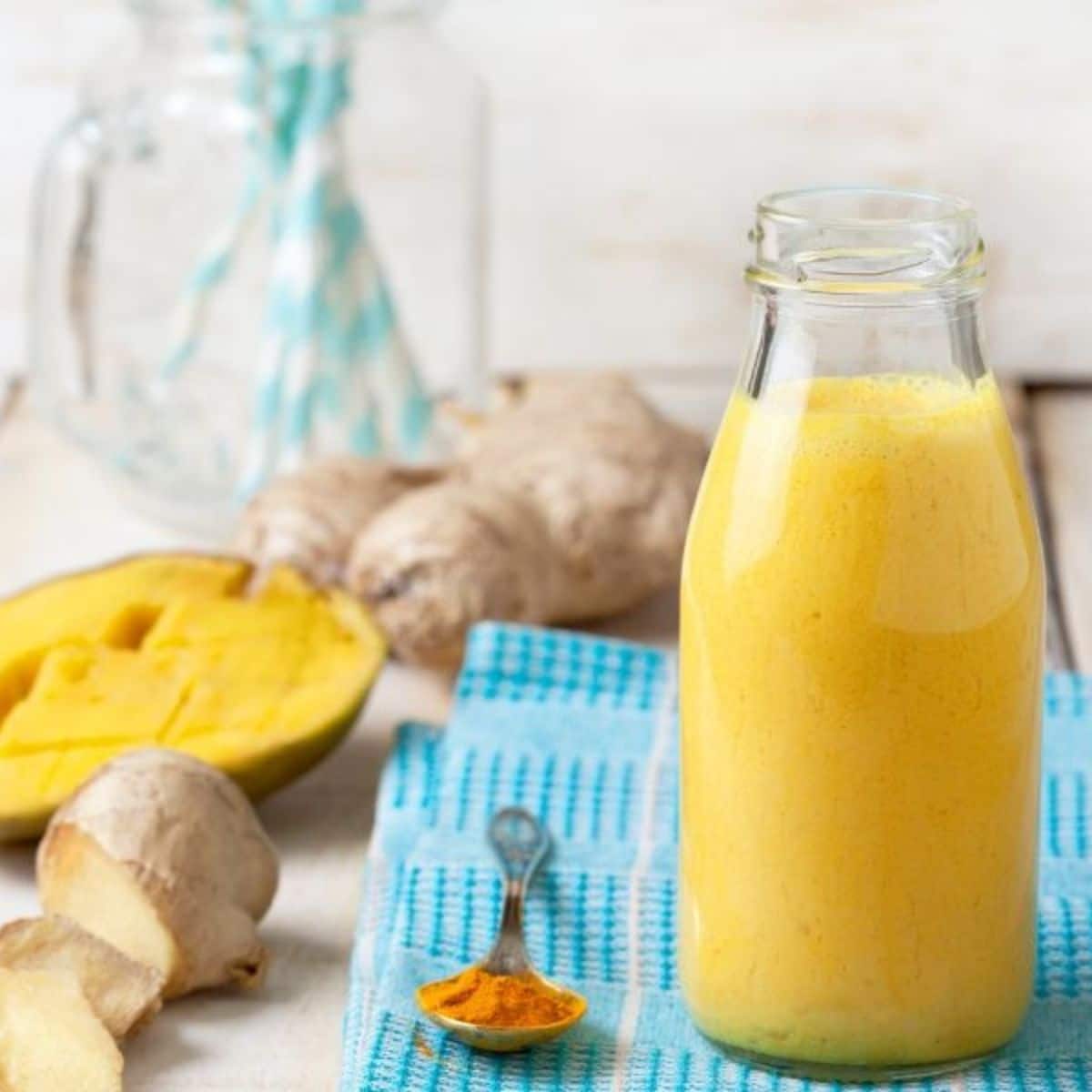 This nutrient-packed breakfast will not only give you energy and keep you full, but it will help keep inflammation away.
1 fresh mango (or half of a cup frozen mango cubes)


small

piece of ginger (depending on how spicy you want it, add ½ to 1-inch piece)

½ tsp

ground turmeric

¼ cup

oats (I prefer quick oats)
2 dates to sweeten it

1 cup

milk (I love it with vanilla almond milk, but you can use any milk)
5. Avocado lime smoothie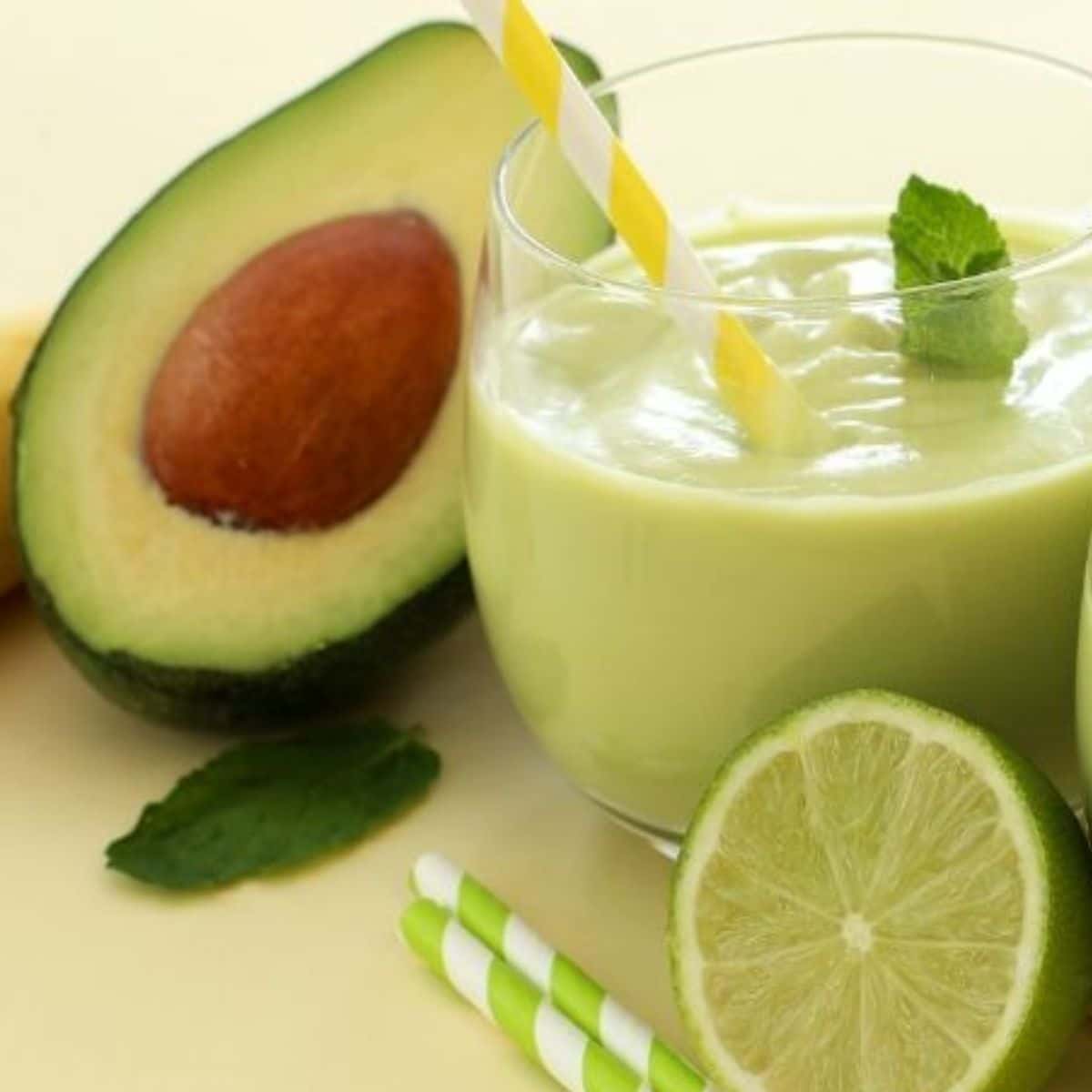 This is the creamiest smoothie ever!
1 cup of your favorite yogurt
½ an avocado
juice from one lime
1 tablespoon of honey or organic maple syrup (this is my favorite!)
½ cup of ice cubes
Smoothie Prep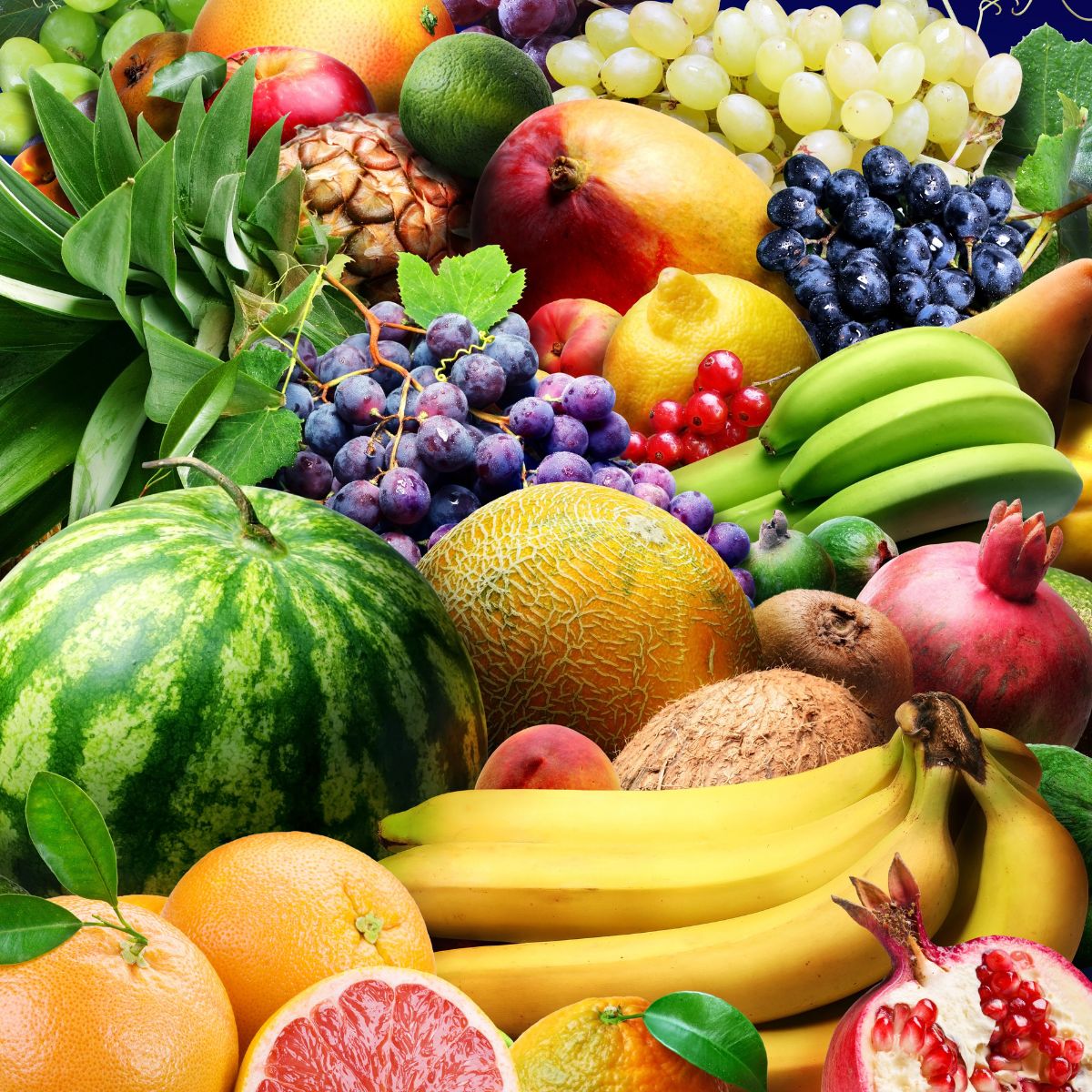 If you want to make it easy on yourself (and also use your fruit fresh, before it gets old), take a few minutes on weekends to prep for your smoothies of that week.
Wash and cut up your fruit, mix your favorites and place them in small, one-smoothie bags. Take as much of the air out as you can and place them in the freezer. Then every morning, take one fruit bag out, add water or milk and blend it.
Now you're ready for the day!
Love fruits? Here are a few more fruit recipes to try:
Reasons To Drink Smoothies
Here are some reasons to make and drink fruit smoothies:
weight loss
easy to ingest for pregnant mommies with morning sickness
weight gain (yes, you can gain weight whit smoothies, if you add the right ingredients: high-calorie nut butter, protein, sweet fruits that have more calories, etc)
quick meal (works for any meal, not just breakfast)
great way to add healthy food to your kid's diets
boost of energy before a workout
refreshing after a workout
My Favorite Ingredients For Healthy Fruit Smoothies
While pretty much any fruit is suitable to make slushies and smoothies, some are better than others. Here are my favorites:
bananas (especially when they are very ripe: they give extra sweetens)
berries (all of them)
mango
pears
peaches
avocado for creaminess
seeds
nut butter\
mint leaves for flavor
How To Make Sure Your Smoothies Stay Healthy
Not all smoothies are healthy, so here are some ways to make sure your smoothies are keeping you healthy, rather than adding to the number of calories you ingest, or just drinking empty calories.
1. Measure out high caloric ingredients
One of the biggest weight loss mistakes when it comes to smoothies is underestimating the impact of liquid calories. To avoid adding unnecessary calories to your smoothies, measure your ingredients and keep track of the calories.
You don't have to measure it out every time: just get an idea of how many calories different liquids have and keep it in mind when gathering your ingredients.
2. Add protein
Another common smoothie mistake is forgetting two of the most important ingredients, protein, and fiber.
Protein is an integral part of diet and exercise. It helps build muscle, which you need to maintain a healthy metabolism. There are many ways to ramp up your smoothie with protein. If it's easier for you to use the powders, then go for it.
You can also add low-fat cottage cheese, almonds or almond butter, tofu, oats, or any of the other healthy options out there.
3. Limit fat
There are a few ingredients you want to scale back on when keeping your smoothie healthy. Most people add high-fat ingredients like peanut butter or ice cream to get a creamy texture, but that's probably what's hindering your weight loss.
To keep the same texture but cut the calories, use bananas or avocados instead.
4. Avoid extra sugar
It takes time to train your taste buds, but so worth it! Your fruit smoothies are already packed with lots of natural sugars, so no need to add more. If you are using low glycemic fruits, and really need a sweetener, add a date or two. Those will sweeten your smoothies without processed sugar.
5. Skip the fruit juice
Fruit juices may sound like the perfect option for your smoothie, but it's definitely not the best one. Juices are also full of added sugars and not a lot of flavor, so they do more harm than good. If you're looking to make your smoothie easier to drink, add some water. If you need to thicken it up, then add some ice.
It's simple changes you can make to your smoothie to get your diet back on track without having to ditch your favorite snack. Being conscious of the foods you're throwing in the blender is the most important thing. Once you find a recipe that works for you, then you should start seeing better results in no time.
Are you a smoothie junkie? What ingredients do you use in your favorite healthy fruit smoothies? Have you had weight loss success while drinking smoothies? Let us know in the comments section below. And don't forget to share this with your family and friends.