Black Eyed Peas and Kale or Ribs & Sauerkraut for New Year's Day? It depends on where you grow up. I like them both, but I lean toward the black eyed peas. They are really scrumptious and vegan.
Do Black Eyed Peas and Kale bring good luck? 
Years ago, when Don and I lived in Williamsburg, Virginia, we were invited to a Black Eyed Peas party to ring in the new year. It was a fun excuse to eat good food and socialize. But did you know that in the South (U.S.) you are supposed to eat Black Eyed Peas on New Year's Day to promote good fortune for the coming year? Neither did we. And Don grew up in the South.
This recipe takes about 15 minutes to prepare and then you let it cook, melding all the beautiful flavors, for 5-6 hours. The result is amazing.
History of Black Eyed Peas
When I researched it, I found that during the Civil War, black eyed peas were considered "animal food." When the Union soldiers came through an area, they often took most of the food, leaving the black eyed peas because they were considered inedible. Surprise! They are not only edible, they are delicious and nutritious! Black eyed peas are usually white or tan with a darker spot (eye). For some reason, my black eyed peas are a darker variety and look more like red beans. No worries, though. You can use red beans, white beans or black beans for this recipe if you want.
Down Home Vegan
We have eaten a lot of meat lately so I made this vegan meal from one of my favorite cookbooks, Fresh from the Vegetarian Slow Cooker by Robin Robertson. Along with some Cornbread, it was a good "down home" meal. This recipe is best made in a slow cooker cooking the peas for 5-6 hours.
If your slow cooker isn't programmable, you can add a light timer to it to turn it on when you want. A timer a simple, low cost option. Or use a programmable slow cooker.
I think anytime is a good time for this Slow Cooker Black Eyed Peas and Kale! It's vegan, gluten free and totally amazing. I like to eat the peas over the kale without any pasta, but Don likes to have his over noodles.
What You Need
For this recipe you'll need some simple tools, including measuring cups and spoons, a vegetable peeler, good knives, a sauté pan and a slow cooker. But what you really want is a cast iron skillet to make corned bread in and some beautiful pottery dishes, am I right?
Black Eyed Peas and Kale (Slow Cooker) Recipe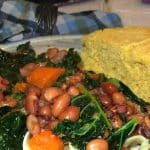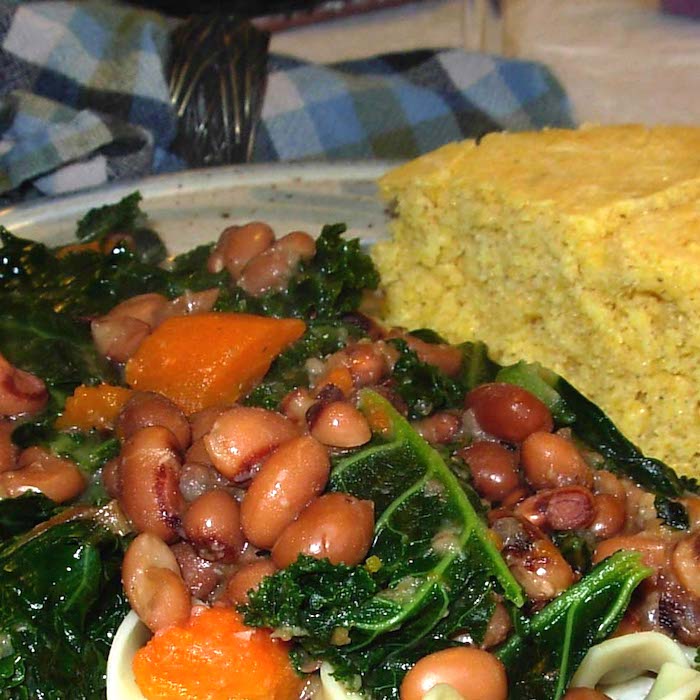 Slow Cooker Black Eyed Peas and Kale Recipe
Ingredients
2

tablespoons

olive oil

2

carrots

(peeled)

2

shallots

(minced)

2

garlic cloves

(minced)

2

15-ounce

cans of black-eyed peas

(drained and rinsed)

1

cup

vegetable stock

1

bunch

kale

1/4

teaspoon

black pepper
Instructions
Cut the carrots in 1/2 lengthwise and then cut each half in 1/2-inch chunks.

Heat the oil in a skillet and sauté the shallots a few minutes.

Then add the carrots and continue to sauté until the shallots are transparent and the carrots begin to brown.

Add the garlic and continue cooking for about 1 minute.

Transfer the mixture to a 4-6 quart slow cooker.

Add the peas, vegetable stock and pepper.

Cook on low for 5-6 hours.

A half hour before serving, remove the stems from the kale and chop into bite-sized pieces.

Cook kale in a pot of boiling water for about 5 minutes until the greens are tender but still bright green.

Drain the greens and stir them into the pot of peas. (Or simply serve the beans over top of the kale.)

If you like, serve the dish over a bed of wide noodles, along with a salad and some cornbread or crusty french bread.
https://recipeideashop.com/black-eyed-peas-and-kale/
Affiliate Disclosure:Many of the links included throughout Recipe Idea Shop are affiliate links, which means if you follow them and you buy something, we will get a small commission. It doesn't cost you a penny more, and you can still use your Amazon Prime account to buy. Don and I love our Amazon Prime account. This posting includes affiliate links.  
Recipe Nutrition Information
The information shown is an estimate provided by an online nutrition calculator. It should not be considered a substitute for a professional nutritionist's advice.
WHAT'S NOT TO LOVE?
Trust me, you're gonna love this recipe. Up your recipe repertoire. Add this recipe to your collection. But don't stop there…subscribe to our email newsletter and get a free cookbook and a printable grocery shopping list.
RATE, PIN & SHARE!
Please Rate our recipes, and Pin and Share them on social media. Comments are welcome, too!
You May Also Like These Recipes From Recipe Idea Shop
BEFORE YOU GO, DID YOU GRAB YOUR FREE COOKBOOK?
[mc4wp_form id="5109″]