Blueberry Compote, warm, tasty goodness. Serve it on pancakes, waffles, French toast, everything.
Blueberry Compote, sweet, tangy, just right!
Hi there. Don here at Recipe Idea Shop, giving you my Blueberry Compote recipe. In the U.S., March 1 is "Fruit Compote Day," so I'm reposting this recipe for you. This is my favorite fruit compote.
Buy Blueberries in Season
When the blueberries come in season in the Shenandoah Valley, they really come in. Our friends the Johnson's have big, plump blueberries—as do some of the other vendors—at the Harrisonburg Farmers' Market. We usually buy many more blueberries than we can eat while they are in season.
We make a variety of desserts, including Crumbly Top Blueberry Pie, Don's Best Blueberry Pie and Blueberry Buckle. Lois eats blueberries on her cereal while they are in season, too. As good as blueberries are, though, we can only eat so many and we don't like them to go to waste. Blueberry Compote to the rescue.
How to Freeze Blueberries
Lois takes the abundance of blueberries, sorts and washes them. After they dry, she puts them in single layers on a cookie sheet and into the freezer. Once frozen, they are stored in zip lock bags in the freezer, ready for mornings like today.
As Lois was making Buckwheat Pancakes today, she looked at me and asked how to make Blueberry Compote. I guess I made it for her years ago, but I forgot. A quick Internet search on the iPad and SIRI led me to Ellie Krieger's quick recipe for Blueberry Compote, which of course, I modified a bit by adding a cinnamon stick for that extra zing of flavor.
Blueberry Compote Recipe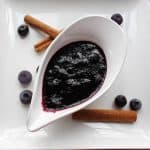 Blueberry Compote
Sweet and tangy sauce made from fresh or frozen blueberries.
Ingredients
2

cups

fresh or frozen blueberries

¼

cup

sugar

3

tablespoon

water

2

teaspoon

lemon juice

1

cinnamon stick
Instructions
In a small saucepan combine 1 cup of blueberries with all of the other ingredients.

Bring to a boil over medium heat and, stirring frequently, cook for 15 minutes.

The compote will start to thicken.

Add the rest of the blueberries and continue to stir and cook for another 8 minutes.

Remove from heat.

Remove the cinnamon stick.

Serve warm on buckwheat pancakes for breakfast or over ice cream for a snack or dessert.

If you let it cool to room temperature or in the refrigerator, it will thicken more and you can spread it on homemade English muffins or on croissants.
https://recipeideashop.com/blueberry-compote
Note: Many of the links included throughout Recipe Idea Shop are affiliate links, which means if you follow them and you buy something, we will get a small commission. It doesn't cost you a penny more, and you can still use your Amazon Prime (Shop Amazon — Give the Gift of Amazon Prime) account to buy. This posting includes affiliate links. Don and I love our Amazon Prime account.
Blueberry Sauce Nutrition Information
Want More Recipes Like This?
If you want more delicious recipes, please sign up for our free cookbook.
Pin & Share!
Please Pin and share our recipes. And tell us what you think in the comments.
You May Also Like These Recipes From Recipe Idea Shop
BEFORE YOU GO, DID YOU GRAB YOUR FREE COOKBOOK?