These easy-to-make delicious cauliflower broccoli fritters are savory, and crispy, and look beautiful on the plate! Your family will ask for seconds and maybe even thirds when you whip up these yummy fritters. Your kids will actually WANT their veggies!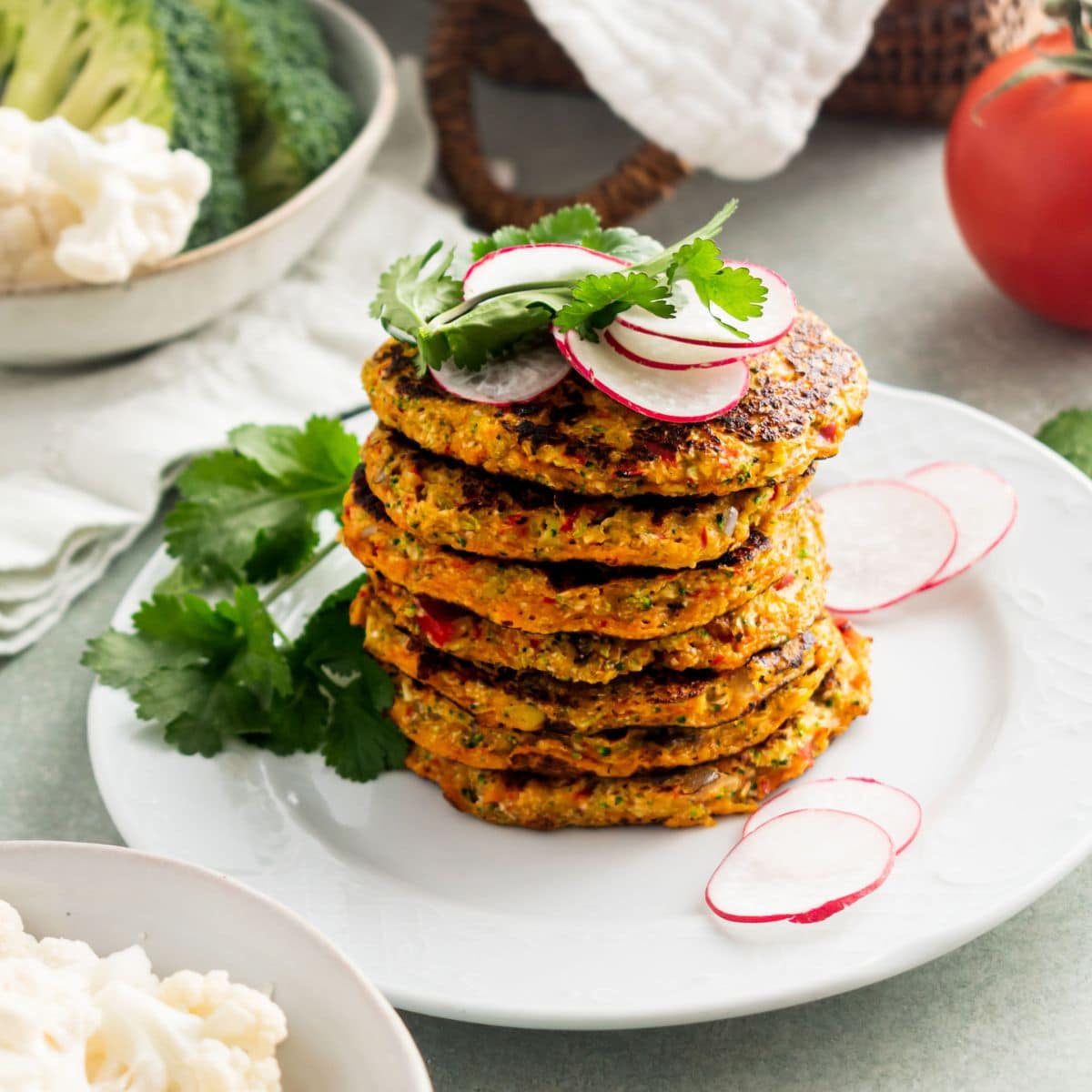 Jump to:
Why You Should Make This!
There are many great reasons to make these yummy, golden brown patties. Let's look at the main ones.
Delicious - these patties are so good, you won't have to beg your kids to eat them. They'll ask for more all on their own.
Inexpensive - with just a few ingredients, these broccoli and cauliflower fritters won't break the bank.
Versatile - you can use them as an appetizer, side dish, or make it the main meal: all work just as well. Also, you can make them with fresh veggies, or use frozen ones.
🥘Ingredients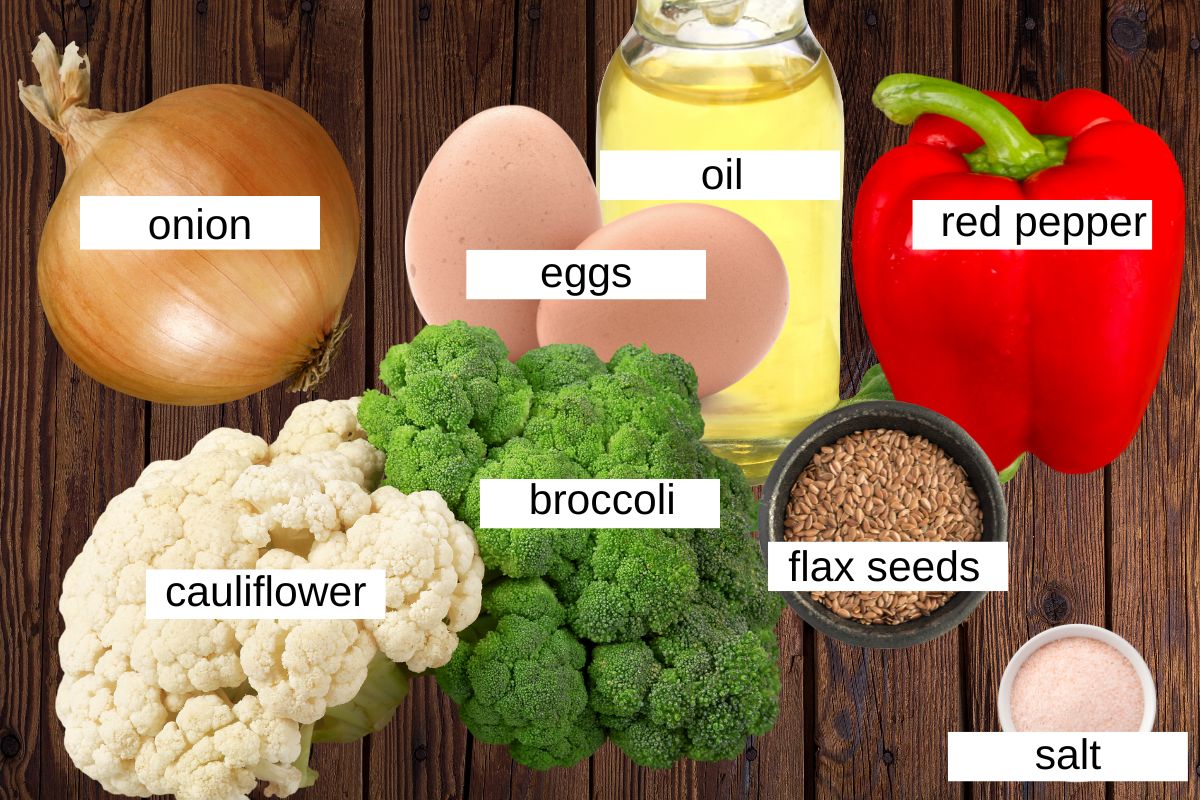 Broccoli and cauliflower - I used fresh veggies, but you can use frozen ones as well. Just thaw them out the night before and skip the microwaving.
Red pepper - I added the red pepper to liven the fritters up, by giving them a bit of color. You can completely skip it if you don't care for the color. Or, if you like spicy food, add a few spicy red pepper flakes.
Onion - in my opinion, onions make every dish better. By sautéing it, you bring out the onion's sweetness to counter the pungent taste of the brassicas.
Eggs - eggs keep the fritters together and add some protein too.
Flax seeds - the flax seed meal adds a nutty taste to the fritters, but it also helps keep the ingredients together better.
See the recipe card for quantities.
Variations
You can also choose to mix it up a bit with some variations.
Bake - try baking instead of fry
Cheese - add some parmesan cheese
Herbs - add some herbs like parsley, rosemary, and thyme)
Garlic - add some fresh garlic cloves or garlic powder
How To Make Cauliflower Broccoli Fritters
Now that you have your ingredients and equipment, it's time to begin.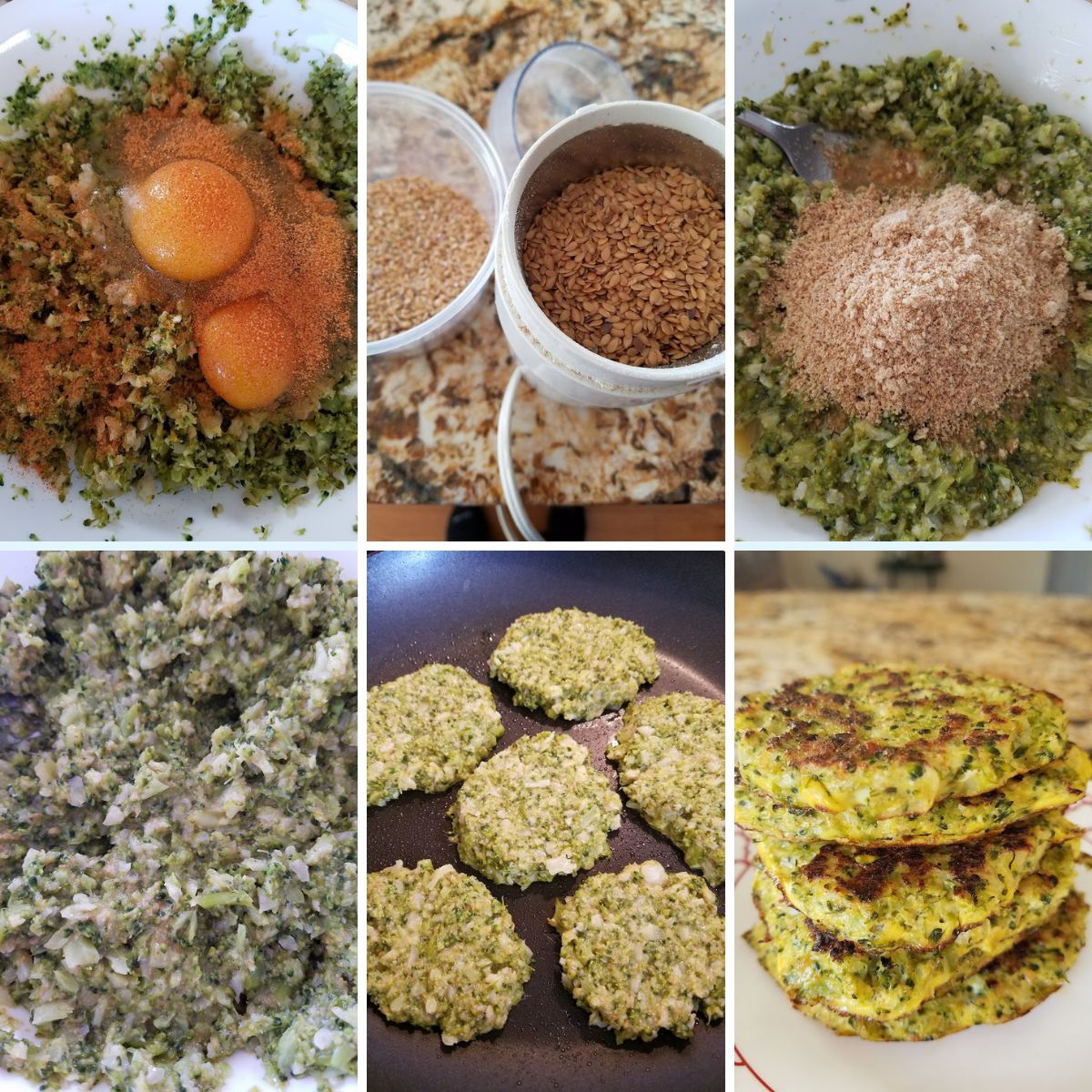 First, put the broccoli and cauliflower florets in the food processor, and pulse until chopped into small pieces, bigger if you like more texture. Be sure not to chop to a puree.
Next, steam the chopped veggies for five minutes. While doing this, chop and sauté onion in 1 tablespoon of oil (for about 5-7 minutes). Now let both cool for about 15 minutes.
Chop red bell pepper as small as you can. Add the 2 eggs, salt, and black pepper to your veggies and mix it all well.
Now grind the flax seeds and fold them up into your mixing bowl. Brush oil into your pan and turn the heat on.
Scoop the mixture into patties and drop them into the pan. You can use the back of a spoon to help you flatten and shape.
Cover and cook on medium heat for about five minutes. Check halfway through to be sure it's not too hot. Then flip them and cook 3-4 more minutes.
Take your patties out and arrange them on your plate. Serve warm or cold, according to your preference!
This recipe makes 10 patties. If served as an appetizer, 2 should be enough for each person. If you are using them as your main meal, you might want to eat a few. My husband ate 6 of them when I first made these patties.
Cooking tip
Practice with temperature and timing until you get the perfect slightly crispy on the outside and soft on the inside fritter.
Recipe FAQs
Can you freeze these cauliflower broccoli fritters?
Yes, you can freeze them. Then just pop them into your air fryer or oven to easily reheat when you're ready.
Can you bake them instead of frying them?
Absolutely! While they are typically fried, fritters can also be baked. Baked fritters tend to be lighter and less greasy than their fried counterparts, making them a healthier option. To bake fritters, simply coat them in a light batter and then bake them in a preheated oven until golden brown. Serve with your favorite dipping sauce or toppings. Enjoy!
What should I serve with cauliflower broccoli fritters?
While they can be enjoyed on their own, they also pair well with a variety of side dishes. For a light meal, try serving fritters with a salad or roasted vegetables. For something heartier, fritters can be served alongside grilled chicken or fish. And for a truly indulgent treat, fritters can be topped with shredded cheese and served with a dollop of sour cream.
Other Vegetarian Recipes To Consider
If you tried this Cauliflower Broccoli Fritters recipe or any other recipe on my website, please leave a 🌟 star rating and let me know how you go in the comments below. I love hearing from you!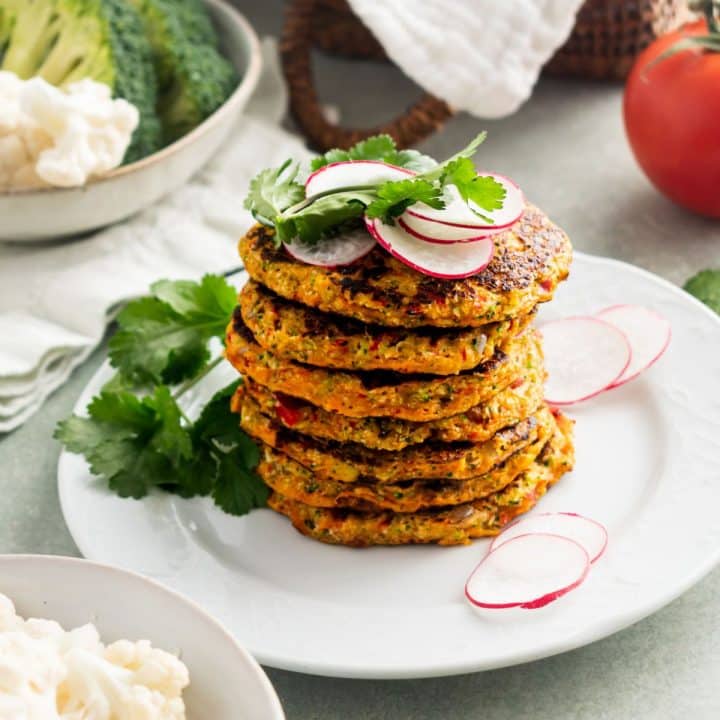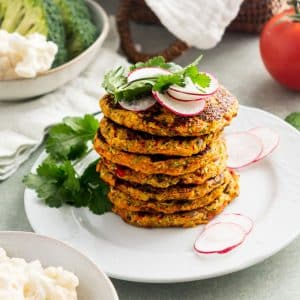 Cauliflower Broccoli Fritters Recipe
A delicious mixture of healthy vegetables made into patties (or fritters), great as appetizers, or the main meal. Vegetarian, but meat eaters will love it just as much!
Ingredients
½

lb

fresh broccoli

½

lb

fresh cauliflower

½

red bell pepper

finely chopped

1

medium onion

chopped

2

eggs

½

teaspoon

Lawry's salt

1

pinch

of black pepper

2

tablespoon

flax seeds

ground

3

tablespoon

avocado oil
Instructions
Place the washed cauliflower and broccoli florets into your food processor and pulse it until your veggies are chopped up into small pieces. Rice size is great, but a few larger pieces will give your fritters more texture. Make sure you don't puree your vegetables.

Steam chopped veggies for 5 minutes.

Chop and saute the onion in 1 tablespoon of oil (about 5 – 7 minutes).

Let both the riced veggies and sauteed onion cool for about 15 minutes.

Chop the red bell pepper as small as you can and add it to the veggies.

Add the 2 eggs, salt, and black pepper to the veggie mixture until well incorporated

Grind the flax seeds and fold the flax seed meal into the mixture.

Brush some oil in your cooking pan and turn the heat on.

Use a large ice cream scoop of mixture for each fritter. Drop it in the heated pan, then flatten/shape your patties with the back of a spoon.

Cover and let them cook on medium for about 5 minutes (check about halfway through to make sure your fire is not too hot).

Flip them over and let cook for 3 to 4 more minutes.

Set the fritters on a paper towel to absorb excess oil.
Nutrition
Calories:
153
kcal
Carbohydrates:
9
g
Protein:
5
g
Fat:
12
g
Saturated Fat:
2
g
Polyunsaturated Fat:
2
g
Monounsaturated Fat:
7
g
Trans Fat:
0.01
g
Cholesterol:
65
mg
Sodium:
288
mg
Potassium:
384
mg
Fiber:
3
g
Sugar:
3
g
Vitamin A:
751
IU
Vitamin C:
79
mg
Calcium:
54
mg
Iron:
1
mg