Ever wondered how to cook tofu without oil? It may be because you just want a lighter meal, or just don't have oil handy: either way, check out my ideas below.
Tofu is a delicious, versatile food that has been enjoyed for centuries in Asia. Tofu is made from soybeans, and it is a great source of protein, fiber, and minerals. It's also a popular meat alternative for people on a plant-based diet.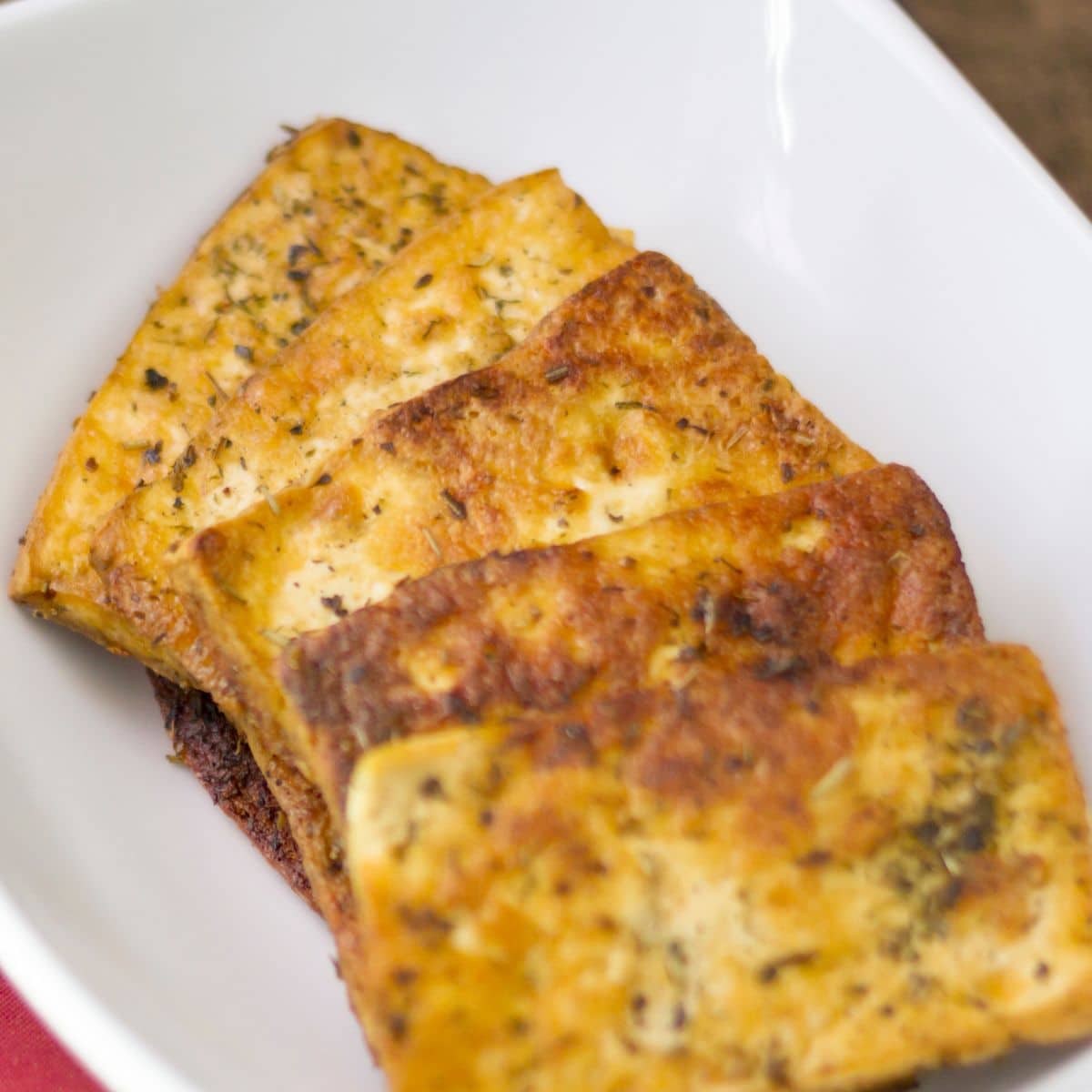 Tofu is low in calories and fat, and it is a good choice for people who are trying to lose weight or maintain a healthy weight, and a great meat substitute. It can be used in a variety of dishes, including stir-fries, soups, and salads. It can also be baked, grilled, or fried. A popular way to make it is to fry it with oil, such as olive oil or vegetable oil. But what if you want to make it without oil?
How To Cook Tofu Without Oil
Oil in moderation is very good for you, but there are times when you might need to abstain from oil, and you don't have to give up your tofu, because there are several ways to cook tofu without oil.
1. Oil-free fried tofu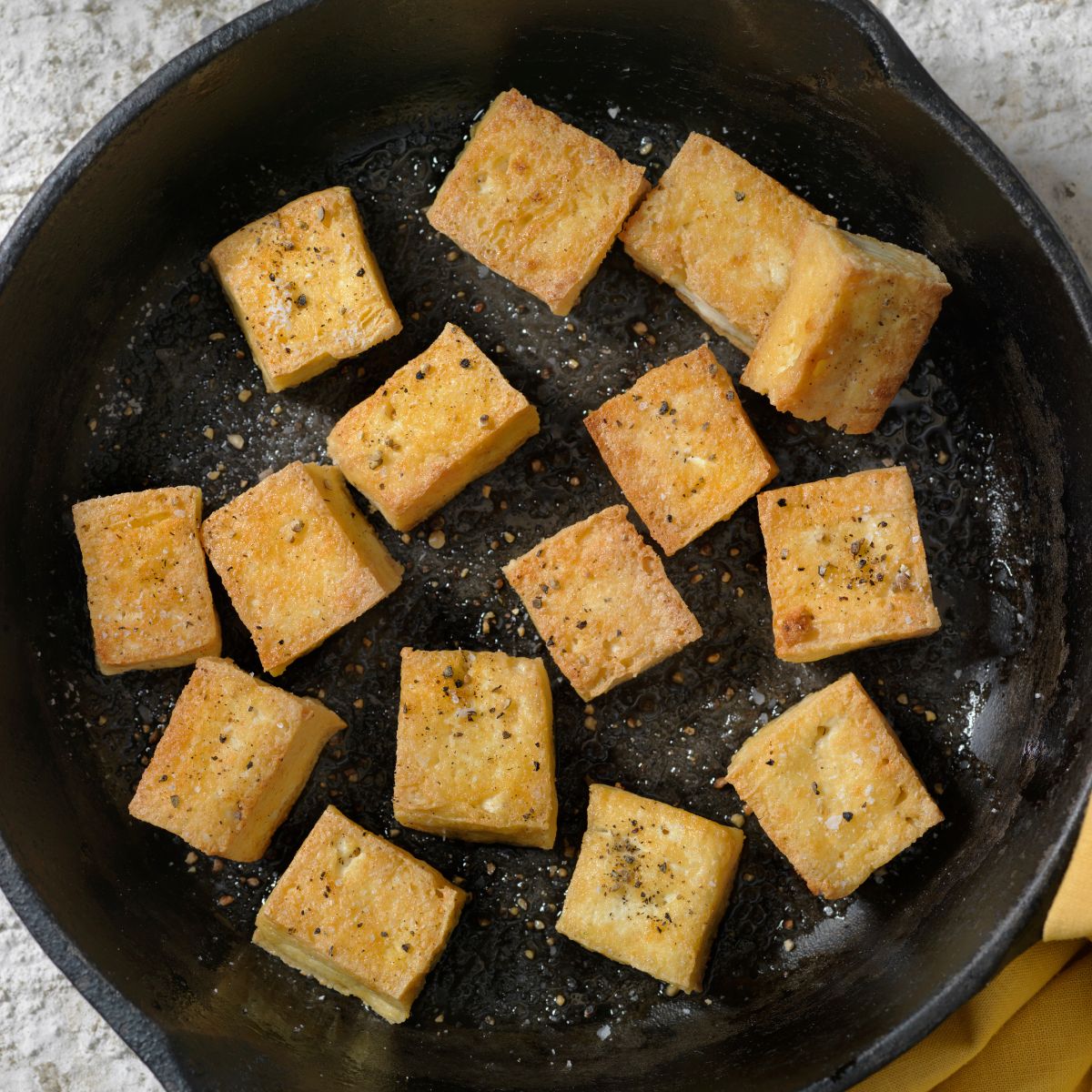 You can get crispy, golden brown tofu by "frying" it in a nonstick pan after you squeezed as much water from it as possible.
Heat up your non-stick pan, cut tofu into small cubes (or slices, depending on how you'll use it), drain excess liquid, then arrange the pieces in the pan in a single layer and cook on medium until it becomes firm and golden colored (about 10 minutes). Turn it over and repeat for another 8 to 10 minutes, until cooked to perfection.
2. Boil or simmer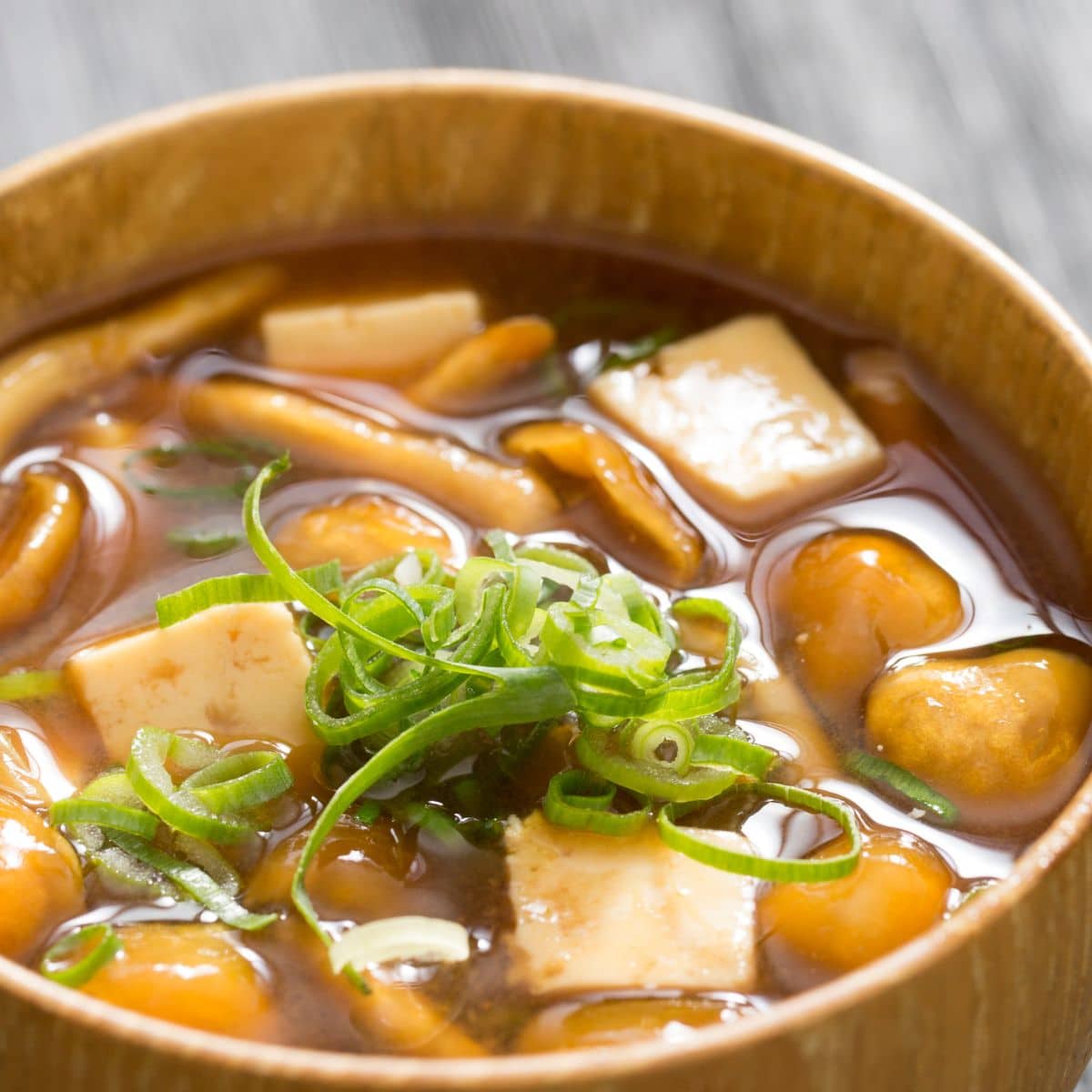 Another way to cook tofu without oil is to boil it in soups or simmer it in the sauce of your choice. It's best if you cut it up into small cubes so that the tofu doesn't get mushy in the process of boiling it. BTW, 10 minutes of cooking is about right; no need to boil tofu any longer.
3. Bake or broil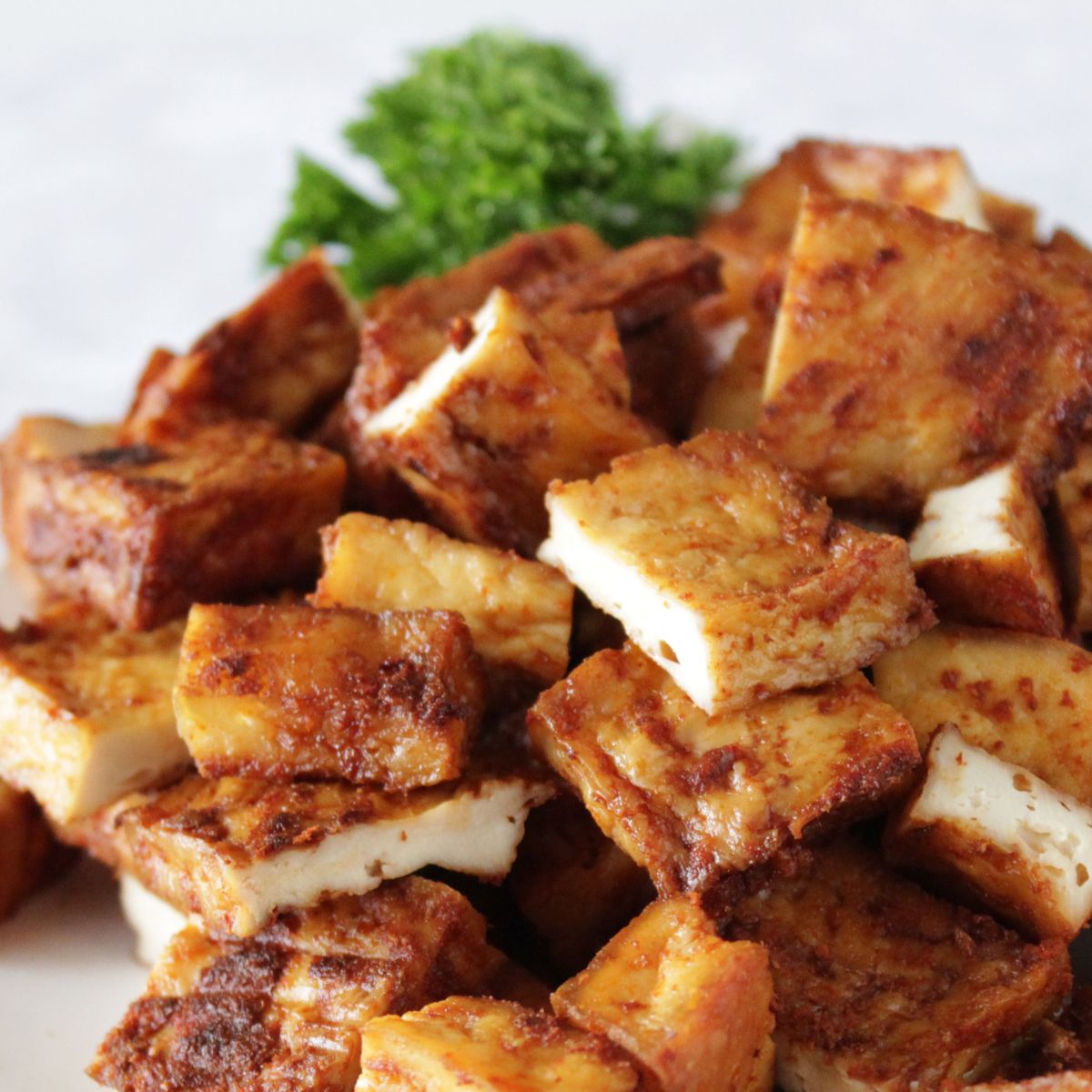 One of my favorite methods, because baking will help the liquid evaporate and give the tofu a little bit of extra crispiness.
To make baked tofu, you'll need to marinate it for a few (up to 24) hours. Don't have a few hours? Just toss the tofu with your marinade, let it sit for 15 minutes, while the oven gets up to the right temperature, and then bake. It'll still be delicious!
Important: cover your baking sheet with parchment paper for an easy clean-up and to prevent sticking to the pan.
What to use as a marinade? There are lots of options made up of simple ingredients you have in your pantry:
soy sauce
peanut sauce
hot sauce
ginger powder
garlic salt
nutritional yeast
turmeric powder
black pepper
herbs, such as thyme, oregano, basil, lemongrass, and any other herbs your family enjoys
lemon juice
apple cider vinegar
any combination of the above
Serve these crispy yummy pieces with an equally delicious dipping sauce for a mouth-watering appetizer.
4. Air fry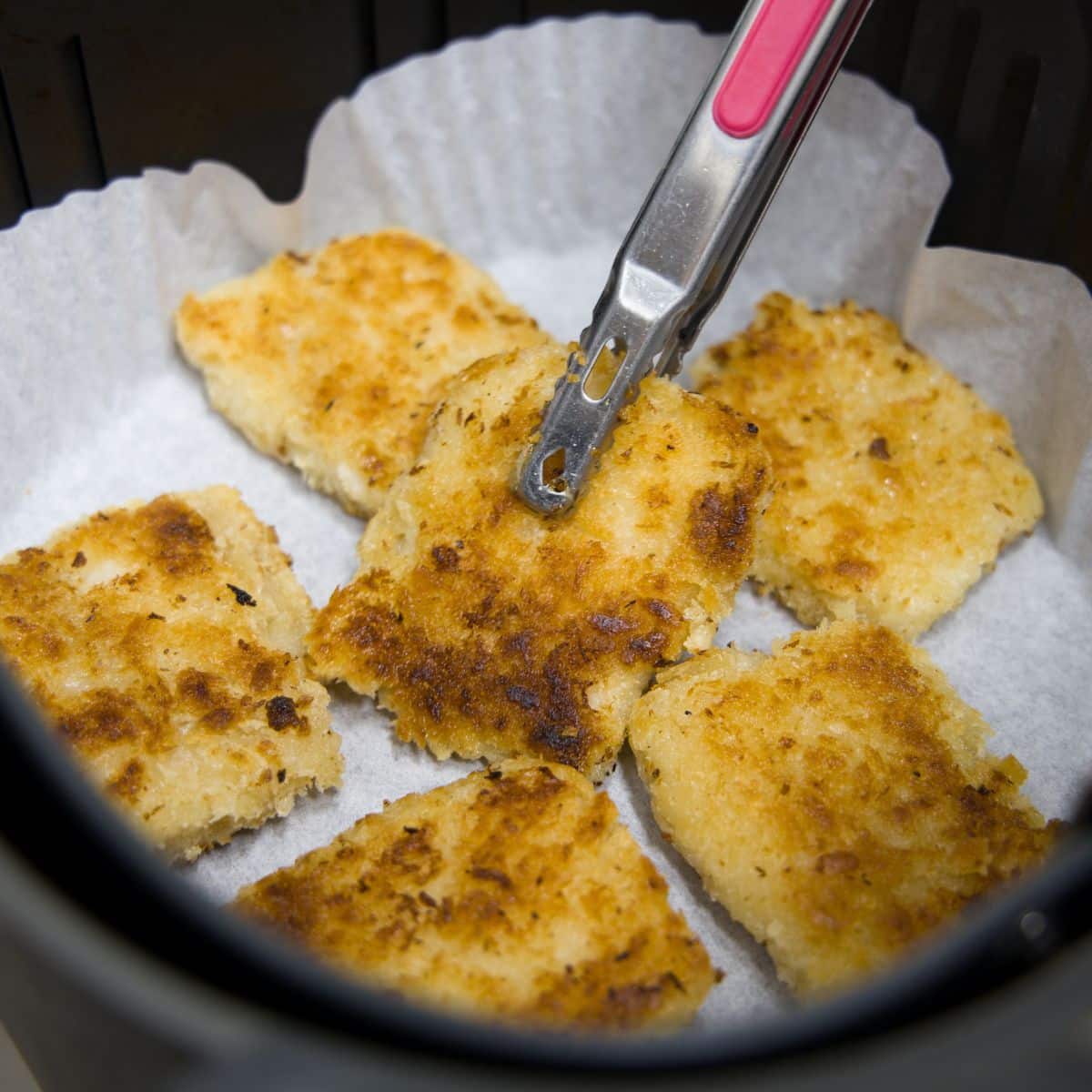 You can also cook tofu in an air fryer without oil. Slice or cube tofu in uniform sizes for easy baking, then sprinkle with onion and garlic powder and a bit of cornstarch or arrowroot powder. Toss the cubes to coat well with your flavorings, then stick them in your air fryer for 15 minutes at 400 degrees. Remember to turn them about halfway in.
Tofu cubes can then be used in stir-fries, as the main dish, or worked into popular recipes. What can start with a simple tofu block can end in a variety of yummy dishes!
How to Press Tofu
It's actually really easy to press tofu. First, drain the tofu and wrap it in a clean towel or paper towel. Then, place the tofu on a plate or cutting board and put something heavy on top, like a book. Let the tofu sit for about 15 minutes, then it's ready to use! Pressed tofu is perfect for stir-fries, fried rice, or even tofu scrambles.
Of course, if you cook tofu often, it's best to get a tofu press to make your job easier and less messy.
Tips On Cook Tofu Without Oil
Tofu is a versatile, healthy food that can be used in a variety of dishes. However, it can be difficult to cook without using oil when you don't know how. Here are some tips for cooking silken tofu without using oil:
Use a tofu press to remove excess water from the tofu before cooking. This will help to prevent the tofu from sticking to the pan and help it to brown more evenly.
Preheat your pan before adding the tofu. This will also help to prevent sticking and ensure even cooking.
Use a nonstick pan or line your pan with parchment paper. This will further prevent sticking and make cleanup easier.
Cut the tofu into small pieces before cooking. Smaller pieces of tofu will cook more evenly and are less likely to stick to the pan.
If using tofu in a recipe that calls for oil, simply omit the oil and replace it with an equal amount of water or vegetable broth.
To add flavor to your dish without using oil, try marinating the tofu in a sauce or seasoning it with herbs and spices.
By following these tips, you can successfully cook tofu without having to use any oil. Tofu is a healthy, delicious food that can be enjoyed as part of a healthy diet. For best results, learn about the types of tofu and how best to cook each one.
FAQs
Whether you air fry tofu, whip up your favorite crispy baked tofu recipe or use this high-protein food as a meat substitute, it all starts with knowing how to cook it correctly. Here are some questions people often ask about how to cook tofu without oil.
Can you eat tofu without frying it?
While it is often fried, tofu can also be eaten without frying. You can eat it in its natural state, grill it or bake it, in addition to frying it. The crispiest tofu usually comes with frying, but you get fewer calories when you prep it without oil.
What is the healthiest way to cook tofu?
Tofu can be cooked in a variety of ways, but some methods are healthier than others. For example, tofu that is baked or grilled is lower in fat than tofu that is fried. Tofu that is stir-fried with vegetables is also a healthy option. You can also use tofu as is, in smoothies. In general, tofu that is cooked with minimal added fat is the healthiest way to prepare it.
Can you sauté tofu without oil?
While tofu is often cooked with oil to prevent it from sticking to the pan, it is possible to sauté tofu without oil. To do so, simply season the tofu with salt and pepper, and then cook it over medium heat in a nonstick skillet. Be sure to use firm or extra-firm tofu, as this type of tofu will hold together better during cooking. If you find that the tofu is sticking to the pan, you can add a small amount of water or vegetable broth to help loosen it.
Can you cook tofu in boiling water?
Yes. To boil tofu, simply place it in a pot of boiling water and cook it for 5-10 minutes. Tofu is a versatile ingredient that takes on the flavors of whatever it is cooked with, so feel free to experiment with different seasonings and spices.
How do you cook tofu that's not mushy?
The key is to press the tofu to remove excess water, and then cook it in small batches. First, drain the tofu and wrap it in a clean kitchen towel. Place a heavy object on top of the tofu, such as a cast-iron pan or a stack of plates, and let it sit for 30 minutes. This will help to remove any excess water from the tofu. Then, cut the tofu into small cubes or slices, and cook it in a lightly oiled pan over medium heat. Be sure to cook the tofu in small batches so that it doesn't overcrowd the pan.
Final thoughts
As you can see, there are different ways to cook tofu without oil. If you're trying to avoid oil in your diet, you can still make delicious tofu dishes by following the tips and guidelines in this post. Do you have a favorite way you like to prepare your tofu?