Cinnamon Rice Pudding with Peaches makes a beautiful, tasty parfait. Layer fresh peaches with rice pudding.
Cinnamon rice pudding with peaches is creamy and easy.
August is National Peach Month and August 9th is National Rice Pudding Day. What better way to celebrate these two food events than to combine them in Cinnamon Rice Pudding with Peaches Parfait? This is delicious, slightly sweet with a nice tang from the peaches.
We usually eat ours at room temperature, but it is good cold, too.
Simple, Easy Recipe
The first time I made this, I looked up recipes because rice pudding was not a recipe my mom made. Some recipes add golden or regular raisins, some are plain, some add other fruits and spices. I thought the Food.com recipe sounded the simplest and easiest, and it turned out it was. Of course, I had to change it up a little bit. Don and I like cinnamon and nutmeg, so I added both to the liquids when I mixed them.
The recipe takes about 45 minutes and a little fussing, as any pudding-type food does, so it doesn't burn. But it's totally simple. I suggest you make it early in the day so it has time to get cold before you serve it, but it tastes great at room temperature, too.
Avoid Allergens
Many folks are allergic to various ingredients, milk, gluten, nuts, eggs, and soy being the top culprits. This recipe is gluten free, soy free and nut free. It is not dairy free, but it could easily be so. I used my A2 milk; you can use any milk, including a dairy free alternative (my preference is Pea Milk, which is sold under the brand name Ripple (affiliate link) , when I don't have my A2 milk).
I am unable to drink commercially produced milk, which generally comes from Holstein (or mixed genetic) cows. They are bred for higher volume, less fat milk production. And their milk contains the A1 protein, which causes havoc with my system. I have found that I can eat goat's milk products, most hard cheeses, and fermented products like yogurt and sour cream without causing pain in my joints or giving me digestive issues. But milk and soft cheeses that are not A2 cause severe pain for up to two weeks.
Read more about the difference between A1 and A2 proteins in the Indian Journal of Endocrinology and Metabolism and Mother Jones magazine.
What You Need
To make this recipe, I used dry and liquid measuring cups, measuring spoons, a wire whisk, a medium heavy bottomed pan, wooden spoon, paring knife, and a cutting board. But what you really want are some great pans (affiliate link), terrific parfait glasses and a wonderful espresso machine, am I right?
Cinnamon Rice Pudding with Peaches Recipe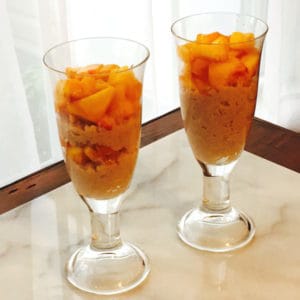 Cinnamon Rice Pudding with Peaches
Creamy pudding with cinnamon and peaches
Ingredients
1½

cups

water

¼

teaspoon

salt

¾

cups

long grain white rice

4

cups

whole milk

or alternate non-dairy milk

½

cup

sugar

½

teaspoon

vanilla

½

teaspoon

cinnamon

¼

teaspoon

nutmeg

3

peaches

peeled, pitted, and diced
Instructions
In a medium pan, bring the rice, water, and salt to a boil. When it starts to boil, reduce the heat to medium low and simmer covered for 15 minutes (or until water is absorbed).

Meanwhile, whisk the milk, sugar, vanilla, cinnamon, and nutmeg until sugar dissolves.

Stir the milk mixture into the rice and increase the temperature to medium.

Cook uncovered, stirring frequently, for about 35 minutes, until the rice and milk are nicely thickened and creamy like pudding.

Stir constantly the last 5 minutes or so to prevent burning. Reduce the temperature if necessary.

Remove from heat, and pour into individual servings. Cover each serving with a piece of plastic wrap placed directly on the top of the pudding to prevent a skin.

Let cool. Refrigerate if you aren't eating it right away.

When serving, top with peaches or layer the rice pudding and peaches in a parfait glass.
Nutrition
Calories:
279
kcal
Carbohydrates:
50
g
Protein:
8
g
Fat:
6
g
Saturated Fat:
3
g
Polyunsaturated Fat:
0.3
g
Monounsaturated Fat:
1
g
Cholesterol:
20
mg
Sodium:
173
mg
Potassium:
364
mg
Fiber:
2
g
Sugar:
31
g
Vitamin A:
509
IU
Vitamin C:
3
mg
Calcium:
213
mg
Iron:
0.5
mg
Recipe Nutrition Information
This recipe is GF, DF (use alternative milk), NF, SF, EF, CF (use sea salt), V*
The information shown is an estimate provided by an online nutrition calculator. It should not be considered a substitute for a professional nutritionist's advice.
Nourish Your Body & Soul
I encourage you to care of yourself by eating satisfying, nourishing food that is good for your body and makes you feel healthy. Protect your spirit by living authentically, moving your body, and taking time to replenish and rest. I think you might also like these recipes & posts from Recipe Idea Shop:
Rate, Pin & Share!
Please Rate our recipes and posts, and Pin and Share them on social media. Comments are welcome, too!

*Allergen Key
GF = Gluten free | DF = Dairy free | NF = Nut free | SF = Soy free | EF = Egg free | CF = Corn free | V = Vegetarian | VG = Vegan
Note: If you have serious allergies or sensitivities, to be considered free of these allergens, you need to use products specifically marked "gluten free," etc. There can be cross-contamination in facilities.
This post was first published on Recipe Idea Shop August 9, 2017 and updated August 9, 2021.