Don's Pot Roast is an easy-peasy meal. It tastes great, too! The perfect comfort food for a cold day.
Don's Pot Roast is similar to beef burgundy, but way easier.
When the fall chill arrives, we love to eat comfort food, like Don's Pot Roast. Lois went to the grocery and brought home a beautiful three-and-a-half pound boneless chuck roast to take the chill off Sunday evening. I like my pot roast cooked slowly so our slow cooker is my favorite appliance for preparing this dish.
Even though I use a slow cooker for this delightful family favorite, it does take a bit of work up front to prepare the vegetables and put it all together, perhaps 30 minutes active time. But then when you are ready to eat, it's just waiting. You can finish the dish by thickening the juices to make a gravy (my favorite), or simply serve it au jus (meaning, with the juice).
What Kind of Meat is Best?
The chuck roast is a good piece of meat for using in this recipe. It has good marbling and fat throughout, and when cooked slowly the way this recipe is, it becomes very tender and flavorful. And it's usually not expensive. I like to eat this meal with some good, homemade Crusty French Rolls and a glass of red wine. Lois sticks with gluten free bread, and she says her recipe is the closest thing to real bread she has found.
When you try the recipe, let us know how you like it, won't you?
What You Need
For this recipe, you will need knives, a cutting board, measuring cups and spoons, a sauté and a slow cooker. Buy the best tools you can afford, and you will never be sorry.
Don's Pot Roast Recipe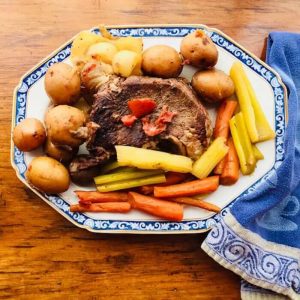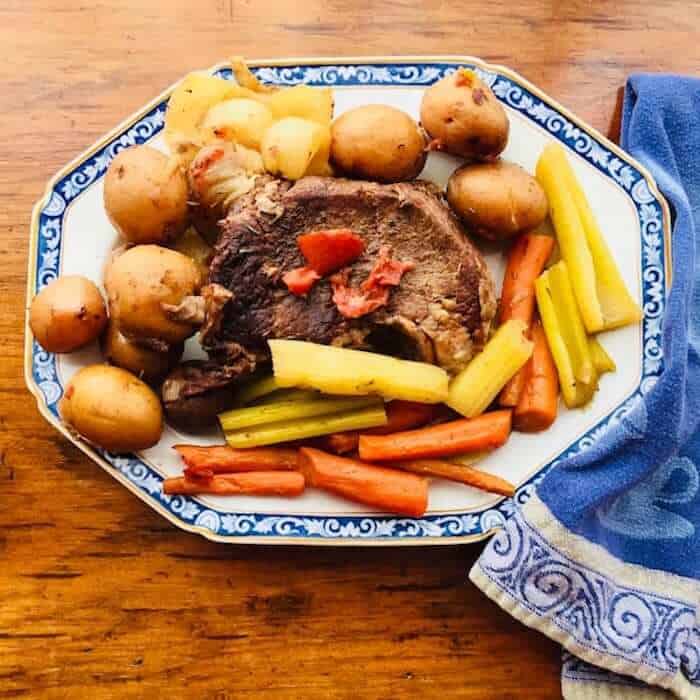 Don's Pot Roast
Comfort food at its best, pot roast.
Ingredients
4

pound

boneless chuck roast

½

teaspoon

salt

¼

teaspoon

pepper

2

tablespoons

olive oil

3

large

onions

1

head

celery hearts

(cut into bite-sized pieces)

1

pound

carrots

(peeled and cut into bite-sized pieces)

3

pounds

small, red potatoes

12

ounces

vegetable stock

(We make our own, but you can use store bought vegetable or beef stock.)

½

cup

Burgundy Wine

(or any dry, red wine)

1

15-ounce can

diced tomatoes with juice

2

bay leaves

2

teaspoons

dried thyme leaves

1-2

cups

water

(as needed)
Instructions
Preheat the crock pot on high.

Peel and slice one onion into thin slices.

Heat oil in a large skillet and when the oil is hot, add the onion slices, cooking until starting to brown on both sides. Place the onion slices in the bottom of the slow cooker.

Salt and pepper the roast.

In the skillet (add more olive oil, if needed), brown the roast for 2 to 3 minutes on all sides.

Place the meat into the crock pot and add the vegetable stock and enough burgundy wine to cover.

Brown the carrots in oil in the skillet and add to the crock pot, making sure they are placed around the roast and covered with liquid.

Peel the remaining onions and quarter them. Add the celery and onions to the slow cooker crock pot.

As you add the vegetables, the liquid should rise to cover or nearly cover them.

Add the small potatoes to the crock pot. If they are larger than a golf ball, cut them in half first. By this time the area around the roast is full of vegetables and the potatoes end up on top of the roast.

Add the two bay leaves and sprinkle the thyme over the top of the potatoes.

Empty the can of tomatoes including the juice over the top, washing some of the thyme into the liquid. If the liquid does not cover (or nearly cover) the vegetables, add a cup or two of water.

Cover and cook on high 3 to 4 hours. Or cook all day at the medium or low setting, depending on the crock pot.

Remove the vegetables to a serving bowl and place the roast on a platter to serve. Or serve the vegetables surrounding the meat on a platter.

If you want to make the liquid into gravy, in a small sauce pan, mix equal parts of melted butter and gluten free flour to form a paste. Slowly add the liquid from the slow cooker and whisk until smooth.

Bring this gravy to a boil over medium heat. Reduce the heat and continue stirring until thickened.

Serve with Crusty French Rolls or gluten free dairy free white bread, and red wine.
https://recipeideashop.com/dons-pot-roast/
Recipe Nutrition Information
This recipe is GF, DF, NF, SF, EF, CF (use sea salt)*
The information shown is an estimate provided by an online nutrition calculator. It should not be considered a substitute for a professional nutritionist's advice.
You May Also Like These Recipes From Recipe Idea Shop
RATE, PIN & SHARE!
Please Rate our recipes, and Pin and Share them on social media. Comments are welcome, too!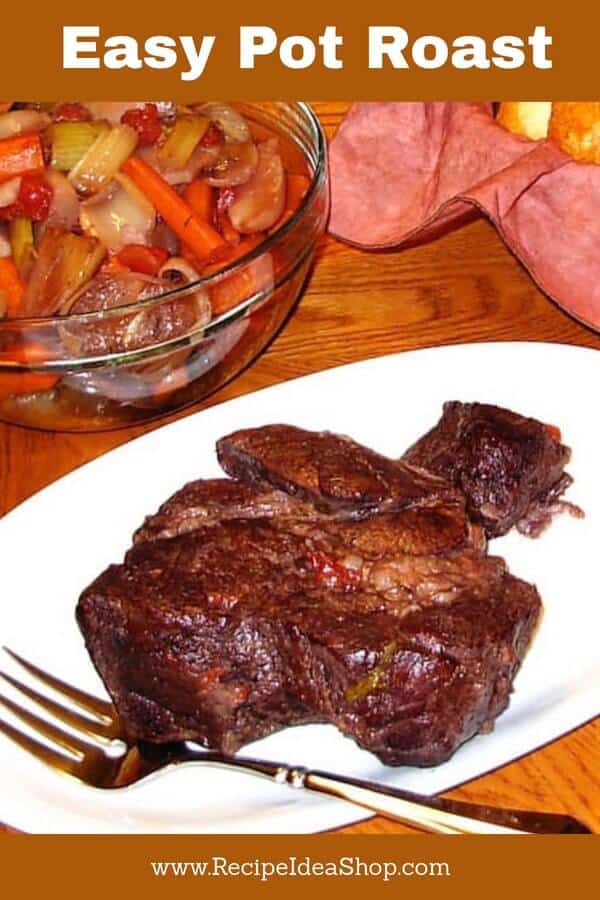 *Allergen Key
GF = Gluten free | DF = Dairy free | NF = Nut free | SF = Soy free | EF = Egg free | CF = Corn free | V = Vegetarian | VG = Vegan
Note: If you have serious allergies or sensitivities, to be considered free of these allergens, you need to use products specifically marked "gluten free," etc. There can be cross-contamination in facilities.
This recipe was originally posted on Recipe Idea Shop in 2012 and updated Nov. 3, 2020.
Last Updated on May 23, 2022 by Adriana