Egyptian Eggplant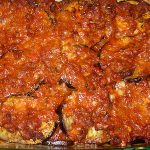 An eggplant lasagna (no noodles)
1

large eggplant (or

2

small)

2

chopped onions

¼ cup

olive oil

1

pound ground beef (or

½

pound ground beef and

½

pound ground lamb)

1

8 ounce can Italian tomato paste

1 cup

hot water
Salt and freshly ground pepper (to taste; I use about ¼ teaspoon salt and ⅙ teaspoon pepper)

¼ cup

grated Pecorino Romano cheese (or Parmesan cheese)
Slice the eggplant in thin rounds.
Sprinkle the eggplant with salt and let stand for 30 minutes.
Blot the eggplant with a paper towel to remove most of the salt and the moisture that it draws out.
Sauté eggplant in a little oil over medium heat until browned on both sides. Set aside. (I used my griddle for this and it worked perfectly.)
In a large frying pan sauté the onion in olive oil until the onions are transparent.
Add the meat and brown it thoroughly. Drain the oil off, if necessary.
Add the tomato paste, hot water, salt and pepper.
Cook over medium heat until blended.
Oil a large rectangular baking dish. (Or use a smaller casserole dish and make more layers.)
Place one layer of eggplant covered by half the meat sauce.
Sprinkle half the cheese over it. Repeat the layers until you have used up the ingredients, ending with cheese.)
Bake for 50-60 minutes in a 325°F oven.
Let the casserole rest 5-10 minutes before serving.
Keywords: Egyptian Eggplant