Elegant Coddled Eggs. Can I just say, "Downton Abbey"? You will feel elegant eating Coddled Eggs.
Coddle yourself with Elegant Coddled Eggs.
Don here, telling you about a brilliant way to make eggs, Elegant Coddled Eggs. They look and taste divine. And they are simple to make. (Almost as simple as Soft Boiled Eggs.) With a few modifications, this recipe can be a South Beach Diet recipe. South Beach works great for me when I want to shed a few pounds. Lois is not a fan of diets, but she's willing to go along with my request.
Here's my story of coddled eggs. Many years ago, my in laws used to make Coddled Eggs when my first wife and I came to visit. They were delicious and always made us feel cared for. I don't know whatever happened to the egg coddlers.
Elegant Coddled Eggs Are Beautiful
My second wife, Lois, had never eaten them (or even heard of them) until we visited a friend in Williamsburg a few years ago. After Lois tried them, she decided we needed egg coddlers. I was happy to get these beauties for Christmas that year.
Lois purchased ours from Replacements.com because they offered the old-fashioned kind with designs.
What You Need
You will need an egg coddler, a pot of water, and some tongs. If you add bits of onion as I have, you will need a knife and cutting board. And finally, you need measuring spoons, and potentially a cheese grater. Amazon offers this simple egg coddler. Isn't it nifty?
So back to my story...
As I said, Lois had never had Coddled Eggs until a few years ago when we visited our friend, Mary Jane, in Williamsburg. MJ made us scrumptious Coddled Eggs, and we just had to duplicate them. She explained how she made them, and I gave it a try. They turned out perfectly.
Mary Jane's mom and dad learned about Coddled Eggs when they lived in Great Britain for awhile. To remove the coddlers from the water, MJ used lab tongs she inherited from her mother, a chemist/chemistry teacher. The lab tongs worked great. Just in case you don't know what lab tongs look like, here's a picture of some on Amazon:
I use regular kitchen tongs to get the egg coddlers out of the pot of water. You will, of course, need egg coddlers to make Elegant Coddled Eggs. Ours are big enough to fit two eggs each, but coddlers come in different sizes.
One Important Tip
Mary Jane says to remind you that the most important thing about making Elegant Coddled Eggs is to thoroughly butter the inside of the coddler. Otherwise it will be a devil to clean! Thankfully, MJ told us that so we haven't messed up yet.
Use any toppings you like, including a different kind of cheese or herb. I make them a bit differently each time. Sometimes I use a little Canadian bacon, chopped fresh chives, and cheddar cheese. Elegant Coddled Eggs are simply delicious! You're gonna wanna eat these.
Elegant Coddled Eggs Recipe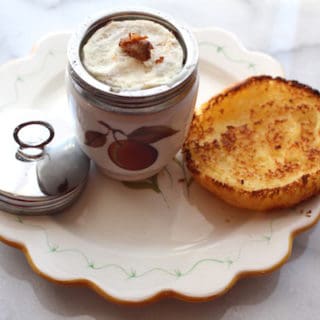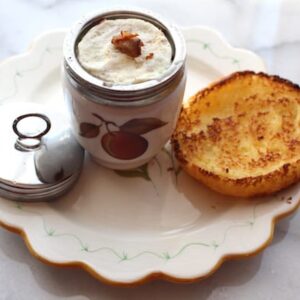 Elegant Coddled Eggs
Divine eggs cooked in a special cup in boiling water.
Ingredients
2

teaspoons

butter

4

eggs

2

tablespoons

Pecorino Romano Cheese

shredded

1

strip of bacon

cooked & crumbled

2

tablespoons

onions

chopped and sautéed in 1 tablespoon olive oil

¼

teaspoon

Herbes de Provence
Instructions
Butter the inside of 2 egg coddlers.

Break 2 eggs into each coddler.

Top with crumbled bacon, sautéed onions, Herbes de Provence and cheese.

Screw the tops on the coddlers

Put the coddlers in a pot that is big enough to allow them to sit side-by-side without touching each other.

Add water to the pot to reach halfway up the sides, and bring the water to a boil.

When the water boils, reduce the heat and simmer for 6-½ to 7 minutes.

Remove the coddlers from the pot and let them rest for about a minute. Remove the coddler tops and serve.
Notes
Note: Swap the regular bacon for Canadian bacon to make this a bit healthier. Use 1 slice of Canadian bacon, cut up into tiny pieces, per coddled egg. Toss it in exactly as you would regular bacon.
Nutrition
Recipe Nutrition Information
This recipe is GF, NF, SF, CF*
The information shown is an estimate provided by an online nutrition calculator. It should not be considered a substitute for a professional nutritionist's advice.
You May Also Like These Recipes From Recipe Idea Shop
RATE, PIN & SHARE!
Please Rate our recipes, and Pin and Share them on social media. Comments are welcome, too!