Basted Eggs make a tasty breakfast. There are so many different ways to prepare eggs and most of them are very simple. Basted eggs are a delicious and easy way to enjoy eggs and if you're not familiar with it, I'm going to show you exactly how to do it. The basting process involves cooking the egg in a hot pan with a small amount of oil or fat. As the egg cooks, the baster is used to repeatedly baste the egg with the hot oil.
This helps to cook the egg evenly and gives it a beautiful golden color. Basted eggs are often served with a variety of toppings, such as cheese or avocado. They can also be enjoyed on their own, with a simple sprinkling of salt and pepper. Whether you're looking for a quick and easy breakfast or a tasty snack, basted eggs are a great option.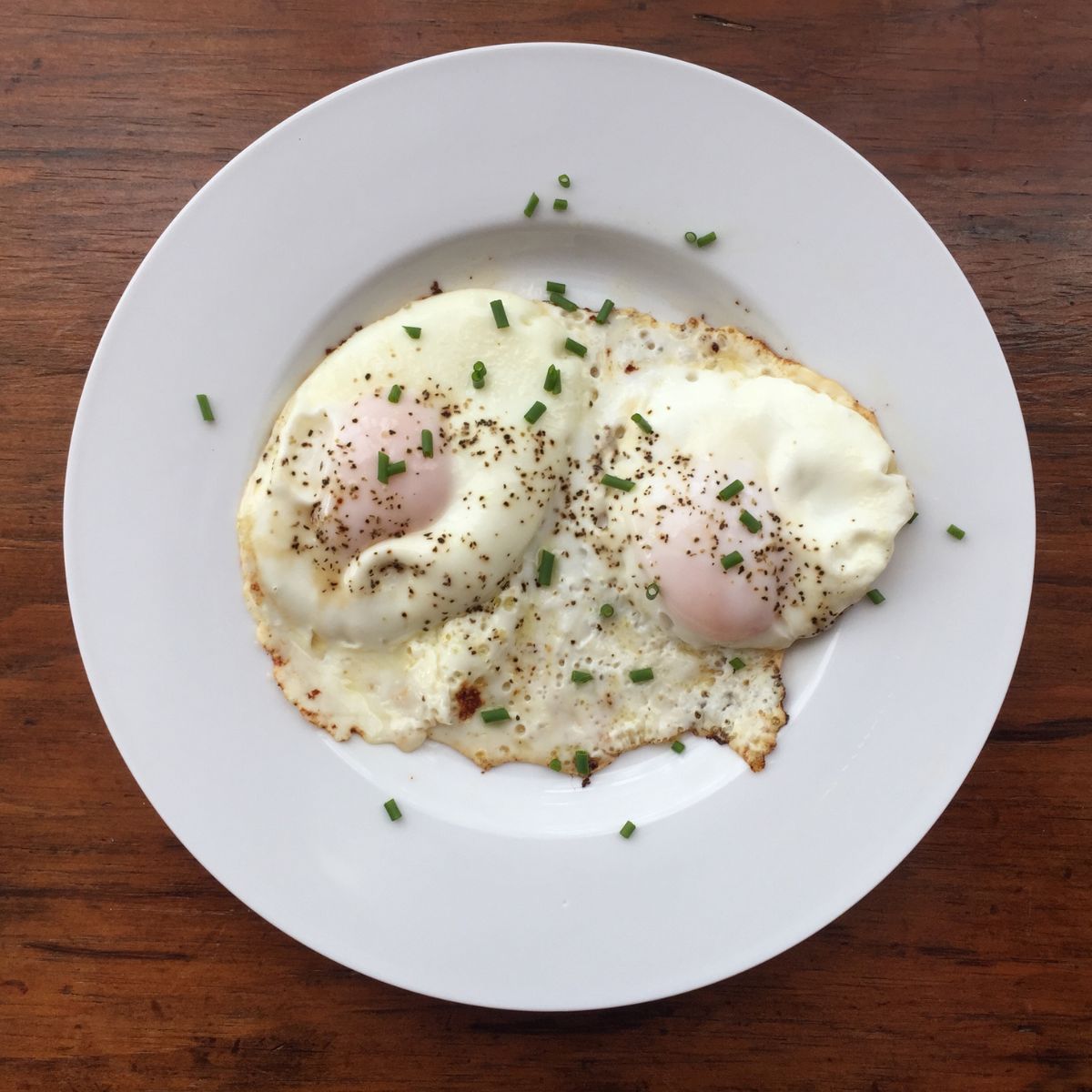 Do you know the simple trick to making them? It's easy. Learn how to make basted eggs.
The Trick To Perfect Basted Eggs
Basted eggs are the simplest way to make a "fried egg".
You are going to love this trick. When I was a kid, we usually fried our bacon in a skillet, and then when the bacon was done and we had all that good bacon fat left over in the skillet, we broke a couple of eggs into the pan, added some salt and pepper, and then took a spatula or a spoon and splashed the bacon fat over the eggs, resulting in a basted egg. As an adult, I learned a trick that is easier and safer, no splashing hot grease on yourself!
Put a little oil in your skillet and heat the oil to hot. Break the eggs into the skillet. Add salt and pepper. Put a cover on the pan and turn it to low heat. Cook for a couple of minutes until the top of the egg has a nice, white film over it. Your yolk will be runny and perfect.
If you prefer a medium or hard yolk, continue to cook the egg for a minute or two longer until the yolk is the degree of hardness you like. No turning the egg over. Brilliant!
What You Need
You need a good nonstick skillet with a cover (this one is my favorite!) and a spatula.
If you don't have these tools, I suggest you buy yourself a complete set of pans and utensils. If you're gonna cook, you need the right tools.
Basted Eggs Recipe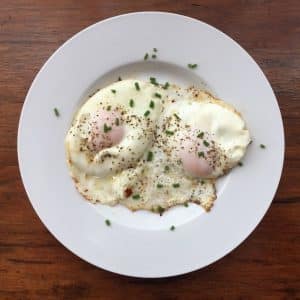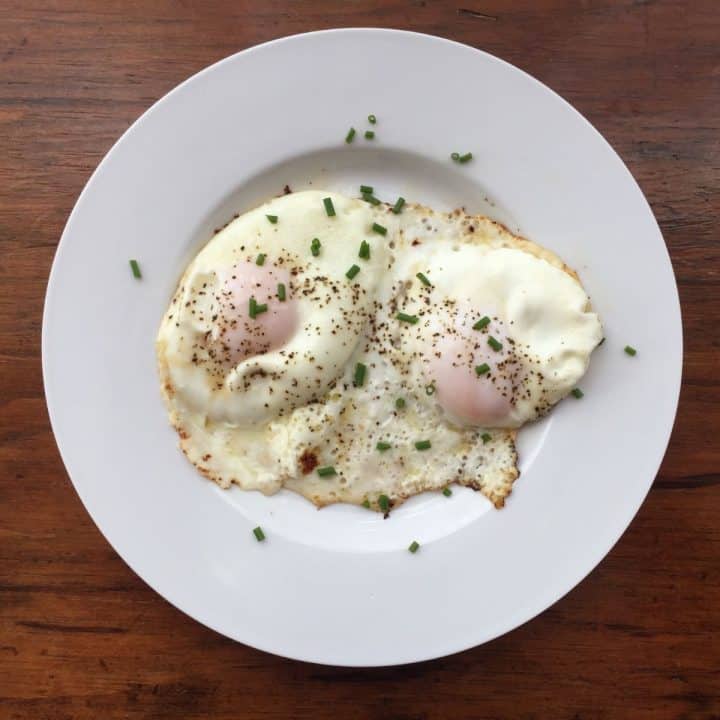 How To Make Basted Eggs
The easy way to make a fried egg
Ingredients
2

tablespoons

canola oil

or butter or olive oil

2

large eggs

¼

teaspoon

salt

just sprinkle some on, to taste

⅛

teaspoon

pepper

to taste
Instructions
Using a small sauté pan or skillet, heat the oil on high heat for about 30 seconds or until hot.

Crack the eggs into the skillet.

Sprinkle the eggs with salt and pepper.

Cover the pan and reduce the heat to low, cooking about 2 minutes or until there is a white film over the eggs and the white part is nicely set.
Nutrition
Calories:
374
kcal
Carbohydrates:
1
g
Protein:
11
g
Fat:
36
g
Saturated Fat:
5
g
Polyunsaturated Fat:
10
g
Monounsaturated Fat:
21
g
Trans Fat:
0.1
g
Cholesterol:
327
mg
Sodium:
706
mg
Potassium:
125
mg
Fiber:
0.1
g
Sugar:
0.3
g
Vitamin A:
477
IU
Calcium:
51
mg
Iron:
2
mg
Recipe Nutrition Information
This recipe is GF, DF, NF, SF, CF (use sea salt), V*
The information shown is an estimate provided by an online nutrition calculator. It should not be considered a substitute for a professional nutritionist's advice.
Basted Eggs FAQ
Now that you have the recipe, let's look at some common questions about making these eggs.
Do basted eggs have a runny yolk?
Usually basted eggs do have a runny yolk but you can cook them a little longer if you prefer a soft yolk or even a cooked-through yolk. You don't flip your basted eggs as you do with some other fried eggs.
Which way to cook eggs is healthiest?
The healthiest way to eat eggs is probably to do egg white only and remove the yolk. However, unless you've been told differently by your doctor due to a medical condition, eggs in moderation are not that bad for you anyway. Adding butter and cheese can increase fat and calorie count, but pretty much any way you prepare eggs can still be healthy for you. Poached and boiled are probably the healthiest ways to cook your eggs.
Is sunny side up safe for eggs?
Sunny side up is considered safe when eating eggs. It is suggested you fully cook the egg white but if some or all of the yellow part of the egg (yolk) is runny, it doesn't cause the average person any harm. The risk from an undercooked egg is typically from salmonella and runny egg yolks don't usually carry this.
Should you use butter or oil for eggs?
You can cook an egg in butter or oil and it's really a personal preference more than anything. Some people choose one over the other for health reasons, or for flavor. You can use vegetable oil or olive oil when cooking your basted eggs. Olive oil is often preferred if you're going for eggs healthier than butter or vegetable oil options. When making basted eggs, I think it's easier to use oil because the butter can burn off too quickly.
How do you mix melted butter and eggs?
If you melt the butter down a bit first, it will mix much better with your eggs. I just use a fork to blend it all together, but some people like to use a hand whisk. When the butter is melted down, it blends very evenly. Cold butter will not blend throughout your egg. For fried eggs without a broken yolk, you won't stir or whip the egg before cooking. You can just put the butter in the pan and use a tool to move the melted butter over your eggs as they cook.
How can you season basted eggs?
You can season your basted eggs the same way you would season any other eggs, using black pepper or season with salt, for example. Some people like to use brown butter or unsalted butter and others will add Kosher salt or some other seasonings to their eggs, too.
So, what do you think? Are you ready to try this for yourself? If you're looking for a perfect breakfast or brunch dish, look no further than basted eggs. They're easy to make and they're always sure to please. So why not give them a try? You won't be disappointed.
More Egg Recipes You'll Love
Rate, Pin & Share!
Please Rate our recipes and posts, and Pin and Share them on social media. Comments are welcome, too!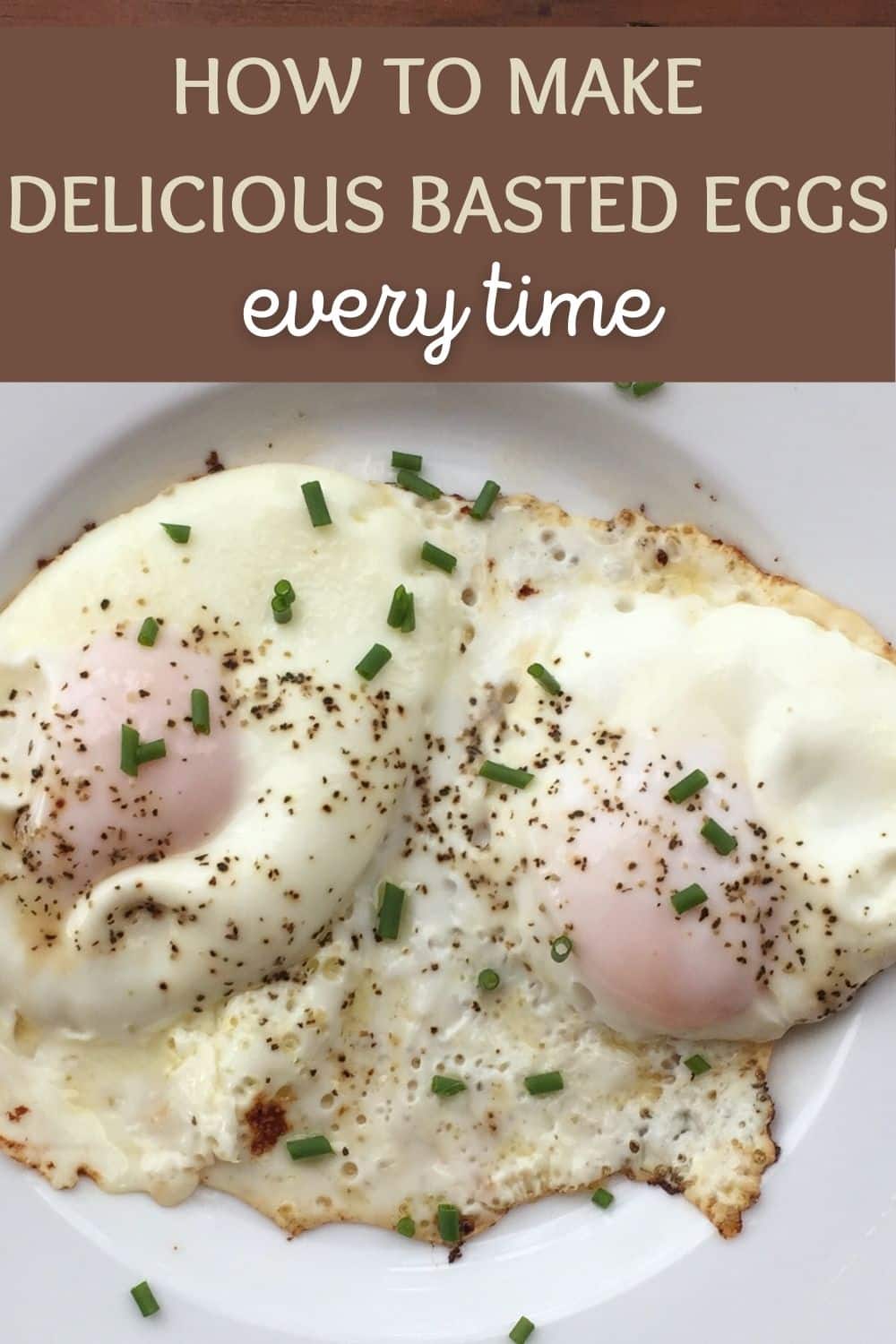 This post was first published on Recipe Idea Shop on May 18, 2020, and updated on July 2, 2022.