Homemade Iced Mint Tea is the epitome of summer. Refreshing, delicious, and easy to make, you can have this every day and not feel a bit of guilt because it's not bad for you. And it's so easy to do! Grow your own mint on your patio, porch, or in the garden; it's prolific! Just skip the sugar and it's a delightful no-calorie option. When you want something a bit more than a glass of cold water, this fresh mint tea could be the perfect thing to hit the spot.
This is a perfect, cool, refreshing drink on a hot summer day or even a warm spring day, but you can enjoy this tea any time of year once you learn this very easy recipe to make it yourself at home.
Homemade Iced Mint Tea Is So Refreshing!
One of my favorite summer drinks is Homemade Iced Mint Tea, and guess what? If you don't add sugar, this is a zero-calorie drink, and it tastes so good, too. Even if you're not normally a tea drinker, you may want to give this one a try. Here are some other variations on mint iced tea that you might also consider:
sweet mint tea
chocolate mint
Moroccan mint tea
pineapple mint
mint syrup
peppermint leaves in tea
peppermint tea bags
I switched to growing spearmint instead of peppermint in my potted kitchen garden. Peppermint doesn't fare well on my porch. And the spearmint is growing like a weed. I like spearmint better than peppermint anyway. Which do you prefer?
Which Mint Is Better?
Peppermint or spearmint? Which mint is better for you? That's a great question! Both mints are good for you. Here's what Medical News Today says about spearmint:
"It is often used in medicine for its claimed therapeutic properties. Spearmint contains vitamins, antioxidants, and vital nutrients. Its aroma is very similar to that of peppermint. It contains less menthol than peppermint, but it is rich in limonene, dihydrocarvone, and cineol."
Is Mint Tea A Weight Loss Drink?
Are you wondering how to make mint tea for weight loss? Iced Mint Tea is an excellent option if you want to lose weight, too. Zero calories. That's right. ZERO.
Unless you add sugar; then it's still only 8 calories a cup. I prefer it plain, that is, no sugar. Even with sugar, it's a whole lot better for you than a commercial soft drink with all its sugar and chemicals. The mint is good for settling your stomach too.
This iced mint tea recipe works great as a weight loss drink, but you can use mint for tea even if you're not watching your calories.
How to Make Homemade Iced Mint Tea
It's super easy to make, either by boiling the water or heating it in the microwave. I'm usually lazy and do it in the microwave, heating it on high for 2 minutes (some recipes say to steep it for 5-6 minutes) until the water is boiling. Your microwave may take a different amount of time because each appliance is different.
You don't have to chop the leaves. Just take a few leaves (maybe 6), rinse them off to make sure they aren't dirty, and put them in a cup of water. Microwave on high for 2 minutes. Steep the leaves for about 2 minutes. Remove the leaves from the cup and pour the tea over a glass of ice. Yum! Delicious Iced Mint Tea. Serve it with Watermelon Olive Mint Salad and capitalize on the delicious flavor.
If you prefer to boil your water and make a larger amount in a teapot, simply put the mint leaves in the teapot and fill it with boiling water. Let steep for two or three minutes and remove the leaves. (I find that if you steep it too long, it gets a bit too minty and kind of bites back at you.)
What You Need
If you like sugar in your tea, add a teaspoon of sugar (or better yet, honey) to the pot or cup at the same time you add the leaves. Stir to dissolve the sugar, and pour the tea over a glass of ice. Voila! Iced Mint Tea with sugar.
No special tools are needed for this recipe. A teakettle for boiling water is helpful; we have a Le Creuset model. A lovely decorative teapot and beautiful iced tea glasses (affiliate link) for serving are nice.
Ingredients
water
spearmint or peppermint leaves
ice cubes
sugar (optional)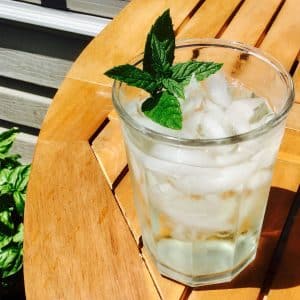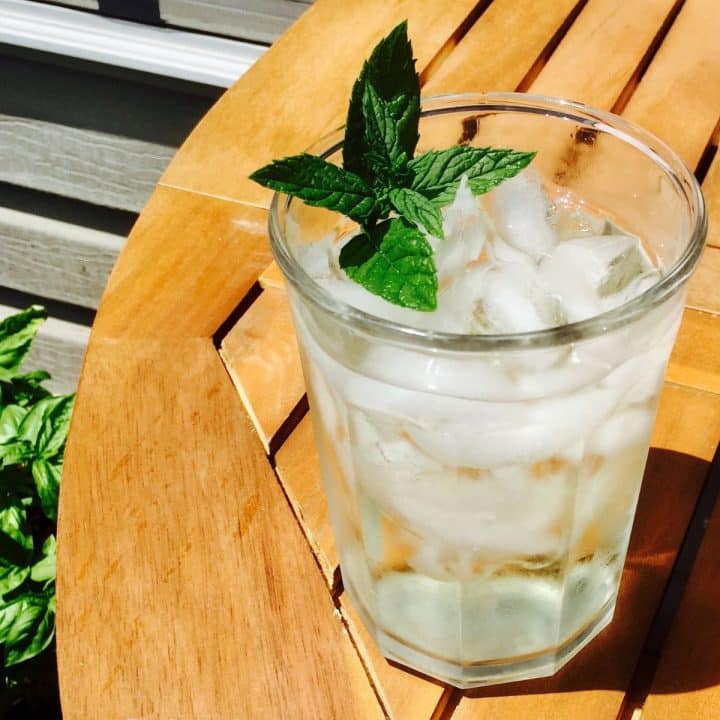 Homemade Iced Mint Tea Recipe
Ingredients
2

cups

water

6

spearmint or peppermint leaves

2

cups

ice cubes

1

teaspoon

sugar

optional
Instructions
Bring the water to a boil.

Put the mint leaves in a teapot.

Pour the boiling water over the leaves into the pot.

Steep for 2-5 minutes.

Remove leaves.

Add sugar and stir until the sugar dissolves, if you are using sugar.
Nutrition
Calories:
10
kcal
Carbohydrates:
2
g
Protein:
0.1
g
Fat:
0.03
g
Saturated Fat:
0.01
g
Polyunsaturated Fat:
0.01
g
Sodium:
25
mg
Potassium:
17
mg
Fiber:
0.2
g
Sugar:
2
g
Vitamin A:
127
IU
Vitamin C:
1
mg
Calcium:
22
mg
Iron:
0.1
mg
Recipe Nutrition Information
This recipe is GF, DF, NF, SF, EF, CF, V, VG*
The information shown is an estimate provided by an online nutrition calculator. It should not be considered a substitute for a professional nutritionist's advice.
Mint is a terrific communicator. It really droops if you need to water it. Take a look:
More Recipes That Use Mint
Rate, Pin & Share!
Please Rate our recipes and posts, and Pin and Share them on social media. Comments are welcome, too!