This homemade jellied cranberry sauce recipe made with fresh or frozen whole cranberries is scrumptious, with just the right amount of tang. And it only takes 30 minutes to put it together. Make it the day before you need it and it's ready for your holiday dinner. This is sure to be a signature part of every holiday meal going forward.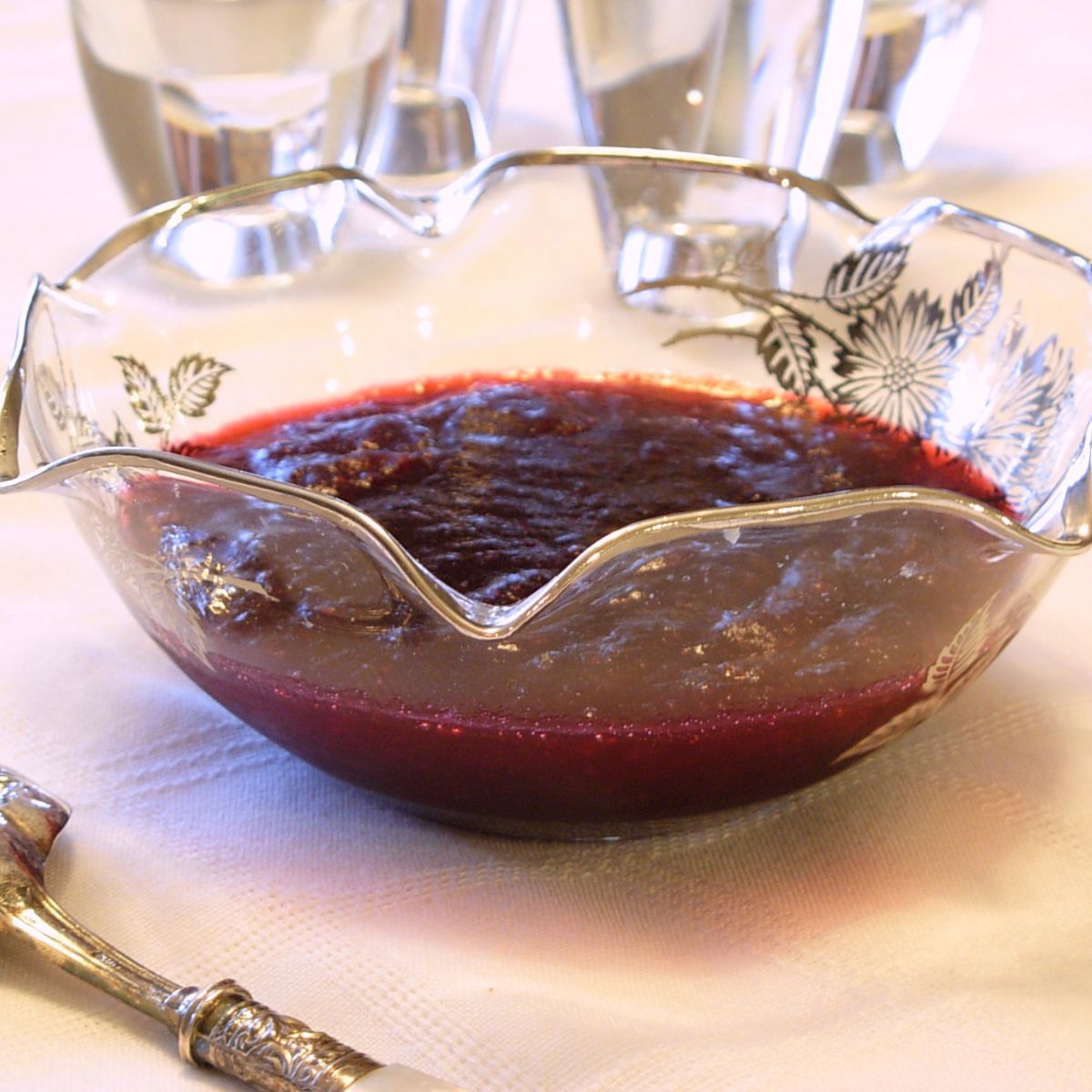 Jump to:
Why You'll Love this Recipe
There are so many reasons I think you'll love this recipe. Let's explore!
Easy to make. You can't overlook how easy it is to make, saving you time on such a big cooking day.
Tastes great. Adding cinnamon and orange zest to the cranberries gives it an amazing flavor that's slightly different from a traditional cranberry sauce recipe.
Good for you. The cinnamon has anti-inflammatory properties so it's actually good for you too.
Perfect for any time of year. Although we're talking about making this cranberry sauce for the holiday season, you really can enjoy it any time of year.
Before I learned this recipe, I didn't really like the whole cranberry made-at-home kind of cranberry sauce. Our family always bought the canned version. You know, the wiggly, jellied type that people simply dump out of the can and then slice it up? I must admit, I still like that kind, too. But now, this homemade cranberry sauce is a must at our Thanksgiving table.
The recipe is a variation of the one from the Ocean Spray cranberry bag. We usually buy two bags of organic frozen whole cranberries before Thanksgiving and freeze one to save it for Christmas.
The Perfect Accompaniment
Jellied Cranberry Sauce is a tasty complement to turkey, chicken (try my Oven-Roasted Spatchcocked Chicken recipe: YUM!), Cornish game hens, and other birds.
🥘Ingredients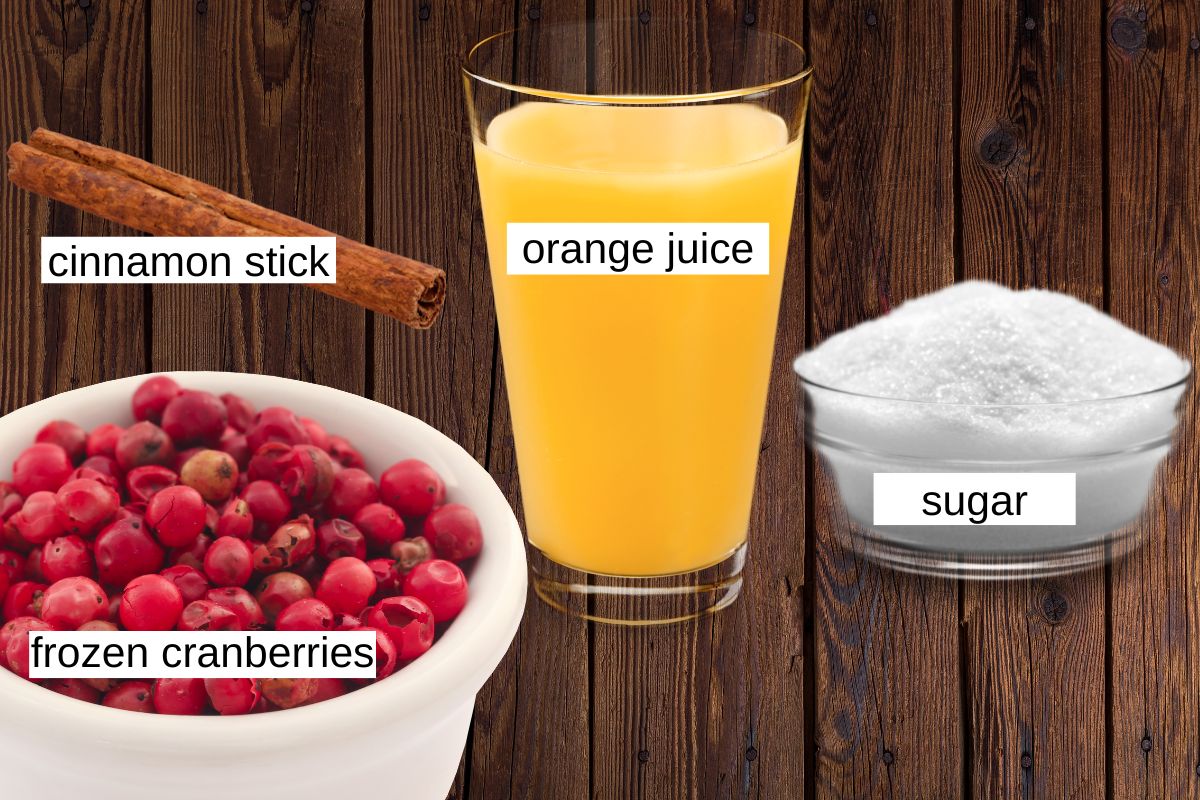 Substitutions and Variations
What if you want to make some substitutions or variations of this recipe?
Traditional - for a more traditional variation, leave the cinnamon and the orange zest out
Cranberry orange - for more orange flavor, replace the water in the recipe with orange juice
Spiced - for spiced cranberry sauce, add allspice, nutmeg, and cloves to the recipe
Maple cranberry - And ½ cup of maple syrup to the recipe
Apple cranberry - Substitute apple juice for water and add one diced fresh apple
How to Make this Jellied Cranberry Sauce Recipe
Now that you have everything you need, let's look at how to make it.
First, place the water and sugar into a large, heavy-bottom saucepan. Bring it to a boil.
Next, add the cinnamon sticks, the orange juice, and the cranberries. Simmer these for about 20 minutes, until all the cranberry skins have popped.
Next, remove the cinnamon sticks, pour cranberry sauce into a bowl, and refrigerate for about 4-5 hours, or until firm. This will give you a chunky whole cranberry sauce.
Keep refrigerated until ready to serve.
**For jellied cranberries, follow steps 1-2, then remove the cinnamon sticks and press through a rotary food mill to remove the seeds and skin. This will take you about 10 minutes. Then pour into a bowl and refrigerate.
Expert Tips
Make the sauce in advance - Remember, you can make this sauce in advance and then store it in the fridge until you are ready to serve. Don't take it out too soon or it can melt before being served.
Warm mold to remove the jellied sauce - If you make your sauce in a mold, you can warm the mold once it has set in order to remove the cranberry sauce more easily.
Recipe FAQs
How can I serve this sauce?
The best way to serve the cranberry jelly is in a bowl or serving dish with a spoon that is easily used at the table. Some families like to pass their sauce around the table as everyone is preparing their plate. You want it to be convenient and also prevent spills.
How long does homemade cranberry sauce last?
In general, when it's stored correctly, you can expect this sauce to last from 10-14 days. Although it tastes so delicious, you may not have it around for that long!
How can I preserve leftovers from this homemade sauce?
You can save your leftovers in an airtight container and store them in the refrigerator for 10-14 days.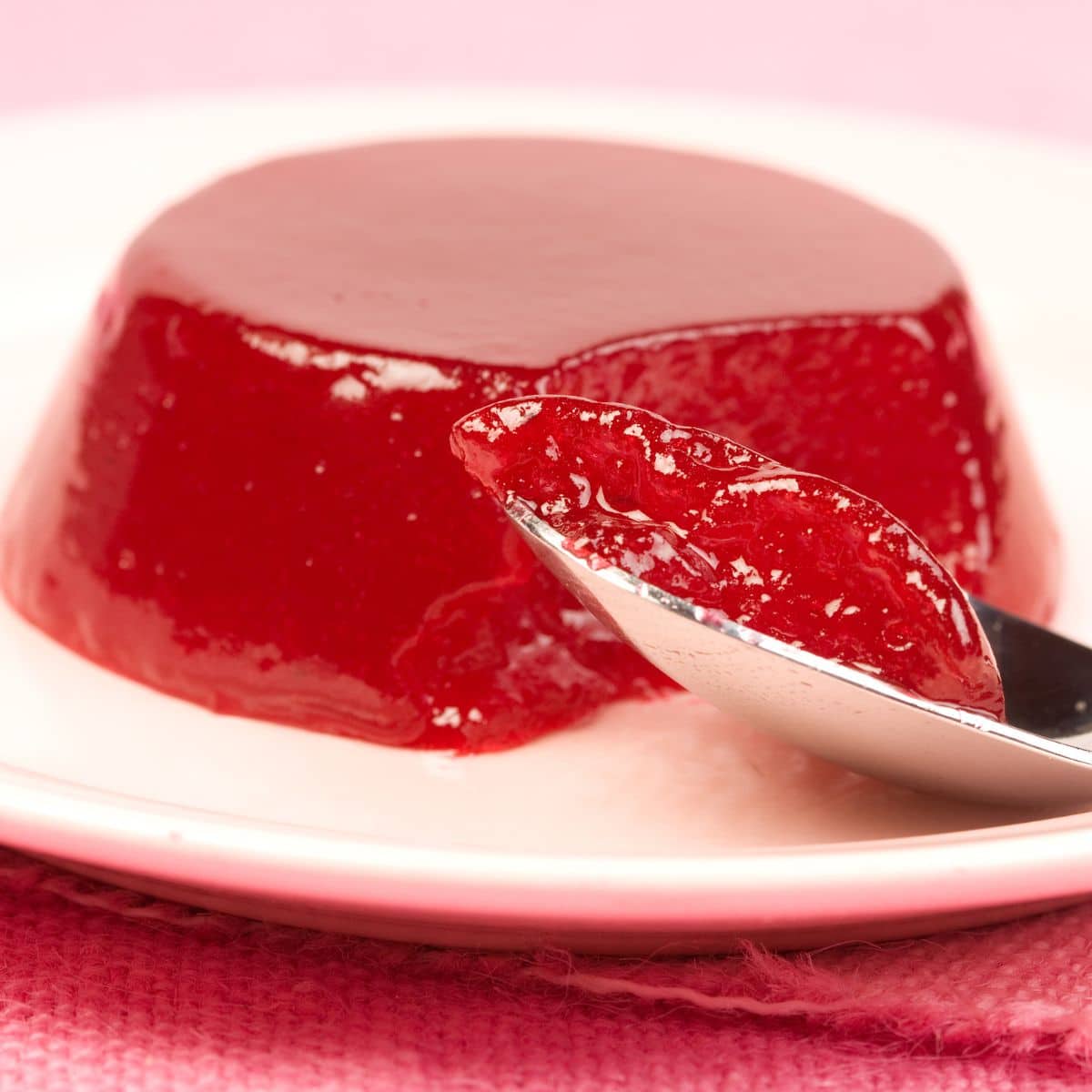 More Thanksgiving Side Dishes You'll Love
If you tried this Homemade Jellied Cranberry Sauce recipe or any other recipe on my website, please leave a 🌟 star rating and/or a comment to let me know how your family liked it in the comments below. I always appreciate your feedback!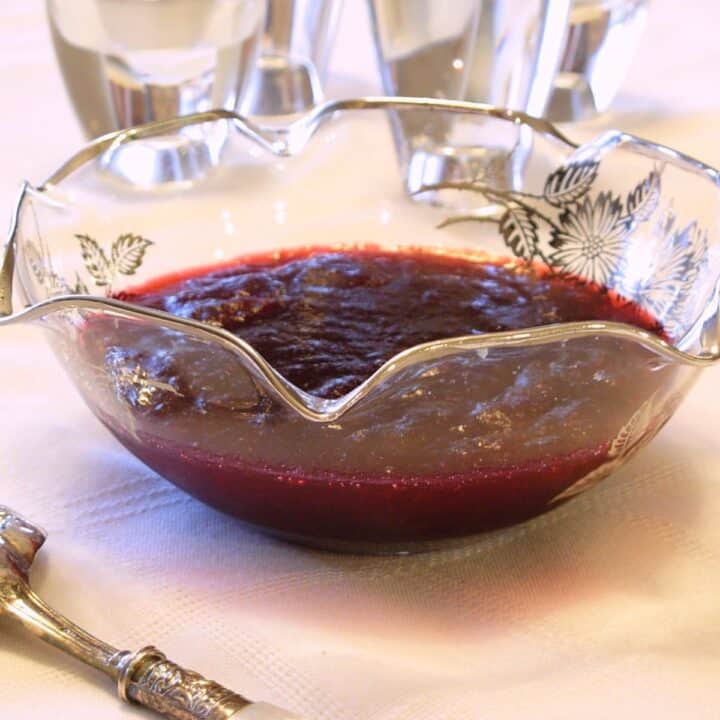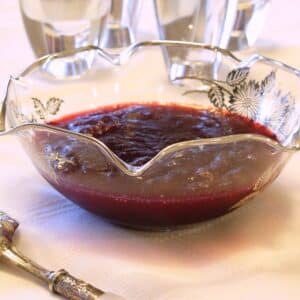 Homemade Jellied Cranberry Sauce Recipe
The best Homemade Jellied Cranberry Sauce you're ever gonna eat, made with whole, frozen (or fresh) cranberries. Never buy canned again! 30-minute recipe.
Ingredients
12

ounces

Organic Frozen Whole Cranberries

can be purchased fresh and frozen until needed

1

cup

water

1

cup

sugar

1

cinnamon stick

1

tablespoon

orange juice
Instructions
Place the water and sugar in a large heavy-bottom sauce pan.

Bring it to a boil.

Add the cinnamon sticks, orange juice and cranberries.

Simmer for about 20 minutes until all the cranberry skins have "popped" and the berries feel soft.

For whole cranberry sauce, remove the cinnamon sticks, pour the cranberries into a bowl or mold and refrigerate until firm (4 to 5 hours).

For jellied cranberries (without whole cranberries) remove the cinnamon sticks and press through a Foley food mill to remove the seeds and skin. Takes about 10 minutes.

Then pour the mixture into a bowl or mold and chill until firm (4 to 5 hours).

Keep refrigerated.
Notes
If you have chilled it in a mold, warm the mold in a bowl of water to release the cranberry jelly. Place a serving plate on top of the mold and turn it over so the cranberry jelly is transferred to the plate.
It is best if you make this Jellied Cranberry Sauce the day before you want to serve it. That way, you can make sure it sets up and is nice and cold.
Nutrition
Calories:
120
kcal
Carbohydrates:
31
g
Protein:
0.3
g
Fat:
0.1
g
Saturated Fat:
0.01
g
Polyunsaturated Fat:
0.03
g
Monounsaturated Fat:
0.01
g
Sodium:
3
mg
Potassium:
48
mg
Fiber:
2
g
Sugar:
27
g
Vitamin A:
34
IU
Vitamin C:
9
mg
Calcium:
10
mg
Iron:
0.2
mg