You will love this recipe on How to Make Gravy because it is simple and gravy enriches a meal, making it so satisfying. Of course, there are many types of gravies and sauces.
How To Make Gravy
Hi. It's Lois at Recipe Idea Shop, telling you How to Make Gravy. I love gravy, but I generally only make it a couple of times a year, Thanksgiving and Christmas, because it is full of fat and not so good for me. I figure if I only eat it on special occasions, it won't hurt me too much!
Since Thursday is Thanksgiving, I thought I'd add a recipe to help you make your gravy. The method is the same for all gravies, so once you learn how to make Turkey Gravy, you will also be able to make Beef Gravy, Pork Gravy, and even Ham Gravy (which is both sweet and salty because most people put brown sugar on the top of ham). A 12-pound turkey will generally give you enough drippings to serve 8-12 people (¼ cup each) and still leave plenty of leftovers.
When I finish making a gravy using meat drippings, I sometimes use a fat separator (affiliate link) to reduce the amount of fat in the gravy.
If I am over-zealous with the flour and get lumps, I simply put it through a sieve (or strainer) (affiliate link) and strain the lumps out. No one is the wiser. Also, if your gravy is too thick, no problem. Simply add some water or broth to thin it.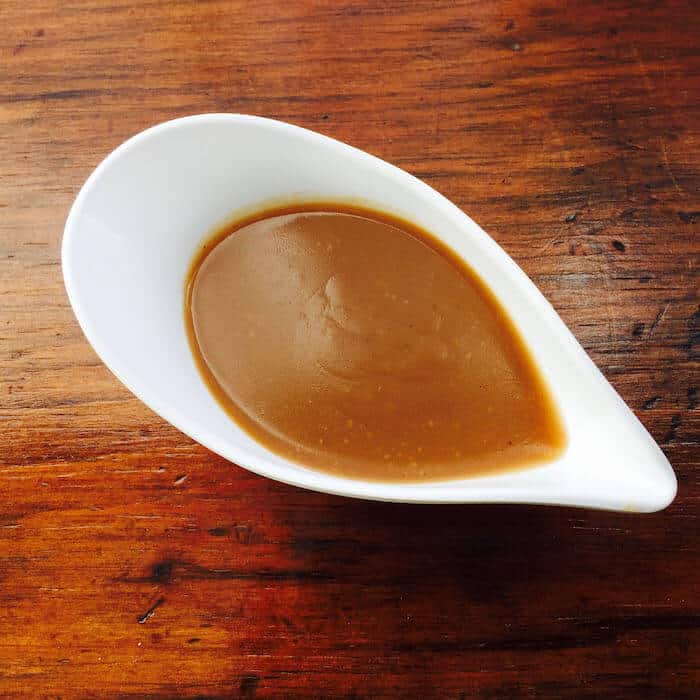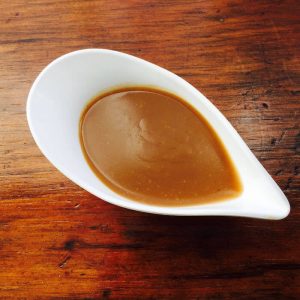 How to Make Gravy Recipe
Creamy, smooth, succulent gravy
Ingredients
Drippings from a cooked 12-pound turkey

about 2 cups

¼

cup

flour or gluten free flour

1

teaspoon

salt

½

teaspoon

pepper

1

cup

water
Instructions
Pour the drippings into a sauce pan, reserving about ¾ cup of drippings.

Stir ¼ cup flour into the reserved drippings until smooth. Alternately, for gluten free, use 2-3 tablespoons of corn starch instead of flour or substitute gluten free flour.

Heat the saucepan with the drippings on high heat until boiling. Add the water, heat to boiling, then turn the temperature down to medium.

Whisk in the flour mixture and continue to stir until the gravy thickens to the desired thickness.

Add salt and pepper to taste. I add about 1 teaspoon of salt and ½ teaspoon of pepper for this amount of gravy.
Notes
For a Healthier Option: You can reduced the amount of fat by using a gravy server or a fat separator. Special Note: If the gravy doesn't have the amount of flavor you would like, you can add one-half teaspoon of Kitchen Bouquet seasoning, or a bouillon cube, or a little bit of dried thyme leaves (about half teaspoon). You can also season with Soy Sauce (a couple of teaspoons). Option: Instead of the meat drippings, uses 2-4 tablespoons butter. Melt the butter, add the flour. Whisk until thoroughly mixed and it begins to turn brown. Then continue with the recipe above.
Nutrition
Calories:
15
kcal
Carbohydrates:
3
g
Protein:
0.4
g
Fat:
0.04
g
Saturated Fat:
0.01
g
Polyunsaturated Fat:
0.02
g
Monounsaturated Fat:
0.01
g
Sodium:
292
mg
Potassium:
6
mg
Fiber:
0.1
g
Sugar:
0.01
g
Vitamin A:
1
IU
Calcium:
2
mg
Iron:
0.2
mg
Recipe Nutrition Information
This recipe is DF, NF, SF, EF*
The information shown is an estimate provided by an online nutrition calculator. It should not be considered a substitute for a professional nutritionist's advice.
Other Recipes To Try
Rate, Pin & Share!
Please Rate our recipes and posts, and Pin and Share them on social media. Comments are welcome, too!
*Allergen Key
GF = Gluten free | DF = Dairy free | NF = Nut free | SF = Soy free | EF = Egg free | CF = Corn free | V = Vegetarian | VG = Vegan
Note: If you have serious allergies or sensitivities, to be considered free of these allergens, you need to use products specifically marked "gluten free," etc. There can be cross-contamination in facilities.