You're not gonna believe how delicious this Kringle Gluten Free is. The crust is a bit more flaky than Kringle made with wheat, and so, so good.
Kringle Gluten Free
Because I cannot eat wheat, and I really wanted some Kringle, I modified our traditional Wisconsin Kringle recipe to make it gluten free. There's no other word for it. It's amazing!
Well, there is another word. Easy. The actual recipe is really easy. But you do have to build in chilling the dough for 5 hours or overnight. I made the dough the night before and then it only took about 15 minutes to put together and 35-40 minutes to bake it. Let cool. Make icing. Drizzle on. Let cool some more. EAT.
That means the hardest part is waiting.
WHAT YOU NEED
For this recipe you need mixing bowls, a food processor or electric mixer, rolling pin, baking sheet, parchment paper or a silicone mat, and some prepared filling, like almond paste. Do yourself a favor and buy the best tools you can afford.
Kringle Gluten Free Recipe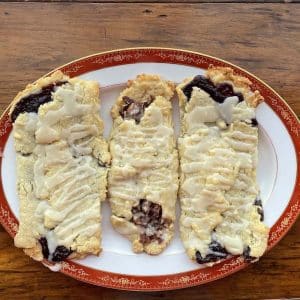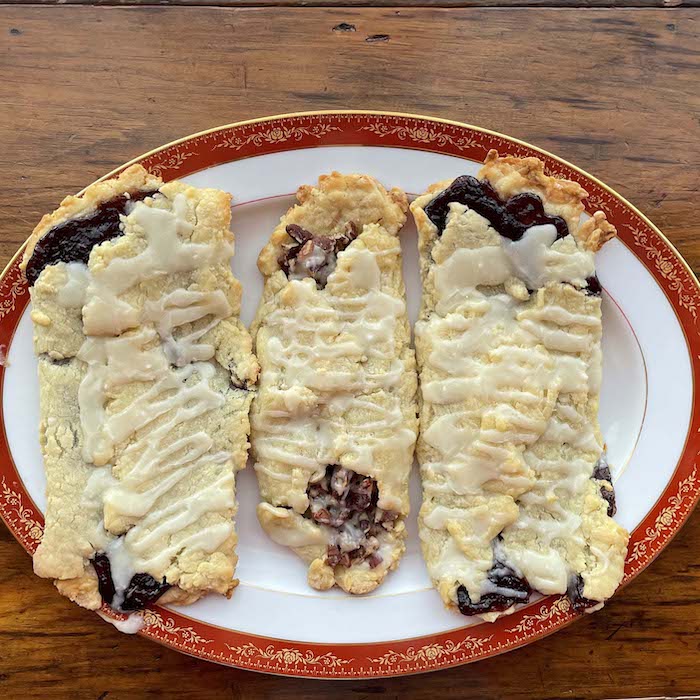 Kringle Gluten Free
Wisconsin Kringle, made gluten free. It's amazing!
Ingredients
Dough
2

cups

gluten free flour

I prefer Bob's Redmill gluten free 1-to-1 baking flour

1

teaspoon

baking powder

2

sticks margarine

or butter

8

ounces

sour cream
Filling
prepared filling of your choice

Nut or fruit. I used canned raspberry paste, about 10-12 ounces, see note below.
Icing
1

cup

powdered sugar

¼

cup

milk

¼

cup

melted butter
Instructions
Make, Chill, and Roll the Dough
Sprinkle the baking powder over the flour and give it a quick stir.

Cut margarine and flour together with knives or a food processor. The bits of margarine should be pea sized. Add sour cream and mix well.

Pat the dough into a ball and cover with plastic wrap. Chill at least 5 hours or overnight.

After chilling, divide dough into three sections (for 3 Kringles) and roll each into a rectangle—about 22" x 9". To roll easily, put a little flour (gluten free, of course) on your rolling pin and sprinkle a little flour over your dough.
Fill the Dough
Spread filling down the center and fold ends in, slightly overlapping.
Bake the Dough
Bake at 350F degrees for 30-40 min. The dough should be a nice golden brown before you take it out of the oven.

The dough will puff up while it bakes and the folds will separate, but don't worry about that. It's nice to see the filling in the middle.
Cool & Ice the Kringle
Let the kringle cool for at least 15 mnutes.

While it's cooling, make the icing.

I use an electric mixer to make the icing. It should be a little thin and runny. If it is not, add a bit more milk (or powdered sugar if too thin). Mix unil you get a nice consistency that it streams off the spoon to make pretty designs.
Let Cool Completely
After icing the Kringle, let it cool completely and when the icing is hard, the Kringles are ready for eating or freezing.

They freeze really well so this is a good option to make ahead for special events or to give as gifts.
Notes
Note About Where the Recipe Came From:
This gluten-free recipe is based on a recipe from the Kreutz family in Milwaukee and the recipe for Wisconsin Kringle that our daughter, Abbi Crawford Clissold, provided for us. A big thank you to both for this yummy recipe.
Note About Butter/Margarine:
I've used both margarine and butter. I usually HATE using margarine, but I think the dough is too crispy and flaky with butter. Kringle should have softness to it so I always go with margarine. And soy margarine doesn't taste as good as Imperial.
Notes About the Filling:
I use filling from a can. Solo, Wilderness, whatever. Buy the pie filling flavor that you love. One small can will generally fill all three Kringles, but my family loves the filling so I spread it thick and use 2 cans.
Once I made up my own filling and that worked out great too. I mixed pecans, brown sugar and cinnamon together (use a recipe for a crumbly topping for any kind of coffee cake).
A Couple Tips
The red plate shows Kringle Gluten Free with raspberry filling. I underbaked it the first time just a bit and put it back in the oven for about 10 minutes after frosting. That's why the icing looks a little crunchy. But it was still amazing.
The recipe has the corrected baking time. It takes a bit longer to make the gluten-free version than the original Wisconsin Kringle (wheat) recipe. Watch for the golden brown crust before you take it out of the oven.
The second photo below shows all three gluten-free kringles. The middle one has a homemade filling of chopped pecans, a little brown sugar (maybe ¼ cup) and about a tablespoon of butter. Oh my, was that good!
Recipe Nutrition Information
This recipe is GF, NF, SF, V*
The information shown is an estimate provided by an online nutrition calculator. It should not be considered a substitute for a professional nutritionist's advice.
Nourish Your Body & Soul
I encourage you to care of yourself by eating satisfying, nourishing food that is good for your body and makes you feel healthy. Protect your spirit by living authentically, moving your body, and taking time to replenish and rest. I think you might also like these recipes & posts from Recipe Idea Shop:
Rate, Pin & Share!
Please Rate our recipes and posts, and Pin and Share them on social media. Comments are welcome, too!
*Allergen Key
GF = Gluten free | DF = Dairy free | NF = Nut free | SF = Soy free | EF = Egg free | CF = Corn free | V = Vegetarian | VG = Vegan
Note: If you have serious allergies or sensitivities, to be considered free of these allergens, you need to use products specifically marked "gluten free," etc. There can be cross-contamination in facilities.
This post was first published on Recipe Idea Shop December 31, 2021.
Last Updated on May 4, 2022 by Adriana