Who knew you could make Wisconsin Kringle so easily? And to top it off, this Scandinavian coffee cake is amazing! You may have seen these tasty treats at Trader Joe's since they are a real favorite there. But you can also make them yourself at home, and it's pretty easy to learn.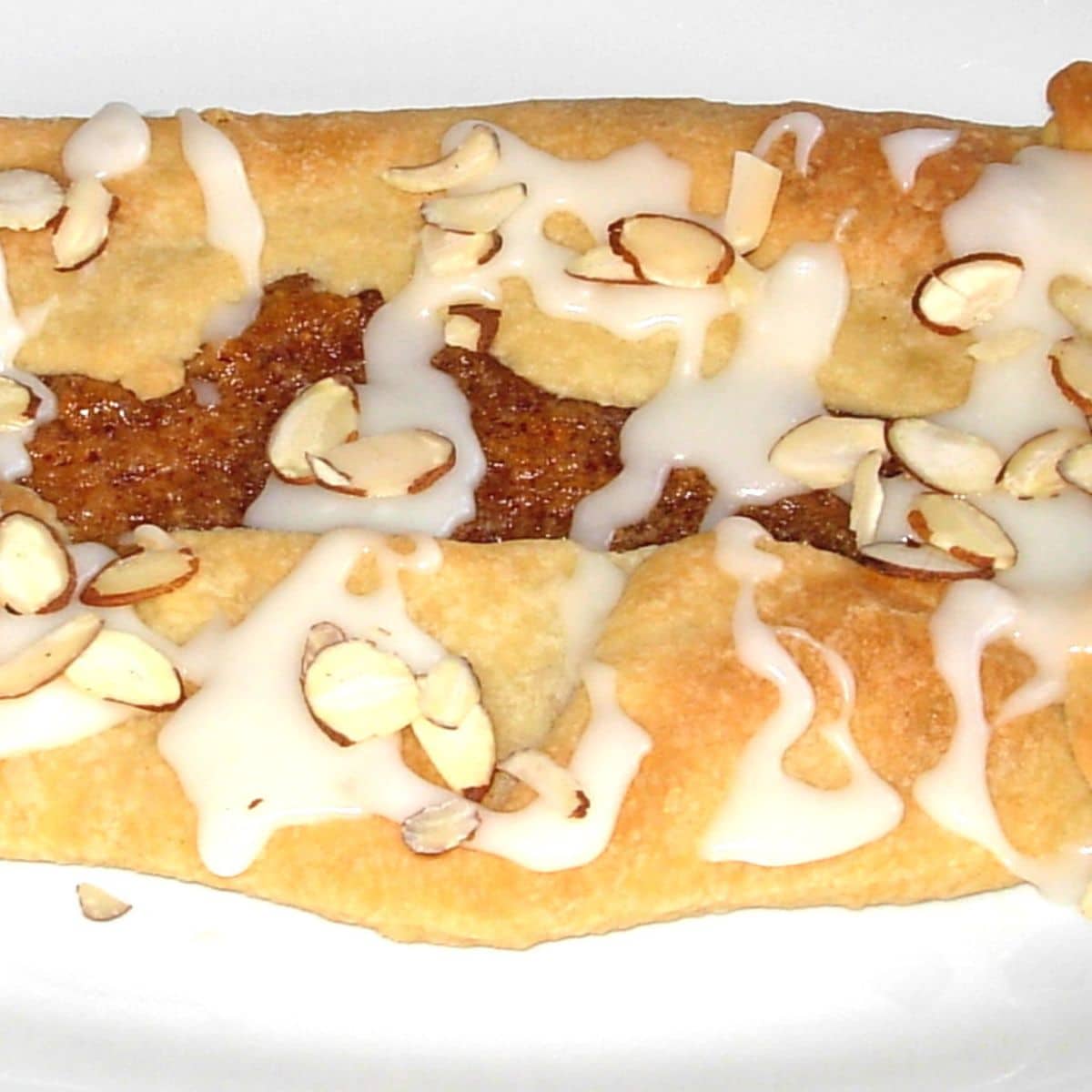 Did you know that the Kringle is Wisconsin's state pastry? Now I wonder if any other states have official pastries! When it comes to flaky pastries, this Danish pastry with nut fillings really takes the cake (hehe). Let's learn more about it and how to make it.
Making a Wisconsin Kringle
Wisconsin Kringle is the perfect breakfast for New Year's Day. This is a delicious selection that can be made with the finest ingredients and baked to golden brown perfection. Start your day with an authentic kringle and a cup of coffee, or enjoy them as a brunch snack with the family.
Well, let me tell you, our family loves it. It takes a bit of time to make because you have to let it chill for at least 5 hours, but it's worth the wait.
Also, it turns out better if you use margarine instead of butter so keep that in mind if you decide to make this delicious pastry.
If you're eating gluten-free, you can make it with gluten-free flour and still enjoy this delicacy! See Gluten Free Wisconsin Kringle.
I know you're gonna wanna eat this. If you like the almond variety, you'll need some canned almond paste like this:
What You Need
For this recipe, you'll need just a few things:
a food processor or electric mixer
a rolling pin
a baking sheet
parchment paper or a silicone mat
and some prepared filling, like almond paste
Do yourself a favor and buy the best tools you can afford.
Other Types of Kringles
In addition to the authentic Christmas kringle recipe, you can also add your own variations. Some popular ones are:
raspberry kringle
pecan kringle
almond kringle
You can add brown sugar to your Danish pastry dough and you can also add white icing at the end when it's finished. Add any type of fresh berries you enjoy and even other flavors like chocolate or chocolate mint.
Once you learn the basic recipe, it's easy to start playing with flavors and trying some different things.
Wisconsin Kringle FAQs
Here are some things people commonly ask about these delicious flaky pastries.
How long do kringles stay fresh?
Without freezing, they will stay fresh for about five days.
Can a Danish kringle be frozen?
Yes, you can freeze your kringle for up to four months. It's important to be sure it's sealed properly before freezing.
How do you eat a kringle after freezing?
All you have to do is thaw and eat at room temperature, or you can heat it up if you prefer it that way.
More Baked Recipes You'll Love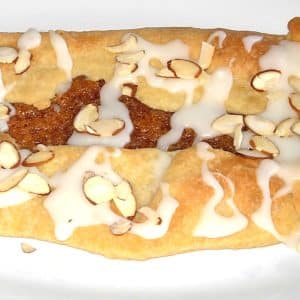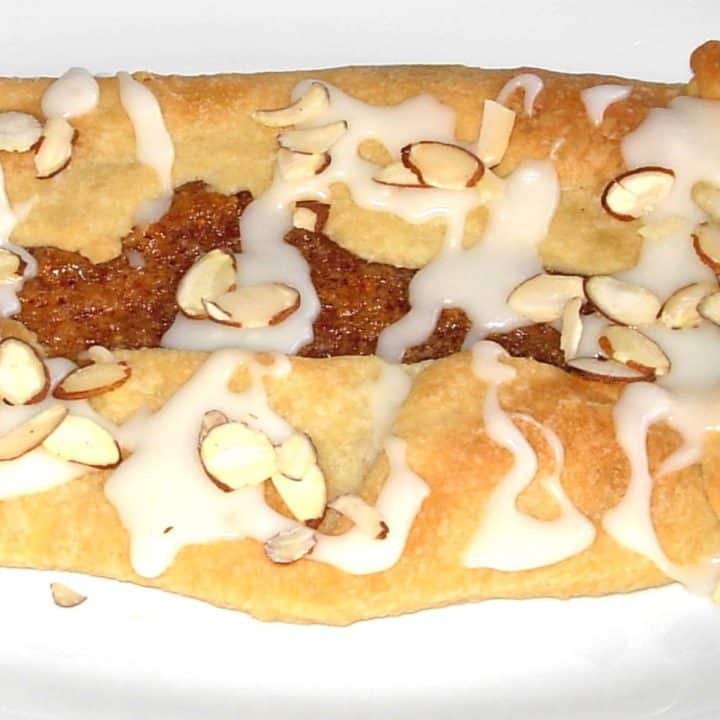 Wisconsin Kringle Recipe
This is the best Kringle you're ever gonna eat outside of Wisconsin!
Ingredients
Dough
2

cups

flour

2

sticks margarine

or butter

8

ounces

sour cream
Filling
1

can

Prepared filling of your choice

Nut or fruit. I used canned almond paste, about 10 ounces, see note below.
Icing
1

cup

powdered sugar

¼

cup

milk

¼

cup

melted butter
Instructions
Make, Chill, and Roll the Dough
Cut margarine and flour together with knives, food processor, etc. Add sour cream.

Chill at least 5 hours or overnight.

After chilling, divide the dough into three sections (for 3 Kringles) and roll each into a rectangle of about 22" x 9".
Fill the Dough
Spread filling down the center and fold ends in.
Bake the Dough
Bake at 350F degrees for 20 to 30 minutes

Remove when it is golden brown, and it will be delicious.
Cool & Ice the Kringle
Make and add icing; drizzle it on.
Let Cool Completely
After icing the Kringle, let it cool completely and when the icing is hard, the Kringles are ready for eating or freezing.
Notes
Note About The Icing:
I use a random mix of powdered sugar, milk, and melted butter (approximate amounts listed in the ingredients). Sorry, I can't be more specific here: I just keep mixing until I get a nice consistency that streams off the fork to make pretty designs. If you have a favorite icing, by all means, do that.
Note About Butter/Margarine:
I've used both margarine and butter. I usually HATE using margarine, but I think the dough is too crispy and flaky with butter. Kringle should have a softness to it so I always go with margarine. And soy margarine doesn't taste as good as Imperial.
Notes About the Dough:
It is REALLY sticky. Flour your rolling pin and surface liberally and often. I have never made a round Kringle; the rectangles were just so much easier.
The dough will puff up while it bakes and the folds will separate, but don't worry about that. It's nice to see the filling in the middle.
Notes About the Filling:
I use filling from a can. Solo, Wilderness, whatever. Buy the pie-filling flavor that you love. One small can will generally fill all three Kringles, but my family loves the filling so I spread it thick and use 2 cans.
Once I made up my own filling and that worked out great too. I mixed pecans, brown sugar, and cinnamon together (use a recipe for a crumbly topping for any kind of coffee cake).
Nutrition
Calories:
127
kcal
Carbohydrates:
18
g
Protein:
2
g
Fat:
5
g
Saturated Fat:
3
g
Polyunsaturated Fat:
0.3
g
Monounsaturated Fat:
1
g
Trans Fat:
0.1
g
Cholesterol:
15
mg
Sodium:
27
mg
Potassium:
37
mg
Fiber:
0.4
g
Sugar:
7
g
Vitamin A:
167
IU
Vitamin C:
0.1
mg
Calcium:
20
mg
Iron:
1
mg
Recipe Nutrition Information
This recipe is NF (optional), SF, EF, CF, V*
The information shown is an estimate provided by an online nutrition calculator. It should not be considered a substitute for a professional nutritionist's advice.