RECIPE IDEA: Lentil Rice Stuffed Roasted Eggplant, a 3-in-1 Recipe
Hi. It's Lois at Recipe Idea Shop with a 3-in-1 recipe for you today. I made this Lentil Rice Stuffed Roasted Eggplant recipe and realized the stuffing (which I had left over because I only roasted two eggplants) would be excellent alone or with an egg on top. So delicious! Make it once and get three amazing meals. I especially liked it with an egg on top.
It looks complicated because there are six basic steps to the recipe, but some are done simultaneously:
Cook the rice.
Cook the lentils.
Sauté the vegetables.
Roast the eggplant.
Mix lentils, rice and vegetables, and stuff the eggplant. Bake.
Toast the pine nuts and sprinkle them on top.
Too Many Eggplants
Don went to the Harrisonburg Farmer's Market last Saturday and came home with four small eggplants. He loves eggplants. Ooops. We already had four eggplants from the previous week that I hadn't cooked. So we were definitely having eggplant for supper on Saturday. And Sunday. I made a Butternut Ratatouille (with eggplant, of course) on Sunday. I'll tell you about that next week.
Toasting Pine Nuts
Saturday night we had Lentil Rice Stuffed Roasted Eggplant, topped with toasted pine nuts. Pine nuts taste creamy and rich to me. I love them toasted atop casseroles (do people use that word anymore?) and salads. To roast the pine nuts, I spread them out in a single layer and broil them in my toaster oven. My Black & Decker toaster oven is so cool, because you can simply broil something the same way you make toast (but on broil), by turning the timer dial to the darkness you prefer. It makes it super simple.
If you don't have a toaster oven, you can "toast" the pine nuts in a dry skillet over medium heat for a few minutes. But you have to watch it like a hawk and periodically stir them so you don't go from uncooked to burned in about two seconds. Or you can broil them in your regular oven for a minute or two. That option is the hardest for this ADD girl. I tend to burn them every time because I get distracted. So I LOVE my toaster oven.
Roasting the Eggplant
For this recipe, you roast the eggplant about 20 minutes while you are making the stuffing. The piece that takes the longest is cooking the brown rice (about 40 minutes). I've talked about roasting eggplant previously, but it's quite simple. Cut the stem and leaves off the eggplant and then cut it in half lengthwise. Slice a deep center cut lengthwise down the inside. Put about 2 tablespoons (or less) olive oil on a baking sheet and then place the eggplant, cut side down, on top. Move it around and turn it over to disperse the oil and be sure the eggplant is thoroughly coated inside and out. Roast at 425F degrees, cut side down, for about 20 minutes until the inside of the eggplant is soft and begins to brown. Remove it from the oven and set it aside until you are ready to stuff it. The cut you made earlier down the center will allow you to fill it easily with the stuffing. If you like Stuffed Eggplant, you might also like this recipe.
Lentil Rice Stuffing
There's enough stuffing in this Lentil Rice Stuffed Roasted Eggplant recipe to stuff at least four whole eggplants (that is, eight servings), but I suggest you only stuff two, giving you four servings of the Lentil Rice Stuffed Roasted Eggplant. Then use the remaining stuffing for another meal or two. The Lentil Rice Stuffing is good hot, warm or cold so how can you beat that?
Really, it's easy. All you do is boil the green lentils until crisp tender (about 30 minutes total time), make the brown rice (40 minutes, and you can do this at the same time as the lentils are cooking and the eggplant is roasting), sauté the other veggies, and mix it all together before stuffing the eggplant and popping it in the oven for 15-20 minutes.
Really, it's not complicated. But it does take some time to make.
Leftovers Make Excellent Second and Third Meals
Don and I were only able to eat half an eggplant, so we had another meal of the Lentil Rice Stuffed Roasted Eggplant, plus extra stuffing to eat in other ways. Try the Lentil Rice stuffing alone, warmed up or cold. It is filling and tasty. With this recipe, you should have enough for about 8 servings of the Lentil-Rice mixture.
Warm Up the Stuffing
To add some color, try sautéing a little spinach or kale and serve the stuffing over it. You'll get more iron and Vitamin K that way. But really, when I eat this, I don't need anything else. This is a meal-in-one. For this option, I didn't include the pine nuts. But toast some more if you like them.
Add an Egg
My favorite leftover version, however, was with fried egg on top. It was creamy and scrumptious! I warmed up the lentil-rice stuffing and topped it with a fried egg. What a super lunch bowl. More Vitamin E, too, which is good for the skin. And did I say this recipe not only gluten free, dairy free and soy free, it's vegan? Leave off the pine nuts and it's nut free, too.
When you try this recipe, be sure to comment on which way you liked it best! I know you're gonna love this.
Tools
Although it's a mult-step recipe, the tools are pretty simple. I used measuring cups and spoons, a knife and scissors (for the rosemary), a cutting board, pots and pans, a baking sheet, and my toaster oven.
Lentil Rice Stuffed Roasted Eggplant Recipe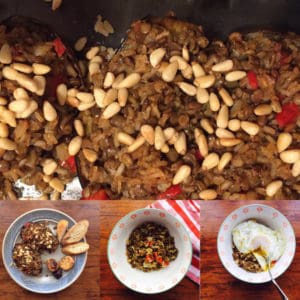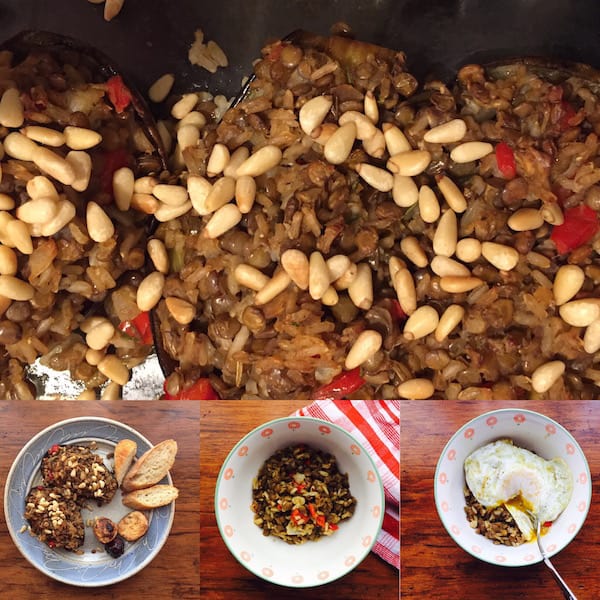 Lentil Rice Stuffed Roasted Eggplant
Ingredients
Rice
2

cups

brown rice

3

cups

water
Lentils
1

cup

green lentils

1

bay leaf

3

cups

water

1-½

teaspoons

Better Than Bouillon Seasoned Vegetable Base

¼

teaspoon

pepper
Vegetables
2

tablespoons

olive oil

1

cup

chopped yellow onion

1

cup

chopped red pepper

1

tablespoon

fresh rosemary

chopped

¼

teaspoon

Herbes de Provence

3

garlic cloves

minced
Instructions
Rice
Put the rice in a pot with 3 cups of water.

Bring to a boil.

Reduce the heat to medium low and cover the pot.

Cook for about 40 minutes until the rice is chewy, but not mushy. It will absorb most of the water. You may need to add a little water as it cooks.
Lentils
Put the lentils, bay leaf water, vegetable bouillon and pepper in a pot.

Heat on high heat until it comes to a boil.

Reduce the heat to medium low and cover the pot.

Cook for about 20-25 minutes until the lentils are crisp tender, but not mushy. It will absorb most of the liquid. If the liquid begins to cook off too soon, reduce the heat or add a little more water.
Vegetables
Heat the oil in a medium skillet over medium high heat.

Add the onion and red pepper and sauté until the onions become transparent (about 5-6 minutes).

Add the rosemary, Herbes de Provence and minced garlic, and continue cooking for about 1 minute.
Combine Rice, Lentils & Vegetables
Mix the rice. lentils and vegetables and set aside.
Roasted Eggplant
Cut the stems and leaves off the eggplants.

Slice the eggplants in half, lengthwise.

Slice a lenghtwise cut almost all the way through the eggplants (inside).

Coat the eggplants on both sides with olive oil. I do this by putting the oil on a baking sheet and then rubbing the eggplant around in the oil, flipping it over to coat both sides.

Place the eggplants, cut side down, on the baking sheet and bake at 425F degrees for about 20 minutes until the flesh of the eggplant is starting to brown a bit.

Remove the eggplants from the oven and reduce the temperature to 350F degrees.
Toasted Pine Nuts
Broil the pine nuts in a single layer in a toaster oven until brown (about 5 minutes or less, depending on the toaster oven) or cook them in a dry pan on top of the stove over medium heat (watch carefully, they burn easily) for about 2-5 minutes.
Stuffing the Eggplant
Turn the roasted eggplants onto their skin side.

Open the flesh where you sliced previously.

Top with about 1 cup Lentil Rice Stuffing

Bake at 350F degrees for about 15-20 minutes until hot.

Top with toasted pine nuts and serve immediately.