Do you want to learn how to smoke a turkey in a gas smoker? Smoking can be a great way to prepare the turkey whole and ensure you get an even cook and delicious flavor. However, if you've never done it before, it might seem like a daunting task. Where do you begin and how can you ensure you do it correctly?
The good news is, it's actually very easy to smoke a great turkey in a gas smoker once you learn how. So, that's what we're going to discuss here in this post. You will absolutely love the flavor of this delicious smoked turkey!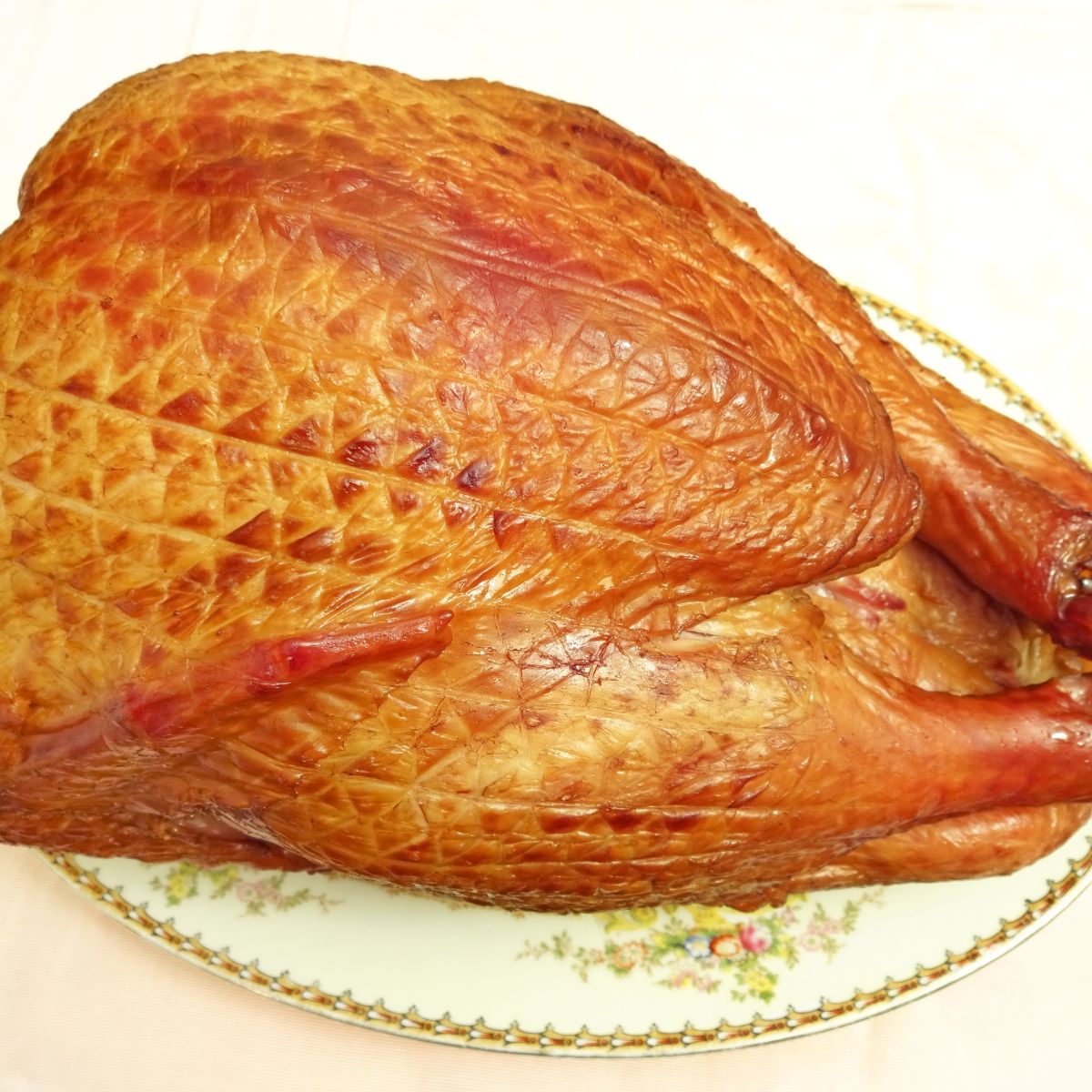 How to Smoke a Turkey in a Gas Smoker - Overview
The best smoking technique is going to require a lot of patience. If you try to cook it too fast, you're going to dry it out and it won't taste good. Consider the size of the turkey when planning your cooking time as well. A larger bird will need a lot more time to cook evenly than a smaller one.
The key to smoking a turkey in a gas smoker is to keep the bird moist while it cooks. Otherwise, the meat will dry out and become tough. I'll cover exactly how to do this in more detail below, but you can start by injecting the bird with a marinade of your choice. You will use this and the bird's own cooking juices to help keep it moist throughout the smoking process. Some people like brined turkey instead.
You can also rub the skin with a spice mixture. You can use your own choice of spices, but I like salt, pepper, and paprika. Some people add some melted butter or a butter alternative like olive oil. It will hold all your spices together and also make it possible to paint them over the turkey. You will cook it in the smoker on low heat for a few hours to seal in the flavors and get a nice smoky flavor on the bird, too.
So, what do you need to get started? Besides your turkey, here are some things you will need.
More Turkey Cooking Tips
What you'll need
Before you start with your turkey meal, it's important to gather all the ingredients and tools you will need. Smoking a turkey is a big job and you want to do all the right prep work first to make it easier. You also need the right supplies.
Here's what you need to get started with smoking your turkey:
The grill: We're talking about smoking with a gas grill here, but you can also use a wood pellet, electric smoker, or charcoal
Roasting pan: A roasting pan and rack are important, but if you don't have one you can buy a disposable aluminum roasting pan from the supermarket. Keep in mind that these can be a bit flimsier than a non-aluminum option so use caution when carrying. A large pan that's at least 3-4 inches deep will be best.
Basting ingredients: Herb butter, rosemary, thyme, garlic, salt, pepper, etc.
A meat thermometer: Checking the temperature throughout cooking will be very important.
Aluminum foil
Drip pans and water pan
Veggies for the turkey – carrots, celery, onions, etc.
Chicken stock – for your basting mixture
Why should you smoke your turkey?
Before we get into the rest of the details on how to do it, what are some reasons you might choose to smoke your turkey, rather than cook it another way?
Smoking gives a unique flavor
It can make the seasonings stronger/more flavorful
You get a more even cook
It cooks thoroughly without drying out
Some people just enjoy smoked meats
What Kind of Grill to Use to Smoke Your Turkey
You can actually smoke your turkey with just about any kind of grill. The most important thing to know is that you have the sizing right so that your turkey will fit. If you're not 100% sure, measure it before buying your turkey. Not only does it need to fit inside but you also need to be able to properly close to the lid.
While this post is focused on how to smoke a turkey in a gas smoker, you could also use a different type of smoker, such as:
Electric smoker
Charcoal grill
Wood pellet grill
The cook times can vary according to which method you are using so keep that in mind. Our temperatures and cook times are when referencing a gas smoker.
Preparing the Turkey Before Smoking
Preparing the turkey before you smoke it is one of the most important steps in the process of smoking a great turkey. Here are the steps you can take:
If the turkey is frozen, take the time to thaw it
Remove the neck and giblets (usually inside the cavities of the turkey)
Brine and season your turkey (if it was frozen, you can begin brining it at the end of the thawing process)
Prepare the skin. You can remove the turkey from the brine and pat it dry with a paper towel. Now apply your herb butter or other butter mixture under the skin.
Season and truss – inside the cavity with salt and pepper or other herbs, add a sprig of thyme or rosemary, and then truss the bird with baking twine.
Drizzle all of the outsides of the bird with olive oil, using your hands or a brush to spread it all over evenly.
Place the turkey in the roasting pan.
Add any vegetables you're going to cook with it to the bottom of the pan (celery, carrots, and onion are my favorite).
You can also add chicken stock, rosemary, thyme, and garlic to the pan with the veggies and the turkey and it will all smoke together and the turkey will soap up this mixture for flavoring.
Cooking Temperature and Time
When you're cooking a whole turkey, time and temperature are going to be very important. Different turkey recipes will call for different cook times and the type of stuffing you use and the glaze you use can also impact cook time. The exact temperature and cooking time also depend on the size of the bird.
If this is part of your Thanksgiving feast then chances are, it's a very big turkey and that's going to take longer to cook. A gas grill will cook differently than a charcoal grill, also.
You will be cooking the turkey at a low temperature for an extended period of time. This ensures a good, thorough cook without drying out the bird. You can also get nice, crispy skin when you use this method and smoke it.
How long to smoke the turkey
You will smoke the turkey until it reaches an internal temperature of 160 degrees at the thickest part of the breast. Remember that it also continues to cook as it rests, once it is pulled from the smoker.
Here are common times based on the temperature you are cooking at:
225 degrees: smoke for 30 minutes/pound
235 degrees: smoke for 30-35 minutes/pound
250 degrees: smoke for 25-30 minutes/pound
275 degrees: smoke for 20-25 minutes/pound
300 degrees: smoke for 15-20 minutes/pound
In general, you can plan on it taking from about three hours to as much as ten hours to fully smoke your turkey. For best results, or to have it done faster, consider a smaller turkey. If you need to feed a lot of people, you might even choose two smaller turkeys over one large one.
The lower the temp, the longer it takes to cook, and the higher your chance of drying out your turkey. If you go for longer cooking times, be sure to baste regularly.
How to smoke a turkey in a gas smoker
Now, how do you actually smoke your turkey? Well, you start with a prepped turkey (innards removed and stuffing added if you're using it) and prepare per the instructions above. Wrap your turkey loosely in aluminum foil.
Next, place the turkey in the smoker and set the temperature to 225 degrees Fahrenheit (or whatever temp you are using). When using a gas smoker, rather than using wood chips or wood pellets to create the smoke, you achieve it by burning propane. The smoke will flavor the meat and help to keep it moist.
Cook the turkey for three to four hours (or for the timing indicated in the chart above), or until it reaches an internal temperature of 165 degrees Fahrenheit. Basting the turkey every hour with a mop sauce or other liquid will also help to keep it moist. Having one of these grill-basting mops with long handles will help a lot!
Finally, remove the turkey from the smoker and allow it to rest for 20-30 minutes before carving. This will help ensure that all of the juices stay locked in, resulting in a tender and flavorful bird.
Cover and rest
As mentioned above, one of the most important steps when smoking is to remove, cover, and allow it to rest. The turkey keeps cooking for a while afterward and it also allows it time to fully soak in all of that flavor that you cooked it with.
You should allow it to rest for at least 15-20 minutes before you carve it. You can also drain the drippings out of the bottom of the pan and make a delicious gravy to go with your turkey.
How to smoke a turkey in a gas smoker - additional tips
Here are some additional tips for smoking your turkey:
When the turkey is done, carefully remove it from the smoker and let it rest for 20-30 minutes before carving. This will give the juices time to redistribute throughout the meat, resulting in a juicier, more flavorful bird.
Use an aluminum roasting pan. You don't need to use a metal pan and clean-up can be so much easier if you use a disposable aluminum one and just toss it after.
Save the drippings from the pan and make turkey gravy.
Skip basting altogether and just brine your turkey before smoking. This prevents you from having to open the grill to baste, which will drop the temperature while cooking.
Smoking a Turkey in a Gas Smoker FAQ
Here are some common questions people often have about smoking a turkey in a gas smoker.
Do I need a drip pan?
You don't have to use a drip pan but it can be very helpful in cleaning up afterward, plus you can use the drippings to make gravy.
Can I smoke a frozen turkey?
You can smoke a frozen turkey, but you do need to let it thaw first, just like cooking it any other way.
Do you cover a turkey when roasting?
You don't have to, but I find covering it loosely in aluminum foil helps hold in the moisture and keep it from drying out or burning. You can remove the foil in the last few minutes of smoking if you choose.
What to Serve with Your Smoked Turkey
Now that you know how to make this delicious smoked turkey, you just need to know what to make to go with it. There are so many amazing side dishes that can go with your smoked turkey. The sides are what really complete the meal. How can you choose the right ones?
First, consider what kind of smoke flavor you want for your turkey. If you want a light smoke flavor, then go with lighter side dishes. Something like a simple green salad would be a good choice. For a more intense smoke flavor, choose heartier sides that can stand up to the smoke. This could include roasted vegetables or mashed potatoes.
If you're cooking your turkey for Thanksgiving, you might choose some traditional side dishes like potatoes, green beans, sweet potatoes, bread or rolls, cranberries, stuffing, and more. If your family has their own traditional sides for Thanksgiving, this would be great paired with your smoked Thanksgiving turkey.
No matter what side dishes you choose, make sure they complement the smoke flavor of the turkey. And most importantly, don't forget the gravy! Nothing goes better with smoked turkey than homemade gravy. So, get creative and smoke up something delicious!
Final Thoughts
When you follow these instructions for smoking your turkey, you'll get a perfect turkey every single time. No matter what you choose for a brining process or what kind of seasoned turkey you make, the smokey flavor will bring out the great flavor of the bird and bring the whole dish together.
Now you can enjoy your fresh turkey!