Quinoa Artichoke Salad blends quinoa, artichokes and hearts of palm with a tangy vinaigrette for a delicious side salad or main dish.
Quinoa Artichoke Salad is a tasty vegan dish.
Quinoa Artichoke Salad takes just 25 minutes to make. Quinoa, artichokes, hearts of palm, diced pimientos, onions and a vinaigrette make this salad a delicious entree or side dish. I love the combination of ingredients and flavors.
One night when Don was out of town on business I made myself a scrumptious vegan supper. Don eats pretty much whatever I serve him, but he does like his meat. I generally prefer to eat a vegan and gluten-free meal, but we compromise and eat meat, chicken or fish a couple of times a week so we don't have to make two meals.
When I serve a meal like this to Don, he generally says something like, "It's delicious. And would be really good with a steak!" So I save my vegan entrees for potlucks and summer camp where the vegetarians are appreciative.
Recipe Development
I found the original recipe for Quinoa Artichoke Salad in Bloom magazine, an insert in our local newspaper. (Of course I modified it a bit.) It was part of an article about the benefits of being vegan. Dr. Josie Kinkade, a local physician, was interviewed and provided a couple of vegan recipes.
Dr. Kinkade has been vegan for 15 years. I'm still working toward it. Having grown up in a family that either ate casseroles (with meat) or a meat-potato-vegetable meal every day, it just seems so much easier to make a meal that follows my family's pattern. Being a vegan takes a bit more work to eat properly, I think. And it requires a quantum shift in attitude. But it awakens your taste buds and food tastes so good!
Do you eat a vegan diet? How do you make it easy, varied and interesting? Please leave a comment on this post with your answers.
The Rest of the Menu
Add a green salad, a few sliced tomatoes and some fruit for a satisfying meal. Pair it with a nice light white wine and feel like royalty. I think you will love this recipe.
What You Need
You can get the ingredients fresh, frozen or canned. I usually use canned artichokes and hearts of palm for salads. You'll need a pot for cooking the quinoa, a knife and cutting board, measuring cups and spoons, sieve and a beautiful serving bowl for this recipe. Whatever you buy, get the best you can afford. You want your tools to last a lifetime.
Quinoa Artichoke Salad Recipe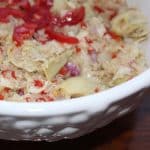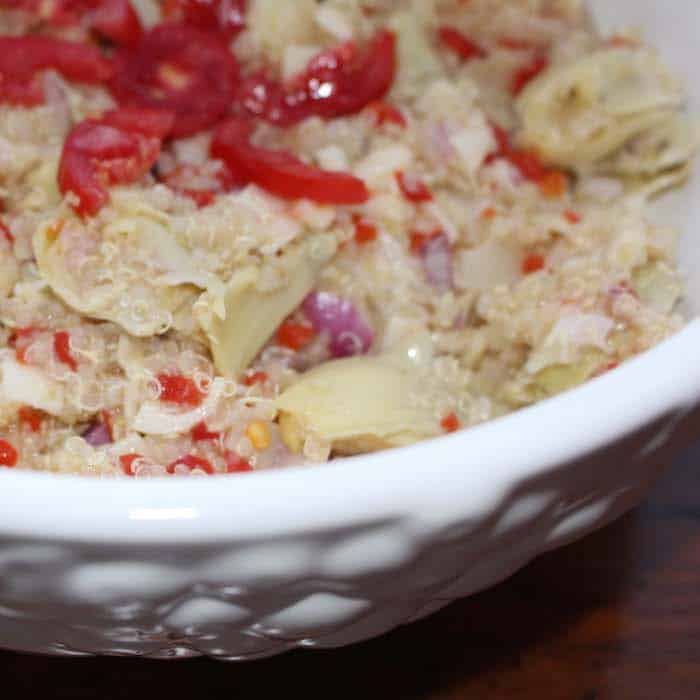 Quinoa Artichoke Salad
Ingredients
1

cup

white quinoa

2

cups

cold water

1

can hearts of palm

(drained and diced)

1

can artichoke hearts

(drained and quartered)

1

jar diced pimentos

(drained)

1/4

cup

finely diced red onions

(or 2 green onions)

1

clove

garlic

(minced)

1/2

teaspoon

ginger

(fresh grated)

2

tablespoons

olive oil

1/4

cup

apple cider vinegar

1/2

teaspoon

sea salt

1/4

teaspoon

black pepper

3-4

drops

Tabasco sauce
Instructions
Rinse the quinoa with cold water using a fine sieve and transfer the quinoa to a medium saucepan.

Add the water and bring it to a boil.

Cover the pot and turn the heat down to low, allowing the quinoa to gently cook for about 15 minutes until all the water is absorbed and the quinoa has fluffed up and shows a ring in its center.

In a 6-cup bowl, combine the artichokes, hearts of palm, pimentos, and onions.

In a 2-cup measuring cup, whisk the oil, vinegar, garlic, ginger, Tabasco, salt and pepper until well combined.

When the quinoa is cooled a bit, add it to the artichoke mixture and mix to combine.

Pour the dressing over the quinoa mixture and stir to thoroughly coat.

Serve it warm, cold or room temperature. Delicious!
https://recipeideashop.com/quinoa-hearts-of-palm-artichoke-salad/
Affiliate Disclosure: Many of the links included throughout Recipe Idea Shop are affiliate links, which means if you follow them and you buy something, we will get a small commission. It doesn't cost you a penny more, and you can still use your Amazon Prime account to buy. Don and I love our Amazon Prime account. This posting includes affiliate links.
 Recipe Nutrition Information
The information shown is an estimate provided by an online nutrition calculator. It should not be considered a substitute for a professional nutritionist's advice.
WHAT'S NOT TO LOVE?
Trust me, you're gonna love this recipe. Up your recipe repertoire. Add this recipe to your collection. But don't stop there…subscribe to our email newsletter and get a free cookbook and a printable grocery shopping list.
RATE, PIN & SHARE!
Please Rate our recipes, and Pin and Share them on social media. Comments are welcome, too!
You May Also Like These Recipes From Recipe Idea Shop
BEFORE YOU GO, DID YOU GRAB YOUR FREE COOKBOOK?
[mc4wp_form id="5109″]