Savory Turkey Potpie, a delicious way to use leftover Thanksgiving turkey.

Savory Turkey Potpie is a simple casserole everyone will love. 
A few years ago Don and I made a Savory Vegetarian Potpie and we liked it so much that we decided to try it with leftover turkey. It's excellent! It does take a bit of work, but it's well worth the effort to make this homemade Savory Turkey Potpie.
A potpie and a baked potato was a common meal at my house when I was growing up. It was filling and cheap, but never "homemade." All the kids liked it. Of course, commercially made potpies are not the healthiest choices, but I do like a good potpie once in awhile. I no longer eat it with a baked potato (way too many carbs!), and we make the crust gluten free because of my food sensitivities. But it's still excellent!
What You Need
You'll need measuring cups and spoons, knives, a cutting board, a vegetable peeler, a sauté pan, a food processor, and a casserole dish. But get yourself some beautiful crystal wine glasses and enjoy a moment of gracious living while the potpie is baking.
Savory Turkey Potpie Recipe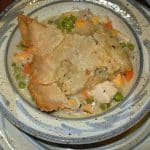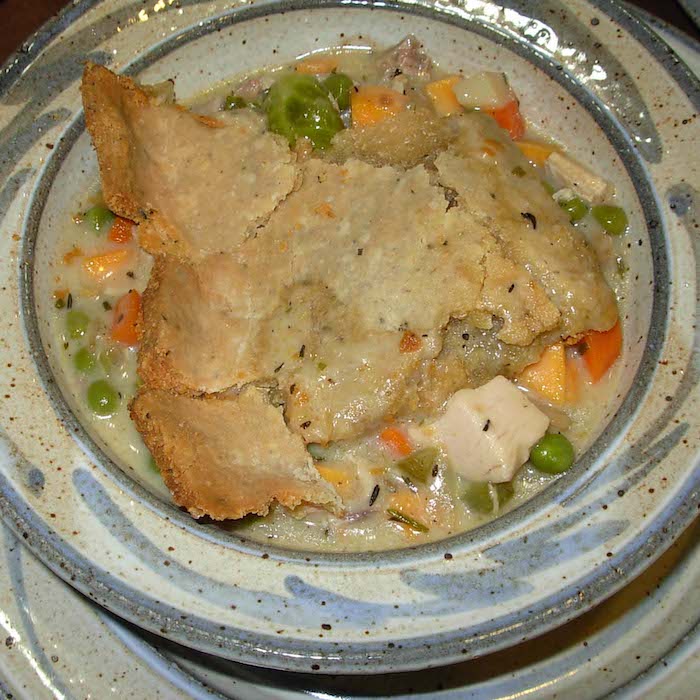 Savory Turkey Potpie Recipe
This savory pie takes a bit of work, but it is well worth the effort!
Total Time
1
hour
35
minutes
Ingredients
Filling Ingredients
4

tablespoons

olive oil

4

shallots

(peeled and cut in quarters)

¼

cup

chopped onion

½

cup

sliced button mushrooms

2

garlic cloves

(minced)

½

medium

sweet potato

(peeled and diced)

½

medium

russet potato

(peeled and finely diced)

1

celery stalk

(finely diced)

2

large

carrots

(peeled and finely diced)

½

cup

baby Brussels sprouts

1

small

fennel bulb

(diced, or 1/2 teaspoon of fennel seeds)

½

cup

frozen peas

1 ½

cups

dry white wine

1 ½

cups

coconut milk

(or regular milk if you don't need dairy free))

2

tablespoons

coconut oil

(or butter)

2

tablespoons

gluten free flour

1

tablespoon

chopped fresh tarragon

1

bay leaf

½

teaspoon

dried rosemary

1/2

teaspoon

dried thyme

1

teaspoon

salt

½

teaspoon

black pepper

½

pound

cooked turkey

(cut in one-inch cubes)
Herbed Crust Ingredients
1

cup

gluten free flour

1

cup

almond meal flour

1/2

cup

canola oil

(or Crisco or another vegetable shortening)

1

teaspoon

finely chopped fresh basil

(or ½ teaspoon dried basil)

1

teaspoon

finely chopped fresh rosemary

1

teaspoon

finely chopped fresh thyme

Pinch

sea salt

(about 1/8 teaspoon)

1/2

cup

water
Instructions
Filling Directions
In a large sauté pan, cook the onion, shallots and sliced mushrooms in the olive oil until the onions are transparent and the mushrooms are slightly browned.

Add the potatoes, carrots, celery, fennel, Brussels sprouts, and peas and cook for about 5 minutes.

Add the wine and the coconut oil (or butter).

Mix the flour in the coconut milk (or another milk alternative) and pour it into the vegetables, stirring until the sauce is smooth and thickened and the vegetables are crisp tender, about 15 minutes.

Add the herbs, turkey, salt and pepper and stir.

Remove the bay leaf and discard it.
Crust Directions
To prepare the crust, mix the GF flour and almond flour together in a food processor using the dough blade.

Add the Crisco (or oil), herbs and salt and mix well to form a dough.

Add up to 1/2 cup water (a little at a time) if the dough seems too dry.

Cut the dough in half and roll into a 13-inch circle.

If using a bottom crust (we didn't use a bottom crust), fit the dough into a 1-quart, oiled, baking dish and trim the edges, leaving a ½-inch overhang.

Spoon the filling into the bottom crust.

Roll out the second half of the dough into a 12-inch circle.

Place it over the filling and trim the edges of the dough.

Make 4 incisions in the top crust with a knife to serve as vents.

Bake the potpie at 350°F for 45 minutes, or until the top crust is golden brown.

Let stand for 5 minutes before serving.
https://recipeideashop.com/savory-turkey-potpie/
Savory Turkey Potpie. What a scrumptious way to eat up some of that leftover turkeySavory Turkey Potpie. What a scrumptious way to eat up some of that leftover turkey!
Affiliate Disclosure: This website may contain affiliate marketing links, which means we may get paid commission on sales of those products or services we write about, including Amazon. Editorial content is not influenced by advertisers or affiliate partnerships. This disclosure is provided in accordance with the Federal Trade Commission's 16 CFR § 255.5: Guides Concerning the Use of Endorsements and Testimonials in Advertising.
Recipe Nutrition Information
This recipe is GF, DF, SF, EF, CF*
The information shown is an estimate provided by an online nutrition calculator. It should not be considered a substitute for a professional nutritionist's advice.
You May Also Like These Recipes From Recipe Idea Shop
SUBSCRIBE FOR MORE RECIPES YOU LOVE & FREE GIFTS
Trust me, you're gonna love our recipes. Up your recipe repertoire. Add this recipe to your collection. But don't stop there…subscribe to our email newsletter and get a free cookbook and a printable grocery shopping list.
RATE, PIN & SHARE!
Please Rate our recipes, and Pin and Share them on social media. Comments are welcome, too!
*Allergen Key
GF = Gluten free | DF = Dairy free | NF = Nut free | SF = Soy free | EF = Egg free | CF = Corn free | V = Vegetarian | VG = Vegan
Note: If you have serious allergies or sensitivities, to be considered free of these allergens, you need to use products specifically marked "gluten free," etc. There can be cross-contamination in facilities. 
This recipe was originally posted on Recipe Idea Shop November 21, 2011 and updated November 22, 2020.