Indian Ratatouille. Easy. Tasty. Start with some fresh eggplant. Then add just the right spices. Much more flavorful than regular ratatouille.
Indian Ratatouille, A Delicious Change
Hi. It's Lois in the kitchen, telling you about a delicious Indian Ratatouille recipe. This Indian Ratatouille is not overly spicy. The orange juice gives it a sweet flavor and the combination of other spices adds terrific depth. Absolutely delicious ratatouille.
This recipe is originally from the Moosewood New Classics cookbook. I love the recipes in this cookbook. They are always delicious, and this is no exception!
Indian Ratatouille is simple, with only about 15 minutes hands-on time. It takes just 45 minutes, plenty of time to relax before supper.
Check out the recipe.
Indian Ratatouille Recipe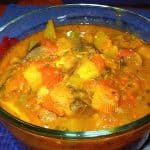 Indian Ratatouille
Indian flavoring and orange juice make this ratatouille unique.
Ingredients
Ingredients
2

cups

diced onions

2

tablespoons

olive oil

2

large garlic cloves

minced

1

fresh chile

minced (seeded for milder hot) or 1 teaspoon diced jalapeno peppers (store-bought in a jar)

1

tablespoon

grated fresh ginger root

1

teaspoon

ground cumin

1

teaspoon

ground coriander

1/2

teaspoon

turmeric

1/2

teaspoon

ground cinnamon

1/4

teaspoon

ground cardamom

1

teaspoon

salt

1

generous pinch

crumbled saffron

1

cup

orange juice

5

cups

cubed eggplant

1-inch cubes

2

zucchini squash

cubed

1

green bell pepper

diced

3

cups

fresh tomatoes

diced

1/4

cup

chopped fresh basil
Instructions
Intructions
In a large pot (Dutch oven works well), sauté the onions and garlic in the oil until the onions are transparent (about 5-10 min.)

Add the spices , stir. (30 seconds)

Add the juice.

Toss in the eggplant (I leave the skins on), zucchini, bell pepper, tomatoes and basil. Stir.

Cover and simmer for about 15 minutes until all the vegetables are tender.

Serve hot or at room temperature.
https://recipeideashop.com/indian-ratatouille
Recipe Notes
We had it with cornbread, but both Don and I thought it would be good with rice or couscous, too.
Note: Many of the links included throughout Recipe Idea Shop are affiliate links, which means if you follow them and you buy something, we will get a small commission. It doesn't cost you a penny more, and you can still use your Amazon Prime (Shop Amazon – Give the Gift of Amazon Prime) account to buy. Don and I love our Amazon Prime account. This posting includes affiliate links. 
Indian Ratatouille Nutrition Information
Want More Recipes Like This?
If you want more delicious recipes, please sign up for our free cookbook.
Pin & Share!
Please Pin and share our recipes. And tell us what you think in the comments.
You May Also Like These Recipes From Recipe Idea Shop
BEFORE YOU GO, DID YOU GRAB YOUR FREE COOKBOOK?
[mc4wp_form id="5109″]