RECIPE IDEA: Spiced Apples and Sweet Potatoes, Grilled to Perfection, Make a Sweet Side Dish
Hi. It's Lois, telling you about a tasty fall treat, Grilled Spiced Apples and Sweet Potatoes. If you are like me, you love sweets. But, of course, we aren't supposed to eat all those sugary foods. So I like to get some natural sweetness in my side dishes without adding sugar.
I also like foods that are quick and easy to make (or that I can encourage Don to make for me). He's the grillmaster in our family most of the time. But with our Char-broil Infrared Gas Grill, even I can grill ups some goodness. It lights by itself with the push of a button and the temperature gauges read like my indoor oven. Easy peasy.
Tricks in the Kitchen
We usually "parboil" our sweet potatoes so that they grill quickly and don't burn before they are done. In the past, parboiling actually meant to boil it. But now, with the microwave, you can just microwave foods for a few minutes to get the cooking started before grilling to make sure the food isn't charred on the outside and raw on the inside when you grill it.
I find it easiest to peel the sweet potatoes with a Swiss vegetable peeler before cooking and slicing them with a good chef's knife. I also peel and slice the apple, but I use a sharp Swiss paring knife  (Don and I have two of these so we don't have to fight over them) for this task. Although I'm not one of those cooks who gets everything together before I start cooking, I do reccommend doing this. That way, you know if you have everything you need before you start cooking. This recipe starts with already peeled potatoes and apples, but (typical of me) I included the time it takes me to do this task (about 5-10 minutes).
A Sweet Side with No Added Sugar
This combination of apples and sweet potatoes is just the right sweetness for me. Sweet potatoes take a little longer to cook than apples, so I suggest you parboil the sweet potatoes before you mix the two together with the spices and oil. I had forgotten this recipe until I was looking through my pictures for a recipe to share. So (along with South Beach Grilled Salmon) guess what's for supper?
You're gonna wanna eat this.
BUT FIRST, DID YOU GRAB YOUR FREE COOKBOOK?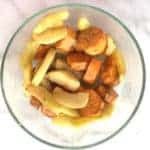 Grill Up Some Spiced Apples and Sweet Potatoes
Apples and Sweet Potatoes, a sweet combination.
Ingredients
1

large Granny Smith apple

peeled, cored and sliced in wedges

1

medium sweet potato

peeled and sliced in 1/4" rounds

2

tablespoons

olive oil

1/4

teaspoon

salt

1/4

teaspoon

ground nutmeg

1/4

teaspoon

cinnamon
Instructions
In a medium glass bowl, microwave the sweet potato slices for about 3 minutes.

Add the apples to the sweet potatoes (do not cook).

Mix the oil, salt, nutmeg and cinnamon and pour it over the apples and sweet potatoes. Mix to coat.

Place the apple-sweet potato mixture in a vegetable basket and grill over medium (indirect) heat for about 10 minutes until the apples and sweet potatoes are crisp tender.

Serve warm.
https://recipeideashop.com/spiced-apples-sweet-potatoes/
Note: Many of the links included throughout Recipe Idea Shop are affiliate links, which means if you follow them and you buy something, we will get a small commission. It doesn't cost you a penny more, and you can still use your Amazon Prime account to buy. This posting includes affiliate links. 
SaveSave
SaveSave
SaveSave
SaveSave
SaveSave