What do you do with so much zucchini? Make a Zucchini Omelet, of course!
Zucchini Omelet
Hey there! It's Don in the kitchen looking over a pile of zucchini, thinking about a Zucchini Omelet.  This has been a banner year for gardens and the small organic farms here in the Shenandoah Valley. Each week we get 2 or 3 pounds of zucchini in our local CSA (community sponsored agriculture) subscription. Then our neighbors bring us several large zucchini from their garden. Plus a few more seem to show up from here and there.
So what to do with all that zucchini?
Lois has made casseroles, we have grilled it, roasted it, sautéed it and made ratatouille. Lots of great tasting mostly healthy side dishes and meals. Me? I'm usually in charge of Saturday morning breakfast. So this past Saturday, looking at the pile of zucchini before me, I get the bright idea for a zucchini omelet. After all why should zucchini not be allowed to feed us for all the daily meals?
How to Make a Zucchini Omelet
Here's what I did. I grabbed a zucchini, cut 6 slices so that I had six quarter-inch thick rounds. Then I cut the rounds into squares about a half inch on a side. In the large omelet pan I melted a tablespoon of butter.  Then added the zucchini pieces to make a single layer. While those were sizzling over medium heat, I mixed four large eggs with a tablespoon of milk and one and a half teaspoons of Herbs de Provence and whisked the mixture until it was frothy. By then the zucchini pieces were transparent and starting to brown. Carefully I poured the egg mixture over the zucchini.  As it cooked, I scraped the edges toward the center. When the omelette had set I flipped it over to finish cooking.
Now I'm the first to admit my omelets are not a thing of beauty. Somewhat too brown and too thick to fold into thirds for a proper presentation. They are, if I can toot my own horn, very tasty. If the zucchini continues to arrive, maybe I'll try adding onion, green pepper and some Canadian bacon.
Oh, yeah, the tomato crop is doing well, too. So have a couple of slices of tomato with your eggs. I think it is a Southern thing.
For a detailed description of how to make an omelet, check out our Mushroom Omelet recipe.
TOOLS YOU GOTTA HAVE
You will need a good set of pans and some decent knives, plus the usual measuring cups and spoons. If you are buying pans and knives, go for the good stuff. You will never be sorry.
Zucchini OMELET RECIPE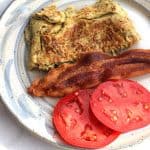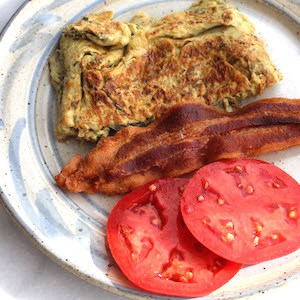 Zucchini Omelet
Ingredients
2

tablespoons

canola or olive oil or butter

1/2

cup

zucchini

(diced)

4

large eggs beaten until well blended

1/4

cup

milk

1-1/2

teaspoons

Herbes de Provence

1/8

teaspoon

ground nutmeg

1/4

teaspoon

salt

1/4

teaspoon

pepper

1/4

cup

shredded Pecorino Romano or Parmesan Cheese
Instructions
Heat half the oil (or butter) in a small skillet over medium-high heat.

Add the diced zucchini and cook until the pieces brown slightly.

In a bowl, whisk the eggs, milk, nutmeg, Herbes de Provence, salt and pepper until frothy.

Heat the remaining oil (or butter) in the skillet until hot.

Pour the egg mixture into the skillet.

Cook over medium heat, loosening the eggs periodically with a spatula. Let some of the liquid spill over the side of the cooked eggs.

When the eggs are set (no longer liquid), flip the eggs to the uncooked side to finalize the cooking.

Spread the zucchini over the top of the omelet.

Sprinkle the cheese over the zucchini and fold the cooked eggs in half to cover the zucchini/cheese side.

Remove the omelet to a waiting plate and garnish with sliced tomatoes.
https://recipeideashop.com/zucchini-omelet
Note: Many of the links included throughout Recipe Idea Shop are affiliate links, which means if you follow them and you buy something, we will get a small commission. It doesn't cost you a penny more, and you can still use your Amazon Prime (Shop Amazon — Give the Gift of Amazon Prime) account to buy. Don and I love our Amazon Prime account. This posting includes affiliate links. 
Zucchini OMELET Nutrition
Want More Recipes Like This?
If you want more delicious recipes, please sign up for our free cookbook.
Pin & Share!
Please Pin and share our recipes. And tell us what you think in the comments.
You May Also Like These Recipes From Recipe Idea Shop
BEFORE YOU GO, DID YOU GRAB YOUR FREE COOKBOOK?
[mc4wp_form id="5109″]