RECIPE IDEA: 30-Minute Veal Piccata
Hi, it's Lois in the kitchen at Recipe Idea Shop, telling you about my friend Maggie's 30-Minute Veal Piccata.
I have been visiting family and friends in Wisconsin for a couple weeks. Last week my friend Maggie made us some absolutely scrumptious 30-Minute Veal Piccata. Actually, I think it took about 20 minutes. And it's super easy. She made it gluten free, too! Even a new cook could make this meal.



I picked up some thinly sliced veal at the local grocery. Usually this cut of meat is called a veal cutlet. Maggie's new local grocery store is amazing. It's called Fresh Thyme Organic Farmers Market and it carries tons of organic produce and meat, lots of options for various products, and the prices are great. Unless, of course, you're like me and you go there every damn day.
We had the 30-Minute Veal Piccata with Lentil Sweet Potato Salad and Green Bean Tomato Salad over nice mixed greens. What a lovely meal. I know you're gonna wanna eat this Veal Piccata!
BUT FIRST, DID YOU GRAB YOUR FREE COOKBOOK?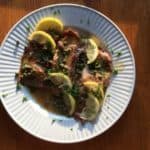 30-Minute Veal Piccata
Ingredients
2

tablespoons

sunflower oil

4

veal cutlets

slices

Salt and pepper

optional

1/2

cup

white rice flour

1

cup

dry white wine

1/4

cup

unsalted butter

cut in little bits

Juice of 1/2 a lemon

2

tablespoons

capers

Parsley

minced (for garnish)

Lemon slices or wedges

for garnish
Instructions
Heat the oil over medium-high heat in a sauté pan.

Lightly salt and pepper the veal cutlets, if desired.

Dredge the veal in the rice flour until coated. Shake off excess flour.

Place the coated veal in the hot oil and cook until lightly browned on one side, about 5 minutes.

Then turn the cutlets over and brown the other side, about 5 minutes.

Remove the cutlets to a warmed plate; set aside.

Add the wine to the pan and cook, stirring frequently, over medium heat until reduced by half.

Add the butter a little at a time to the wine sauce, stirring to incorporate and thicken.

Return the cutlets to the pan to the pan to warm.

Transfer the cutlets to a serving dish and pour the remaining sauce over the cutlets.

Squeeze the lemon juice over the cutlets and top with capers, lemon slices and minced parsley.
https://recipeideashop.com/30-minute-veal-piccata/
Note: Many of the links included throughout Recipe Idea Shop are affiliate links, which means if you follow them and you buy something, we will get a small commission. It doesn't cost you a penny more, and you can still use your Amazon Prime (Shop Amazon – Give the Gift of Amazon Prime) account to buy. This posting includes affiliate links. 
SaveSave
SaveSave