Homemade Annatto Oil. Easy to make, inexpensive alternative to saffron. Beautiful color!
Annatto Oil
Hi. It's Lois in the kitchen with Recipe Idea Shop. Don and I live in an area of Virginia where there are many Hispanic immigrants. Harrisonburg has several Mexican grocery stores and restaurants/food trucks where we can get inexpensive ingredients or meals. A friend told me about making and using inexpensive Annatto Oil (which has no noticeable flavor) instead of expensive saffron in recipes.
Annatto Oil is quick to make, just about 11 minutes! It colors everything a beautiful yellow. And it works great!
Try it with Yellow Rice with Raisins.
Homemade Annatto Oil Recipe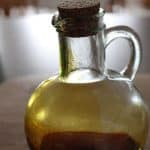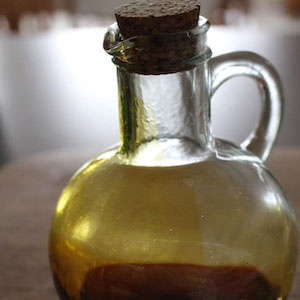 Annatto Oil
Make Homemade Annatto Oil in just 11 minutes. Annatto Oil is an inexpensive substitute for saffron.
Ingredients
1/4

cup

Annatto seeds

1/2

cup

canola or corn oil
Instructions
In a small saucepan, heat the oil and seeds over low heat until the seeds release their beautiful yellow color.

Remove the seeds and put the oil in a cruet.

Use about 1-2 tablespoons when you want to make yellow rice.

Just stir it in and it will dye the rice.
https://recipeideashop.com/annatto-oil/
Note: Many of the links included throughout Recipe Idea Shop are affiliate links, which means if you follow them and you buy something, we will get a small commission. It doesn't cost you a penny more, and you can still use your Amazon Prime (Shop Amazon — Give the Gift of Amazon Prime) account to buy. Don and I love our Amazon Prime account. This posting includes affiliate links. 
Homemade Annatto Oil Nutrition
Want More Recipes Like This?
If you want more delicious recipes, please sign up for our free cookbook.
Pin & Share!
Please Pin and share our recipes. And tell us what you think in the comments.
You May Also Like These Recipes From Recipe Idea Shop
BEFORE YOU GO, DID YOU GRAB YOUR FREE COOKBOOK?
[mc4wp_form id="5109″]