This Easy Baked Falafel Balls recipe is truly simple. Sauté some onions, smoosh up the ingredients, roll into balls, bake. Eat with your favorite Tzatziki Sauce. Amazing flavor. Super scrumptious.
Easy Baked Falafel Balls Are Deliciously Vegan and Gluten Free
You're not going to believe how fabulous this Easy Baked Falafel Balls recipe is. Low fat, good for you, and super tasty. A full size Cuisinart food processor makes the task as easy as 1-2-3. The hardest part is opening the chickpea can. Sauté some onions and parsley, smoosh it with the chickpeas and a few other ingredients, roll them into balls and bake. Simple.
Most Falafel is fried in oil, so it's not very good for you. But this recipe calls for the Easy Baked Falafel Balls to be baked, reducing the amount of fat in each serving. And you won't even miss the fat. Until you try on your clothes and see that you haven't gained weight for the first time in ages.
Check out the recipe.
I like my Easy Baked Falafel Balls served over lettuce and tomatoes with a wonderful homemade Mediterranean Tzatziki Sauce. MMMMMM. So good. Here's how you make it…
Easy Baked Falafel Balls Recipe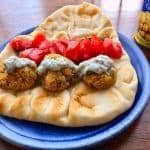 Easy Baked Falafel Balls
Scrumptious vegan, gluten free homemade falafel. Low fat and low calorie. Easy peasy Homemade Baked Falafel.
Ingredients
1

onion

chopped

1/2

cup

parsley

chopped

1 1/2

teaspoons

red pepper flakes

1 1/2

teaspoons

salt

2

Tablespoons

minced garlic

2 1/2

Tablespoons

cilantro

chopped

3 15.5-

ounce

cans of chick peas

drained (about 4.5 cups)

1/2

cup

gluten free flour

1 1/2

teaspoons

baking powder
Instructions
Sauté the onion, parsley, red pepper and salt until the onion is translucent.

Add the garlic and cilantro and stir. Remove from heat.

In a food processor, combine the chick peas and the onion mixture. Pulse to coarsely grind. Some of it will be relatively smooth like hummus, but leave most of it in bigger chunks.

Add the flour and baking powder and pulse to combine.

Using your hands or an ice cream scoop, roll the dough into walnut-sized balls and refrigerate for at least one hour to allow the dough to set and the flavors to combine.

Bake at 375F degrees for about 40-45 minutes until the falafels are nicely browned.

Let rest five minutes before serving.
https://recipeideashop.com/baked-falafel-balls
Recipe Notes
The original recipe was taken and modified from Camp Opequon's recipe in Baltimore Yearly Meeting Cookbook of Camp Recipes 2011.
Note: Many of the links included throughout Recipe Idea Shop are affiliate links, which means if you follow them and you buy something, we will get a small commission. It doesn't cost you a penny more, and you can still use your Amazon Prime (Shop Amazon – Give the Gift of Amazon Prime)account to buy. This posting includes affiliate links. 
Easy Baked Falafel Balls Nutrition Label
Want More Recipes Like This?
If you want more delicious recipes, please sign up for our free cookbook.
Pin & Share!
Please Pin and share our recipes. And tell us what you think in the comments.
You May Also Like These Recipes From Recipe Idea Shop
BEFORE YOU GO, DID YOU GRAB YOUR FREE COOKBOOK?