My Best Chocolate Chip Cookies are my favorite wheat-based chocolate chip cookies. This typical Tollhouse Cookie is so good, but there's a trick.
My best chocolate chip cookies are easy enough for kids to make
August 4 is National Chocolate Chip Day, so today I'm posting one of my all-time favorite recipes, My Best Chocolate Chip Cookies (that aren't gluten free).
My husband Don is a purist. He thinks you should always use natural ingredients when you cook. He would never use margarine in anything, especially cookies. Generally, I agree with him. But I use margarine instead of butter in this recipe because these cookies turn out better. I usually use margarine because I think it makes the cookies fluffy. When I use butter in these cookies, they flatten out; I like my cookies to be bigger and chewier.
What's the Trick to Chewy Cookies?
The secret to chewy cookies is to use cold margarine or butter and undercook the cookies a little bit. That is, take them out before they turn brown, when they just have a tinge of brown on them. Then they will be chewy.
Similar to Tollhouse Cookies
This recipe is similar to the Nestle Tollhouse Cookie recipe on the chocolate morsels' package, but I change the ratio of sugar. I like brown sugar better than granulated sugar. If you prefer Gluten Free Chocolate Chip Cookies, try Chewy Gluten Free Chocolate Chip Cookies. Don and I both love these.
What You Need
For this recipe, you will need measuring cups and spoons, a big bowl, an electric mixer, and some kind of cookie sheet and spatula. However, if you are planning to do much baking, I recommend you get Calphalon Jelly Roll pans instead of "cookie sheets." Cookie sheets don't have an edge on them and you can't use them for cakes or other cooking. A Jelly Roll pan is more versatile. And Calphalon has a terrific non-stick surface.
Calphalon Cooling Racks are also helpful (I love mine!), but you can cool your cookies on paper bags that you cut open and lay flat, so they aren't critical. Whatever you buy, get the best product you can afford. But what you really want is a terrific kitchen stove and espresso machine, right?
My Best Chocolate Chip Cookies Recipe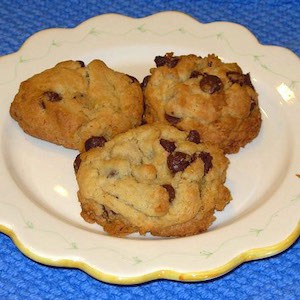 My Best Chocolate Chip Cookies
Chewy, rich chocolate chip cookies
Ingredients
2 ¼

cups

all-purpose flour

1

teaspoon

baking soda

1

teaspoon

salt

1

cup

cold margarine (or butter)

½

cup

granulated sugar

1

cup

packed brown sugar

1

teaspoon

vanilla extract

2

large

eggs

1

12-ounce

package NESTLE® TOLL HOUSE® Semi-Sweet Chocolate Morsels
Instructions
Preheat oven to 375F degrees.

In a large bowl, cream the margarine, sugars, eggs, and vanilla. The margarine will not be creamed entirely; it will be cut into tiny pieces.

Add the salt and baking soda. Mix.

Add the flour, one cup at at time, and mix thoroughly.

Add the chocolate chips and mix well.

Use a soup spoon to measure the cookies. Using a heaping spoonful, drop the cookies about 2 inches apart on a cookie sheet.

There is no need to grease the cookie sheet.

Bake for 8-10 minutes or until the cookies are beginning to brown slightly.

Note: If you take them out when they are barely starting to brown, they will be chewy. Or, if you prefer crunchy cookies, bake them until they are entirely brown (2-3 minutes more than for chewy cookies).
https://recipeideashop.com/best-chocolate-chip-cookies/
Nutrition Information
The information shown is an estimate provided by an online nutrition calculator. It should not be considered a substitute for a professional nutritionist's advice.
Pin & Share!
Please Pin and share our recipes. And tell us what you think in the comments.
You May Also Like These Recipes From Recipe Idea Shop