When making things with gluten-free flour at home, it can help to have a gluten free flour substitute chart. This awesome, easy chart will help you know just how much to use to get the same results from your recipes. There are many reasons why people use gluten-free flour for their recipes these days. Some do it for health reasons and others do it for personal preferences. Regardless of why you're going gluten-free, you may find baking challenging, especially when you're first learning.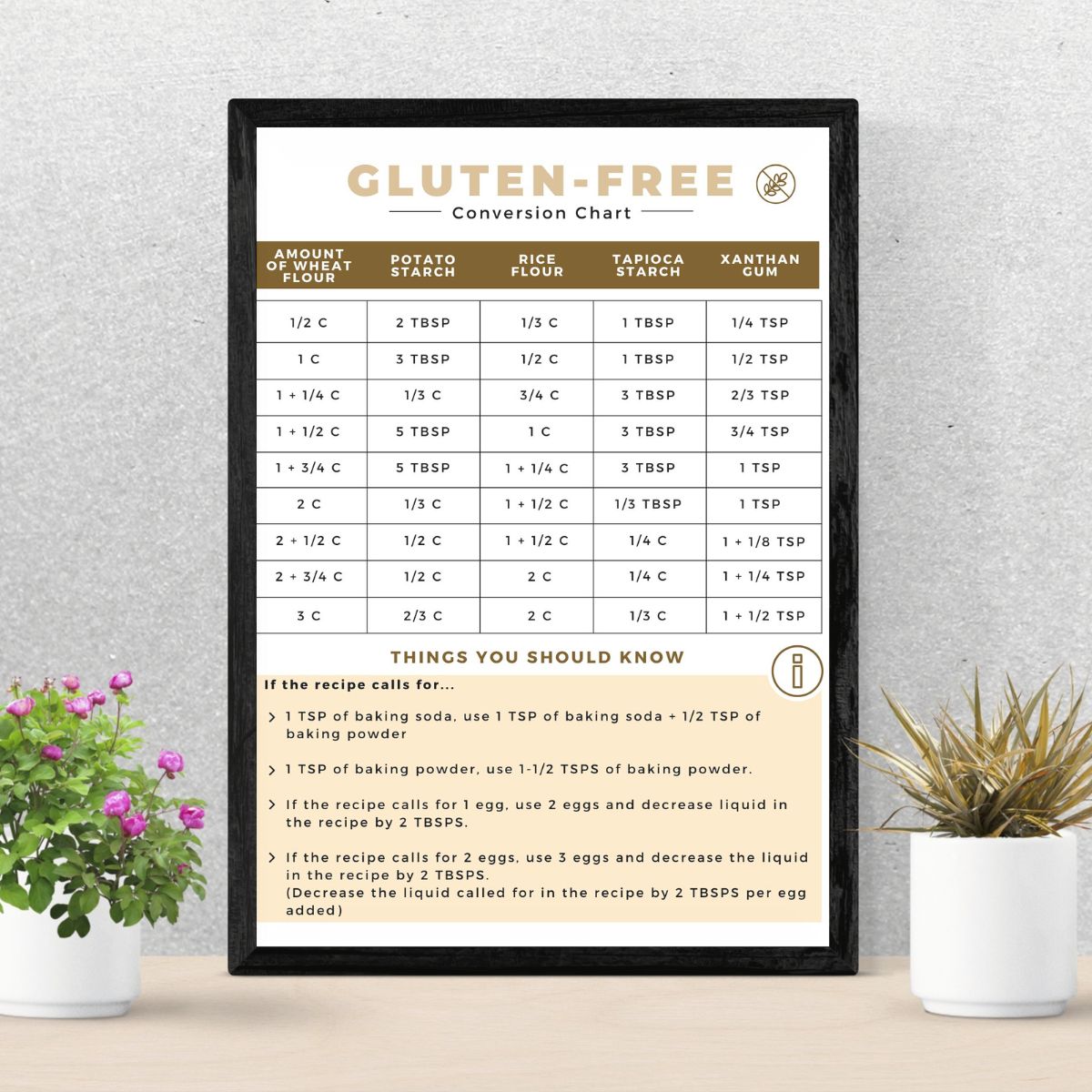 Gluten free flour can be a tricky ingredient to work with. There are so many different types, and each one behaves differently when used in baking. Gluten free flour is also generally more expensive than regular all-purpose flour, so it's important to choose the right type for your recipe. This gluten free flour substitute chart will help you to know how to substitute gluten free flour for regular baking flour in your recipes.
Related: cooking measurement conversion chart
Types of Gluten Free Flour
There are many types of gluten free flour. Some of them include:
almond flour
corn flour
chickpea flour
brown rice flour
white rice flour
tapioca flour
buckwheat flour
amaranth flour
teff flour
arrowroot flour
oat flour
coconut flour
Xanthan gum
sorghum flour
The exact conversions can vary, depending on which type you are using, but this chart will help you with the most common substitutions.
Gluten Free Flour Substitute Chart
Which gluten-free flour substitute you use can vary based on personal preferences, what you have on hand, and also the recipe you are trying to make.
For example, some of these alternative flours are lighter - these include corn starch, arrowroot powder, tapioca, or potato starch.
More medium-based flours include fava bean, quinoa, sorghum, white rice, millet, and chickpea.
And then you're heavier-based flours are almond, brown rice, buckwheat, amaranth, coconut, corn, and teff.
You can also create flour blends from any of the substitutions below. The more you practice with this, the better you will get at doing the perfect blends for what you hope to accomplish. For example, you can do 1 medium flour with 2 starches of your choice, or 1 medium, 1 heavy, and 1 starch. Once you learn the basics and have this conversion chart, you can experiment in your own kitchen to see what works best for you and for each recipe.
With this substitution chart, you'll always know just how much to use. Easy peasy!
Using xanthan gum
You can see xanthan gum on the chart because it is an important part of successful gluten-free baking. It works as a binding agent to hold it together and keep it from crumbling. Essentially, it replaces the function of gluten so you get a nice material that is workable for your baking.
In general, you add about ½ a cup of xanthan or guar gum per cup of flour blend to make baked goods like cookies, muffins, cakes, and breads. The conversion chart above will help you determine just how much to use, depending on your recipe.
If you are purchasing a commercial flour blend rather than making your own, be sure to read the label carefully. Many already have xanthan gum as an ingredient and there is no need for you to add more.
Gluten Free Flour Substitute Chart FAQs
Here are some common questions people ask when substituting flour in recipes.
What gluten-free flour can replace all-purpose flour?
You can use any gluten-free flour to replace all-purpose flour. All you need to know is the right conversion of how much flour to use when substituting. However, there are some that are better for specific types of baking, and you can experiment with them to see which ones lend the results you prefer.
Can I use almond flour instead of all-purpose flour?
Yes, almond flour is a popular replacement for all-purpose flour. Use the chart above to see the proper conversion.
Does gluten-free flour bake differently?
Yes, substitute flour will bake differently than the traditional flour you are used to. Practice always makes perfect but your measuring and mixing techniques can also play a big role in getting the baking right.
There are some things that work with all-purpose flour that don't work as well with a substitute. For example, the "dip and sweep" method of measuring flour doesn't work well with starches and gluten-free flours. Because they are finer, they do not pack the same. Using a kitchen scale will work much better and be easier for you.
Gluten-Free Recipes You'll Love
Regular flour is typically made from wheat. However, if you have a wheat allergy or a gluten sensitivity, you can get sick from eating this all-purpose flour. The good news is that there are many alternatives available today and it's easy enough to learn how to cook with them and get the results you seek. Use this chart above to help with your conversions and get perfect, tasty baked goods every time!