Danish Sugar Cookies are melt-in-the-mouth magnificent and so easy to make! No need to refrigerate these sugar cookies, roll them out, or cut them with cookie cutters. They are simple little balls of dough that you flatten and bake.
Gluten Free Danish Sugar Cookies are scrumptious, especially dipped in chocolate.
Danish Sugar Cookies are truly one of my favorite cookies. I found the recipe years ago in a Wisconsin Electric Company cookbook. They weren't my Grandma Sadie's Sugar Cookies, but they were as close as I could get to them. Thankfully, I now have my grandma's recipe, too.
No Special Occasion Required, But...
I posted this recipe in July 2020 because I found out that July 9th is National Sugar Cookie Day. Now I'm reminding you that these cookies make an easy Christmas cookie, particularly if dipped in chocolate. Serve them alongside a beautiful strawberry or a few raspberries. It's an easy, romantic dessert for celebrating the holidays with your sweetie.
I absolutely love these cookies. They are amazing. When I first revamped my (regular wheat flour) Danish Sugar Cookies recipe into Gluten Free Danish Sugar Cookies, I made two batches, but in my opinion, they were not perfect. Still excellent, but not perfect. I have worked on them until they are melt-in-the-mouth perfect.
Never fear, however, the ones that weren't exactly right didn't go to waste. (They might go to my waist since I ate a couple from the first batch and then had to try three more from the next batch just to see if they were done and how they tasted!)
Cookies, Cookies, Cookies
All of the cookies were delicious. The first version tasted fabulous, but it was too fragile to ship (which I wanted to do) and wasn't as beautiful as it normally would be with wheat flour. Take a look...
As you can see in the photo above, these Gluten Free Danish Sugar Cookies look tasty. Scrumptious, actually. But what the photo is not showing you is that most of the cookies (as shown below) bled together so they weren't round and crispy on the edges. They are, however, very buttery and fall-apart delicious. Which you really don't want them to do, fall apart, that is.
When I still had dough remaining for about a dozen cookies, I decided to add more flour to see what would happen.
Danish Sugar Cookies, The Wheat Version
Danish Sugar Cookies made with wheat flour are nice and round and don't bleed into each other as the cookies above did. You simply make a 2-inch ball, flatten it just a bit with a glass dipped in sugar, and bake. They puff up a little when you cook them, but they don't spread out enough to reach the cookie "next door." I always put 3 cookies in a row, 4 rows on the cookie sheet to bake a dozen at a time.
What Does Cream of Tartar Do?
The recipe calls for cream of tartar. What is it, you ask? Cream of tartar is a weak acid that activates the baking soda and acts like a leavening agent. So now you know. Yes, you need to put it in the recipe so the cookies get fluffier. You'll find it in the spice rack at the grocery store.
Look at These Beauties
So back to the testing...
I added ¼ cup of Bob's Red Mill Gluten Free Oatmeal Flour (since I love the flavor of oatmeal) to the remaining dough. Mixed it thoroughly, and baked those. Big improvement.
But can I do math? Apparently not. So when I made the next batch to double-check my theory, I guess I added too much flour (I used 4 cups). Anyway, they weren't as buttery as I wanted them. And I thought they would need to be baked longer, so I did. But they turned out a tad dry. Still good, though.
Conclusion
After testing multiple times, here's what I ended up doing: I used 2 ½ cups of gluten-free flour and added a stiffly whipped egg white to the mix. Then I baked them for 8 minutes and they are AMAZING. Just so you know, the dough is very sticky with this method. Instead of rolling the dough in your hands, use two teaspoons to create your ball of dough.
Necessary Tools
You will need an electric mixer, a large bowl, two small bowls, measuring cups and spoons, a small glass or jar, and a cookie sheet. I prefer the jelly roll kind of baking sheet (affiliate link). Cooling racks are important when making cookies. I find it helpful to have a good one, like these (affiliate link). You will also need gluten-free flour. One Christmas, my daughter-in-law gave me two marvelous Silpat liners for my cookie sheets. Wow. That makes cleanup a breeze! I'm ready to get rid of my parchment paper.
Always buy the best tools you can afford so they last a lifetime.
Do you know that ingredients for recipes are generally written in the order you are supposed to add them to the recipe? Also, here's an easy measuring tip: Each stick of butter is one-half cup, so for this recipe, you need two sticks of butter.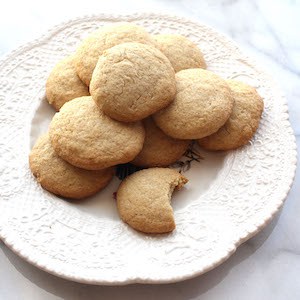 Gluten Free Danish Sugar Cookies Recipe
Easy sugar cookies that melt in your mouth and are gluten free.
Ingredients
The Cookie
1

large

egg white

1

large

egg

1

cup

butter

or 2 sticks, softened but still firm

1

teaspoon

vanilla

¼

teaspoon

salt

1

cup

powdered sugar

confectioner's

2

tablespoons

water

This will be dissolved in the baking soda and cream of tartar.

1

teaspoon

baking soda

1

teaspoon

cream of tartar

1¼

cups

Bob's Red Mill Gluten Free 1-to-1 Baking Flour

1¼

cups

Bob's Red Mill Gluten Free Oat Flour

½

cup

granulated sugar

for rolling the dough balls in
The Chocolate Dip (Optional)
½

cup

chocolate chips

2

tablespoons

butter

2

teaspoon

milk
Instructions
The Cookie
Heat oven to 350F degrees.

Whip the egg white until stiff and set it aside.

In a medium to large bowl, cream the egg, butter, vanilla, salt, and powdered sugar together until well blended.

In a small bowl, mix the baking soda, cream of tartar and water. It will fizz.

Dump the baking soda mixture into the cookie dough.

Mix.

Add the flours and mix thoroughly.

Fold the egg white into the cookie dough.

Using two teaspoons, form the dough into 2-inch balls and roll each ball in granulated sugar until lightly covered.

Place the dough balls on a greased cookie sheet, about 2 inches apart (12 per sheet). (Or use a silicone mat on your cookie sheet and don't grease it.)

Using a small-bottomed glass or jar, press the glass bottom lightly into the cookies to flatten just a bit.

Bake the cookies at 350F degrees for about 8-9 minutes, until the bottoms are just starting to brown. The cookies will still be white, but the bottom edge will start to turn brown.

Remove the cookies to a cooling rack to cool.

Eat the cookies plain or dipped in chocolate (see below).
The Chocolate Dip (Optional)
While the cookies are cooling, melt the chocolate and the butter in a small bowl in the microwave. Only microwave it for about 20 seconds at a time. My microwave melts it in about 45 seconds. The chocolate, which burns easily, will still hold its shape when it is melted so be careful not to burn it. Stir it every 20 seconds to check to see if it is melted.

Stir the melted chocolate and butter mixture until it is thoroughly combined.

Add the milk and stir until fully combined.

When the cookies have cooled, dip one cookie at a time in the chocolate mixture to cover half the cookie. Set aside to cool. See picture for how to cool them.

Nutrition includes the chocolate dip, which is 21 calories per cookie.
Notes
If you would like to make this recipe with wheat flour, reduce the flour to 2 cups and leave out the egg white. That is, put in only one whole egg.
Nutrition
Serving:
1
cookie
Calories:
121
kcal
Carbohydrates:
14
g
Protein:
1
g
Fat:
7
g
Saturated Fat:
4
g
Polyunsaturated Fat:
0.4
g
Monounsaturated Fat:
2
g
Trans Fat:
0.2
g
Cholesterol:
20
mg
Sodium:
97
mg
Potassium:
42
mg
Fiber:
1
g
Sugar:
8
g
Vitamin A:
185
IU
Calcium:
10
mg
Iron:
0.4
mg
More Cookie Recipes You'll Love