These Coconut Kiss Cookies are melt-in-the-mouth delicious, vegan, and gluten free, even better than real kisses. There are three secrets to making these luscious cookies.
Coconut Kiss Cookies have a surprising ingredient.
Here we are again, at the start of the Christmas cookie frenzy, so I'm telling you about a cookie recipe I love, Coconut Kiss Cookies. The original recipe came from Betty Crocker's Cookie Book (affiliate link), one of my all-time favorite cookie cookbooks. But I made it vegan. And it's absolutely amazing. What's secret No. 1?
The First Secret
While trying to find a substitute for egg whites, I watched a video about using Aquafaba. That's the first secret. Do you know what it is? Aquafaba is the liquid that comes in a can of chickpeas (garbanzo beans). So simple. Drain the can of chickpeas and use the liquid as a substitute for egg whites.
Recipe Development
Obviously, the original recipe called for egg whites, and I wanted to make it vegan and gluten free. It is naturally gluten free because it doesn't contain any flour. But what would I substitute for the egg whites? I thought about using what I usually use for egg substitute, ground flaxseed mixed with water or oil, but since the egg whites have to be whipped to a stiff consistency, I assumed it wouldn't work. So I didn't try.
Instead, I used Aquafaba, which whipped up exactly like egg whites, tasted the same and was even easier. With egg whites, they have to be cold to whip properly, but with Aquafaba, the liquid can be room temperature. So I can pull a can of chickpeas right out of my cabinet, open it, separate the chickpeas from the liquid by dumping it into a strainer with a bowl beneath it, and proceed immediately with these amazing cookies. Or with any recipe that needs whipped egg whites. It does take a little longer to whip, though.
I used the "leftover" chickpeas to make Authentic Hummus (which is the best hummus I have ever eaten and I swear, I will never buy premade hummus again because homemade hummus SO easy!).
Secret No. 2
Use large flake, unsulphured, unsweetened coconut for this recipe. Regular sweetened coconut does not work, so don't use that! It's WAY too sweet and ruins the texture. I use Bob's Red Mill Shredded Coconut (Unsweetened) (affiliate link), and it works perfectly.
What You Need
Of course, you will need a can of chickpeas (affiliate link). An electric mixer, measuring cups and spoons, and a cookie sheet are essential. Do yourself a favor, and buy the very best you can afford. And get yourself a wonderful coffeemaker while you're at it.
FYI, the third secret is below the recipe.
Coconut Kiss Cookies Recipe (Vegan and Gluten Free)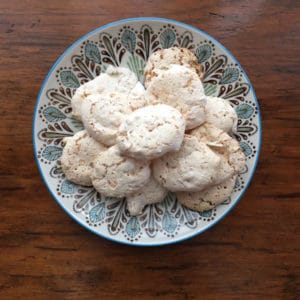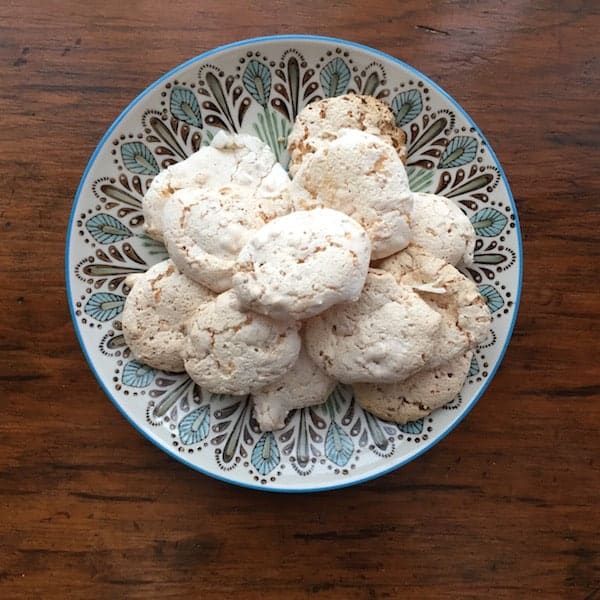 Coconut Kiss Cookies Recipe
Coconut Kiss Cookies are a cross between a macaroon and a meringue cookie—crisp, yet chewy. Vegan and gluten free! It melts in your mouth.
Ingredients
½

cup

aquafaba

juice from one can of chickpeas

¼

teaspoon

cream of tartar

1¼

cup

turbinado sugar

or granulated sugar

¼

teaspoon

salt

½

teaspoon

vanilla

2½

cups

shredded coconut

unsweetened, unsulphured, large flake
Instructions
Heat the oven to 325F degrees.

Beat the aquafaba and cream of tartar on high with an electric mixer. Do not use too deep a bowl; the beater must be able to adequately whip the liquid to make it stiff.

When the aquafaba is frothy, gradually add the sugar and continue to beat on high until stiff peaks form. This takes much longer than whipping egg whites, perhaps 15-20 minutes.

Add the salt and vanilla. Mix.

Add the coconut and mix.

Drop by small teaspoonsful (so the cookie is about 1" in size) onto a cookie sheet covered in brown paper (like a shopping bag). Each cookie will expand to about 2".

Bake for about 15-18 minutes until the cookies are puffed up and delicately browned.

Remove from oven, slip the brown paper off the pan. Put a wet towel on the pan. Return the brown paper with cookies to the pan (on top of the wet towel). Let this sit for about a minute to steam the cookies for easy removal.

Remove cookies carefully using a spatula or your fingers. Cool thoroughly and store in an air-tight container.
Notes
Special Trick: Since there is no oil in this cookie, it is important to use the special trick to remove the cookies from the pan. Bake the cookies on a flattened brown paper bag placed over a cookie sheet. When nicely browned, remove the tray of cookies from the oven. Slip the brown paper with the cookies aside. Cover the hot baking sheet with a wet towel and return the brown paper and cookies to the top of the wet towel. Let steam for 1 minute. Remove the cookies with a spatula.
Nutrition
Calories:
63
kcal
Carbohydrates:
8
g
Protein:
0.4
g
Fat:
4
g
Saturated Fat:
3
g
Polyunsaturated Fat:
0.04
g
Monounsaturated Fat:
0.2
g
Sodium:
17
mg
Potassium:
37
mg
Fiber:
1
g
Sugar:
7
g
Vitamin C:
0.1
mg
Calcium:
2
mg
Iron:
0.2
mg
Ever Eat a Schaum Torte?
The cookies are superior. They taste a lot like coconut meringue cookies or what my first husband called "Schaum Tortes." But they are a little chewier because of the coconut.
My first husband suffered from celiac disease and I didn't know anything about the disease while we were married. He was always raving about Schaum Tortes, which he loved, covered with strawberries. Now I know why! They are sugary (but not overly) and gluten free (a requirement for those with celiac disease).
A few years ago I found that I am also quite affected by gluten (though not celiac), so I now work hard to come up with delicious recipes that are gluten free. I couldn't believe how easy these cookies were to make.
Why didn't I ever make them when he was raving about Schaum Tortes? I think it was because when you buy store-bought meringues, the texture is not to my liking. Often they crumble into bits of sugar and are kind of dry and grainy. These Coconut Kiss Vegan Cookies, however, have a perfect texture. Just the right amount of melt-in-your-mouth"ness" and chewiness. Really outstanding.
And to think Coconut Kiss cookies are both vegan and gluten free!
The Third (And Most Important ) Secret
Forget using parchment paper for easy clean up, or a plain uncovered cookie sheet. You need brown bags (paper shopping bags) to make them.
Since the cookies don't have any oil in them, they stick to the pan or parchment paper when you bake them. But there's a simple trick to baking them perfectly AND getting them off the pan that I learned from the Betty Crocker recipe. I share it visually below.
Recipe Nutrition Information
This recipe is GF, DF, SF, EF, CF, V, VG*
The information shown is an estimate provided by an online nutrition calculator. It should not be considered a substitute for a professional nutritionist's advice.
Nourish Your Body & Soul
I encourage you to care of yourself by eating satisfying, nourishing food that is good for your body and makes you feel healthy. Protect your spirit by living authentically, moving your body, and taking time to replenish and rest. I think you might also like these recipes & posts from Recipe Idea Shop:
RATE, PIN & SHARE!
Please Rate our recipes, and Pin and Share them on social media. Comments are welcome, too!