Chocolate Cherry Squares Cookies look like they took you a long time to make them, but they are SO easy. A simple shortbread bar cookie, topped with chocolate and cherries. Yum!
CHOCOLATE CHERRY SQUARES Cookies
Hi. It's Lois in the kitchen at Recipe Idea Shop, telling you about Chocolate Cherry Squares, a beautiful bar cookie I have been making annually since the 1980s. With the holidays just around the corner, I am again posting some of my favorite holiday recipes.
I love these cookies and so does my daughter Erin.
"Funny story" about these cookies. One year I mailed Erin a box of these cookies along with several other chocolate cookies and candies. Her roommate put the box under the tree without opening the outer box, never thinking it might contain food.
Their two dogs got into the package in the middle of the night, eating most of the goodies. (Did you know dogs can die from eating chocolate?) It took two emergency trips to the vet and cost her about $1,000 to save their lives, and she didn't get one cookie from the batch!
Even though Erin no longer has any pets, since then, I send any edible goodies to Erin's office.
For Gluten Free
Since I have found I can no longer tolerate gluten, I've been making these cookies using gluten-free flour. The bottom layer of this cookie is a simple shortbread bar cookie. You can substitute my Gluten Free Shortbread Cookies for the bar cookie in this recipe. My favorite GF flour is this one:
Chocolate Cherry Squares Cookies Recipe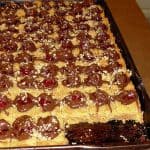 Chocolate Cherry Squares
These are easy bar cookies that look very hard to make. At the holidays, they are beautiful served with other Christmas cookies.
Ingredients
Cookie
1

cup

sifted flour

1/4

teaspoon

salt

1/3

cup

brown sugar

1/2

cup

butter

(or margarine)
Topping
1

cup

chocolate chips

1

10-ounce

jar of maraschino cherries

(drained, each cherry cut in half)

crushed nuts

(optional)
Instructions
Combine first three cookie ingredients.

Cut in butter.

Shape into a ball.

Press into an 8" x 8" pan.

Bake at 350F degrees for 20 minutes.

The cookies will be just slightly brown when they are done.

Cut into 2" squares while still warm (very important).

Melt chocolate chips.

Top each cookie square with a dab of melted chocolate.

Put 1/2 a cherry on top of each dab of chocolate.

With a teaspoon, dab more chocolate over the cherry.

Sprinkle with crushed nuts.

Set aside until chocolate is firm.
https://recipeideashop.com/chocolate-cherry-squares/
Recipe Notes
If you double the recipe, use a 9" x 13" pan. For a cookie sheet, multiply the recipe by four.
Note: Many of the links included throughout Recipe Idea Shop are affiliate links, which means if you follow them and you buy something, we will get a small commission. It doesn't cost you a penny more, and you can still use your Amazon Prime (Shop Amazon — Give the Gift of Amazon Prime) account to buy. This posting includes affiliate links. Don and I love our Amazon Prime account.
Chocolate Cherry Squares Cookies Nutrition
Want More Recipes Like This?
If you want more delicious recipes, please sign up for our free cookbook.
Pin & Share!
Please Pin and share our recipes. And tell us what you think in the comments.
You May Also Like These Recipes From Recipe Idea Shop
BEFORE YOU GO, DID YOU GRAB YOUR FREE COOKBOOK?