What is the ratio of dried herbs to fresh? When cooking with herbs, this is a very important question.
Whenever possible, it's recommended to use fresh herbs in your cooking. However, there will be times when you won't be able to do this and you'll need to use dried. That's okay, too, but since the flavor is undeniably amazing when you use fresh herbs, how can you match that with dried herbs?
Once you know the proper conversions, you can actually have the flexibility to use fresh or dried herbs whenever you want, based on your needs and what you currently have available. My rule of thumb is to use the ratio of 1 to 3: 1 teaspoon of dried herbs for 3 teaspoons of fresh herbs.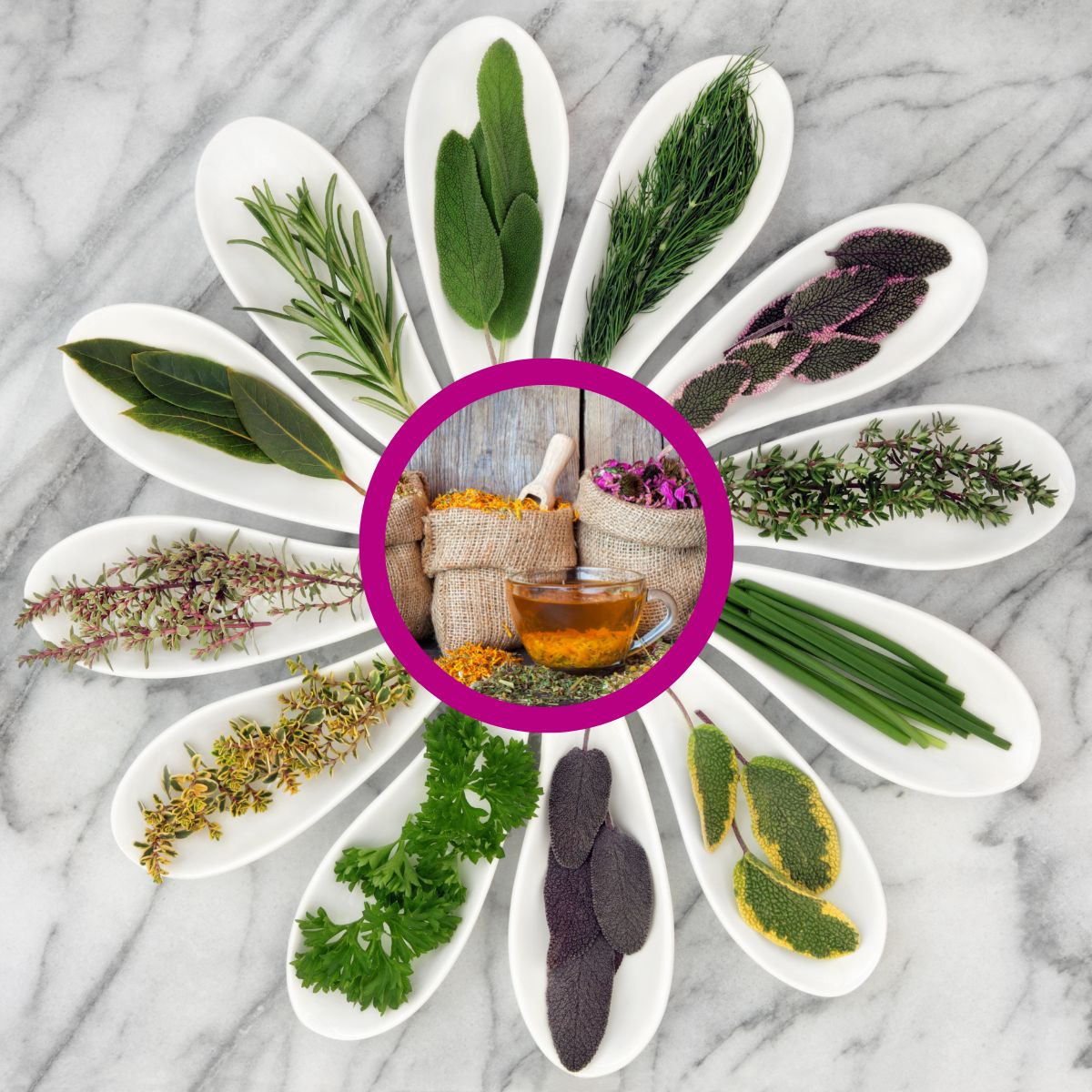 How do you learn the conversions? Well, it's actually pretty easy because there is a formula. If you have to use dried, there's a formula to make sure you don't use too much (or not enough) for the desired result. This means you can have the best herbs for your recipe at the ready, with no need to make an emergency trip to the store or use a substitution that you don't prefer. Fresh or dried, herbs add a wonderful aroma and flavor to any recipe you choose to add them to. It just makes sense to learn how to use dried herbs in addition to fresh ones, so you're always prepared.
What is the Ratio of Dried Herbs to Fresh?
So, how do you substitute dried herbs for fresh ones in a recipe?
There are a few things you need to know right from the start. Dried herbs have a stronger flavor than fresh herbs, so you need less of them. This is because the dried herbs are more concentrated. It makes sense when you think about it, although to the naked eye, fresh herbs are bigger, again, when dried out, we get the concentrated version. So, how do you make the substitution equally?
When substituting dried herbs for fresh, use a generous ¼ teaspoon ground or 1 teaspoon crumbled for every tablespoon of finely chopped fresh herbs. Experiment with this approximation since the potency of dried herbs will vary. The concentrated flavor of your dried herbs will be stronger than the fresh versions of the same herb. Other than this, the taste is pretty much the same.
Here are some common herbs or spices you may use in the kitchen:
fresh ginger
black pepper
chives
fresh garlic
thyme
peppermint
rosemary
fresh basil
oregano
dill
Always add dry herbs at the beginning of a recipe and fresh herbs closer to the end. If you add fresh herbs at the beginning of a recipe, the flavor will cook out of them and you won't get the terrific flavor you hope for.
The Ratio of Fresh Herbs to Dried Formula
Here's a quick and easy formula to help you remember when working with herbs in different formats. You might even want to post this someplace in your kitchen or in one of your favorite recipe books.
1 TABLESPOON (3 TEASPOONS) FRESH HERBS = 1 TEASPOON DRIED HERBS
1 TEASPOON DRIED LEAF HERB = ½ TEASPOON GROUND DRIED HERB
Fresh herbs like basil and parsley are about 80-90% water, so when the water is evaporated in the process, you end up with a much smaller amount of the herb. This means the remaining dry pieces will be very concentrated with flavor. The drying process can vary from herb to herb, but this will give you a general idea of what to expect, based on what the recipe calls for.
Tips for Using Dried Herbs
Here are some additional tips for using dried herbs in your cooking:
Store the dried herbs in airtight containers and keep them away from direct sunlight
Crush the dried herbs in your hand before sprinkling them into the dish for the best aroma
Replace your dried herbs annually or when the smell in the container has weakened
How Fresh Are Your Dried Herbs?
When cooking with dried herbs, you might be wondering how fresh they truly are. If they are older than a year old, then they're not that fresh and although it won't hurt you to eat them, they probably won't have the strong flavor you were hoping for.
When drying the herbs yourself, be sure to label the container you put them in with the date that they were dried and packaged. If you have more than one container of the same herb, you can put the older ones in front of your spice cabinet, so you're using them in the proper order.
If you are using store-bought dried herbs, they should have a date on the jar or canister, and if it's over a year old, toss it and get new ones.
Recipes That Use Herbs
FAQ on the Ratio of Dried Herbs to Fresh
Now let's look at some common questions people have about the ratio of dried herbs to fresh and using herbs in their cooking.
What is the equivalent of 2 teaspoons of fresh parsley to dried?
2 teaspoons of finely chopped fresh parsley equal to approximately 1 teaspoon of dried parsley.
What is the equivalent of 1 tablespoon of fresh thyme to dried?
1 tablespoon of fresh thyme equals about ¾ teaspoon of dried thyme.
How many teaspoons are 4 sprigs of rosemary?
It's about ½ teaspoon of dried herb for a sprig of rosemary. This means 4 sprigs would make 2 teaspoons.
These are just a few samples of ratios with common herbs used in the kitchen. You will find the more you work with them, the easier it will get to know how much to use, even in the different forms. When you learn the formula, it makes it so much easier to use dry herbs and ground herbs in your recipes, when needed.
Pin & Share!
Please Pin and share our recipes. And tell us what you think in the comments.