Coventry dinnerware is a popular brand and pattern of dining sets that are still made today. However, the name can be confusing because there are also a few dinnerware companies that use the word "coventry" in their pattern names, and also a few different dinnerware manufacturers who have this word trademarked.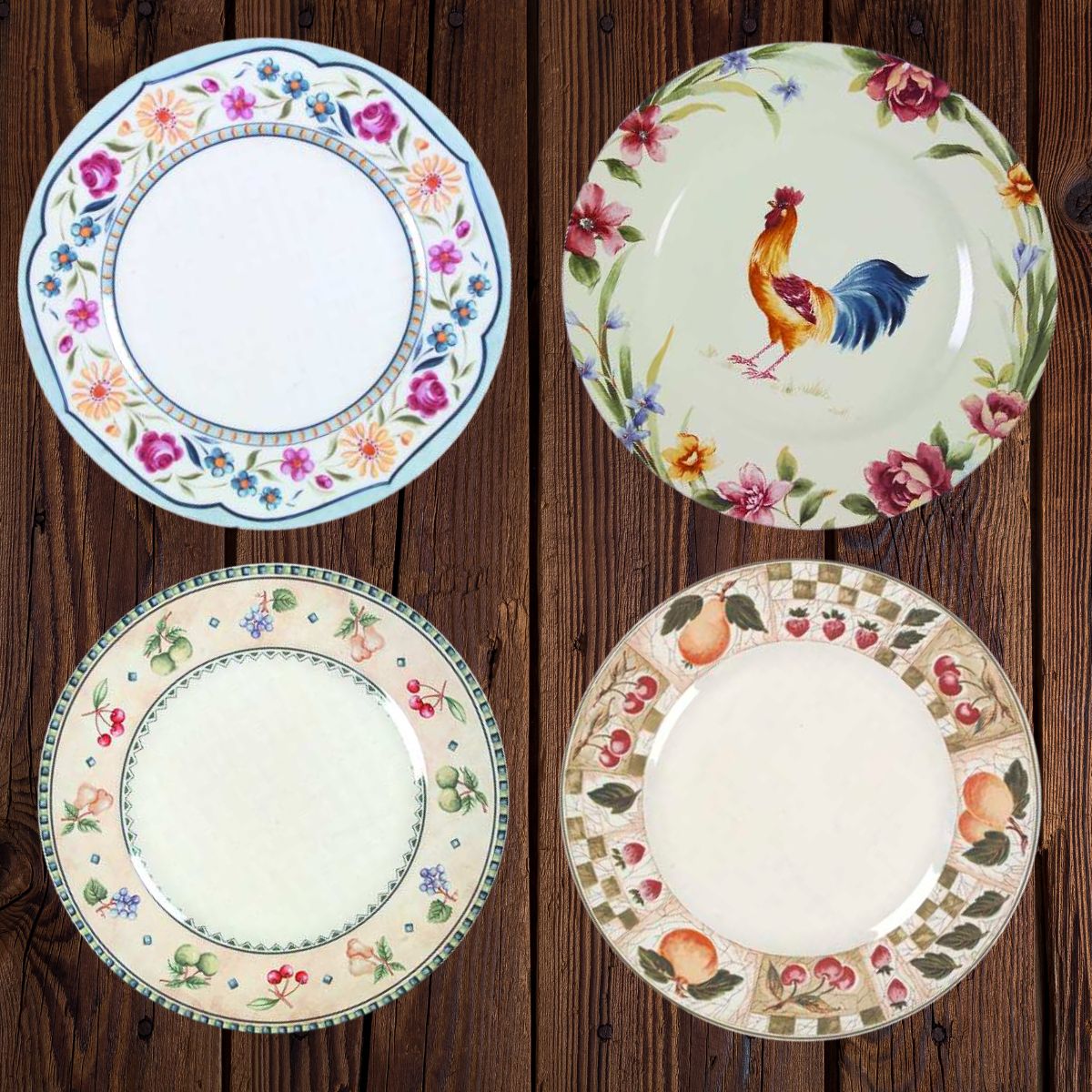 To top off the confusion, there are also many places that are referred to as Coventry, including an ancient city in England, and cities or towns in Connecticut, New York, Ohio, Pennsylvania, Rhode Island, and Vermont.
How can you know for sure what is being referenced when someone is talking about Coventry dinnerware? First, context is your biggest clue.
Find lots of Coventry dishes on Etsy.
Dinnerware Manufacturers that Make Coventry

JCPenney Coventry Sage Dinner Plate
Coventry dinnerware sets the standard in fine table settings with its classic style, durable construction, and premium finish. Coventry's timeless white porcelain design has been gracing the dining tables of weddings, celebrations, and formal dinners for decades. The gentle floral motif and graceful curves adorning Coventry Dinnerware sets lend a stately air to any gathering.
Here are some brands that have made this pattern.
PTS America
Probably the most recognized distributor of dinnerware referred to Coventry is PTS America. They offer a line of dinnerware under the Coventry brand name. They are also the manufacturer of the 222 Fifth dinnerware brand. PTS has produced many popular dinnerware patterns under the Coventry brand name.
Mikasa
Mikasa produced a Coventry pattern in dinnerware and glassware, and the Coventry Garden pattern. Both featured floral patterns that were very attractive, but somewhat casual.
Check out this list of Mikasa diner sets.
Noritake
Noritake once distributed a porcelain dinnerware pattern by the name Coventry. The pattern featured gold filigree on a bluish, green band. The pattern has been discontinued, but it is available if you are willing to shop around.
Royal Doulton
Royal Doulton, a popular producer of English china, produced a Coventry pattern that featured leaves with gold accents and trim on bone china. I have seen this pattern in navy blue, green, and turquoise. It is a unique and delightful pattern.
Royal Worcester
Another Coventry pattern was made available by Royal Worcester. Royal Worcester is a British brand of dinnerware that is well known for distributing fancy, porcelain fine china, also known as English dinnerware. The Royal Worchester Coventry pattern is simply extravagant with a thick, gold band on white porcelain.
And more
These are just a few of the dinnerware manufacturers that produce or did produce dinnerware that can be referred to as Coventry. There are many more, including manufacturers of Japanese dinnerware and many importers and exporters.
PTS presently produces a dinnerware line under the Coventry brand name which features many lovely patterns. My guess is that this is the line of dinnerware that you are looking for when searching for dinnerware under the Coventry brand name.
How to Shop for Coventry Patterns

Coventry Penelopes Garden Genuine Stoneware Mugs
If you're searching for the Coventry design and not the brand, you can narrow your search by adding the manufacturer to your search. For example, "Coventry PTS" or "Coventry Mikasa". When shopping online or searching an auction site for vintage pieces, this is a great way to make sure you get the right thing.
Find lots of Coventry dishes on Etsy.
Benefits of Coventry Dinnerware Sets
There are many benefits to purchasing these sets. First, know that they come in more than dinnerware plates. You can also get a coventry salad/dessert plate, mugs and cups, saucers, and even serving dishes or tea sets.
Coventry dinnerware is a great choice for creating an elegant table setting. Coventry's collection of modern and classic pieces is sure to impress, no matter the occasion. Their designs feature bold blue hues on white porcelain, making it easy to mix and match pieces for creating an eye-catching place setting so every meal will look like a special event.
Coventry Brand Dinnerware
You can still purchase Coventry brand today. Each traditional full set includes four dinner plates, four salad plates, and four cereal/soup bowls, giving you enough pieces for tucking in up to eight people at the table. If you're trying to create a complete table setting, Coventry also offers serving platters, mugs, and more coordinating items that can be purchased separately or as part of their Core Set collection.
This dinnerware is dishwasher safe and microwave safe, allowing you to easily prep, serve and clean up with minimal effort. It's also chip resistant.
With Coventry's beautiful designs, you can take your table setting to the next level without having to worry about your dishes breaking or fading over time. Whether it's an everyday family meal or a more formal get-together with friends, it's sure to upgrade the dining experience!
More Dinnerware Sets