This delicious recipe for roasted sweet dumpling squash is simple and easy to make. It looks a bit like acorn squash, but it's multicolored. And it tastes amazing (some say better than acorn squash)! It has a texture similar to sweet potato and is denser and not as stringy as acorn squash.
When you want a thick, hearty side to go with your meal, this could be a perfect choice and it's super easy to make. Sweet dumpling squash makes a perfect fall or winter treat, but you can also have it any time of year if it's available to you. It's a bit sweeter than butternut or acorn squash, and it's very flavorful when roasted. Let's take a look at how to make it.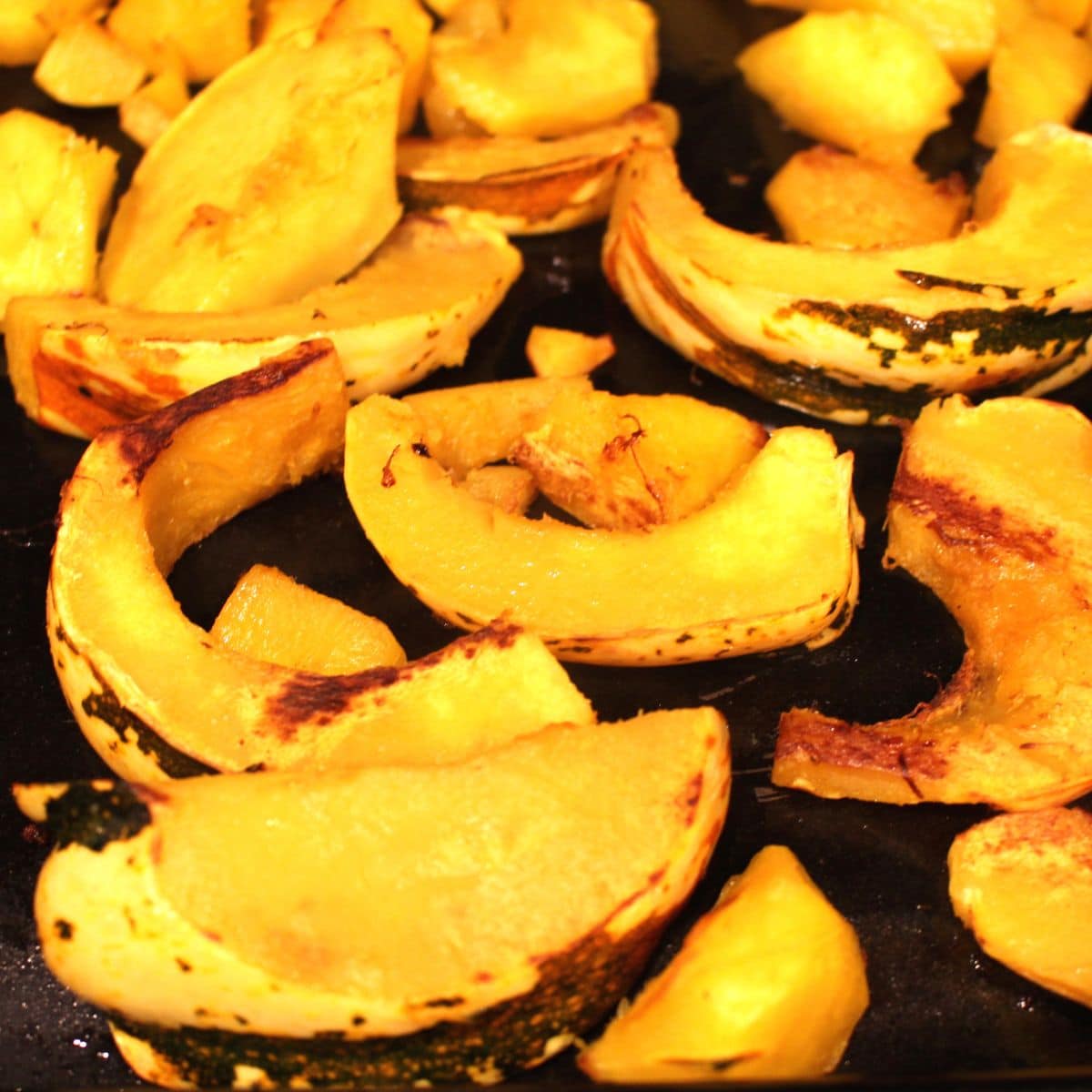 Roasted Sweet Dumpling Squash, SWWWEEEET!
Have you tried Roasted Sweet Dumpling Squash? Sweet dumpling squash is definitely my favorite squash. Roasting it brings out the natural sweetness. And this sweet dumpling squash recipe is super easy with only two ingredients. It's also vegan and vegetarian friendly. It's easy to see why this is a great choice of side for just about anyone.
I had never tried this particular squash until a few years ago. I thought since it was shaped like an Acorn Squash, it was just a variation of that squash. But it is much sweeter when roasted, and the texture is more like a Butternut Squash. I guess that's how it gets its name. I am sure you could bake it the way I make acorn squash and it would be delicious, too.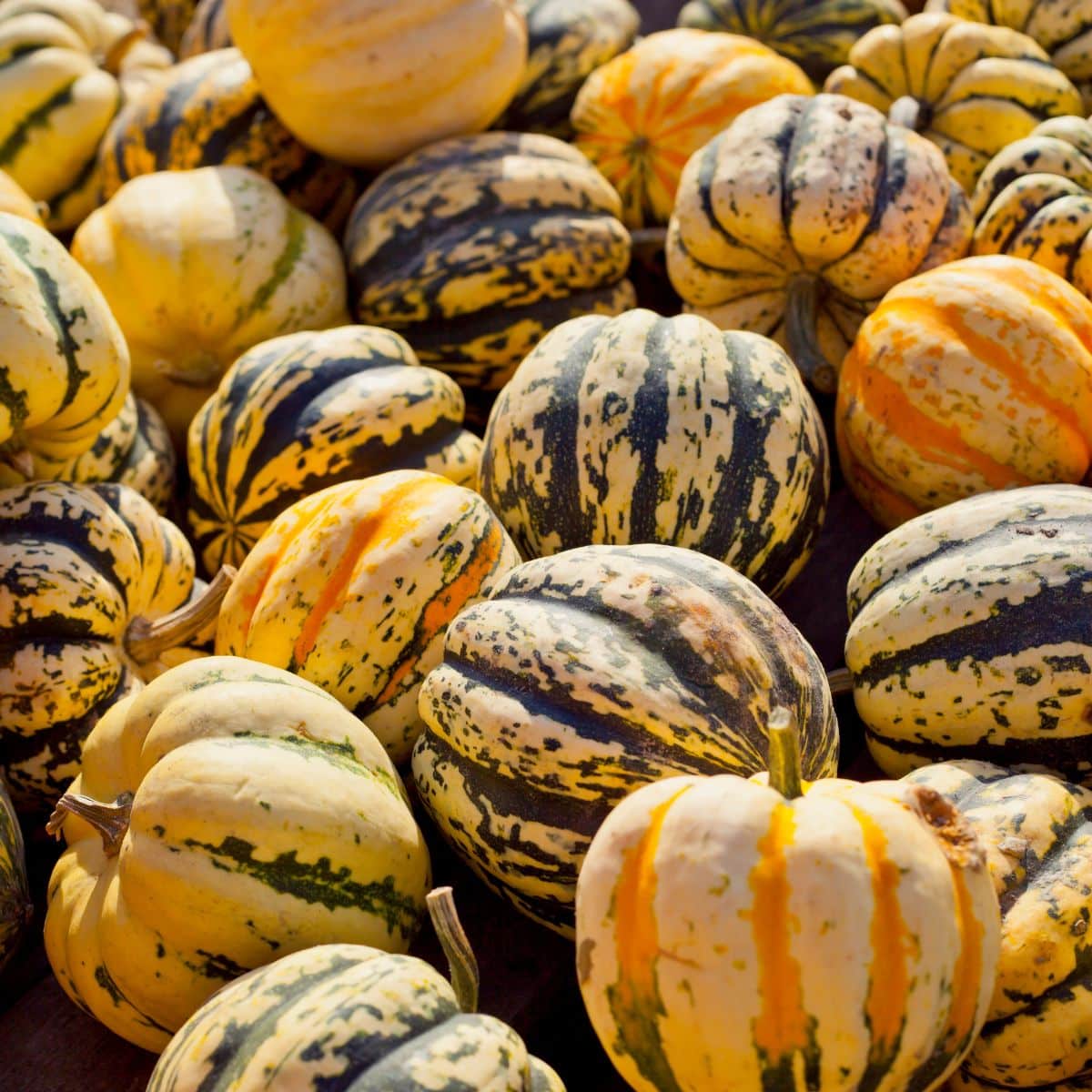 How to Cut Your Sweet Dumpling Squash
First, it helps to know how to cut your squash. If you're going to roast it, then you will need sliced or chopped pieces of the vegetable. Like most squash, it can be difficult to cut. My favorite technique is the same one I use on the acorn squash. Start with the squash facing stem up on a safe cutting board. Use a sharp knife close to the stem and slice down.
Next, roll the squash on its side and continue slicing down. Then roll it over and continue slicing down again. Bring your knife back up the top of the squash and stop at the stem. You've now cut all the way around. Using your hands, you can twist the squash into two halves. The stem will usually be on one of the halves. This is fine.
Tip: Each time you cut, just go about halfway through the squash.
When making roasted sweet dumpling squash, you can choose to do roasted slices or roasted halves. It's really a personal preference. In this recipe, we talk about how to make slices. The cook time will be longer on bigger pieces.
What You Need
For this recipe, you need a good knife, a cutting board, measuring spoons, and a baking sheet. I always use a jelly roll pan instead of a sideless baking sheet. Save yourself some time and get Parchment Paper to cover the Jelly Roll Pan. You'll have a much easier time cleaning up. Or try one of the nifty silicone baking mats.
Ingredients
sweet dumpling squash
olive oil
Instructions for the Perfect Recipe
Here's how to make yummy sweet dumpling squash every time. First, preheat your oven to 425 degrees. Next, cut the squash using the instructions below.
Remove all the strings, pulp, and seeds from the squash. You can scoop the main parts out and then pull the rest off with your fingers. Some people also like to do a quick cold water rinse.
Now slice your two halves into smaller moon-shaped slices. You will lay these out across the cookie sheet and drizzle them with olive oil. If you desire, you may season with salt (or Kosher salt). Some people like to use a bit of brown sugar to help accentuate the sweetness of the squash. This brown sugar will also help the caramelization process.
Bake for 20-25 minutes, turning the squash over to the other side at the halfway point in the baking time. When it becomes tender and you see it start to brown, you know it's done.
Recipe Variations
Some people like to mix up the basic recipe by adding some other flavors like nutmeg or cinnamon.
If you use butter, salted is best. When using unsalted butter, a dash of salt in the mix will make it much better.
I've also seen people use turmeric, but this is an acquired taste so unless you already know you love turmeric, you may want to skip that one.
This makes a wonderful holiday meal or healthy side during the winter months.
More roasted recipes to try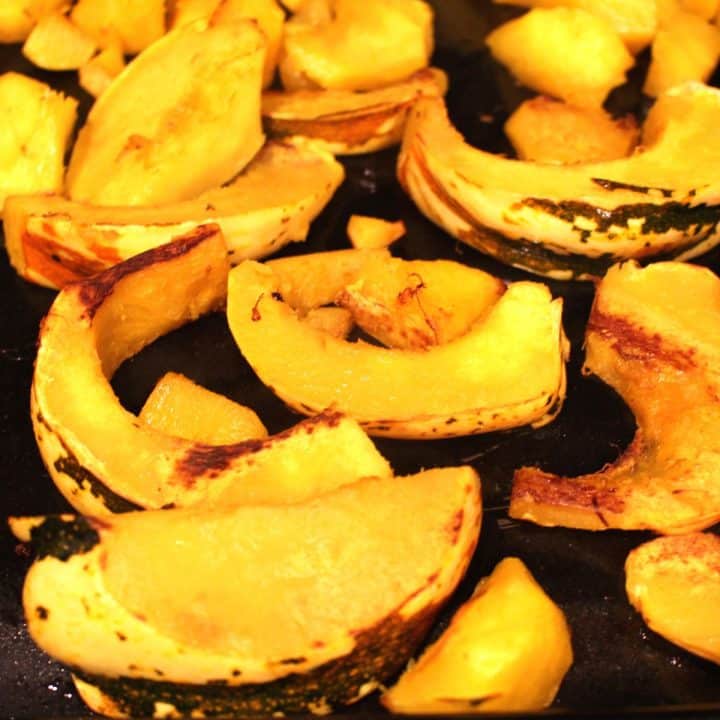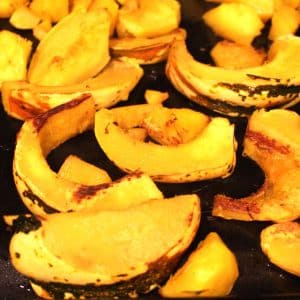 Roasted Sweet Dumpling Squash Recipe
Roasting this Sweet Dumpling Squash caramelizes the flesh and makes it super sweet.
Ingredients
1

Sweet Dumpling Squash

2

tablespoons

olive oil
Instructions
Heat the oven to 425F degrees.

Cut the squash in half, stem to bottom.

Remove the seeds and stringy pulp.

Slice the squash in thin, moon-shaped slices.

Drizzle 1 tablespoon olive oil over a jelly roll pan (or cookie sheet).

Place the cut squash flesh side down in one layer on the cookie sheet and move is around a little to coat it with the oil.

Drizzle the top side of the squash with the remaining oil.

Bake at 425F degrees for 20-25 minutes, turning the squash over halfway through.

The squash is done when it is starting to brown (caramelize) and is tender.
Nutrition
Calories:
79
kcal
Carbohydrates:
4
g
Protein:
0.5
g
Fat:
7
g
Saturated Fat:
1
g
Polyunsaturated Fat:
1
g
Monounsaturated Fat:
5
g
Sodium:
2
mg
Potassium:
173
mg
Fiber:
1
g
Sugar:
1
g
Vitamin A:
677
IU
Vitamin C:
6
mg
Calcium:
14
mg
Iron:
0.3
mg
Recipe Nutrition Information
The information shown is an estimate provided by an online nutrition calculator. It should not be considered a substitute for a professional nutritionist's advice.
This recipe is GF, DF, NF, SF, EF, CF, V, VG*
Rate, Pin & Share!
Please Rate our recipes and posts, and Pin and Share them on social media. Comments are welcome, too!