Crumbly Top Blueberry Pie is super easy and so scrumptious. The topping gives it a sweeter flavor and the blueberries have a touch of lemon.
A crumbly top is not just for apple pie.
Blueberry pie is one of my favorites, but as Andie McDowell sings in the movie, Michael, "Pie, pie. I love pie!" and just about any pie will do. And since this month is "July Belongs to Blueberries Month," I'm posting my blueberry pie recipe for you.
I stole the crumbly top from Don's Apple Pie and I love it on this one. The idea to put lemon in the blueberries came from Joy of Cooking, a cookbook I think everyone should own.
Family Favorite
My Great Grandma Martin made a delicious blueberry pie. Sometimes she made it with a lattice top and sometimes she topped it with a full pie crust. It was my favorite pie when I was a kid. I don't have her recipe, but this pie recipe comes darn close. I like it with a crumbly top instead of a pie crust. The sweetness of the topping is a good counterbalance to the tartness of the blueberry filling.
What You Need
You will need a good pie plate to bake a pie. I prefer the deep-dish pie plate because it's a bit bigger and it's less likely the pie will overflow. You will also need measuring cups and spoons. But what you really want is a beautiful pie plate and some delightful dinnerware, am I right?
How To Make the Crust
If I'm making the pie, I usually cheat and use a pre-made crust. I prefer the Pillsbury ones you find in the dairy case, but Don makes his own. Now that I eat gluten free, I often use a Shortbread Cookie as the pie crust because it's so simple and works well with gluten free flour. Or try our Gluten Free Pie Crust.
Don's Flaky Pie Crust recipe is below. Make it before you make the filling. Or, here's the link to his Traditional Pie Crust.
For a shortcut: You can also use a can of prepared blueberry pie filling in this recipe and add lemon and lemon zest to it. You will need to eliminate the sugar and the tapioca. It will still be delicious. But then, it would be a different pie.
The full Crumbly Top Blueberry Pie recipe follows the Flaky Pie Crust recipe below. Rather than including all the written instructions for rolling dough, I suggest you watch this video on Pie Rolling. Enjoy!
Flaky Pie Crust Recipe (Filling Recipe Follows)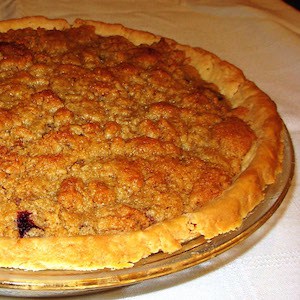 Flaky Pie Crust
Makes one pie crust (two layers).
Ingredients
2 ½

cups

Flour

1

Tablespoon

Powdered Sugar

(confectioner's)

1

teaspoon

Salt

1

cup

Crisco

(solid vegetable shortening)

½

cup

Ice Water

3 to 4

Tablespoons

Ice Water

(if needed, add slowly and incorporate as you go)
Instructions
Using a rubber spatula, thoroughly mix the following in a large bowl: flour, powdered sugar, salt.

Break the Crisco into large chunks.

Add the Crisco (shortening) to the flour mixture. Cut the shortening into the dry ingredients by chopping vigorously with a pastry blender or by cutting in opposite directions with two knives, one in each hand.

As you work, periodically stir the dry flour up from the bottom of the bowl and scrape clinging fat off the pastry blender or knives.

You are finished when some of the shortening is still pea-sized; the rest should be reduced to the consistency of coarse crumbs or cornmeal.

The mixture should seem dry and powdery and not pasty or greasy.

Then slowly drizzle the water a little at a time over the flour and fat mixture.

Using the rubber spatula, cut the dough with the blade side until the mixture looks evenly moistened and begins to form small balls.

Press down on the dough with the flat side of the spatula.

If the balls of dough stick together, you have added enough water. If they do not, drizzle over the top: 1 to 2 Tablespoons Ice Water

Cut in the water, again using the blade of the spatula, then press your hands until the dough coheres.

The dough should look rough, not smooth.

Divide the dough in half, pressing each half into a round, flat disk, and wrap tightly in plastic wrap. Refrigerate for at least 30 minutes and preferably for several hours (or for up to 2 days) before rolling.

The dough can also be wrapped airtight and frozen for up to 6 months: thaw completely before rolling.

Roll the dough into a circle and put it in the pie pan.
Notes
Pie dough must be refrigerated before rolling out at least 50 minutes, and preferably 2 hours. This recipe is for an uncooked pie crust. You will either precook it (about 20 minutes) for a custard-type pie or fill it with fruit and cook it at the same time as the fruit filling. Therefore, no time for cooking has been added to the recipe.
Crumbly Top Blueberry Pie Recipe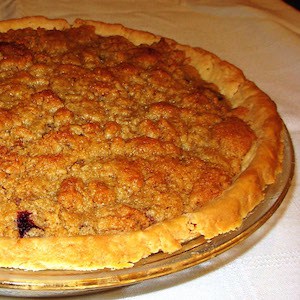 Crumbly Top Blueberry Pie
Ingredients
Filling
4 ½

cups

Blueberries

(fresh or frozen)

¾

cup

organic Turbinado Sugar

4

Tablespoons

quick-cooking Tapioca

2

Tablespoons

fresh Lemon Juice

1

teaspoon

grated Lemon Zest

(optional)

⅛

teaspoon

Salt
Crumbly Top Topping
¾

cup

light brown sugar

or natural sugar

¾

cup

flour

½

cup

butter
Instructions
Move the lower rack to the bottom ⅓ of the oven.

Preheat oven to 425F degrees.

Combine all filling ingredients and let stand for 15 minutes.

Place the pie crust in a 9-inch pie pan and press into place.

Pour the filling into the pie pan.

Cover pie with the crumbly top topping.

Place the pie on a cookie sheet that has been covered with aluminum foil. (The pie tends to boil over the sides.)

Mix all the ingredients for the topping and sprinkle it over the pie.

Bake the pie on the lower rack for 30 minutes.

Reduce the oven temperature to 350F degrees and bake until thick juices bubble up, about 25-35 minutes.

Remove from oven and let cool on a rack.
https://recipeideashop.com/crumbly-top-blueberry-pie/
Notes
The pie is best served on the same day it is made, but it can be stored at room temperature for up to one day or in the refrigerator for several days.
Crumbly Top Blueberry Pie Nutrition
The information shown is an estimate provided by an online nutrition calculator. It should not be considered a substitute for a professional nutritionist's advice.
Pin & Share!
Please Pin and share our recipes. And tell us what you think in the comments.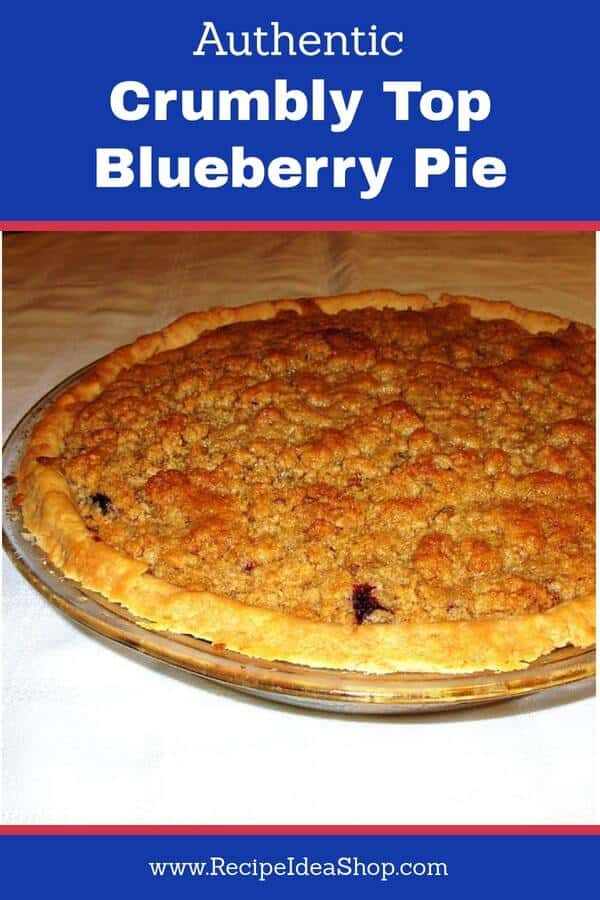 You May Also Like These Recipes From Recipe Idea Shop