Crumbly Top Blueberry Pie is super easy and so scrumptious. The topping gives it a sweeter flavor and the blueberries have a touch of lemon.
A crumbly top is not just for apple pie.
Blueberry pie is one of my favorites, but as Andie McDowell sings in the movie, Michael, "Pie, pie. I love pie!" and just about any pie will do. And since this month is "July Belongs to Blueberries Month," I'm posting my blueberry pie recipe for you.
I stole the crumbly top from Don's Apple Pie and I love it on this one. The idea to put lemon in the blueberries came from  Joy of Cooking—a cookbook I think everyone should own.
Family Favorite
My Great Grandma Martin made a delicious blueberry pie.  Sometimes she made it with a lattice top and sometimes she topped it with a full pie crust. It was my favorite pie when I was a kid. I don't have her recipe, but this pie recipe comes darn close. I like it with a crumbly top instead of a pie crust. The sweetness of the topping is a good counterbalance to the tartness of the blueberry filling.
What You Need
You will need a good pie plate to bake a pie. I prefer the deep-dish pie plate because it's a bit bigger and it's less likely the pie will overflow. You will also need measuring cups and spoons. But what you really want is a beautiful pie plate and some delightful dinnerware, am I right?
How To Make the Crust
WHAT'S NOT TO LOVE?
Trust me, you're gonna love this recipe. Up your recipe repertoire. Add this recipe to your collection. But don't stop there…subscribe to our email newsletter and get a free cookbook.
Pin & Share!
Please Pin and share our recipes. And tell us what you think in the comments.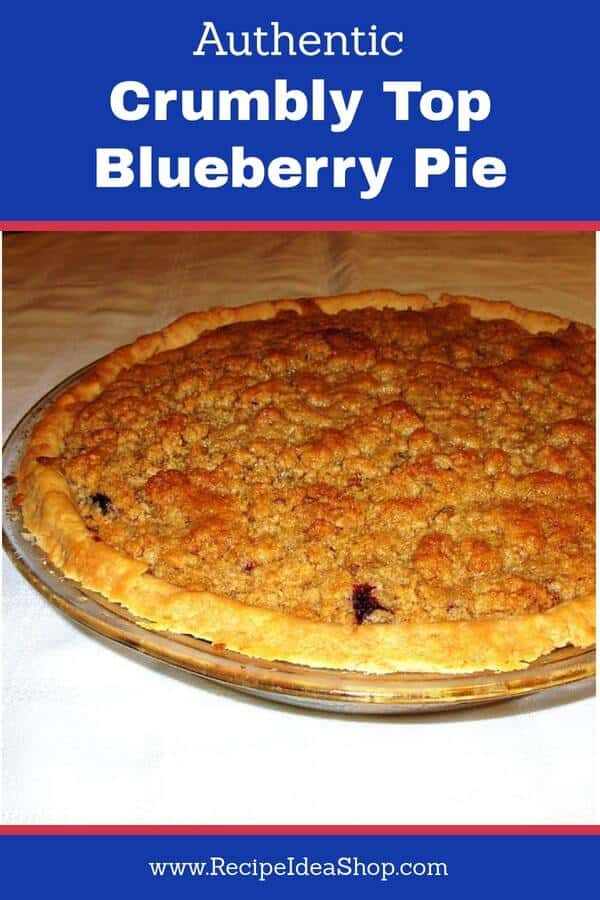 You May Also Like These Recipes From Recipe Idea Shop
BEFORE YOU GO, DID YOU GRAB YOUR FREE COOKBOOK?
[mc4wp_form id="5109″]