Gluten Free Blueberry Rhubarb Pie, better than strawberry rhubarb pie. Blueberries + Rhubarb. Great combination.
Gluten free blueberry rhubarb pie is a unique & tasty combo.
Did you know that May is Eat Dessert First Month? My favorite month. You're gonna love this recipe. Gluten Free Blueberry Rhubarb Pie is simply sweet and tangy deliciousness. Tasty, especially with a Gluten Free Shortbread Pie Crust. Of course, you could make it with a Traditional Pie Crust, but then it won't be gluten free.
Got Rhubarb?
When I was growing up, the old homestead had a rhubarb patch in one corner of the yard by the back fence. I'm not sure which generation planted it. It was a modest patch because, as the newer plants came in, we would pull out the older, tougher ones.
Mom cooked rhubarb in a variety of ways, such as pies, jams, puddings, crisps and cakes. We also ate it raw, dipped in sugar (the original Sour Patch candy).
Brilliant Combination
Lois and I picked up a bunch of rhubarb from a local farm recently because I have been craving my favorite rhubarb treat: pie. Since we had blueberries that needed to be used, I mixed the blueberries with the rhubarb for this Gluten Free Blueberry Rhubarb Pie. The combination of blueberries and rhubarb is fantastic.
Benefits of Rhubarb and Blueberries
Did you know rhubarb is good for preventing osteoporosis and Alzheimer's Disease, fighting inflammation, ridding your body of free radicals, and aiding in digestion? The green leaves are poisonous, so don't eat those, but the red stalks are packed with vitamins and other nutrients to help your bones, brain and digestion. What a powerhouse!
And blueberries are great cancer-fighters.
Pie Crust Options
I didn't include how to make the pie crust in the recipe, but here are a few options. When making a gluten free pie, I prefer the Gluten Free Shortbread Pie Crust and Lois likes the Sweet Gluten Free Pie Crust best. If you don't need gluten free foods, you may prefer our Traditional Pie Crust.
What You Need
We love our pie plate from Elizabeth Krome, Quail Run Pottery, but any 10-inch pie plate will work for this recipe. Of course, you won't eat your pie all in one sitting so you'll need a pie keeper. And you'll need COFFEE with your pie so get yourself one of those two-way coffeemakers.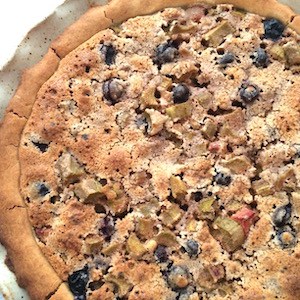 Gluten Free Blueberry Rhubarb Pie Recipe
Blueberries + Rhubarb. Great pie!
Ingredients
6 to 8

stalks

rhubarb

(Cut into ¼ " long pieces, enough to make 3-½ cups)

1

pint

blueberries

2

tablespoons

cornstarch (for gluten free) or flour

1 ½

cups

sugar

2

tablespoons

cinnamon

1

tablespoon

ground nutmeg

2

eggs

2

tablespoons

light corn syrup

1

pie crust

(gluten free, if desired)
Instructions
Preheat the oven to 350F.

Use your favorite Gluten Free Pie Crust or Traditional Pie Crust recipe and line a deep dish 10-inch pie plate with the crust.

Add blueberries to the chopped rhubarb and toss to combine.

Fill the pie crust with the rhubarb-blueberry mixture. You may have more than enough fruit to fill the pie. If so, then reserve the rest for another recipe. Don't overfill the pie or it will overflow in the oven.

Mix the cornstarch (or flour), sugar, cinnamon and nutmeg in a bowl.

In a separate bowl beat the eggs and light corn syrup together until well combined.

Add the egg-corn syrup mixture to the dry ingredients and mix well.

Pour this mixture over the rhubarb and blueberries making sure to cover the entire pie.

Bake for 40 to 50 minutes until the top is brown and the filling is set.

Let cool to room temperature before cutting.

Serve alone on a plate or accompanied by whipped cream or homemade ice cream.
Nutrition
Calories:
442
kcal
Carbohydrates:
88
g
Protein:
5
g
Fat:
10
g
Saturated Fat:
3
g
Polyunsaturated Fat:
1
g
Monounsaturated Fat:
4
g
Trans Fat:
0.01
g
Cholesterol:
55
mg
Sodium:
145
mg
Potassium:
272
mg
Fiber:
5
g
Sugar:
64
g
Vitamin A:
183
IU
Vitamin C:
12
mg
Calcium:
93
mg
Iron:
2
mg
You May Also Like These Other Pies