Summertime Peach Tart is so good made with sweet, fresh peaches. You can use a gluten free shortbread crust or a regular pie crust made with wheat if you prefer. It's terrific either way.
Summertime Peach Tart
Don here, telling you about my amazing Summertime Peach Tart that I made recently. When the peaches come into season each year, I get the urge to create a tasty dish from them. I used fresh freestone peaches from a local farmer and made a gluten free shortbread crust because Lois needs to be gluten free. This time, instead of apricot jam I used a peach pepper jelly we had on hand. Very nice. It gave the tart just a bit of a bite.
This Summertime Peach Tart is a quick and easy recipe which looks elegant enough to serve guests. I started with my Easy and Quick Gluten Free Shortbread Pie Crust, but you could use traditional Pie Crust as well.
Best With Fresh Peaches
I like ripe peaches. The kind when you bite into and the juice drips down your chin. The kind you have to slurp as you bite to get all the delicious flavor. I guess this comes from my misspent youth when my cousins and I would sneak across the fence into the orchard next to my grandparents' home and snatch a peach or two for an afternoon snack. Now, of course, I get them from the local farmers' market or fruit stand.
What You Need
For this recipe you need a big pot, paring knife, cutting board, measuring cups and spoons, mixing bowl, rolling pin, and a pie or tart plate. You'll also want some aluminum foil or a pie shield and some pie weights. Whatever you buy, get the best you can afford. You'll never be sorry.
Summertime Peach Tart Recipe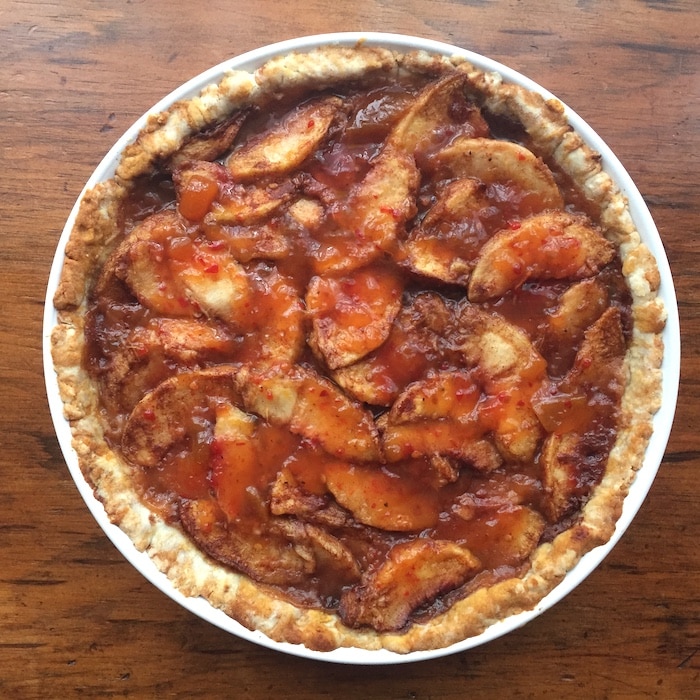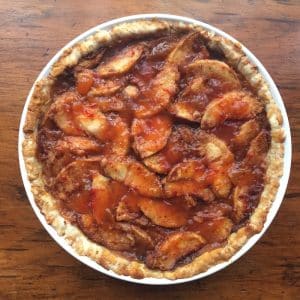 Summertime Peach Tart
A one-crust peach pie made with fresh peaches
Ingredients
Gluten Free Short Bread Pie Crust
½

cup

butter

melted and cooled

¼

cup

warm honey

I warm it for a few seconds in the microwave.

½

teaspoon

vanilla

1½

cups

flour

more if need to form a ball of dough

1

teaspoon

salt

1

teaspoon

baking soda
Peach Topping
4

whole ripe peaches

½

cup

apricot preserves

or peach pepper jelly if you want a "kick"

2

tablespoons

sugar

1

tablespoon

cinnamon

1

tablespoon

cornstarch
Instructions
Prepare the Crust
Combine the melted butter, warm honey, vanilla, salt and soda in a mixing bowl.

Add the flour and mix. Add more flour if needed to form a ball that sticks together.

Wrap the ball in plastic wrap and refrigerate for 30 minutes or so.

Either use a rolling pin to roll the dough to about ¼ inch to ½ inch thick or press it into a tart pan with your hands.

Prick the dough with a fork. Then cover it with aluminum foil, and place the pie weights on top of the foil to keep the crust from bubbling up.

Partially bake the dough for 15-25 minutes in a preheated 350F degree oven. You want the crust to be mostly baked but not more than slightly browned.

Remove it from the oven

Remove the pie weights and aluminum foil and let the pie crust cool.
Prepare the Peach Topping
Bring water to boil in 2 quart pot.

Drop peaches into boiling water for a minute or two. (This is called blanching.)

Remove peaches and immediately drop into a bowl of ice water.

When all peaches have been blanched, peel them—the skins should slip right off. Remove the pit from each peach, and slice them into small wedges.

Place the peaches in a bowl and toss with cornstarch, sugar and cinnamon.

Arrange the peach slices either neatly in concentric circles overlapping each one slightly or by dumping them onto the shortbread crust and smoothing them into a uniform layer.

Warm the apricot preserves so they are more or less pourable. I do this in the microwave.

Spread the warm apricot mixture evenly over the peaches.

Place a pie shield or aluminum foil over the edge of the pie to prevent burning the crust.

Return the tart to the 350F oven and bake for 30-40 minutes until the juices start to bubble and thicken. (If your peaches are juicier, it will take the longer time.)

Remove the pie shileld. Let the tart cool for a couple of hours or overnight in the refrigerator.

Cut into wedges and serve.
Recipe Nutrition Information
This recipe is GF, NF, SF, EF, V*
The information shown is an estimate provided by an online nutrition calculator. It should not be considered a substitute for a professional nutritionist's advice.
Nourish Your Body & Soul
I encourage you to care of yourself by eating satisfying, nourishing food that is good for your body and makes you feel healthy. Protect your spirit by living authentically, moving your body, and taking time to replenish and rest. I think you might also like these recipes & posts from Recipe Idea Shop:
Rate, Pin & Share!
Please Rate our recipes and posts, and Pin and Share them on social media. Comments are welcome, too!