Gluten Free Three Layer Mint Brownies look beautiful on a plate of Christmas cookies, and they taste so darn good! They are rich and chocolatey. Since they are bar cookies, they are super easy to make.
Gluten-Free Three Layer Mint Brownies are so scrumptious!
It will be hard to eat just one. This brownie recipe is another of my family's favorite holiday œcookies recipes. Gluten Free Three Layer Mint Brownies are easy to make and very pretty when served alongside other cookies. They are rich and minty. I cut them into 2" squares when I serve them with other cookies on a tray, and a bit larger if it it the sole dessert.
A Friend's Recipe
I got the original Three Layer Mint Brownies recipe from a friend, Michelle Esser, in the 1980s, and I've been making it ever since. It is one of my daughter Erin's favorites. In fact, when she was in elementary school, she came home one day and told me that the teacher told her she must bring a treat the next day. Erin told me it had to be Three Layer Mint Brownies. After I made the brownies and took them to school, I found out her teacher said nothing of the sort! Erin just wanted the brownies.
Ooops! That Was Expensive!
I also sent these brownies to Erin for Christmas one year, along with several other cookies and chocolates, and her roommate just threw the package under the Christmas tree. Erin knew I was sending cookies, but her roommate didn't tell her the package had arrived. The dogs, however, had no problem figuring out that the package contained food. They ate everything in the box, eating about 5-8 pounds of various chocolates, necessitating two trips to the veterinarian (one for each dog), and costing about $1,000. Even though Erin no longer has any pets, I have learned to send packages to her office.
Erin told me she thinks the Gluten Free version is even better than the original one. I think that's because I put more chocolate in them. I sometimes make my own version of gluten free flours in this recipe, but usually I simply use Bob's Red Mill Gluten Free One-to-One Baking Flour or Bob's Red Mill Gluten Free All Purpose Baking Flour. Either option works great!
If you are not interested in making them gluten free, these can also be made with regular flour. See Three Layer Mint Brownies. You're gonna wanna eat these.
What You Need
You will need measuring cups and spoons, an electric mixer, a double boiler or a microwaveable bowl, a cake pan or a jelly roll sheet (depending on how many you make), and some lovely dessert plates or serving plates. And you are definitely going to want to offset the sugar with caffeine. So get a terrific espresso machine.
Gluten Free Three Layer Mint Brownies Recipe (Bar Cookie)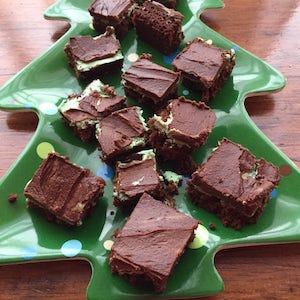 Gluten Free Three Layer Mint Brownies
Rich, delicious double chocolate brownies with mint filling.
Ingredients
First Layer Ingredients
1

cup

sugar

4

eggs

½

cup

butter

1

cup

Bob's Red Mill One-to-One Gluten Free Baking Flour

½

teaspoon

baking powder

1

12-ounce

can Hershey's Syrup

1

ounce

Baker's Chocolate

melted and cooled
Second Layer Ingredients
½

cup

butter

2

cups

powdered sugar

2

tablespoons

milk

1-½

teaspoon

peppermint extract

5

drops

Green food coloring
Third Layer Ingredients
½

cup

butter

1

12-ounce

package Nestle's Chocolate Chips
Instructions
Mix the first three ingredients.

Beat until smooth.

Add flour and baking powder.

Mix well.

Add Hershey's Syrup and melted Baker's Chocolate (cooled).

Mix well.

Pour into a greased 9" x 13" pan and bake at 350F degrees for 25-30 minutes until a toothpick inserted comes out clean.
Second Layer
Mix butter, powdered sugar, milk, peppermint extract, and 5-8 drops of green food coloring.

Beat until smooth and spread on cooled brownies.
Third Layer
Melt butter and chocolate chips in a double boiler. This step can be done in the microwave, but be careful. Chocolate burns easily so microwave it on high for one minute and then 30 seconds at a time and stir it frequently. It will not looked melted when it actually is because the chips retain their shape until you mix them.

Mix well.

Cool and pour over mint layer.

Refrigerate to set.

Cut into two-inch squares (very rich!). Store in the refrigerator.
Notes
Note: Brownies must be refrigerated or they tend to melt.
Recipe Nutrition Information
The information shown is an estimate provided by an online nutrition calculator. It should not be considered a substitute for a professional nutritionist's advice.
RATE, PIN & SHARE!
Please Rate our recipes, and Pin and Share them on social media. Comments are welcome, too!
You May Also Like These Recipes From Recipe Idea Shop