Hamburger Potato Carrot Hotdish is a hearty stew with a milk gravy base. So tasty and filling.
Hamburger Potato Carrot Hotdish
Hi. It's Lois in the kitchen at Recipe Idea Shop, talking about Hamburger Potato Carrot Hotdish. Since it has turned colder here in Virginia—and Thanksgiving is behind us—I say it's time for some comfort food from my childhood! The name—like many of the concoctions my mother made—does not have a creative name. Mom always named her recipes simply by the names of the foods included.
This recipe was always a favorite of mine as a child, and my children liked it too. It is a thick stew that is best served in a bowl. I have taken it to potluck dinners, and everyone always likes it. My mom made it with canned potatoes and canned carrots, but I like it better when these ingredients are cooked fresh. I prefer my carrots cooked a bit crisp, not mushy the way canned carrots can be. It has a milk gravy base and is OH! So tasty.
Hamburger Potato Carrot Hotdish is high in fat due to the hamburger and milk fat. Of course, you can lower the fat content by using ground turkey and low-fat milk. It pairs nicely with a Green Salad and a piece of fruit, which would likely entice you to eat a smaller amount of Hamburger Potato Carrot Hotdish, saving you some calories and reducing the fat, too. The serving size listed is about 1-1/2 cups.
A Nice Dutch Oven  Comes in Handy
 Check out the recipe …
Hamburger, Potato, Carrot Hotdish Recipe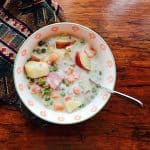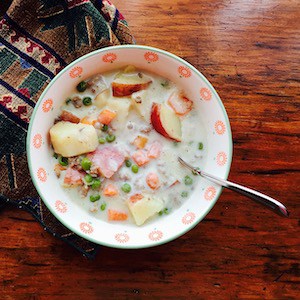 Hamburger, Potato, Carrot Hotdish Recipe
A hearty stew with a milk gravy base, this Hamburger, Potato, Carrot Hotdish is a good potluck dish.
Ingredients
1

tablespoon

olive oil

1

small onion

(chopped)

1

pound

ground beef

(lean is best; you can use ground turkey if preferred)

6

carrots

(peeled and sliced in rounds)

4

medium potatoes

(cut in small chunks or thin slices, your preference)

1

cup

of frozen peas

(optional)

2

tablespoons

butter

2-3

cups

milk

1/4

cup

flour

salt and pepper to taste

(I use about 1 teaspoon of salt and 1/4 to 1/2 teaspoon of pepper)
Instructions
Steam the potatoes and carrots until crisp-tender.

Set aside.

In a Dutch oven sauté the onion in the olive (or canola) oil until the onions are transparent.

Add the hamburger and continue cooking until the meat is brown all the way through.

Using a slotted spoon, remove the hamburger/onion combination to a separate bowl.

Dispose of the meat drippings (or use them instead of the butter in the next step).

Add the butter to the Dutch oven (no need to clean the pan first) and melt it over medium heat.

Stir in the flour, making a roux.

Slowly add the milk until the flour/butter mixture is dissolved.

Continue cooking until the milk thickens to about the consistency of gravy. (If it gets lumpy, simply strain it through a mesh sieve to remove the lumps and return the sauce to the pan.)

Add the cooked hamburger, onion, carrots, peas (if using) and potatoes.

Season with salt and pepper to taste.
https://recipeideashop.com/hamburger-potato-carrot-hotdish/
Note: Many of the links included throughout Recipe Idea Shop are affiliate links, which means if you follow them and you buy something, we will get a small commission. It doesn't cost you a penny more, and you can still use your Amazon Prime (Shop Amazon — Give the Gift of Amazon Prime) account to buy. This posting includes affiliate links.. Don and I love our Amazon Prime account.
Hamburger, Potato, Carrot Hotdish Nutrition
Want More Recipes Like This?
If you want more delicious recipes, please sign up for our free cookbook.
Pin & Share!
Please Pin and share our recipes. And tell us what you think in the comments.
You May Also Like These Recipes From Recipe Idea Shop
BEFORE YOU GO, DID YOU GRAB YOUR FREE COOKBOOK?
[mc4wp_form id="5109″]
SaveSave