Cream Chip Beef on Toast is a delicious gravy that is flavored with dried chipped beef and served on toast. If you've never heard of it, then you're in luck. I'm going to introduce you to it today. This quick-and-easy meal was first made popular at the start of the 20th century by the U.S. Military. It was a sustainable meal to easily feed a literal army. From there, we began to see this military dish on the breakfast tables of many American families, especially in the south.
Today, it is considered a classic and if you grew up on it, you may be feeling nostalgic just talking about it. Chipped beef refers to beef that has been salted, dried, and pressed into thin slices. When added to a creamy, gravy-like sauce and served over slices of Texas toast, it's the perfect breakfast or brunch meal. It's a bit salty and so delicious over toast or biscuits. You start with a simple milk white gravy and add the dried beef, then serve it over your favorite slices of toast. It's a quick, 20-minute meal, so let's take a look at how to make it.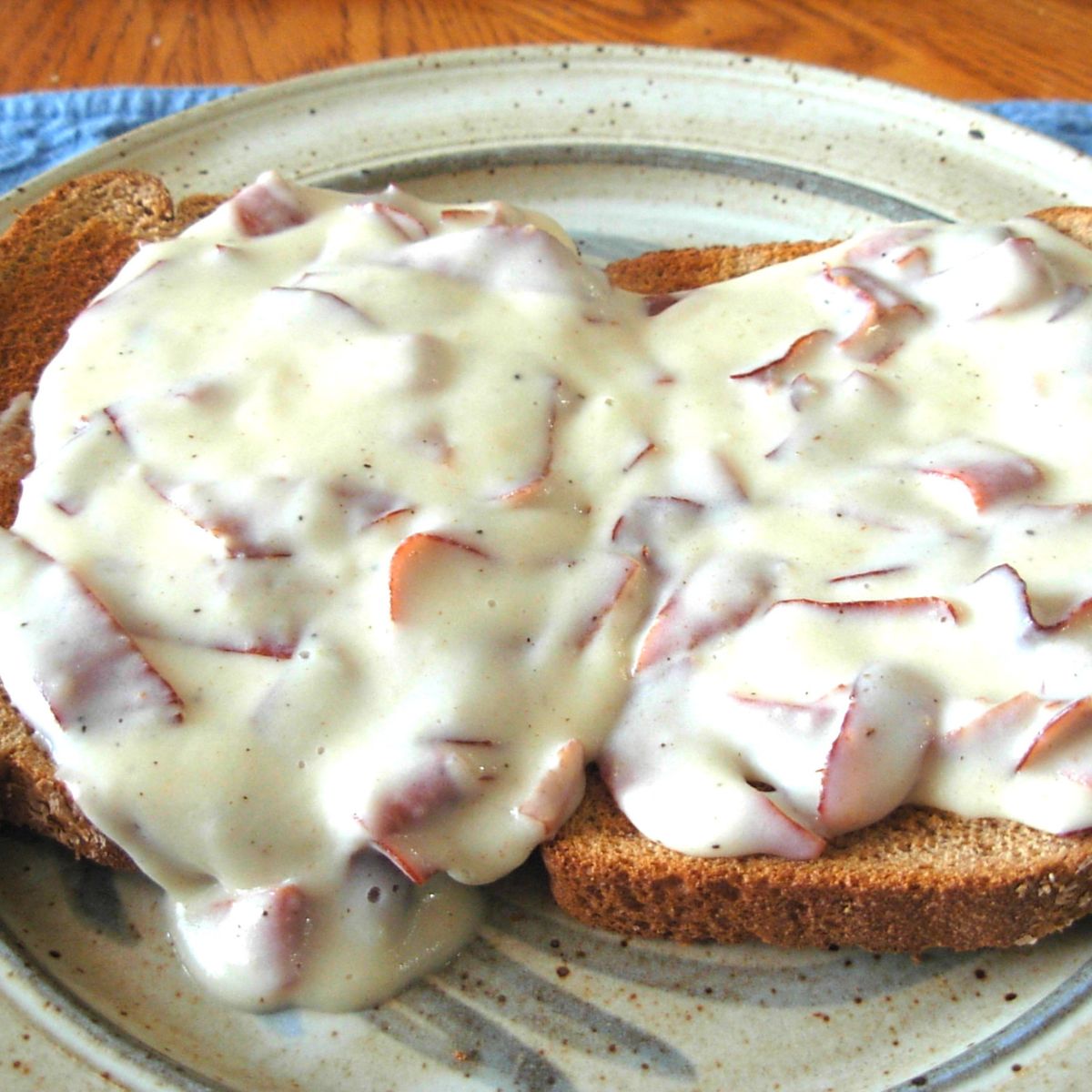 Cream Chip Beef on Toast is perfect for breakfast or a light supper
One comfort food in our family is Cream Chip Beef on Toast. It was a staple in our house during my childhood because it's delicious, inexpensive, and filling. My mother was raised during the depression so maybe that's why she made it frequently while I was growing up.
Lois and I usually eat it for breakfast, but it works well as a light supper. It's tasty over whole wheat bread from the local grocery store, but it's so much better over homemade Dillie Bread or biscuits. (I can't believe we don't have a biscuit recipe on our site. I will have to remedy that!)
This is a simple dish of white milk gravy with chip beef cut into strips and mixed in. It is naturally salty so be careful how much (if any) salt you add to the gravy. My recipe doesn't call for any salt. I think there is plenty in it just from the meat.
What You Need
Equipment
For this recipe, you need:
a skillet
whisk
measuring cups and spoons
and a knife.
And if you want the gravy over toast, you'll need a toaster or a toaster oven. Remember to always buy the best tools you can afford. You'll never be sorry.
Ingredients
freshly ground black pepper
butter
flour
milk
toasted bread
How To Make Chipped Beef Gravy
When you make your white sauce, it's like making beef gravy. You melt the butter in a skillet, add the chipped beef, and allow it to cook for a few minutes until the butter starts to brown. From there you can add the flour. You should use 1 tablespoon less flour than butter. Now, mix them quickly and combine the beef, butter, and flour together until it forms a paste. It should be smooth and not very lumpy.
If you don't make sure to get all the flour lumps out, you will get a raw flour taste in your final product.
Slowly add the milk about a ¼ a cup at a time, mixing it in to make the paste form a smooth sauce. Continue adding this milk until the mixture becomes the consistency you like. Then you can add your black pepper and stir it in as it continues to cook. If it's too thick, you can just add a bit more milk to it until it thins out for you. And if it's too thin, you can just keep it on the heat and keep stirring and allow it to thicken up a bit more.
Once done, keep it warm until you're ready to serve. You can just spoon the cream chip beef over your toast on the plate and then you're good to go! You can also serve it with some fruit or a favorite vegetable, depending on if you're doing it for breakfast or a dinner meal.
Now that you know the original recipe, you can also mix it up and do different variations of it, add seasonings that you prefer, or experiment with different types of toast or biscuits with it. There are so many options for this old classic.
You May Also Like These Recipes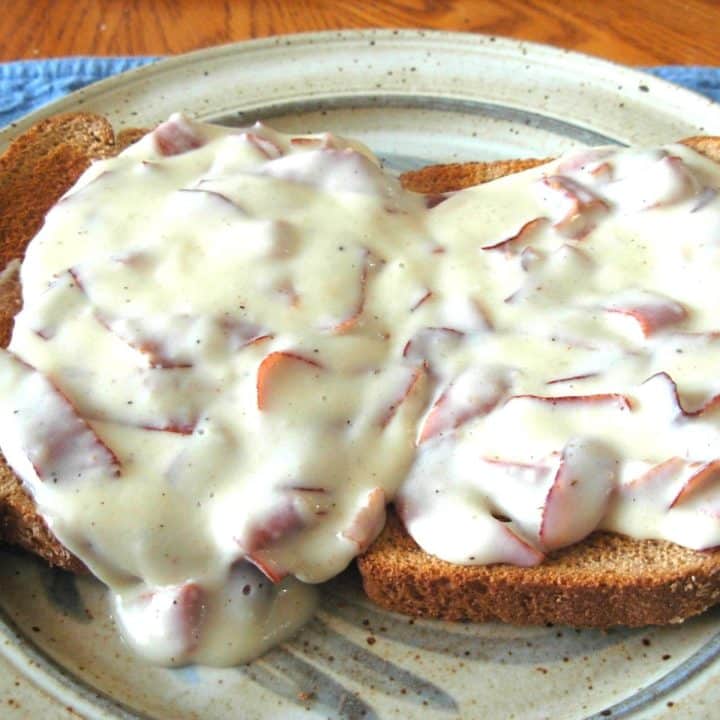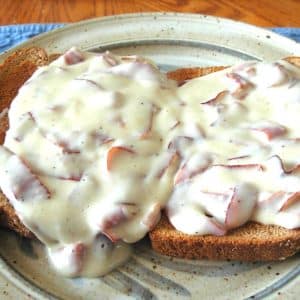 Cream Chip Beef on Toast Recipe
Ingredients
½

jar

of chipped beef

sliced into ¼ in wide strips and cut in half

3 to 4

T

butter

2 to 3

T

flour

1.5

cup

milk

Freshly ground pepper to taste

about ¼ teaspoon for our family

4

slices

of bread toasted
Instructions
While you slice the chipped beef heat the butter over medium heat in a skillet.

Once the butter is melted, add the chipped beef and let it cook for 3 to 4 minutes until the butter begins to brown.

Add the flour. (Use 1 T less flour than butter. If you used 3 T butter then add 2 T flour.)

Mix quickly to combine the beef, butter and flour into a smooth paste.

Make sure all the flour lumps are gone; then slowly add the milk about a ¼ C at a time mixing to make a smooth sauce.

Continue adding milk until the Cream Chip Beef is the consistency you like.

Then add the pepper and stir it in.

Keep the Cream Chip Beef warm on low until ready to serve.

To serve, spoon the Cream Chip Beef over the toast.
Nutrition
Calories:
281
kcal
Carbohydrates:
39
g
Protein:
11
g
Fat:
8
g
Saturated Fat:
4
g
Polyunsaturated Fat:
1
g
Monounsaturated Fat:
2
g
Cholesterol:
25
mg
Sodium:
354
mg
Potassium:
374
mg
Fiber:
1
g
Sugar:
12
g
Vitamin A:
335
IU
Calcium:
306
mg
Iron:
2
mg
Nutrition Information
The information shown is an estimate provided by an online nutrition calculator. It should not be considered a substitute for a professional nutritionist's advice.
RATE, PIN & SHARE!
Please Rate our recipes, and Pin and Share them on social media. Comments are welcome, too!