If you're using tofu as a plant-based alternative to meats, you should learn how to cook tofu like chicken. Nearly every chicken recipe you have can be replaced with tofu and it will taste amazing!
Tofu is a delicious, healthy alternative to chicken. It's packed with protein and can be cooked in a variety of ways. For example, tofu can be baked, fried, grilled, or even stir-fried. You start with a simple tofu block or tofu cubes, and you can end with a delicious meal that rivals all your favorite chicken recipes.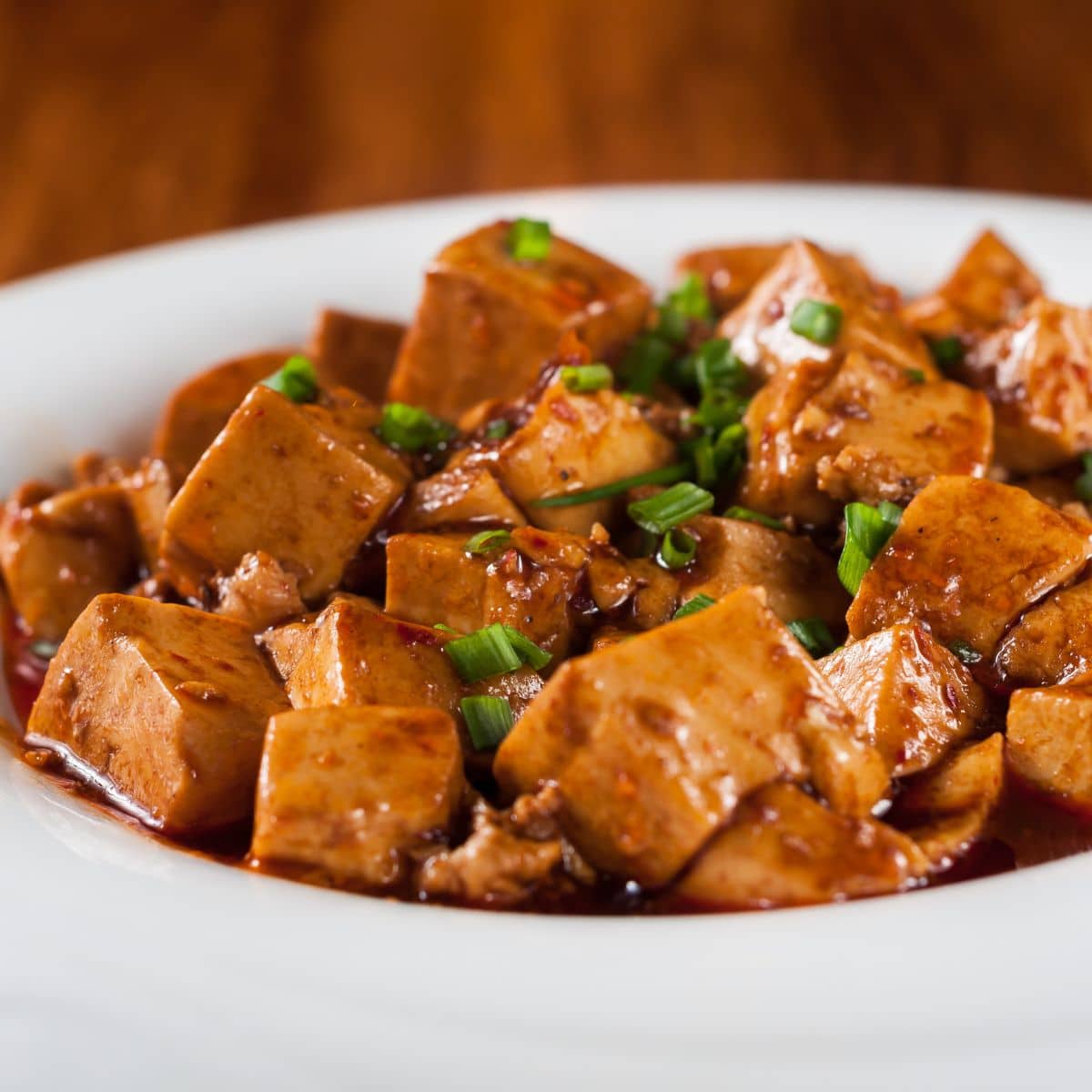 It's delicious, healthy, and vegan! But what exactly is tofu, and can it really be used as a replacement for chicken?
What is Tofu?
Tofu is a food made from soybeans that have been curdled and pressed into solid blocks. It originated in China over 2,000 years ago and has since become a staple in Asian cuisine. Tofu is high in protein and low in fat, making it a popular choice for health-conscious eaters. It is also incredibly versatile; tofu can be baked, grilled, sautéed, or even deep-fried.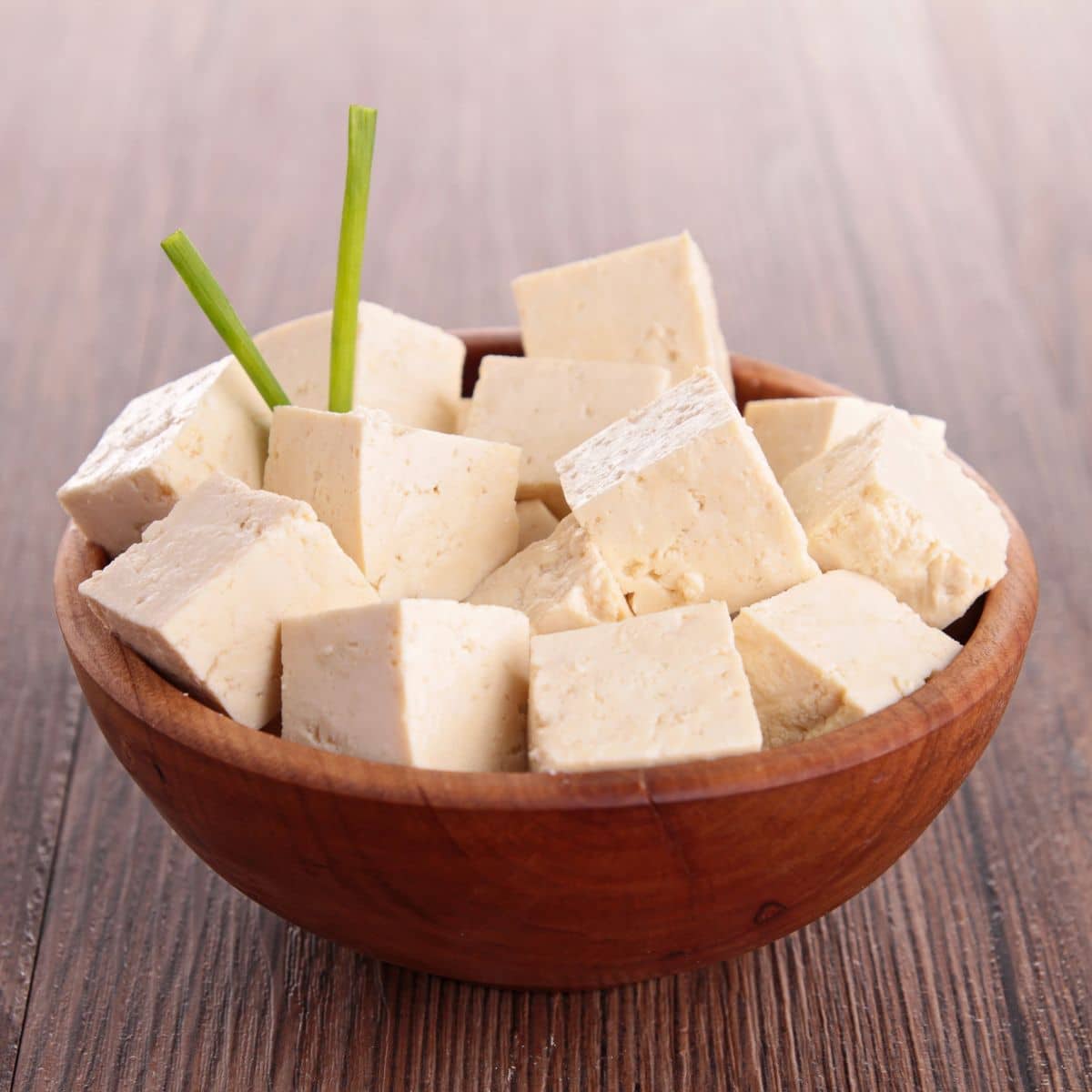 When cooking tofu, it's important to drain and press it first. This helps to remove excess moisture and prevents the tofu from becoming mushy. You can press it between paper towels to help soak up the excess liquid, or you can use a tofu press if you use tofu often in your cooking.
Next, prep the tofu based on the recipe you will be using. Tofu can even be marinated in your favorite sauce or spices for added flavor.
For the best results, know the type of tofu you're working with and the best type to use with the recipe you plan to make.
When cooking tofu like chicken, be sure to cook it until it's golden brown and slightly firm to the touch. Enjoy your delicious tofu as-is or serve it with a side of rice and veggies.
Tofu Chicken Recipes
Tofu chicken recipes can be made with a variety of different spices and herbs to give them a unique flavor. These recipes can be served with rice, noodles, or vegetables. Tofu can also be a great substitution for cubed chicken in recipes like stir fry, curry, or pies.
Here are some common meals you can make with tofu that replaces chicken. Get your block of tofu and let's get cooking!
1. Tofu chicken nuggets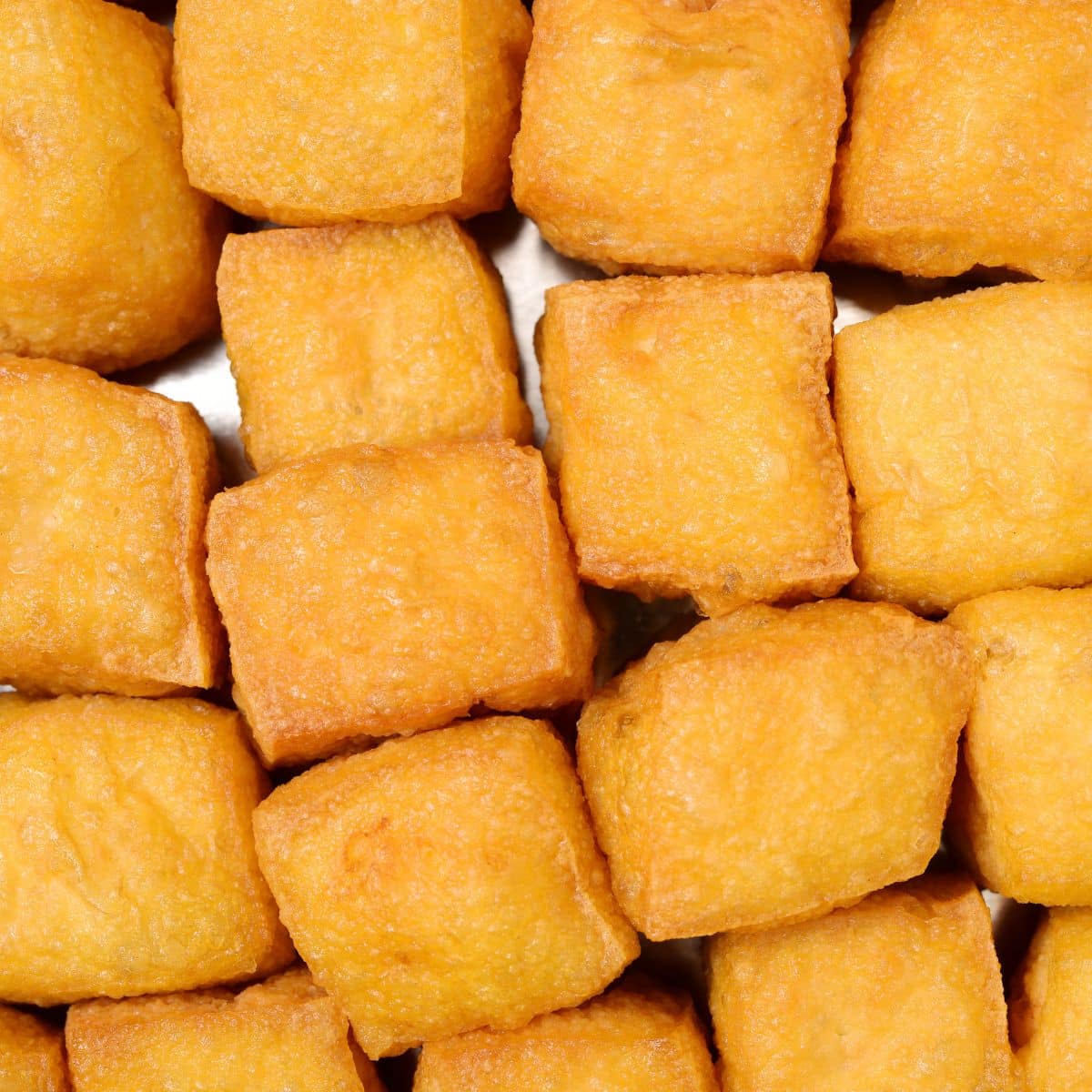 Tofu chicken nuggets are a delicious and healthy alternative to traditional chicken nuggets. High in protein and low in fat, the tofu nuggets are also a good source of iron and calcium and are perfect for a quick and easy meal. Just add your favorite dipping sauce and you're good to go!
To make the nuggets crispier, tear the tofu instead of making perfect cubes (this creates think edges that crip up easier) and coat your tofu pieces in arrowroot powder. For taste, add some garlic powder, onion powder, nutritional yeast, and a sprinkle of salt. You can add different flavors, depending on how you like your nuggets, such as sesame oil, dark soy sauce, black pepper, and more.
You can bake the tofu nuggets in the oven, or use the air fryer: just make sure to arrange the tofu pieces ina single layer to cook evenly.
2. Lettuce wraps
Tofu lettuce wrap is a fun, easy, and healthy way to enjoy tofu. To make a tofu lettuce wrap, simply sauté tofu in a little vegetable oil (I like both, avocado and olive oil!) until it is browned and then add it to a lettuce leaf with your favorite toppings.
I like to add avocado, tomato, and radish for a nutrient-rich and flavorful wrap, but you can add any toppings you like. Tofu lettuce wraps are a great option for lunch or dinner and can be easily made ahead of time.
3. Tofu teriyaki
Tofu teriyaki is made by marinating tofu in a mixture of soy sauce, mirin, sugar, and sake, then grilling or stir-frying it. The result is a flavorful and juicy dish that can be enjoyed on its own or with rice and vegetables. You can also use a premade teriyaki sauce on your tofu bites. Use your marinade ingredients and soak your tofu for a bit, so that it can really take in the flavors that you want it to have.
4. Fried "chicken"
Fried tofu chicken is a delicious and healthy alternative to traditional fried chicken. Crispy tofu chicken can taste great with your favorite veggies on the side. Tofu is a high-protein, low-fat food that is perfect for frying. Just fry it in a pan with your favorite seasonings until it is crispy. There are a lot of healthy recipes that can help you with great tofu chicken.
What's Healthier? Tofu or Chicken?
Some people choose tofu because they want to live a plant-based life. Others may choose it for health reasons. Whatever the reason you are choosing tofu over chicken, which one is healthier? Of course, it always comes down to how you cook it and what you serve it with. However, tofu has more fiber, iron, calcium, magnesium, folate, and zinc than chicken. It also has fewer calories, averaging only 79 in a 3-ounce serving.
It's also low in saturated fat and is a solid source of unsaturated fat, which is better for your heart. There are different types of plant foods that can substitute for chicken, but this is my favorite. It's so easy to work with and when you learn to cook it well, it can mimic the consistency of chicken very closely.
Tips for Crispy Tofu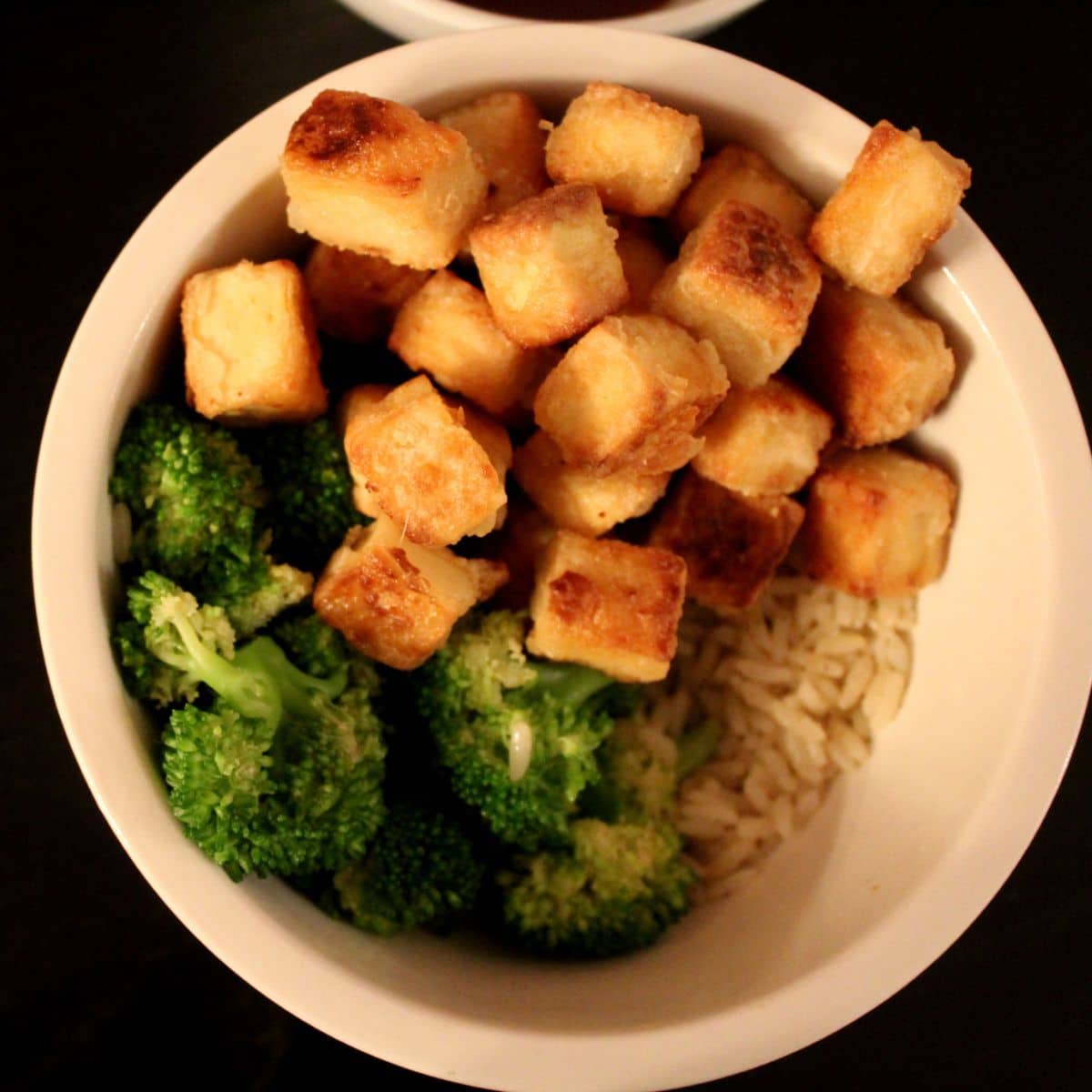 One key to making tofu delicious is to achieve a crispy exterior. You can also use bread crumbs to coat it like fried chicken and this will give you extra crispiness, as well.
You want to press all the excess water out before cooking the tofu in order to make it crispier. Many people press tofu with a heavy object from the kitchen laid on top of it to press it out. And you can also use a kitchen towel or paper towels to soak it up.
Here are a few tips for making crispy tofu:
Start with Extra Firm tofu. This type of tofu has less water content, which means it will be less likely to fall apart when cooked. If you can't find Extra Firm tofu, you can press firm tofu to release some of the water.
Cut the tofu into even smaller cubes or slices so that they will cook evenly. If your tofu is too thick, it will be difficult to get crispy results.
Toss the tofu in cornstarch or arrowroot powder. This will help create a nice crust when the tofu is cooked.
Finally, cook the tofu on a well-oiled surface over high heat. Cook until the tofu is golden brown and crisp, flipping once during cooking. Enjoy that crispy tofu taste!
FAQ of How to Cook Tofu like Chicken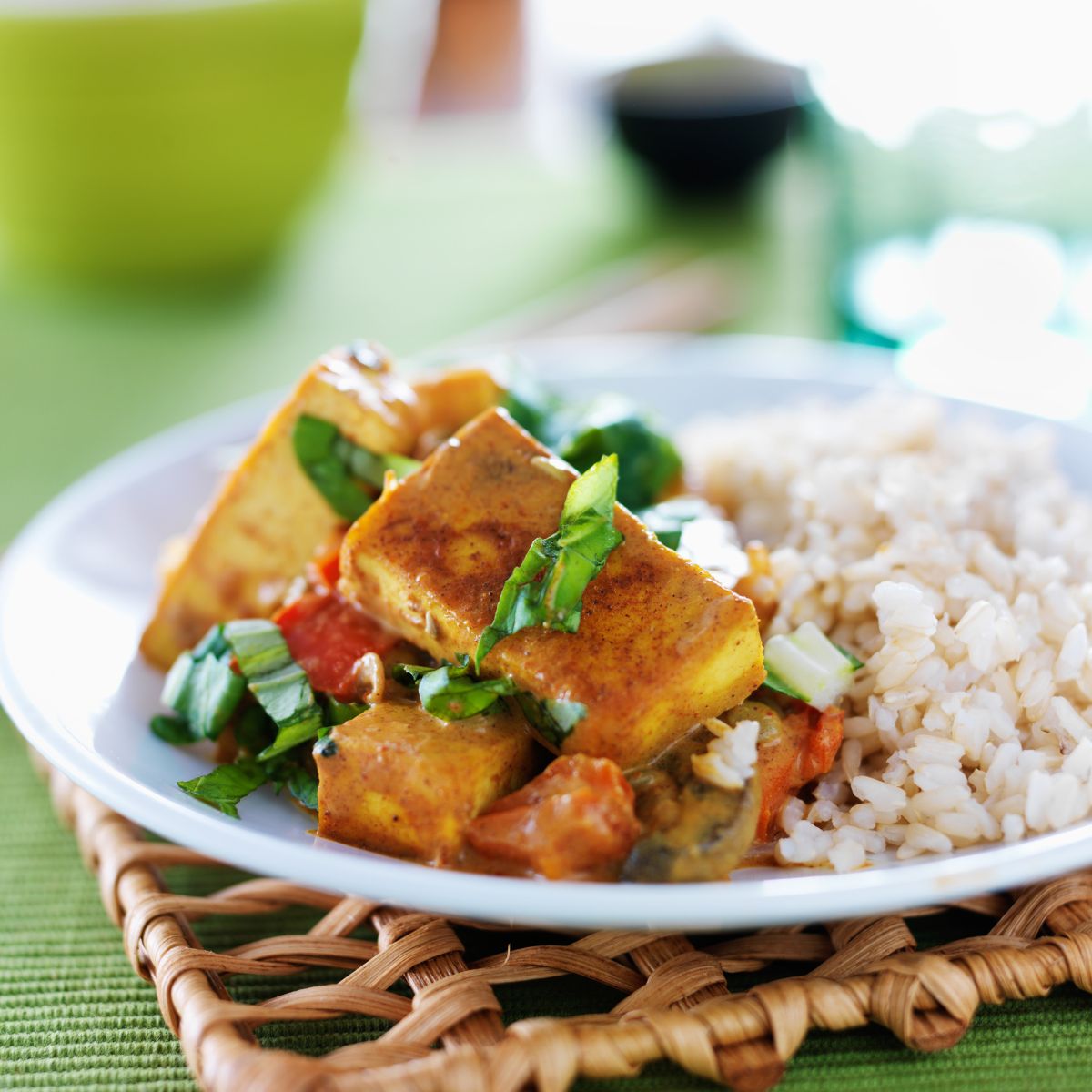 Here are some common questions people ask when it comes to cooking tofu like chicken.
Can you use tofu instead of chicken?
The answer is yes! Tofu makes an excellent stand-in for chicken in stir-fries, soups, and other dishes. Its neutral flavor allows it to absorb the flavors of the other ingredients it is cooked with, making it a delicious and versatile ingredient.
How should tofu be cooked?
The answer depends on the dish you're making. If you're looking for crispy tofu, then pan-frying is your best bet. If you're looking for tofu that absorbs flavors well, then marinating or stir-frying are both good options. And if you're looking for tofu that has a firm texture, then baking or grilling are your best choices.
How do you make tofu taste like meat?
The key to making tofu taste like meat is to cook it with strong flavors. First, marinate the tofu in a mixture of soy sauce, ginger, and garlic. Then, cook the tofu in a hot pan with oil until it is browned and crisp.
What is the healthiest way to cook tofu?
You can cook tofu in many different ways, but some of the healthiest methods include steaming, grilling, and stir-frying. When cooking tofu, be sure to add some healthy vegetables to your dish to boost its nutrient content. Broccoli, kale, and carrots are all great choices that taste good with tofu.
Conclusion
As you can see, tofu makes a great alternative to chicken once you learn to cook it correctly. On its own, tofu doesn't have much of a flavor, but that's actually the beauty of it. The reason it's easier to get your tofu to taste like chicken is because it takes on the flavors you choose to put into it. So, if you want it to have a chicken flavor, that all comes down to your seasoning and how you prepare and cook it. Using these tips, you can cook tofu to taste like your favorite chicken recipes (this Croatian chicken recipe is one of my favorites)
By following these guidelines, you can cook tofu in a way that is both healthy and delicious!