Homemade Lemon Marmalade Recipe. Have you had Lemon Marmalade? We hadn't until recently. We usually buy commercially made Orange Marmalade. Our friend from England makes Lemon Marmalade and told us how to do it. And we are thrilled!
Homemade Lemon Marmalade is rather like lemon meringue pie without the meringue.
Our English friend, Eileen Dight, sent us this lovely information about making Homemade Lemon Marmalade. Eileen lived in the States for a few years and we got to know her well. She is a marvelous cook and frequently talks about marmalade. Did you know you can make marmalade with lemons or oranges? The best oranges, she says, are the bitter ones from Spain.
All About Marmalade
From Eileen: "A good alternative to Seville oranges (bitter cooking oranges and some say, the best for making marmalade) is fresh lemons. Buy them when they are plentiful, cheap and juicy. They have a fresh, clean taste that will convert you. Your house will be redolent with the fragrance of lemons cooking. When you make marmalade, always leave the lid off the pot because the water has to evaporate and reduce by about one-third."
What You Need
You will need a pot or pressure cooker, knife, cutting board, and muslin or cheesecloth. You will also need jelly jars.
Homemade Lemon Marmalade Recipe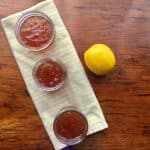 Homemade Lemonade Marmalade
Sweet preserves made with lemons
Cook Time
1
hour
30
minutes
Marinating Time (overnight)
12
hours
Total Time
14
hours
30
minutes
Ingredients
1.5

pounds

lemons

(about 6-8 whole lemons)

3

pints

water

(6 cups)

3

pounds

sugar

(about 5 cups, but weigh it)
Instructions
Pare off the rind thinly and cut into shreds. Remove the white pith (white spongy part) from the fruit and cut the pulp (fruit) into small pieces, removing the pips (seeds). Set the pith and pips aside.

Place the water in a medium pot. Add the fruit and the rind.

Tie the pith and pips in a piece of muslin and put the muslin-wrapped parts in the pot of water to soak with the fruit and rind overnight.

The next day, place the pot on a hot stove, boil the mixture gently until the rind is tender. It takes at least an hour to cook it to reduce it by about one third in volume. (Verify that the rind is tender as it will toughen up if you add the sugar too soon.)

Remove the muslin bag of pips, squeezing out the juice.

Add the sugar, stir until thoroughly dissolved.

Bring the mixture to a rapid boil over high heat. After it gets boiling, turn the temperature to medium high. It will continue to boil without requiring stirring and should not boil over. Note: Do not stir "as this encouages the sugar to crystalize," according to Larousse Gastonomique.

Continue to boil the mixture rapidly until setting point is reached (about 20-30 minutes). If you are using a candy thermometer, it will set at about 220F degrees. To check that it is set, place a dab of the mixture on a cool plate and wait a minute or so. If your finger makes a wrinkle when you push the dab, the marmalade is set.

Pour while still warm into clean, warm jars that you've sterilized in the oven, or that are still hot from the dishwasher.

Cover marmalade with a disk of grease-proof paper (wax paper or parchment paper), then cover the jar top with cling film, and screw on the lid. Once the lid is on, the marmalade will keep for years, literally, in your cabinet.

Label and store in the cupboard for your delight. Refrigerate after opening.

Makes about 7 cups of marmalade. If you put the marmalade in half-pint jelly jars, you will get 7 jars. Each serving is about 2 teaspoons (if you are American...and 1 teaspoon if you are British. Ha. Ha.)
https://recipeideashop.com/lemon-marmalade/
Recipe Notes
Note 1: January is the best month for citrus fruit.
Note 2—Rinse and boil the muslin after use; dry and store in tea towels drawer to use again.
Note 3—These fruits are also good for making marmalade:
Seville Orange
Grapefruit Marmalade
Grapefruit and crystallized Ginger
Three Fruit (grapefruit, lemons, sweet orange)
Alternate Recipe Method
The pressure cooker is a great help in cutting down the work, but the ingredients change slightly:
1.5 lb Seville oranges (or Lemons)
1.5 pints water
3 lbs sugar
Wash the fruit, place it whole in a pressure cooker (without rack); add the water and put on the lid, keeping the vent open. Heat gently and as soon as steam is given off, close the vent and bring to 15-lb pressure. Keep at 15-lb pressure for 20 minutes. Remove from heat and cool in the air for 10 minutes. Remove the lid; take out the fruit and cut up the hot fruit with a knife and fork. Remove the pips, which should be put back into the pan and reboiled for 5 minutes. Strain off the pips, add the sliced fruit and sugar to the liquid and boil uncovered until the set point is reached.
Affiliate Disclosure: Many of the links included throughout Recipe Idea Shop are affiliate links, which means if you follow them and you buy something, we will get a small commission. It doesn't cost you a penny more, and you can still use your Amazon Prime account to buy. Don and I love our Amazon Prime account. This posting includes affiliate links.  
Recipe Nutrition Information
The information shown is an estimate provided by an online nutrition calculator. It should not be considered a substitute for a professional nutritionist's advice.
WHAT'S NOT TO LOVE?
Trust me, you're gonna love this recipe. Up your recipe repertoire. Add this recipe to your collection. But don't stop there…subscribe to our email newsletter and get a free cookbook and a printable grocery shopping list.
RATE, PIN & SHARE!
Please Rate our recipes, and Pin and Share them on social media. Comments are welcome, too!
You May Also Like These Recipes From Recipe Idea Shop
BEFORE YOU GO, DID YOU GRAB YOUR FREE COOKBOOK?
[mc4wp_form id="5109″]