Gluten Free Shortbread Cookies can be made as bar cookies. Simple, and there's only one trick.
Gluten Free Shortbread Cookies are buttery and crispy
Whether you want to make Gluten Free Shortbread Cookies or use wheat flour in your cookies, the recipe contains only three ingredients. It's scrumptious and melt-in-your-mouth amazing. I use this recipe for my Chocolate Cherry Squares. There's only one simple trick.
What's the Trick?
If you try to cool the cookies and cut them after they are cooled, they will crumble. No worries, you can still use them for a delicious Cookie Crumble Fruit Parfait. 🙂 But if you want to avoid this problem, let them cool only for 5 minutes before you cut them. They cut easily when they are still warm! Just don't wait too long.
Prefer Cut Out Cookies?
Some shortbread recipes call for chilling the dough, rolling it out, and cutting it with cookie cutters. This recipe works well for cut-out cookies too. Don't chill it too much or the dough will break up when you try to roll it out. About 45 minutes to an hour is a good amount of time to chill it. Keep your rolling pin well "floured" (with the GF baking flour) to prevent sticking. I'm not sure why you would want to go to all the bother, though.
What You Need
All you need is an electric mixer, measuring cups and spoons, and a cake pan. But what you really want is an amazing espresso machine (affiliate link) or teapot so you can have some outstanding coffee or tea with your cookies.
You'll need gluten free flour to make these cookie bars. If you don't have any on hand, use my gluten-free flour conversion chart to make your own.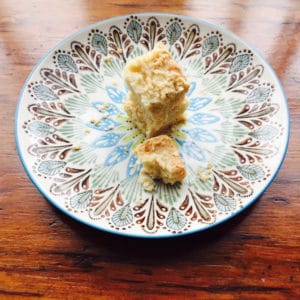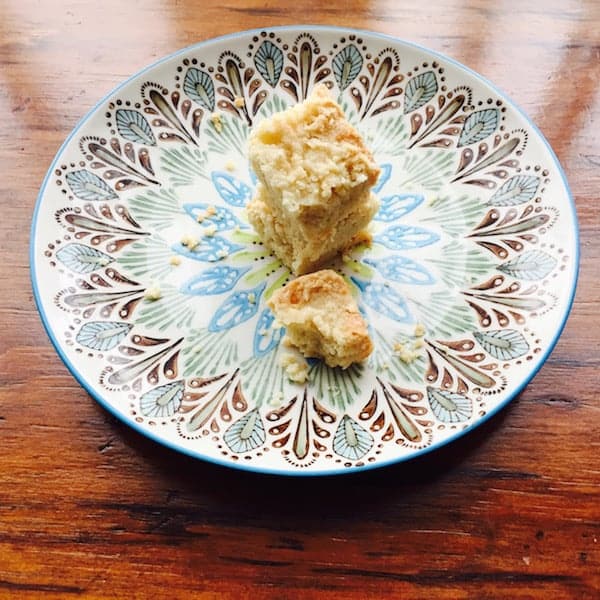 Gluten Free Shortbread Cookies Recipe
Ingredients
½

cup

turbinado sugar

or granulated

1

cup

butter

softened, or 1 cup Crisco or Coconut Oil for dairy free

2

cups

Bob's Red Mill Gluten Free 1-to-1 Baking Flour

substitute wheat flour 1 to 1 if you don't want them gluten free
Instructions
Heat oven to 350F degrees.

Cream the butter and sugar.

Add the flour, ½ cup at a time, and mix to combine.

Mix until the dough looks like crumbled meal.

Press into a greased 9 x 13 cake pan.

Bake for about 20 minutes until starting to brown slightly.

Remove from oven and let cool for 5 minutes.

Cut into small squares while still warm

.
Nutrition
Calories:
42
kcal
Carbohydrates:
9
g
Protein:
1
g
Fat:
1
g
Saturated Fat:
0.1
g
Polyunsaturated Fat:
0.1
g
Monounsaturated Fat:
0.1
g
Cholesterol:
1
mg
Sodium:
8
mg
Potassium:
11
mg
Fiber:
1
g
Sugar:
4
g
Vitamin A:
12
IU
Calcium:
14
mg
Iron:
0.3
mg
Recipe Nutrition Information
This recipe is GF, NF, SF, EF, CF, V*
The information shown is an estimate provided by an online nutrition calculator. It should not be considered a substitute for a professional nutritionist's advice.
The Back Story
Many years ago I participated with a women's group in an annual cookie exchange at Christmastime. My sister-in-law, Ellen, was also part of the group and planned to participate. The meeting was to be held on Wednesday, and we had to make 12 dozen cookies (all the same kind), and bring them to the event, with each package containing only a dozen cookies. Then we would take 12 dozen cookies home, one dozen from each participant.
I made some kind of simple drop cookie (like chocolate chip) on Monday night and packaged them all up in dozens with a pretty bow. I was all set, ready for the cookie exchange, and didn't have to rush to get them done. Whew!
The next night (night before the event), Ellen called me around 8 pm, crying and saying she wasn't coming to the cookie exchange. She had chosen cut-out cookies for her cookie and she couldn't get them to work out. I said I'd make hers, and proceeded to make 12 dozen cut-out shortbread cookies. It took me until midnight, but I got them done in time for the event, leaving the frosting part until after work the next day. What a chore!
Later Discovery
At the time, I didn't know you could make shortbread cookies as bar cookies without cutting them out. My Chocolate Cherry Squares recipe came from one of these cookie exchanges. I have made them every year since then.
The next year, I volunteered up front to make Ellen's cookies. She was pregnant with her second (I think) little Egyptian-American boy (adorable!) so I gave the cookies to her for a baby present. I made Egyptian Rose Leaves as the cookie that year. They tasted like roses and were super interesting. Someday, I will make them again and put up the recipe.
I know you'll wanna eat these shortbread cookies. Print the recipe and give them a try!
More Cookie Recipes You'll Love
Rate, Pin & Share!
Please Rate our recipes and posts, and Pin and Share them on social media. Comments are welcome, too!
*Allergen Key
GF = Gluten free | DF = Dairy free | NF = Nut free | SF = Soy free | EF = Egg free | CF = Corn free | V = Vegetarian | VG = Vegan
Note: If you have serious allergies or sensitivities, to be considered free of these allergens, you need to use products specifically marked "gluten free," etc. There can be cross-contamination in facilities.