Peanut Chicken Stir Fry is a super good meal you will want to make again and again. Easy peasy 35-minute recipe.
Peanut Chicken Stir Fry
March 1 is National Peanut Butter Lovers Day. And I do love peanut butter, especially in a sauce. Don't you just love peanut sauce when you go to an Asian restaurant? You know I do. That's why I decided to learn how to make it and did my best to duplicate the taste. I did a terrific job, if I do say so myself.
This Peanut Chicken Stir Fry is amazing. It's one of my go-to recipes that I make often. In fact, I liked it so much that I included it in my cookbook, It Ain't Just The Diet Cookbook: How I Beat Food Allergies One Bite At A Time. You can pick up a copy of it on Amazon.
You can make this recipe with or without chicken. It's awesome either way.
My kids and I love stir fry. When they lived at home, the kids used to beg for Chinese Chicken (with a brown sauce, not peanut sauce). We had it at least a couple of times a month. It was a good way to get them to eat their vegetables. You can use whatever vegetables you have on hand. Usually, I make it with a brown sauce, but a few years ago, I decided to create my own Peanut Sauce (recipe below).
Organize Your Ingredients Before Cooking
I always make quite a mess when I'm doing a stir fry, though, despite doing it in an organized fashion. I chop everything up and put the ingredients in separate bowls. That's because with a stir fry, you are quickly adding each ingredient, cooking for a minute or two, then adding the next. So you can't be cooking the onions while you are chopping the other veggies or you will burn your meal (at least I would!).
I admit that I'm not usually so organized. For most recipes, I chop as I go and grab the ingredients as I need them. It's not a good way to cook because I often have to improvise because I don't have a specified ingredient. The good thing is I have been cooking since I was a child (and I'm getting old now...) so I can generally figure out something to substitute. If you need some help with that check out my Ingredients Substitutions List.
Make It Vegan
For those of you who are vegetarian or vegan, you can simply leave the chicken out. Take a look at the nutrition label and you will see why. It still has a super amount of protein, doesn't it?
Bok choi is a wonderful vegetable to include in a stir fry. Crispy, a little bitter, delicious! Unfortunately, my local Food Lion didn't have any when I was there the other day, so I used broccoli. Broccoli is delicious, too, and green beans work great as an alternative.
In fact, broccoli has tons of protein and the flavor will still be terrific. Since I don't have a photo of it with bok choi, I will have to make it again. Awww, shucks. That means I'll have (get) to eat this again. I know you're gonna wanna make this so you can eat it! I do.
What You Need
For this recipe, I use a small saucepan to make the sauce before pouring it into the larger pot that contains the veggies and chicken. I don't have a wok and I use a large (about 14 inches) nonstick, flat frying pan with a lid. I also make the rice in an old-fashioned rice cooker if I'm making standard white rice (the cooker doesn't work well for brown rice). I don't think you can get a rice cooker (picture below) like we have anymore, but using electric rice cookers or Instant Pots are super easy.
I used a chef's knife, cutting boards (one for chicken and one for veggies), a large skillet and a small sauce pan, measuring cups and spoons, wooden spoons, and various sized glass bowls to hold the ingredients.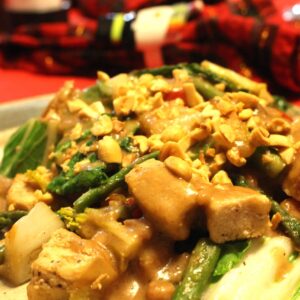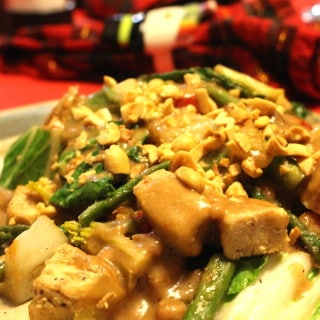 Peanut Chicken Stir Fry Recipe
Chicken and vegetables with creamy peanut sauce
Ingredients
Stir Fry
2

chicken breasts

cut into 1-inch pieces or 6-8 chicken tenders; leave out for vegetarian version

2

tablespoons

olive oil

1

yellow onion

cut into chunks

1

red pepper

cut into chunks

2

cloves

garlic

minced

1

pound

asparagus

cut into 1-inch pieces; put the tips aside until the end

1½

cups

broccoli florets or 1 small head of bok choi

cleaned and cut into 1-inch pieces. Green Beans are an excellent alternative, too.

¼

teaspoon

black pepper

freshly ground
Peanut Sauce
4

tablespoons

peanut butter

crunchy preferred

3

tablespoons

chopped peanuts

divided

1 15-

ounce

can coconut milk

½

teaspoon

chili powder

or more, if you like it spicy

⅛

teaspoon

cayenne pepper

optional

½

a small yellow onion

grated

1

tablespoon

light brown sugar

1

tablespoon

lite soy sauce

¼

teaspoon

red pepper flakes
Instructions
Chicken
In a large skillet or wok, heat the oil to hot.

Cook the chicken until slightly browned and cooked through.

Remove the chicken to another dish.

In the same skillet, cook the onions about 5 minutes, add the red pepper; cook another 3-5 minutes.

Add the garlic and cook for about 30 seconds.

Add the broccoli or bok choi and asparagus (save tips) and cook until crisp-tender.

Add salt and pepper to taste.

Return the chicken to the pot, add the asparagus tips and heat through.

Top with Peanut Sauce (directions below).

Stir to coat.

Serve over white or brown rice; garnish with chopped peanuts.
Peanut Sauce
For the sauce, mix all the sauce ingredients (using only half the peanuts) and bring it to a boil over medium-high heat. Stir occasionally.

Turn the heat down and keep warm until the stir fry is ready.
Nutrition
Calories:
663
kcal
Carbohydrates:
27
g
Protein:
37
g
Fat:
49
g
Saturated Fat:
28
g
Polyunsaturated Fat:
5
g
Monounsaturated Fat:
13
g
Trans Fat:
0.01
g
Cholesterol:
72
mg
Sodium:
493
mg
Potassium:
1326
mg
Fiber:
8
g
Sugar:
14
g
Vitamin A:
1350
IU
Vitamin C:
61
mg
Calcium:
102
mg
Iron:
6
mg
More Recipes That Use Chicken