Rustic dinnerware is casual rather than elegant but can add style to a dinner with friends and family. It is excellent for ranch houses, cabin dinnerware, or homes that feature country or western décor. You might also use this in a vacation cabin or mountain retreat. Sitting down for a nice family meal can feel even more special when you have a beautiful set of plates that features your personality and style.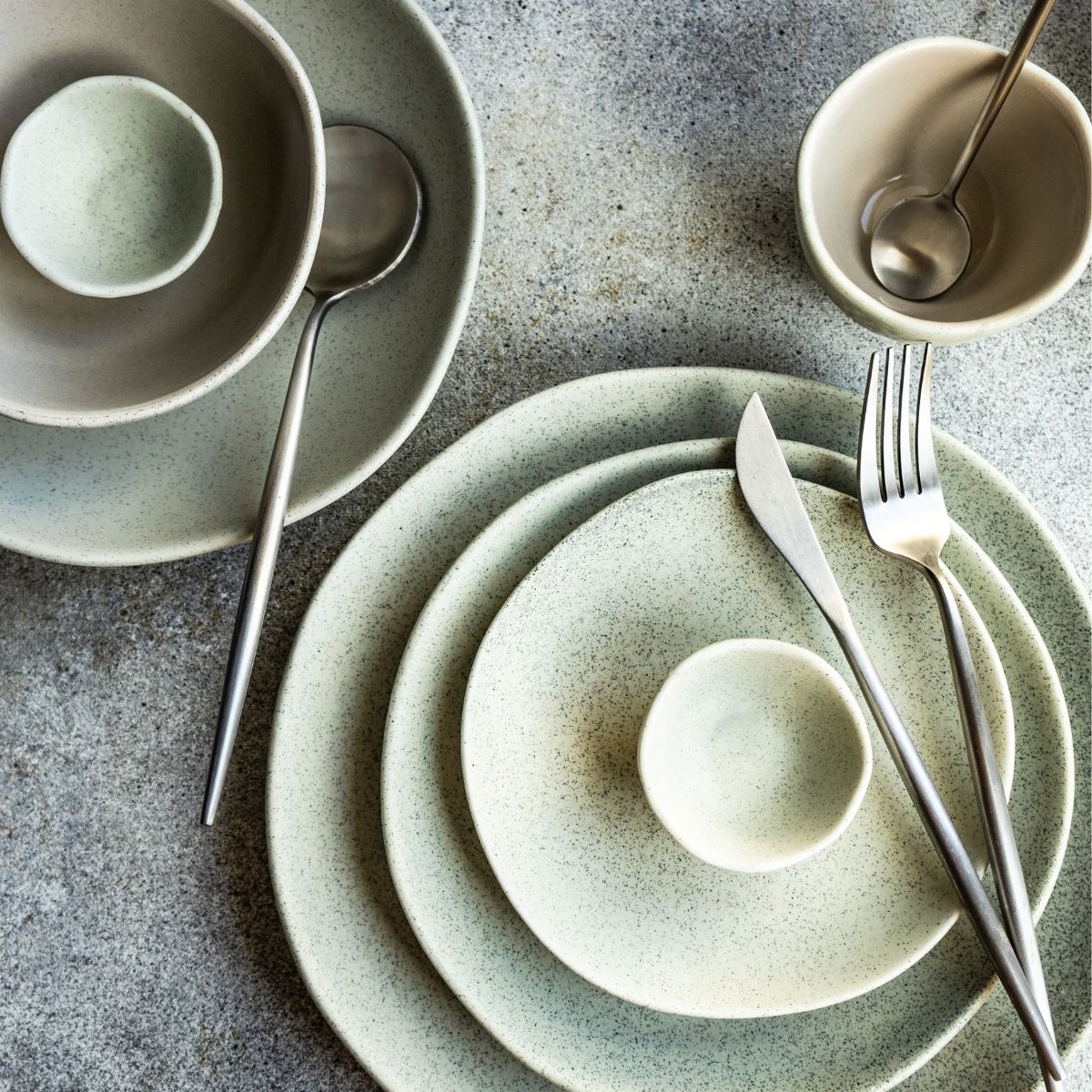 Look no further if you're looking for dinnerware that gives off a rustic yet sophisticated vibe! Rustic dinnerware can be the perfect touch for any rustic-inspired décor, adding an inviting feel to any room. Whether you want to enjoy meals on rustic stoneware plates or give your outdoor diner a classic rustic finish, rustic dinnerware will make a statement. You can find white dinnerware, brown dinnerware, and many options with patterns or decorations that fit rustic themes.
Rustic stoneware dinnerware sets are also popular. Stoneware easily fits with rustic themes, so it just makes sense. From bear dinnerware and deer plates, you're sure to find something in a style you love.
With rustic finishes like natural timber, tin, and copper, rustic dinnerware gives off cozy comfort and timeless charm. It's perfect for setting the stage for family time around the table or special occasions with friends. Rustic dinnerware is sure to make every meal a unique experience.
Rustic Dinnerware
At my parent's ranch, we use pottery dishes for everyday use. Pottery dinnerware would be an excellent addition but we haven't got any. Modern options will usually be dishwasher-safe and microwave-safe. Many vintage options may not be, so check before popping them in. If you had a ceramic plate made in the past, it might not hold up to modern appliances and dishwashers. Handmade pieces are usually not dishwasher-safe either.
My mother has Western dinnerware with brands around the plates' rims. It matches the décor of her entire house. Her kitchen is decorated with barn wood featuring a sign that says "Cowboy Café" over a barn wood shelf that holds chuck wagon-style tinware, including a coffee pot, cups, and a platter adorned with Longhorn cattle. She's a lot like me, loves dishes, and is more inclined to a rustic style. She also has some horse dinnerware.
Here are some examples of rustic dinnerware you can find on Amazon today.
Paseo Road by | Ranch Life 14 Piece Melamine Dinnerware Set with Plates, Bowls, and Serving Platter
The country feel of this one stands out. I love the horses and bull and the colors. This would look great with ranch or farmhouse decor, too.
Pfaltzgraff Trellis White 16-Piece Dinnerware Set, Service for 4, Distressed White
This set in distressed white would go perfectly with a rustic theme. By itself, you may not think of it as rustic, but when added to other decor elements, it will really fit. And it's from a trusted name in dinnerware.
Mossy Oak Animal Print 16 Piece Dinnerware Set, Black, and Beige
This one has a masculine feel and looks like something that would be perfect for a hunting cabin or a log cabin. They could also be a great gift idea for a special man in your life.
Laurie Gates by Gibson Mauna Melamine Dinnerware Set, Service for 4 (12pcs), Ice Rustic
This is a melamine set, so it's great for outdoor eating but it still looks delicate, like fine China. It's called Ice Rustic, which I think suits the overall look of it perfectly. This could even make a great everyday dinnerware set.
Gibson Elite Everston 12 Piece Dinnerware Set, Brown
I love Gibson dinnerware and especially the rich browns in this set. It's dark, earthy, and perfect for a rustic theme. They are also durable and will last for many years.
Paseo Road by HiEnd Accents | Chalet Aztec 16 Piece
This Aztec design can also go with a rustic theme. It works better when you have other items to add to it and allow them to complement this set. Overall, it's a lovely everyday pattern, too.
What Makes Dinnerware Rustic?
This is a great question! What makes a particular set get classified as rustic? I think it's a matter of personal preference and opinion, but there are some guidelines to what most consider "rustic." Rustic is generally defined as anything about country life or rural people. It's charming and simple and may contain animals or wildlife, but it doesn't have to. Moose dinnerware, bear, elk, or deer designs, and fish dinnerware also fit into the rustic decor. Pinecone dinnerware also fits the bill.
One of my sets of China that I inherited from my Grandmother is adorned with pinecones. My uncle purchased the set as a gift for his mother. This set is precious to me because it brings back memories from my childhood. It is more elegant than casual dinnerware but fits my family's style.
My other grandparents were more into fishing. They spent a lot of time at the lake after Grandpa retired. I remember having a fish fry at their home after a successful fishing trip. Rustic dinnerware with fish on it always makes me think of those memories.
The fried, filleted yellow cat was served on a crystal plate shaped like a fish. Sometimes we had trout, white bass, and so forth. We usually used paper plates for such gatherings, but I think Grandma would have loved to have a set of Spode dinnerware featuring a Spode Woodland Bass Dinner Plate or a rainbow trout.
Rustic dinnerware is often used to match décor or go along with the interests of the serving people. Many dinnerware sets will be fabulous for get-togethers, especially if you already have a rustic design theme in your home.
Would you ever use a rustic dinnerware set?