Sautéed Brussels Sprouts Recipe with Tarragon Infused Vinegar or Balsamic Reduction is a beautiful, delicious side dish with great cancer-fighting properties. And it takes just 35 minutes.
Sautéed Brussels Sprouts Recipe
Hi. It's Lois, with a new way to make Brussels sprouts, our Sautéed Brussels Sprouts Recipe, the way my husband likes them. Did you know it's Brussels (after the country) instead of Brussel sprouts? No matter. These sprouts are super delicious and lovely on the plate, and they take only 35 minutes. They are also powerful cancer fighters. Check out the recipe…
We had this Sauteed Brussels Sprouts Recipe with leftover Dry Rub Ribs (Don made them over the weekend; ribs take a long time, but are SO worth it) and a Baked Potato. You know how to make a baked potato, right?
I love my vegetable steamer. This one is similar to what I have and what's great about this type of steamer is your can use it as a steamer or a simple cooking pot with a cover.

Sautéed Brussels Sprouts Recipe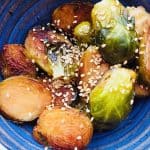 Sautéed Brussels Sprouts Recipe (formerly Don's Brussels Sprouts)
Sautéed Brussels Sprouts Recipewith Balsamic Reduction or Tarragon Infused Vinegar is a beautiful, delicious side dish with great cancer-fighting properties. And it takes just 35 minutes.
Ingredients
1

pound

fresh Brussels sprouts

2

tablespoons

olive oil

1/3

cup

of balsamic vinegar or tarragon infused vinegar

or your favorite flavor

1

teaspoon

sesame seeds

or substitute sliced almonds

salt and pepper to taste
Instructions
In a vegetable steamer, cook the Brussels sprouts until a fork will easily pierce them about 1/3 the way through. Don't overcook.

Remove them promptly and slice them in half through the stem.

Heat the oil in a skillet over medium high heat.

Quickly place all the Brussels sprouts, cut side down, in the skillet and let them cook until they begin to brown.

Add the vinegar, reduce the heat to low, letting the Brussels sprouts sit in the skillet until the vinegar has either been boiled away or is thick and syrupy.

Toss the Brussel sprouts with the sesame seeds.

Add the salt and pepper and serve hot.
https://recipeideashop.com/sauteed-brussels-sprouts/
Note: Many of the links included throughout Recipe Idea Shop are affiliate links, which means if you follow them and you buy something, we will get a small commission. It doesn't cost you a penny more, and you can still use your Amazon Prime (Shop Amazon – Give the Gift of Amazon Prime) account to buy. This posting includes affiliate links. 
Sautéed Brussels Sprouts Recipe Nutrition Label
Pin & Share!
Please Pin and share our recipes. And tell us what you think in the comments.
HISTORY OF OUR Brussels Sprouts RECIPE IDEA
Don here. I love Brussels sprouts. Always have since I was a little kid. Back "in the day" Mom bought frozen ones and they were okay when she boiled them and served them with a splash of vinegar. Then one summer we grew them in our garden. I got a few, the rabbits got the most. But those few fresh ones spoiled me forever. Now if I can't get them fresh, I won't bother.
Brussels sprouts are very dense "little cabbages" and take a while to cook so they are tender throughout. Unlike my mom, I don't boil them. I cook them in the top of a steamer and for 2 to 4 cups, it takes about 30 minutes. In this recipe I shorten that time since I will brown them in a skillet after they have been partially cooked.
You May Also Like These Recipes From Recipe Idea Shop
BEFORE YOU GO, DID YOU GRAB YOUR FREE COOKBOOK?
[mc4wp_form id="5109″]